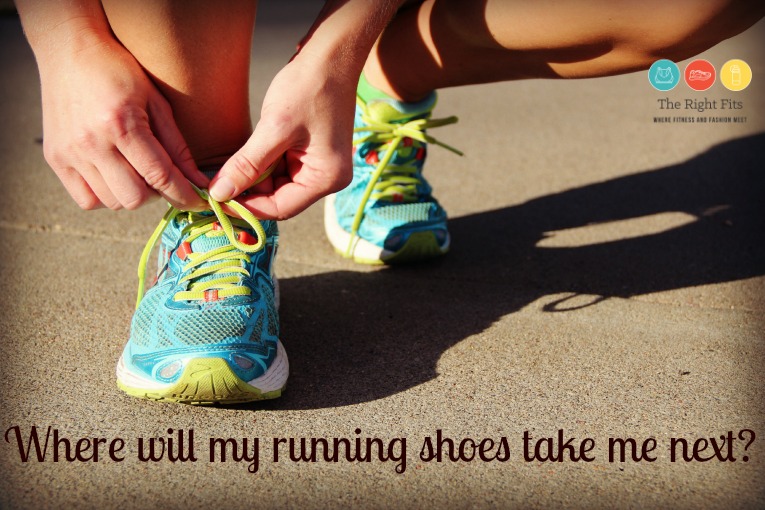 As you may have guessed from all these travel posts (The Tsukiji Fish Market, Exploring Shibuya, Exploring Hiroshima, Exploring Kyoto Part 1 and Part 2) I didn't do a whole lot of running on our trip to Japan- well, other than the 42 kilometers I ran during the marathon (and a few shakeout runs beforehand). But AFTER the Tokyo Marathon, I took a full week off of working out. I ate what I wanted (although to be honest, most of the Japanese food we had was quite healthy), I drank plenty of beers and sake, and I had a fantastic time exploring Japan with Dustin. #besttripever
Sunday: When we returned to the US on Sunday afternoon, I decided to go for a quick run, primarily to help me adjust to the new time and recover from jet lag.
Monday: I ran another 4 miles easy with Matilda the vizsla
Tuesday: I went to [solidcore]. I hadn't done this class for several weeks before Tokyo, so it KICKED.MY. BUTT. I was sore for 4 days afterwards, but I was also reinvigorated to do more strength training. I bought a 5 pack there…in fact, I bought a 5 pack for Dustin too, as I wanted him to come with me for company.
Wednesday: Easy 4 miles in the morning and in the evening I got a 90 minute massage at Healthy Touch. Awesome.
Thursday: 4 miles easy
Friday: 4 miles easy
Saturday: 10 miles with CBRC
Sunday: [solidcore] I brought Dustin along. Love this class. Definitely my favorite non-running workout of the moment. Then we took Matilda on a really long walk to enjoy the sunshine and 50 degree day!
Summary: 30 miles, 2 strength days (yay!)
So I'm back in the swing of things so to speak, so now the question is…what's next?
The answer might be a little surprising.
Like the Tokyo Marathon, it doesn't fit into my 50 state goal, but it's not quite as exciting as Japan.
Guess what??
I'm running Grandma's Marathon in Duluth, Minnesota on June 20th!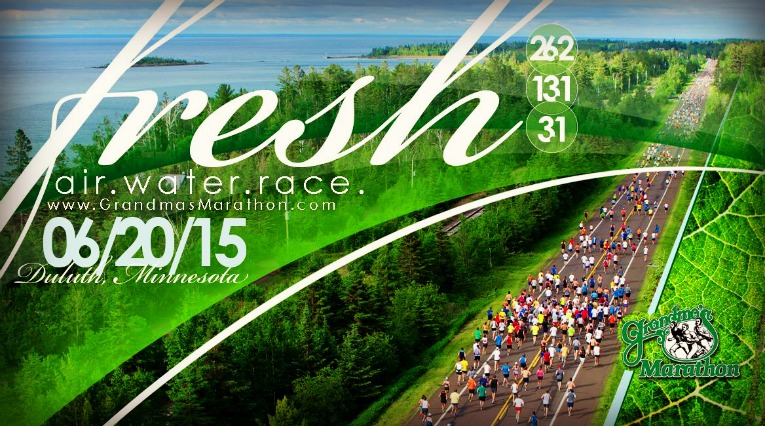 I have already run marathons in Minnesota, which is why this one doesn't fit into the 50 state goal. However, it seems like every Minnesota marathoner needs to experience Grandma's marathon. I am in need of my own Grandma's Marathon experience!
This marathon been around for almost 40 years and it's still incredibly popular. It's the perfect size too, with about 7,000 marathon runners. I have heard that the entire city of Duluth gets into this race, with everyone coming out to cheer.
There are a ton of people from the Calhoun Beach Running Club heading to Duluth for both the full marathon and the half marathon. It will be quite the weekend and I'm excited to be part of it for the first time.
This is the first marathon that I will do that Dustin isn't doing. He has already run Grandma's twice- once before we were together and once when we first started dating, when I went with to cheer for him. Here's a picture from that race in 2005:
He didn't actually love Grandma's that much when he ran it. He's going to just cheer for me at this one, which will be really fun! I have never had him cheering for me at a marathon. He's going to bring his bike up to Duluth and cheer for me at multiple spots along the way.
Didn't you just run Tokyo? Why so soon?
Well, it isn't really that soon. I will have a full four months of training for this marathon, which is a lot more than I had between Outer Banks and Tokyo. I felt so great at Tokyo that I want to do another one soon! There was none of that "OMG this sucks" feeling at Tokyo; rather I was on such a marathon high during the entire race and afterwards that I want to do one again.
Will you use a coach again?
YUP! I'm going to continue with Antonio Vega from Zoom Performance. I really enjoyed having a personalized program and someone analyzing my training and adjusting workouts and runs accordingly. It wasn't cheap to have a coach, but it's something that's important to me. Antonio is excited that we will actually have time for a lot of shorter distance races between now and June 20th that will be really helpful in determining how my training is going.
What will you do differently?
My diet definitely could use some improving and I could probably stand to cut back on the beers. I also have the goal of doing yoga once a week. This is going to be a tough one as I rarely went to yoga during my Tokyo training; I just didn't make it a priority. Ideally, I will also do [solidcore] or barre once a week and yoga once each week. Antonio has also given me a series of stretch, strength, and core work to do 3-5 times a week. The actual running training won't be that different, though as I mentioned, there will be a lot more shorter distance races. I hit 65 miles/week twice this training- Antonio mentioned perhaps pushing that up to 70, but he'll play that one by ear based on how I'm feeling.
Where will you stay?
That's a tough one. Dustin's family's cabin isn't too far away from Duluth, but too far to drive the morning of the marathon. Since I decided to run Grandma's so late in the game, there are no hotels left. If you're familiar with Grandma's weekend, it's a BIG deal for the city of Duluth. I have heard that you need to reserve your room back in November, which I obviously did not do. I didn't decide I was running Grandma's until we were waiting for a train in Tokyo. In fact, I decided to register without even telling Dustin. Just logged on with my phone and paid my registration fee!
So with that, housing was a bit tricky and the only place I could find is a campus apartment with the University of MN- Duluth. Dustin stayed in the campus dorms once when he ran Grandma's. It was crazy hot that year, and the dorms don't have air conditioning…and the dorms have communal showers. So I went with a two-bedroom apartment instead through the university. I'm sure it's nothing glamorous, but it should get the job done.
Grandma's Marathon is a point-to-point course from Two Harbors to Duluth. This means that there will NOT be a ton of turns that I have to maneuver, so I probably won't end up with 27.09 miles on my Garmin at Grandma's like I did at Tokyo!
I'm SO excited to run Grandma's!
Tell me- have you run Grandma's Marathon before? Are you running it this year? Any insider tips or advice for me?
(Visited 299 time, 1 visit today)