I left off on my Tokyo travel posts after our visit to the Tsukiji Fish Market and sushi lunch. Right after the sushi, we explored Ginza, which is an upscale part of Tokyo with lots of gorgeous department stores, boutiques, and restaurants. It's often touted as one of the most luxurious shopping districts in the world! We weren't really look to buy any upscale merchandise, but it was still fun to window shop a bit.
After Ginza, we took the subway to Shibuya, which is still a fashion center, but more so for the teenagers. It's also home to one of the busiest intersections in the world, Shibuya's crossing.
Shibuya's crossing is also well known by Americans from the movie Lost in Translation. You can watch the madness ensue at the crossing from a nearby Starbucks.
Dustin and I decided that one of us would stay in the Starbucks while the other made their crossing at this famous intersection. We'd take pictures of each other taking pictures of each other…
So there's Dustin:
And there's me!
We were at Shibuya crossing on a weekday in the middle of the afternoon, so it wasn't nearly as busy as it is during rush hour, when up to 2,500 people cross at one time.
Shibuya Crossing is famously called "The Scramble." All the lights stop traffic at the same time to allow pedestrians to cross the entire intersection. Experiencing Shibuya crossing is supposed to give you that surreal, "I'm in Tokyo" feeling.  Definitely true!
We wandered around the shopping areas in Shibuya, stopping into Shibuya 109, a big mall with all kinds of crazy fashion; people say you don't understand Shibuya if you don't go into Shibuya 109, so we went in…
But first…are you wondering what's up with all the face masks in Japan?
It's a combination of things. Some people wear them because they don't want to get sick. More people wear them because they ARE sick and don't want to get other people sick; since people are so close together on public transportation, it's polite to wear a mask when you have a cold. Some other people wear them because of pollen or hay fever, but most people wear them to protect others from their colds and I think its an absolutely FABULOUS idea that we need to bring to the US! Every person who has a cold should be wearing a face mask- PLEASE can we make this a thing? I hate being out and about when someone is coughing or sneezing all over something.
So, with that said, I bought myself a face mask in Shibuya- a cute one. It's a teddy bear.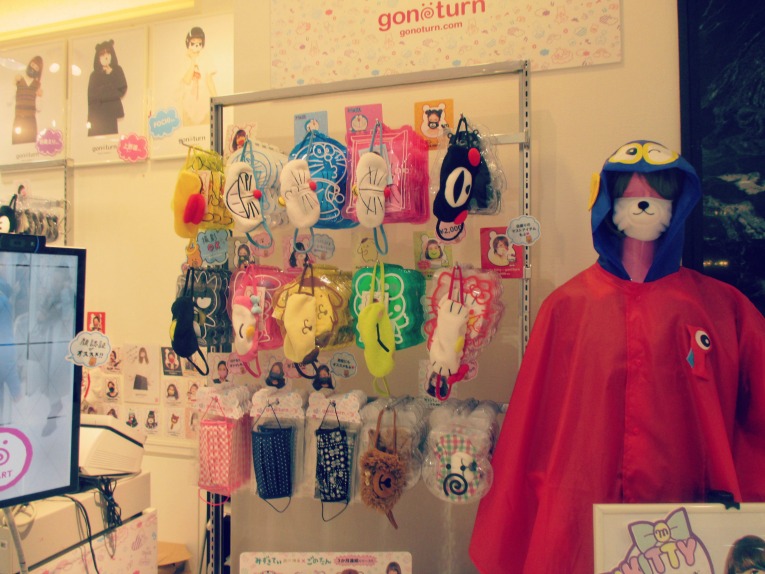 I don't actually have a cold- I'm holding out hope that my daily dose of Sound Probiotics is boosting my immunity so I don't catch one. But if I do, you can bet I'll be donning this mask at the office:
Like they say, when in Rome….
At Shibuya crossing, there is also a statue of Hachiko, who was a well-known Akita dog who met his owner at the station every day. When the owner died, he continued to show up for more than 10 years in vain….until his own death. Dogs are so loyal!
After a full day of exploring Tokyo on our own, we transferred our luggage and our selves over to Dustin's brother's place for the night. His wife cooked us a traditional Japanese hot pot meal or what is often called "Nabemono" or just "Nabe."
It included all kinds of vegetables and chicken that was served in small bowls with different types of "dressing" or flavors. Then, after we finished the first "nabe," udon noodles were added to the leftover broth along with more vegetables. It was an amazing meal that just kept on going!
It was a super fun night with champagne, wine, and more wine….
But alas, the fun had to end eventually, as the next day, we had a 6 am Shinkansen train to catch to Hiroshima. Stop by soon for a post on that part of our trip!
(Visited 265 time, 1 visit today)