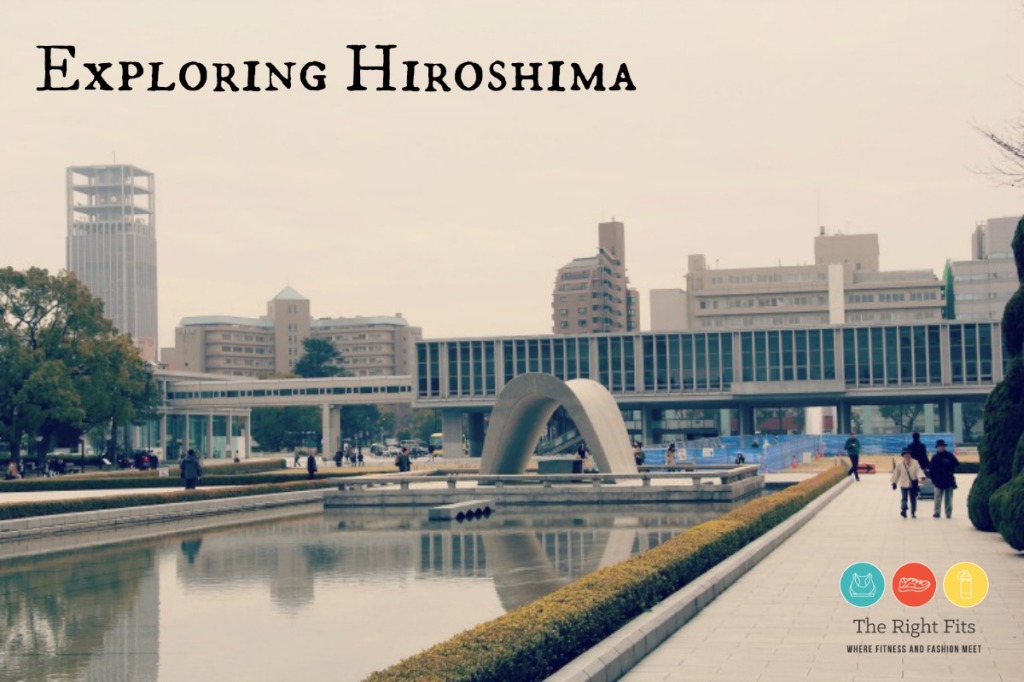 After exploring Tokyo and a traditional Nabe dinner, Dustin and I caught the 6 am Shinkansen train to Hiroshima. The Shinkansen is an incredibly fast (200 miles per hour) train in Japan. Each time we took this train, we decided to go with the Green cars, which are a bit nicer and allow you to reserve your spot. I preferred riding the Shinkansen to flying! It was so easy and relaxing. There was a woman who would come by with snacks and drinks and you could get up and walk around as much as you wanted. Two thumbs up for the Shinkansen! It's an awesome way to get around Japan.
We arrived in Hiroshima around 9:30 am and started walking to the Hiroshima museum. It was a good 45 minute walk, but it felt nice to stretch our legs after being on the train for three hours.
The Hiroshima site includes an actual museum and the "Peace Memorial Park." Both were worth a visit. While at the park, we were approached by multiple Japanese who just wanted to say hello and practice their English with us. It was so nice!
The below picture is off the Children's Peace Monument, which was erected to honor all the children who died in Hiroshima. The number of children who died was incredibly high, as the city was preparing for the demolition of some buildings. There were a lot volunteer children assisting with the work at the time and therefore, even more children than normal near the bombing site. One of the children who was near the bombing developed leukemia as an after-affect. When she was hospitalized, she started making paper cranes believing if she made 1,000 of them she would be cured. Unfortunately, she died, but her story lives on with this memorial and thousands of paper cranes that are sent here from around the world.
This picture is off the actual exact spot that the bomb was dropped. Somehow this building remained erect, so it has been marked as  World Heritage Site for preservation.
The museum itself is a little graphic, so I'll skip sharing any photos from inside the museum.
Back to the park…here are just some of the many, many paper cranes that children around the world have sent to Hiroshima.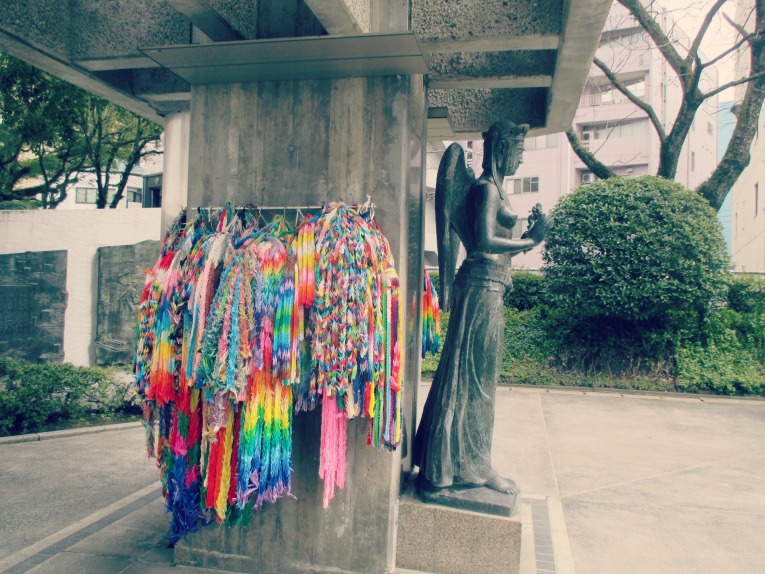 Most people come to Hiroshima to see the museum and memorial park. I am glad we made this stop on our trip as it's a big part of Japanese history (and US history as well) so it was meaningful to visit.
However, there is more to the city of Hiroshima than just the museum. We actually didn't have time to visit, but there is a cool castle in town that I wish we would have had time for.
The city is also well known for making okonomiyaki, specifically with noodles. Okonomiyaki is a Japanese savory pancake. It usually includes a flour batter, eggs, cabbage, green onions, pork belly, vegetables, and cheese.
Within Hiroshima, there was a building called Okonimimura, where there were 25 different stalls making the same thing- okonomiyaki! We went inside and picked the one that had a sign for an English menu.
It was scrumptious, though VERY filling. You need a sumo appetite to finish a Hiroshima okonimiyaki!
We walked around Hiroshima a bit more after lunch to work off all that pancake!
Eventually we made our way back to the Shinkansen train station, where we took a 1 hour train ride to Kyoto. Kyoto was my favorite city of our whole trip, so I'll have lots of pictures to share from our two nights there soon!
(Visited 284 time, 1 visit today)