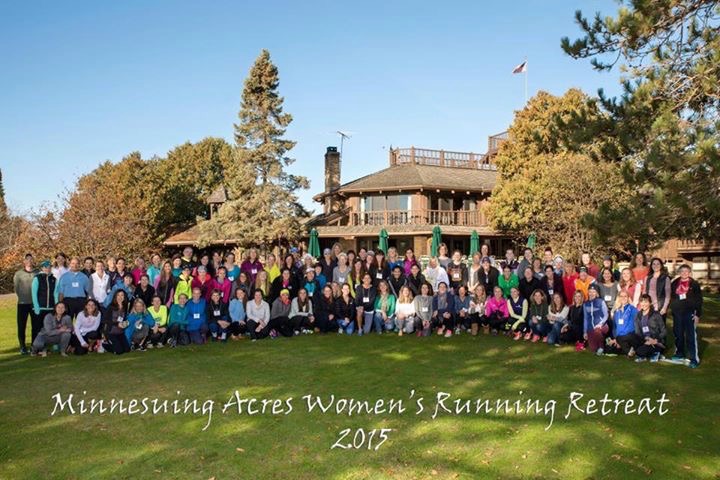 I'm back with another post about the Minnesuing Acres Women's Running Retreat. You can read part 1 of my recap of the Minnesuing Acres Women's Running Retreat here.
Duluth Running Company
After Adam & Kara Goucher's presentation, the next presentation was about apparel by the Duluth Running Company, or "DRC." One of the owners of the store gave a 30 minute overview of how to put together your running wardrobe.
She started by discussing the importance of a well-fitted sports bra. I definitely agree with her that Moving Comfort is one of the best in the business, offering bras for all shapes and sizes. Most local running stores will have someone on site to measure you for the correct sports bra.
She also discussed how to dress to be able to run through the cold Minnesota winters. She said you can get by with a couple of good pieces- a base layer, a mid-layer, and a shell. The base layer should be thin, sweat-wicking and fitted to your body. The mid-layer might be a half-zip with more sweat wicking abilities. The mid-layer could be worn on its own in warmer temps or topped with a shell, or a windproof jacket.  Some of my favorite "shells" or jackest are this, this, and this.
She also discussed how to select the correct pair of running shoes based on your pronation and foot strike. (I'm a Brooks Ravenna girl!) Most of what she shared was information that I already knew, but it was helpful to hear again and to see new styles of these items that are out for this winter season. After all, with the right gear, you can run outside all winter long!
Dr. Ann Sudoh: Runners and Their Aches and Pains
The next presenter was Dr. Ann Sudoh, who discussed runners and their aches and pains. She talked about common running injuries and how to prevent them (more discussion on that all-important core strength!)
She did point out that running is the only sport without a built in recovery phase. In skiing, biking, swimming, there is a built in "glide" or recovery phase, but in running, you are ALWAYS working; hence the higher number of overuse injuries. In addition to emphasizing a strong core, she also talked about the magic glutes. She said, "it really is all about that bass!" Runners must work hard to strengthen the core and the glutes!
She gave us three basic exercises to do after every run- a bridge, a clamshell, and a crabwalk.
She discussed the importance of recovery- sleep, nutrition, and rest. Your body is like a big Jenga game. It adapts and stays together quite well, but then there's that one last issue that "pulls out a block" and then the whole thing collapses.
Good Cross Training Options for Runners:
Elliptical training (she did a large portion of her Kona Ironman training on the elliptical)
Unweighted treadmill
Pool Running
Swimming
Biking
Strength Training
Rollerblading
Lessons from Injury:
Stop running until its healed.
Go to someone with experience (with running and with runners)
Be forgiving of self.
Always remember the big picture. The big picture is always worth more.
Strength and Stretch
Crosstrain
You will come back mentally stronger
You are not a failture
LightSpeed Treadmill Demo
Next was Malcolm Macaulay, who demonstrated his LightSpeed Treadmill.

The LightSpeed Treadmill is an affordable option to use with your existing treadmill. It wasn't a AlterG zero gravity kind of thing; instead, it's a somewhat simple contraption that you hook up to your treadmill. It takes off 15-20 pounds of your weight so that you are able to run with much less impact. This would allow you to train through a stress fracture and rehab faster.  It retails for about $2,500, which is cheaper than most treadmills and definitely cheaper than an AlterG treadmill. It's definitely something that I would be interested in, once we redo our basement and put a treadmill there.
Here's a short video of me trying it out:
I was able to really crank up the speed and work on quick turnover with my legs, without working as hard. I don't really know how running on this would transfer to real running. I think its more useful as an option when you have an injury versus for year-long training.
Fireside Chat with Janis and Barney Klecker
The final presentation on Saturday was a fireside chat with Janis and Barney Klecker.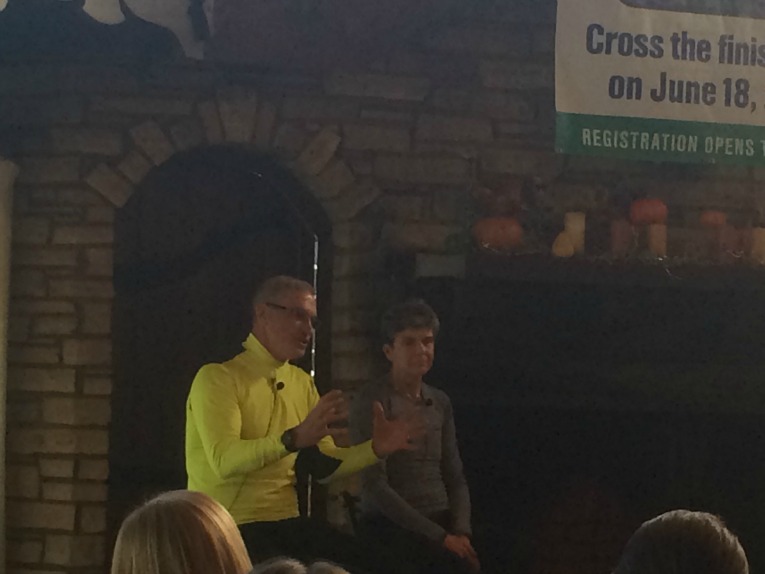 It was open to Q&A's and unfortunately I didn't take many notes during this presentation, but I definitely remember that the Kleckers are an amazing running couple- here's a bit about their background:
JANIS & BARNEY KLECKER
Janis  Klecker is an American marathon runner who finished 21st in the marathon at the 1992 Summer Olympics (2:47:17), and was the 1987 women's national marathon champion at Grandma's Marathon (2:36:12). Janis set the Women's American 50km road record of 3:13:51 in Tallahassee, FL(Her husband Barney holds the men's record of 2:52:48.) in 1983.  She won the Twin Cities Marathon in 1991 (2:30:31) and 1992 (2:36:50). She was inducted into the Grandma's Marathon Hall of Fame in 1998 and competed in her last marathon in 1999. She now practices dentistry in Minnetonka, MN. She is married and has six children. Janis credits her nearly 30-year running career to her late mother, Mae Horns, who herself completed more than 40 marathons, 19 ultra marathons and still holds several Minnesota age-group records.
Barney Klecker is a long time ambassador of the long distance running community. He won the second annual Grandma's Marathon in 1978 with his time of 2:18:42. Barney experienced many successful races on the scenic 26.2-mile course, having never placed lower than tenth in the six Grandma's Marathons he has completed. He was inducted into the Grandma's Marathon Hall of Fame in 1998. Barney's interest in sports stems back to high school with is participation in cross-country, track and wrestling. His love of running led him to achieve impressive personal bests times including a 2:15:18 in the marathon, 29:45 in the 10K and 23:17 in the five mile. In all, Barney has run over 100 marathons and 35 ultra-marathons, and holds the world and American 50-mile record with a time of 4:51:25. He lives in Minnetonka, Minnesota with his wife and past Grandma's Marathon champion, Janis, and six children Joseph, Elizabeth, Sarah, John, Mary and James.
FINAL RUN OF THE RETREAT:
After that presentation, there was time for other activities, such as a pontoon ride, kayaking, skeet-shooting, yoga, a trail run 10 minutes away from the retreat, and more. I headed to yoga with my sister. The retreat was running a bit behind schedule, so I was only able to stay in the yoga for about 15 minutes before heading back to change again for the second run of the day. I didn't want to miss my chance to run with Kara!
(The yoga was taught by Janis Klecker in the boathouse at the retreat.)
My coach had a double on my schedule and I wanted to run with Kara Goucher, so it worked perfectly! As I mentioned in this post, we were running sub-8 min/miles which was super easy for Kara, but not so easy for me! I kept up, but didn't say much- just listened as Kara chatted with a few others around her.
Overall throughout the entire retreat, she was incredibly welcoming and kind. I know she was getting paid to be there, but she seemed to be enjoying herself and seemed to be a really nice person. I am glad I had the opportunity to meet her.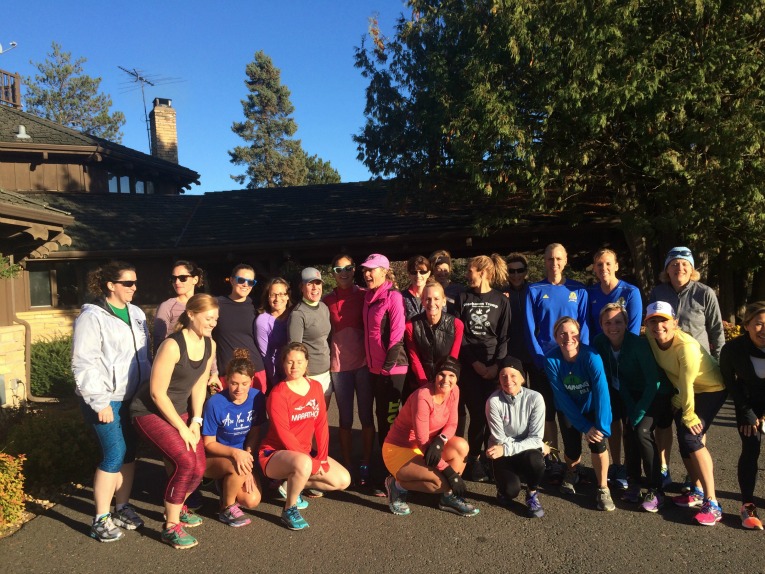 After the run and another shower, it was social hour and then dinner, after which Erin and I made the short drive back to the cabin.
Would I do another running retreat like this?
Definitely. If this same camp is offered next year, I would sign up for the day camp again and stay at the cabin. However, I have also looked at other retreats across the country that offer a bit more customized coaching- gait analysis, nutrition, etc. I think that would also be beneficial for me. I get a lot of those things from my coach, Antonio Vega from Zoom Performance but I just can't get enough! I know it might sound strange to non-runners, but a running retreat is my ideal vacation- exercise, learning about running, healthy food, and relaxing- perfection!
I love running so this retreat was still definitely up my alley. And its hard not to love running on beautiful fall days in Northern Wisconsin like those we experienced at the camp!
If you also love running, I definitely recommend a retreat like this to learn more about this sport we love, meet other awesome runners, and get inspired by some amazing athletes!
(Visited 670 time, 1 visit today)