If you're catching up, check out this post– I registered for the Phoenix Marathon February 27th, which is just 12 weeks away! Training will ramp up quickly with such a short training cycle. Here's how this past week worked out:
Monday: 5.5 morning miles in a very intense snowstorm! It's crazy to think that one week before I was running in shorts; then a crazy blizzard!
Left: this Monday. Right: Last Monday!

Then I took a [solidcore] Arms & Abs class after work. I arrived at this class about 10 minutes late due to insane traffic, but I feel like I still got a good workout even after missing the beginning.  Love that class.

Tuesday: 5 miles easy with my friend Lindsey and Matilda the vizsla. All that snow from the previous day had melted into a wet mess! Tilda was super muddy after this run. Fortunately vizslas are really easy to clean- I just wiped her down with a towel.
Wednesday: 3 very slow miles- all that WET from the previous day froze overnight and the trails were super slippery. I was really frustrated and thought about just giving up, but I managed to get through 3 miles. In hindsight, I should have gone to the gym to run on the treadmill, but I didn't realize how slippery it would be until I was already out there.
Thursday: My first workout since the Richmond Marathon! "Change of Pace" workout: 2 miles to warm-up, 1×3 miles at a 7:40 pace with a 400m recovery at an 8:30 pace in between. The recovery was very short and still at a faster clip, so it was a tough workout. 1 mile to cool down for about 7 miles total.
Another [solidcore] Arms & Abs class after work! My friend Monica and I went to the class together, then did a little shopping around the West End, stopping by the 1-year anniversary party for [solidcore] a bit later in the evening. I'm so glad we have a [solidcore] studio in Minneapolis; there is only one other location in D.C. so we are very fortunate to have TWO studios here (St. Louis Park and Wayzata) as I strongly feel its one of the hardest workouts out there!
P.S. If you haven't checked out Kittsona in the West End, you must go there! It's a really cute women's boutique that also has so much awesome Minnesota gear. I will definitely be back to do some Christmas shopping.
Friday:  5 easy miles with two run club friends (and Matilda- I think Matilda is basically doing my #RWRunStreak too, ha!)
Saturday: 13.5 mile long run with the Calhoun Beach Running Club. Beautiful winter day (temps in the upper 30's), fun group of ladies out there.
Saturday early evening was our friend's annual holiday party. It was so much fun! I rented a dress from Rent the Runway and LOVED it. This was my 3rd time using Rent the Runway, and here's what I've learned. Definitely read all the user reviews of a dress so you know what size(s) to order. Each designer's sizes vary greatly, so it helps to read reviews from real people. You always get a second size for free with Rent the Runway. For the Bagley Mischka dress, I ordered a 4 and a 6 (I ended up wearing the 4). But with other dresses in the past, an 8 was almost too small. It really varies, so it pays to do your research ahead of time.
A green sequined dress definitely makes a statement- It was perfect for a holiday party, but probably not a dress I would wear multiple times, so Rent the Runway was a great choice for this event.
…and for an update on our kitchen project, here's where we are. Bit of a disaster right? Dry-walling starts this week, then the floors, then the cabinets, then the countertops…still a few months out though.


Sunday: 4 miles easy with Matilda.
Summary: 43 miles, 2 [solidcore] Arms & Abs classes
Just for fun, here are a few more pictures from our friend's holiday party. A few are courtesy of Huluku photography, including the one on the cover photo. Yes, our friends had a photographer at the party, as well as awesome appetizers, drinks and very festive decorations!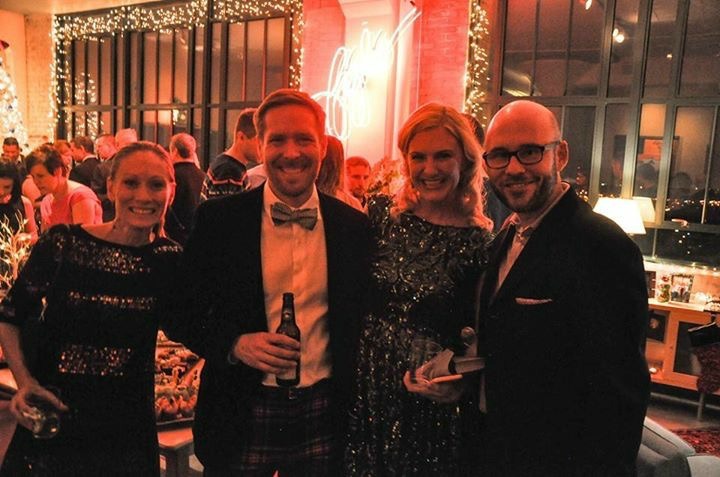 I hope you had a wonderful weekend!
Do you have any holiday parties coming up?  Have you tried Rent the Runway?
Stop back later this week as I have a fun giveaway coming up!
(Visited 301 time, 1 visit today)