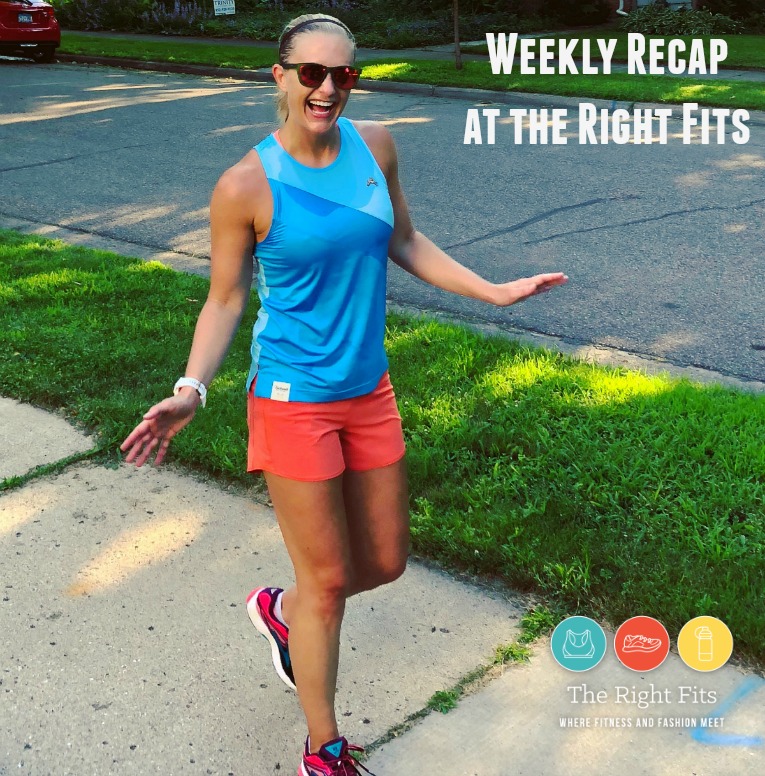 This is officially the last week I'm going to count back from when I broke my leg. I mean, TWENTY weeks- that's a long time to keep talking about an injury. Granted, it was a traumatic one, but I think it's time to look forward. It's time to focus on getting back into running shape. Focus on the future. That broken leg is just a bad memory!
Speaking of running, this week actually had a lot of it (relatively). Here's my recap:
Monday: Ran 5 at cabin with 6 minute run/1 minute walk. The country roads by the cabin are hilly and HOT- no shade. But I covered my longest run post-broken leg, 5 miles!
We drove back to Minneapolis later that morning; unfortunately, we couldn't stay at the cabin the whole week of the 4th, but it was nice to have a bit of a long weekend there.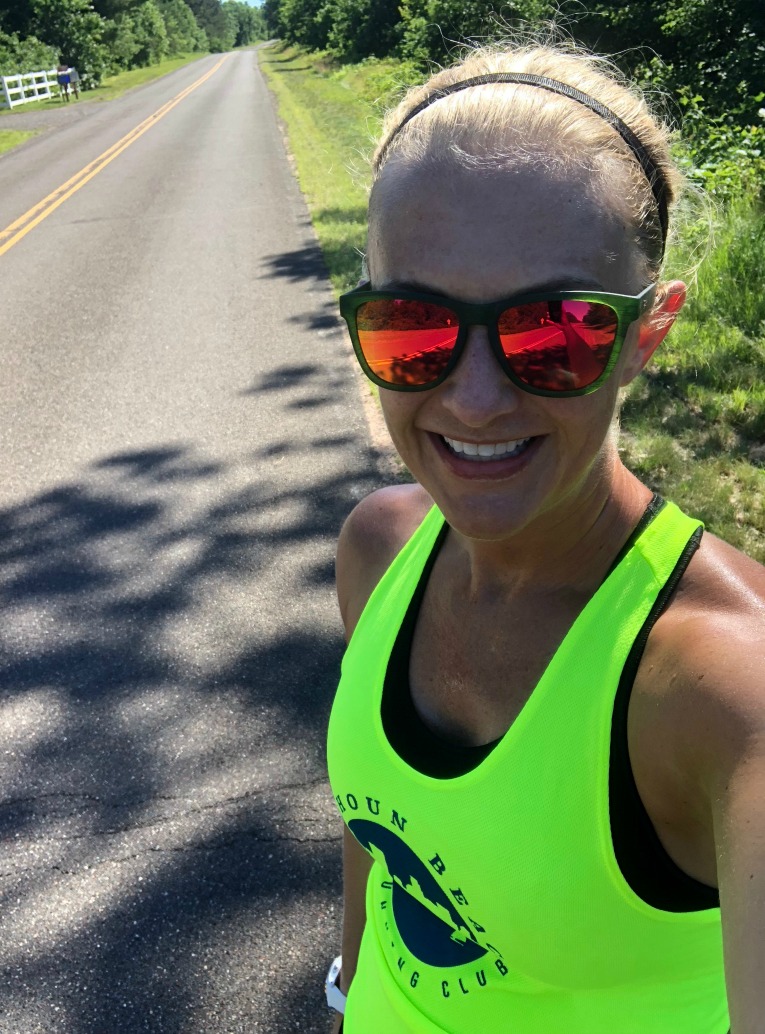 Tuesday: [solidcore]  before work
Wednesday: [solidcore] arms and abs, then a 4 mile run with Dustin and Matilda with a 6:1 run/walk interval. My program has me do each interval for two runs and if no pain, then I can increase to the next step. This was my second 6:1 run.
Dustin is a patient running buddy; he normally runs a 7:15 easy run pace, but he stuck with me for my run/walk the whole time.
A big storm rolled in during our run- strong wind, lightning, thunder, even hail. Poor Tilda, I was worried about the hail hitting her skinny body! I have to admit, we may have fudged a little on those walk intervals, just because I was in a hurry to get home.
Thursday:  Swam 2000 yards before work. It felt great!
Friday: Elliptical for 30 minutes, then 10 minutes on the stair stepper, PT/strength exercises before work. Then I zipped on over to Mayo for 30 minute "appointment" at 7 am to run on the Alter-G (zero gravity treadmill.). My PT said that adding in extra runs on the Alter-G at 75% of my weight is a great way to continue working on my running cardio without overdoing it. I covered 3.8 miles. Even though I was only at 75% of my weight, it still felt like running. I worked up quite a sweat!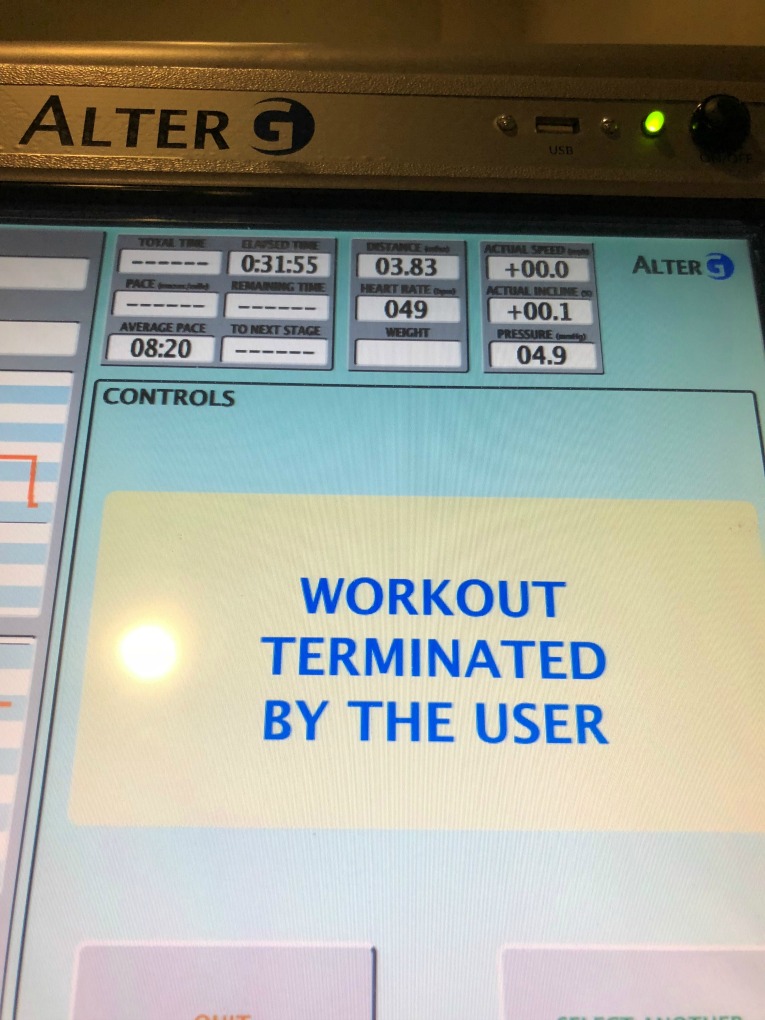 Saturday: I ran 4.5 run with 7 minutes on/1 minute off (i.e. a step up in the interval program!) I ran into some of the girls from my run club, so I joined them for a little while, which felt like the good old days. They were starting their long runs; I only kept up for one 7 minute interval 🙂
After my run, we packed up the car and headed to overnight adults-only Pizza Camp! I think I'll write a whole separate post about Pizza Camp, as I have a ton of pictures to share. It was definitely a blast!
The camp attracted about 50 pizza-loving adults to stay in rustic cabins (no electricity!), play retro camp games and camp activities (canoeing, archery, arts & crafts), enjoy guest speakers on pizza history, take lessons in pizza cooking, and eat LOTS of pizza!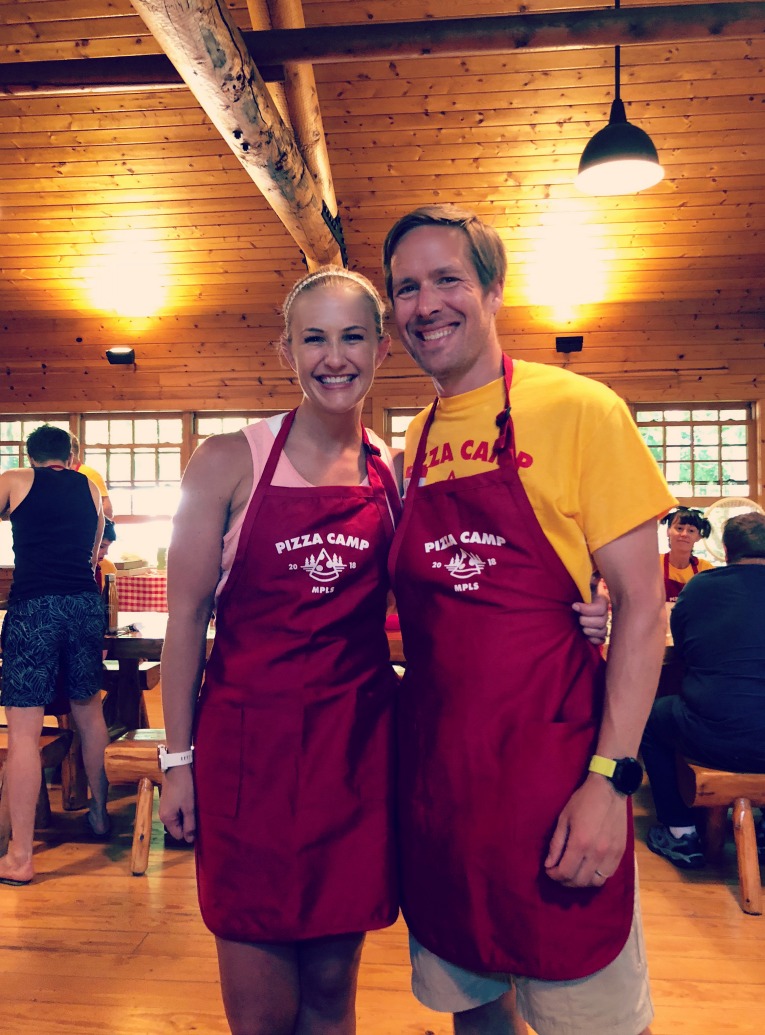 We attended with 6 run club friends, which was a blast. These runners love their pizza!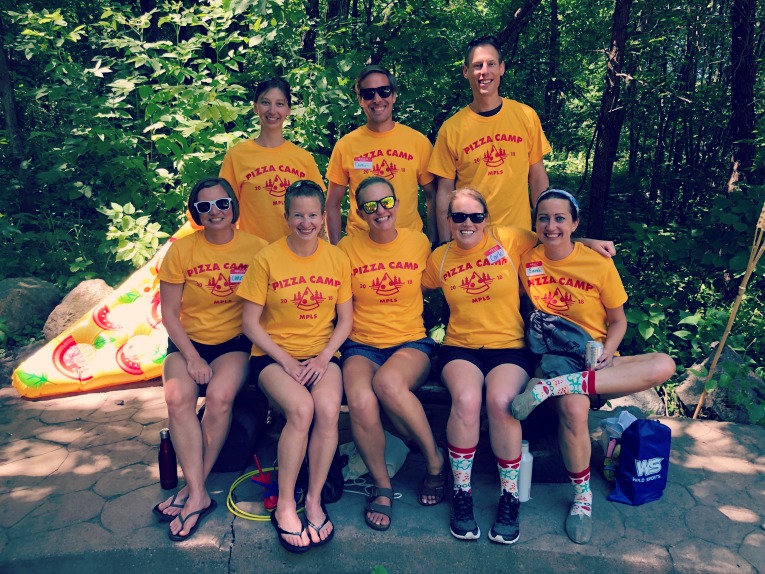 Sunday: 4 mile run after returning home from Pizza Camp. This was in the middle of the hot afternoon- whew!
Okay, yes, I did run two days in a row, but my ankle/leg is feeling good, so I thought it would be okay just this once. I promise I'll listen to my PT and try to go every-other-day as much as I can…
Summary:  About 20 miles of running- woohoo!!! (with 3.5 on the Alter-G), two solidcore classes, 1 swim, 1 elliptical/stair combo, lots of PT exercises.
So….coming back to running is TOUGH. My easy run pace used to be 8:45 min/mile and I kept up an 8:12 minute/mile for 26.2 miles for my marathon PR. But now I'm huffing and puffing to maintain a 10 minute mile pace for 3-5 miles with walk breaks. It's a little discouraging to know where I was and where I am now. Five months off of  running leads to a lot of lost running fitness.
I know this is part of the process. It's part of the comeback, right? I hope so. I'll  keep pressing on, mile by mile. Eventually I'll get there, right? Consistency. It's still so wonderful to have running back in my life and I'm going to do my best to stay positive while I'm out there huffing and puffing ha! 🙂
I'm linking up as always with HoHo Runs and Taking the Long Way Home for their weekly wrap. Check it out!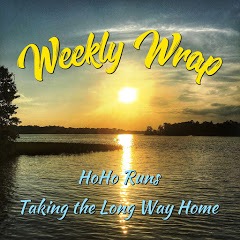 (Visited 524 time, 1 visit today)