If you're new here, I'm doing a crowd sourced series of posts featuring your favorite running gear. I'm reaching out to all the runners that I know to share their most favorite running gear; after I've shared all the posts, I hope to do one summary of the most popular items from my most "unscientific" survey.
(You can catch up on part 1 here , part 2 part 3, part 4, part 5, part 6 and part 7)
I'm also turning this into a link-up for other bloggers to share their favorites on their blogs, see below to add your post to the link-up! If you don't have a blog and are interested in being featured to share your favorites, please let me know. I need more volunteers!
Today's post features Rita!
I met Rita through my blog and we have connected over our shared love of Minneapolis, dogs, delicious brunch, and of course, RUNNING!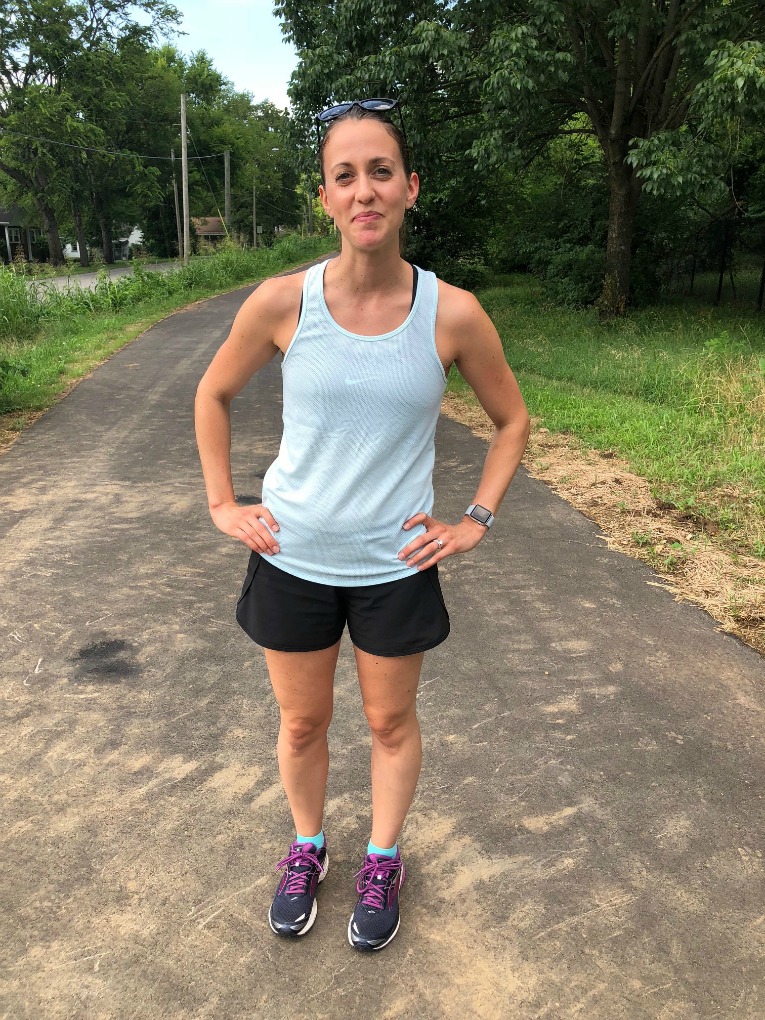 Without further delay, I will hand things over to Rita to share her favorites!
Rita:
I started running in college – I lived in Madison, Wisconsin, and it was such a runner-friendly city with lots of lakeside trails that I couldn't help but join the running community. My first real "distance" race was a Ragnar relay with some friends in college and after that I was hooked and haven't looked back.
My first marathon was the Twin Cities Marathon in 2014, and although it was an absolute blast (favorite race to date!), I learned quickly during that summer of training that I needed some better gear if I was going to keep running that many miles each week. Enter The Right Fits, a blog where I could read reviews of high-quality running gear as well as keep up with Jessie and her running adventures in Minneapolis and around the world!
I ran a lot during the last four years while I lived in Minneapolis to help combat the stress of being a medical student and to explore the lakes and trails all over the city, and I plan to keep running now that I'm a busy medical resident in Nashville! From a running perspective, the biggest difference for me so far between Nashville and Minneapolis is the HEAT – or maybe it's the humidity – so running gear for hot, sunny weather has been crucial. Here are a few of my hot-weather favorites!
Rita's Favorite shorts
My favorite shorts are the Lululemon Run Times Short These are the only shorts I run in these days. They have a thick waistband that doesn't dig in and just enough pockets for keys, credit card, etc. without being bulky or having lots of zippers. They are a little bit longer in length than some of the other Lululemon shorts and they hold up super well after years of wear. I still have and wear the first pair I bought over five years ago!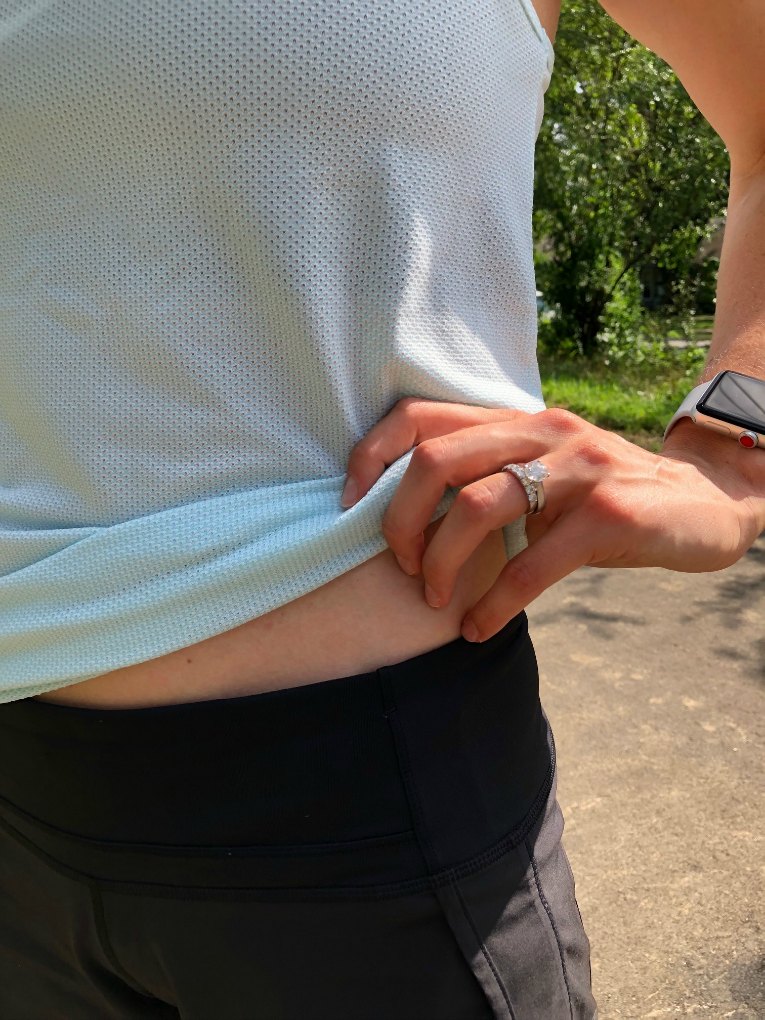 Rita's Favorite tank
My favorite tank is the Oiselle Flyout Tank!
Like Jessie and many others, I love everything about Oiselle – their gear is of such great quality and the brand's dedication to supporting women runners is a mission I can easily get behind. This tank is super lightweight, the kind of material that makes me feel like I'm hardly wearing a top yet it keeps me plenty covered. The neckline hits just right for my preference, not too high for those extra sweaty days when I don't want anything constricting around my neck. I bought it in my regular size and it fits a little loose and long, which is how I prefer my running tanks to fit. I haven't yet joined the sports bra-only club, but this feels close to it on really hot long runs.
Rita's Favorite sports bra:
My favorite sports bra is the Nike Classic Swoosh
Nothing fancy here, guys – I have a huge stash of really basic Nike sports bras and they are still my favorite for running. I've tried so many others and I keep coming back to these old favorites of mine. I know the strappy sports bras are trendy these days (and much prettier than these boring ones), but I've found these thick racerback-style straps to be the most comfortable. Probably not enough support for larger cup sizes, but it gets the job done for me and the price is hard to beat.
Rita's Favorite Running Sunglasses:
I love the Goodr Speed Goggles!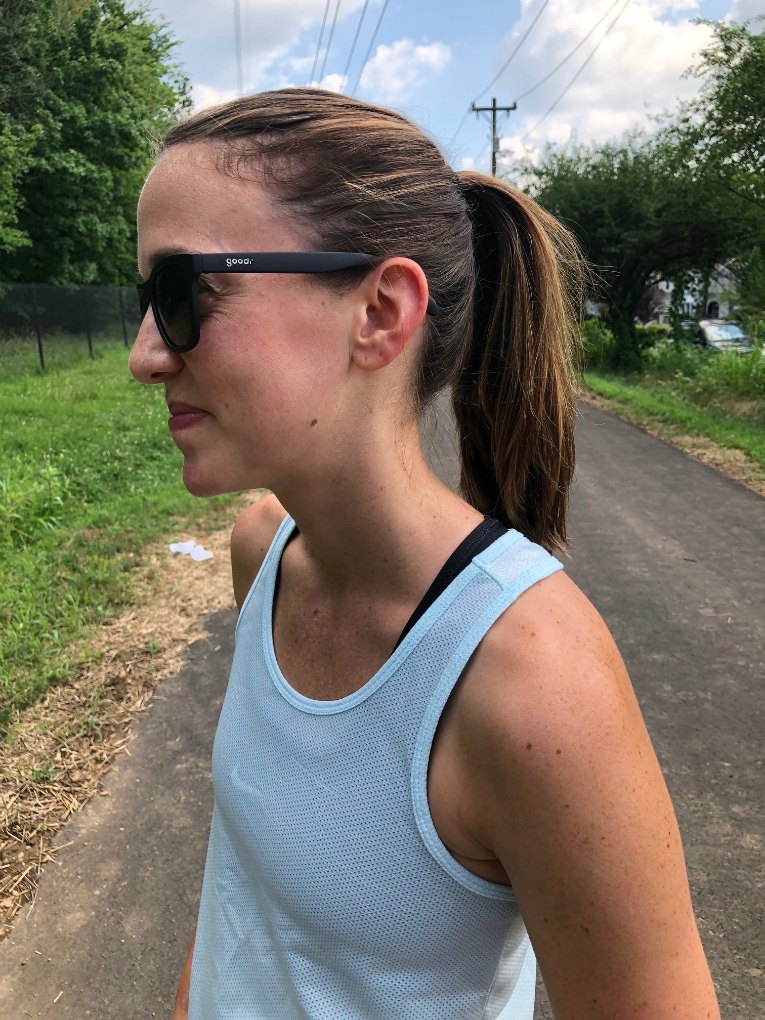 Most mornings I get out for a run before the sun is up (thank you, hospital hours!), but on days when I sleep in a little or run long, these are a lifesaver. They are inexpensive, lightweight, and most importantly they stay on my head! I know these have been reviewed on the blog in the past, but I whole-heartedly agree with the thumbs up on these!
Rita's Favorite socks
Swiftwick Aspire One
I got these socks a few years back as a gift from a girlfriend who's an avid triathlete, and I have since ordered many more pairs. They fit a little tight like a compression sock, which definitely helps my feet hold up on long runs, and they wick sweat quickly to keep my very blister-prone feet blister-free. I now gift these to all the runners in my life!
Also, my shoes are Brooks Ravennas – I was looking for a new running shoe a few years ago after my favorite style was discontinued and tried the Ravenna thanks to Jessie's reviews, and I've been a fan ever since!
Thank you so much Rita for sharing your favorites!
(Visited 454 time, 1 visit today)