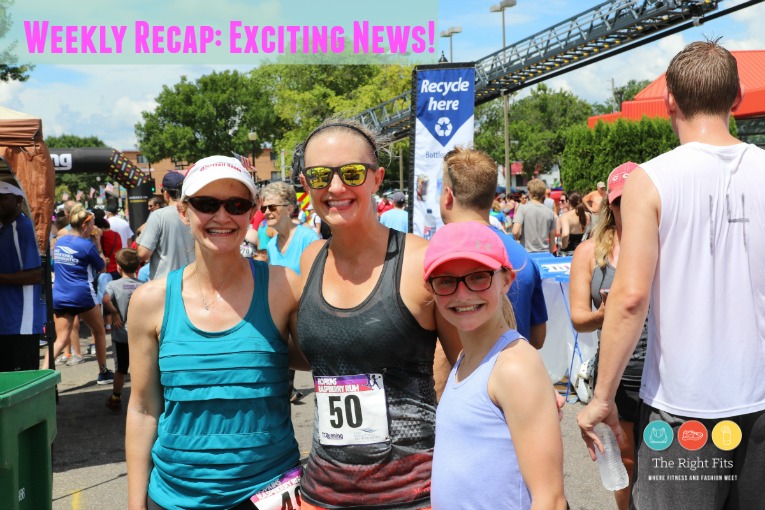 This post is SUPER long, so sit down, put yourself a glass of NUUN (or wine) and settle in.
I have some exciting things to share and I want to get them all out there in my weekly recap post. However, if you didn't check in here the rest of the week, be sure to look back at this post of running favorites from Rita and this post recapping my experience at PIZZA CAMP!
First of all, you read that title correctly. I registered for the Houston Marathon! It's 7 months away (January 20th), but I am SO excited to have a marathon again on the horizon!
This does mean that I will go a full year, all of 2018, without running a marathon. I haven't done that since I completed my first marathon in 2005!
2005: 1 marathon, 2006: 2 marathons , 2007: 1 marathon, 2008: 1 marathon, 2009: 1 marathon, 2010: 2 marathons, 2011: 3 marathons, 2012: 2 marathons, 2013: 2 marathons, 2014: 2 marathons, 2015: 3 marathons, 2016: 5 marathons, 2017: 4 marathons
2018: Zero.  That's what happens when you break your tibia/fibula in February.
But the great news is that I will  be running marathons in 2019!
Second bit of news, I signed up with a new coach as well that I'm really excited about. My old coach was awesome, but I thought this was a good opportunity to shake things up. I realize it might be a bit early to start working with a coach again when I'm running so little, but I want to have the guidance of a coach to give me a program to follow and to keep me in check. My PT sessions are almost done, so I won't have a physical therapist telling me what to do.  I want to have the structure and guidance of a coach to bring me back to running the marathon distance again in a safe way.
On the initial call with the new coach, she pointed out that this 5 month break was probably a very healthy and important hormonal reset for my body, (i.e. with burnout being a hormonal issue). I had run 29 marathons in 10 years; that's a lot. Most likely, my body needed that time off (as well as my mind, I'm sure) in order to come back to running. Now I will be ready and able to make improvements as an athlete. She said I could potentially get a lot faster now, which is fun to think about.
But that "get faster" part won't be happening for Houston. My goal for Houston will be to get back to marathon distance safely and healthily, but there will be no time goal whatsoever. I just want to be able to cover 26.2 miles feeling good.
Physically, my training won't be the same for this marathon. I won't be able to run 70+ mile weeks with double runs some days; instead, I will be training on a much lower mileage plan to keep my bones and tendons happy as I increase the volume of running.
My PT at Mayo agrees with this plan and with my expectations for Houston; of course, he constantly reminds me to adjust my expectations in terms of pace and volume; stress fractures near the healing bones are very possible if I don't let my bones recover between each run, as well as tendinopathy if I don't keep up with my PT exercises.
So I will be careful.
But I'm still super excited!  In our 50 state quest, we haven't run a marathon in Texas yet, so Houston will be a great opportunity to do so.
I also excited to share that we officially are running Antarctica next year too! Hopefully this time works out right? (If you're new to my story, read this article in Runner's World. Attempt #1 for Antarctica was a dramatic bust.)
I'm hoping that 2019 will be a much better running year than 2018.
Okay, on to the weekly recap!
Monday: Elliptical 45 minutes, 10 minutes on the stair stepper, PT exercises.
Tuesday:  30 minute appointment on the AlterG Zero Gravity treadmill. I covered about 3.5 miles at 75% of my weight. Then after work, I ran home, which was almost 6 miles. My longest run post-broken leg!
My friend (and coworker) Vicki joined me. It was so great to be able to run commute again!
I use this Patagonia backpack for run commuting.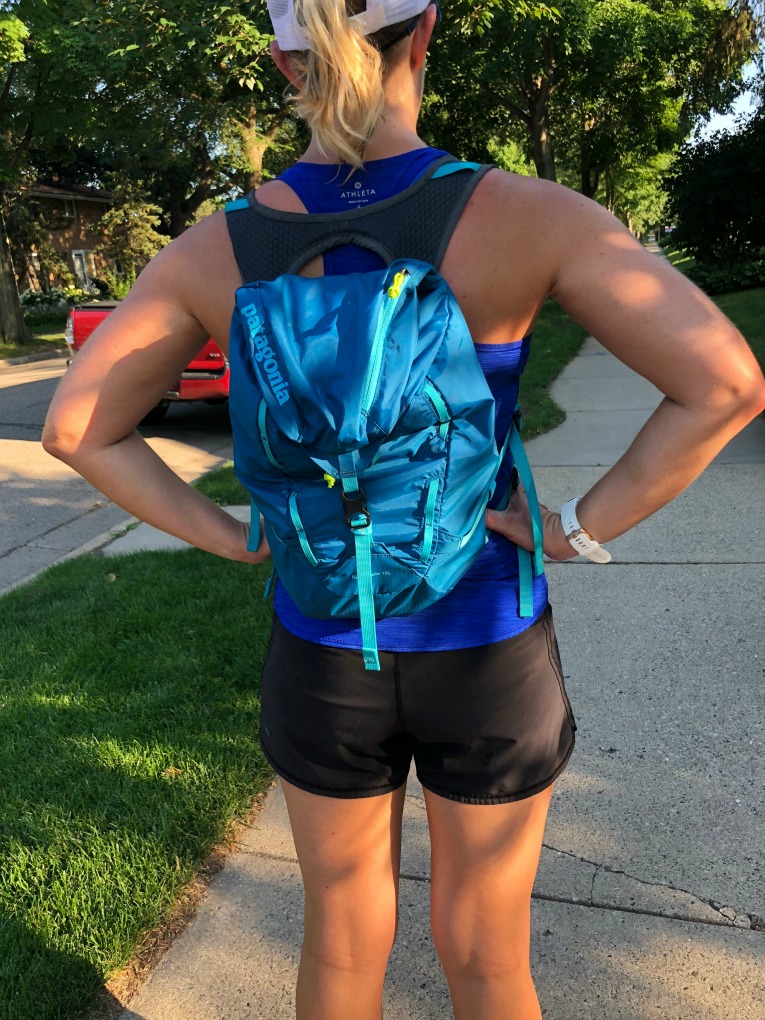 Wednesday: [solidcore] before work (50 minute pilates-type strength class.)
Thursday: A 4 mile morning run with my friend Vicki.
I wore my new Oiselle Flyout tank that I purchased based on Rita's recommendations. It's awesome!
Friday: 2,000 meter swim before work, PT appointment at Mayo that included lots of jumping/strength/drills.
Saturday: 5 mile run with my friends Tricia and Vicki, as well as Matilda (my dog), though she wasn't feeling it, as it was really hot. We took lots of breaks for her to get water wherever we could and the pace was slow enough that I think she was okay, but I definitely don't want to push her too much in that kind of weather.
She was pooped after the run, but she did rally for a fun little dog-friendly festival in the afternoon at Lakes & Legends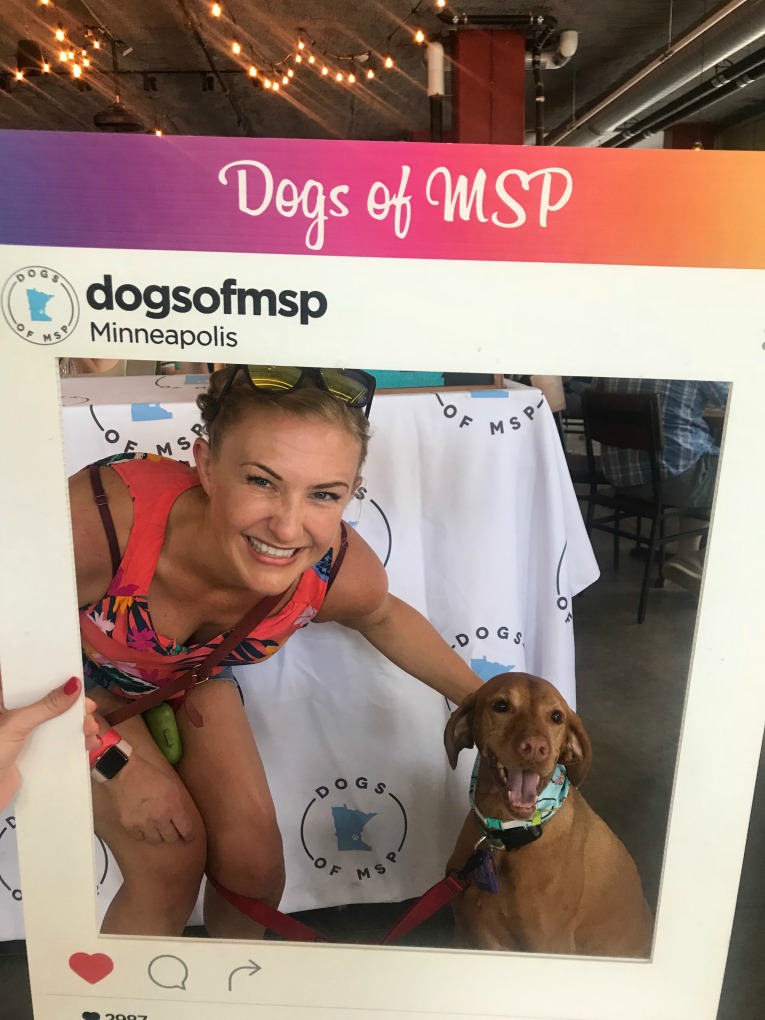 So many dogs, including a dalmatian puppy!
That evening, we went out to a belated birthday dinner for Dustin at Octo Fishbar in St. Paul. So good.
Sunday: I took an early solidcore class, before pinning on a race bib for the first time since last year!
I ran my first 'official' race since I broke my leg, which was the Raspberry Run 1 mile in Hopkins.
I ran with my sister Cresta, who ran her fastest mile since high school, 8:20!
It was fun to run with her and help her push herself. A 1-mile is HARD. She definitely prefers the long distance on the trail, but it's good to switch it up sometimes and get out of your comfort zone.
And me, I'm just happy to be running but it was good to know I could still run a mile at that pace too.
Kids under 16 race free, so my niece Clara also ran it- she ran a 7:42 mile, and that was with starting with Cresta and me vs. just running her own pace the whole way. Impressive!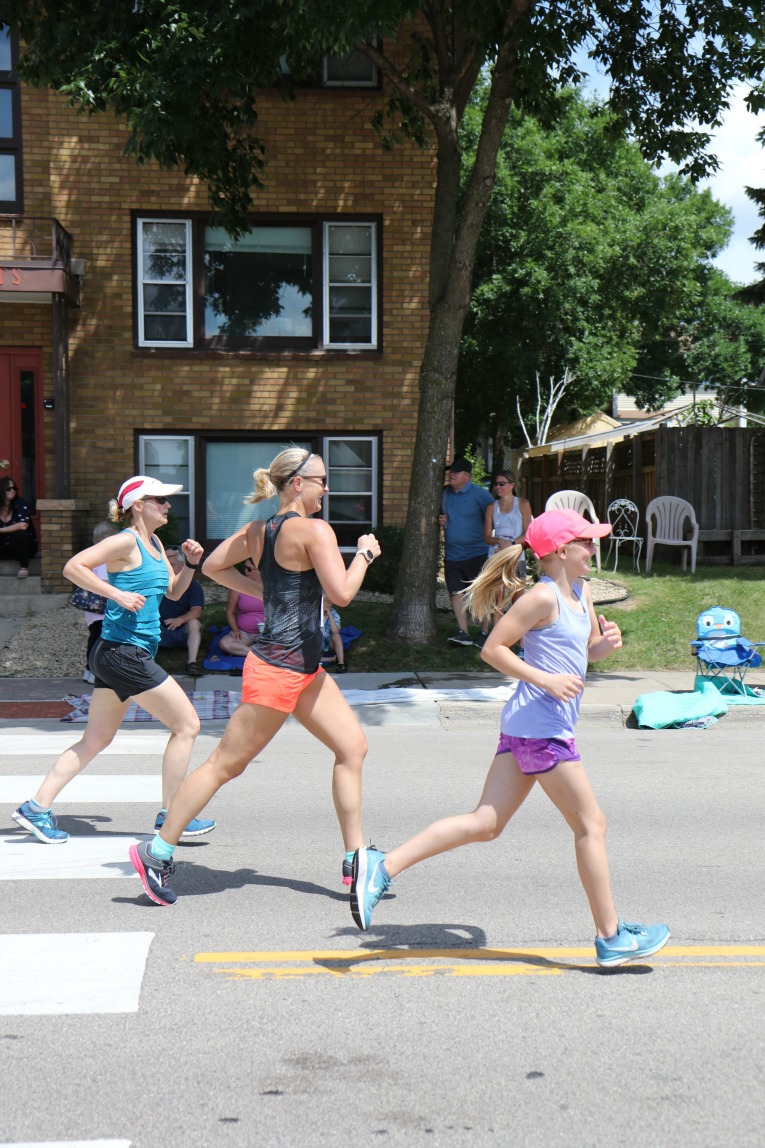 The 1-mile is at high noon on a hot, hot July day, but there were plenty of watermelon, oranges, water, and a fireman's hose to cool you down at the end!
We also tried out some of the Thai rolled ice cream as a treat afterwards.
No visit to the Raspberry Festival is complete without a stop by the World's Largest Raspberry!
Summary:  About 20 miles of running, 2 solidcore classes, 1 swim, 1 elliptical day, 1 PT appointment. Yay to be running again!
If you made it through this whole post, AMAZING. Sorry, I just had so much to share this week that I am super excited about.
I'm linking up as always with HoHo Runs and Taking the Long Way Home for their weekly wrap. Check it out!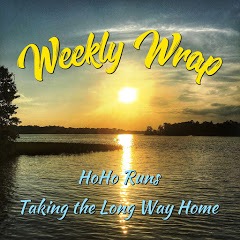 (Visited 421 time, 1 visit today)