Last weekend, I attended Pizza Camp.
Yes, Pizza Camp.
It was amazing. Pizza AND camp. What's not to like?
What is Pizza Camp?
Pizza Camp is an adults only (21+) overnight camp for pizza-loving adults. Two run club friends of mine, Sarah and Carla, attended last summer and had a blast, so they were able to rally a group of 8 of us to attend this year.
The camp was about $200/person, which may seem like a lot for just one night, but that included multiple meals (two breakfasts, lunch, and a dinner) and all you could drink Fulton beer, as well as a plethora of pizza-related activities and of course, lodging at the camp.
Arrival!
We arrived at Baker-Near-Wilderness Settlement around 9:30 am on Saturday for registration, where of course there was some 'light pizza snacks' and coffee. We settled into our 'rustic cabin' (no electricity, 4 sets of bunk beds) and then played an ice breaker game with the rest of the campers, (about pizza of course.)
Eventually, pizza donuts from Glam Doll donuts were served:
Then we were given a camp schedule for the weekend: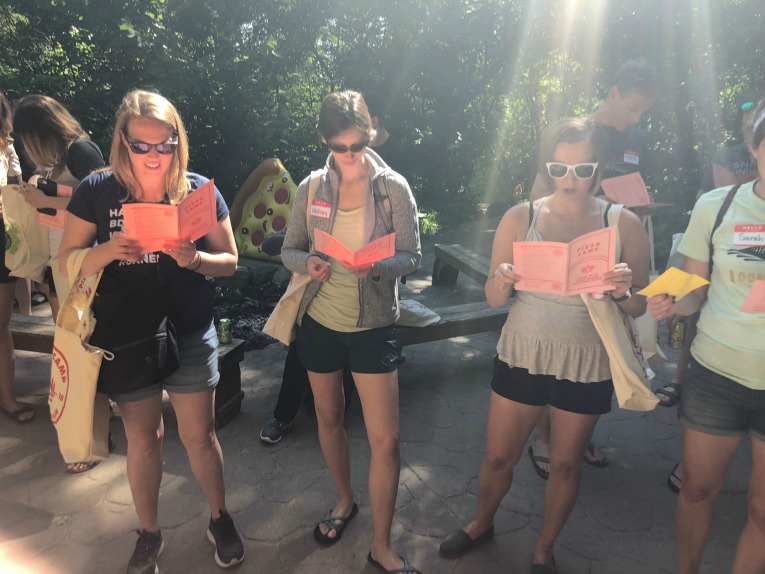 Introductions to the camp counselors and staff were held in the lodge before we split off into groups for the activities.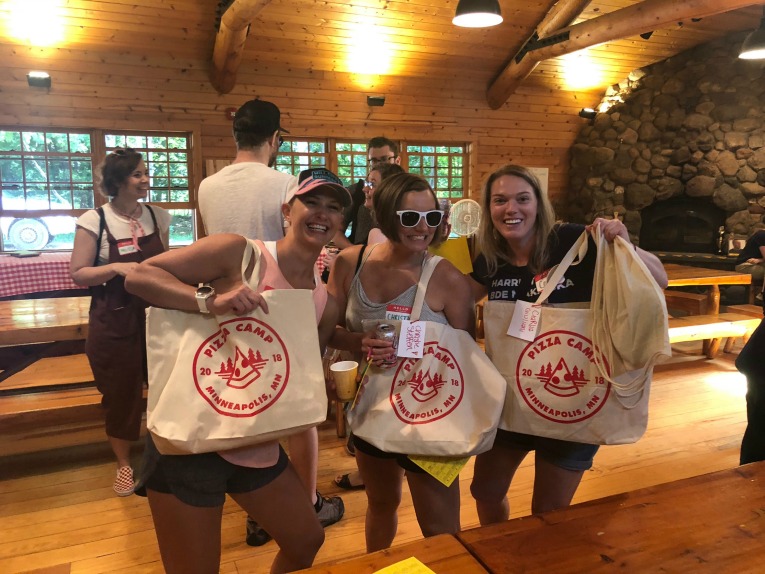 We were in the "SAUCE" group, so our first activity was canoeing.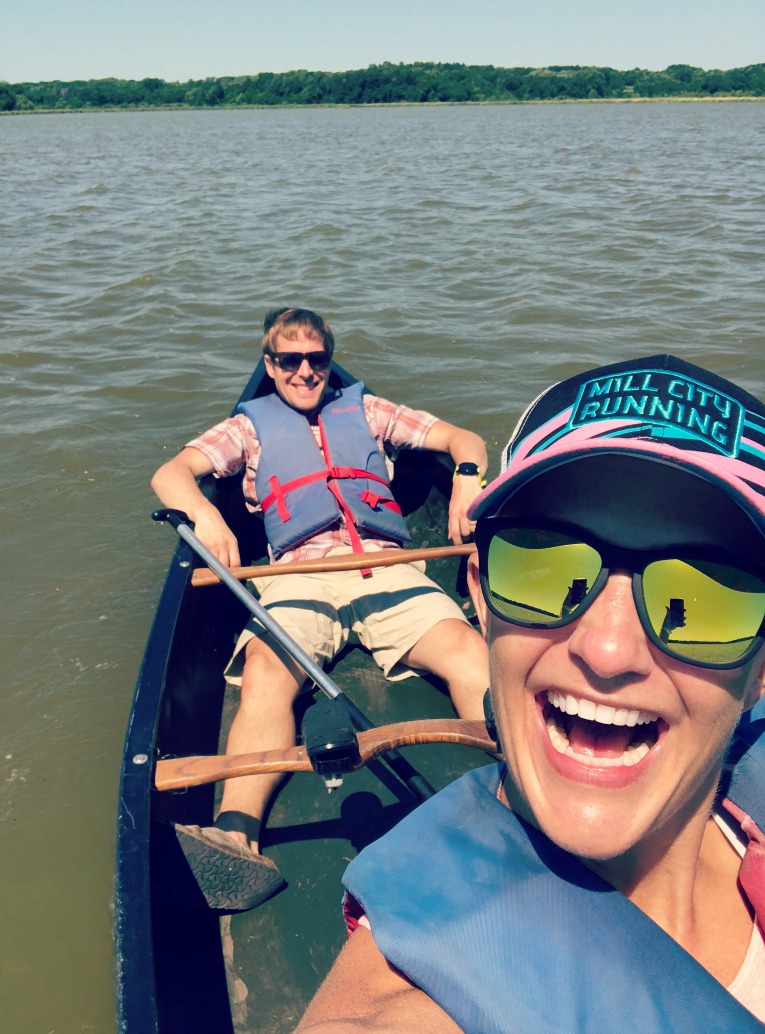 We had about an hour to paddle around a marshy 'pond/lake' and enjoy the outdoors. It was great..until one couple capsized…with their iPhones. 🙁
After canoeing, it was time for "Pizzarchery"- i.e. archery.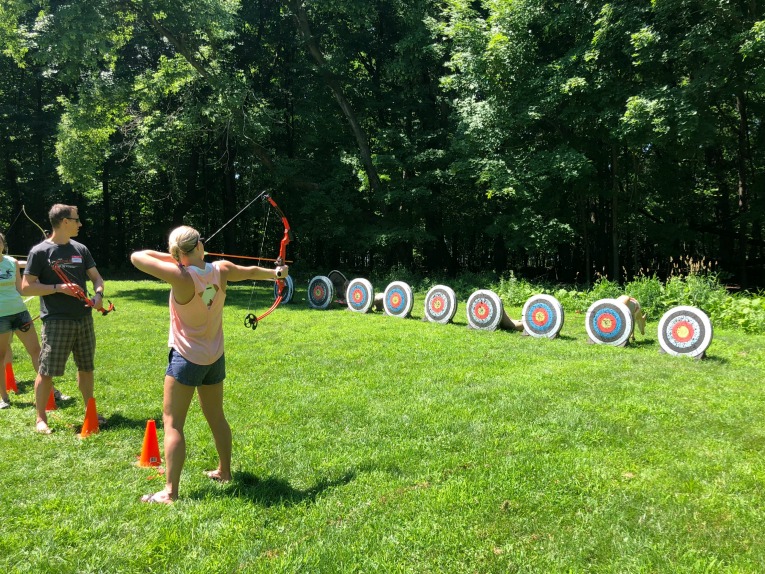 We had a great instructor who taught us the basics of archery and then we took turns shooting.
I actually really enjoyed archery. Way more than I thought I would. And I wasn't too bad at it!
(Yes, I am left-handed.)
After archery it was lunch time, which was, of course…pizza!
Lunch was a variety of pizzas from a few different local pizzerias.
After lunch, we had a short lesson in screen printing:
Then we played a variety of retro pizza-themed camp games…"Chef's in the kitchen!"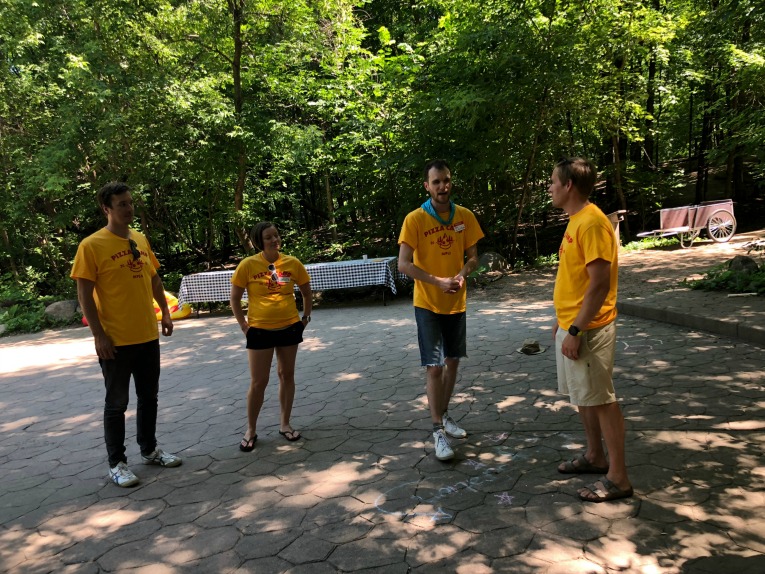 The games were a blast! Although I did have to skip capture the pizza box, since it involved a lot of sprinting through the woods…(remember the whole broken leg thing?)
After all the games, we took a lesson in dough making.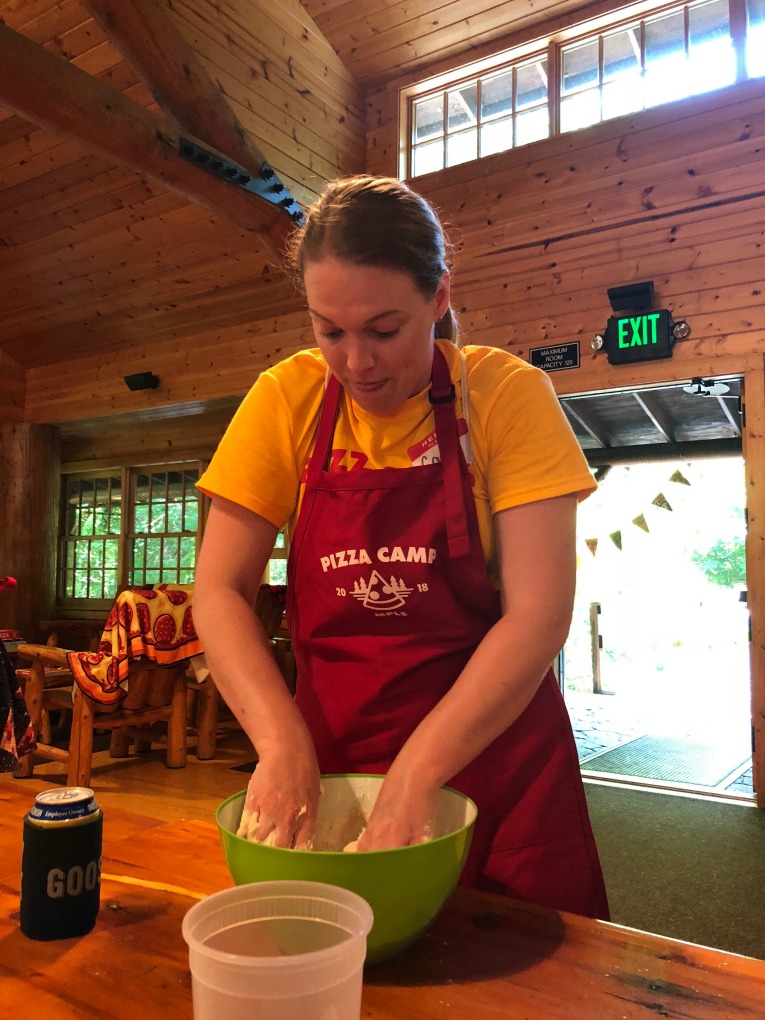 Then there was a guest speaker from the US Pizza Museum who spoke about the history of pizza in Minnesota, what the pizza museum entails, and more!
What is pizza? Are bagel bites pizza? Is deep dish pizza pizza?
What is pizza to you? Does it have to have sauce? Does it have to be baked?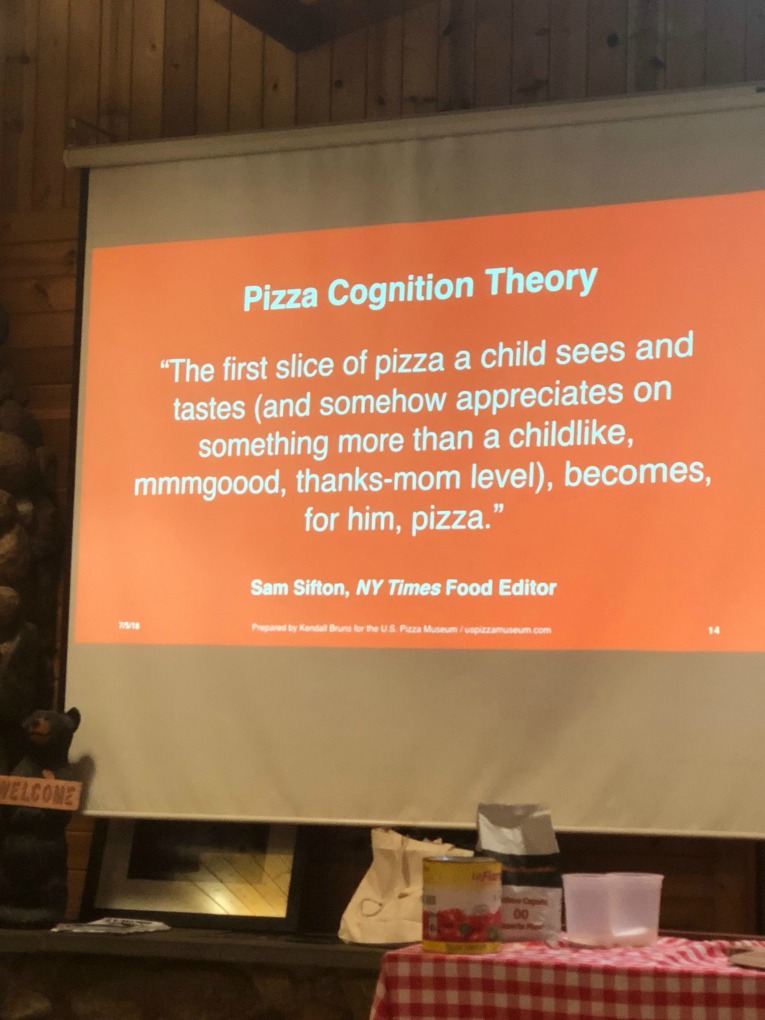 So much fun pizza learning!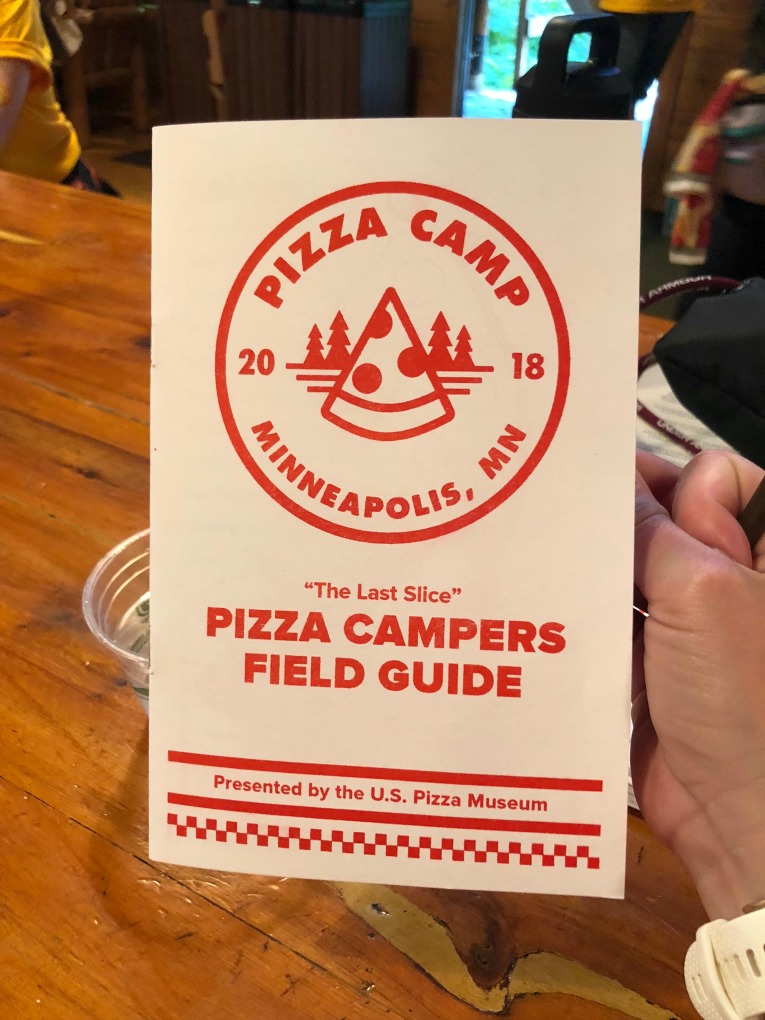 Later that evening, there was a water balloon fight. Of course.
Then, dinner…
I'll give you one guess what we ate:
We made our own pizzas from the dough we had made earlier. There was a full table of every topping you could possibly want to put on your pizza, and a wood-fire oven to bake it in. Delicious.
I also took some time to work on my friendship bracelet making skills. These are important skills to keep up with.
Once it was dark, a musician led us in pizza-themed cover songs around the campfire. We also participated in a slow exposure light drawing, which turned out pretty cool!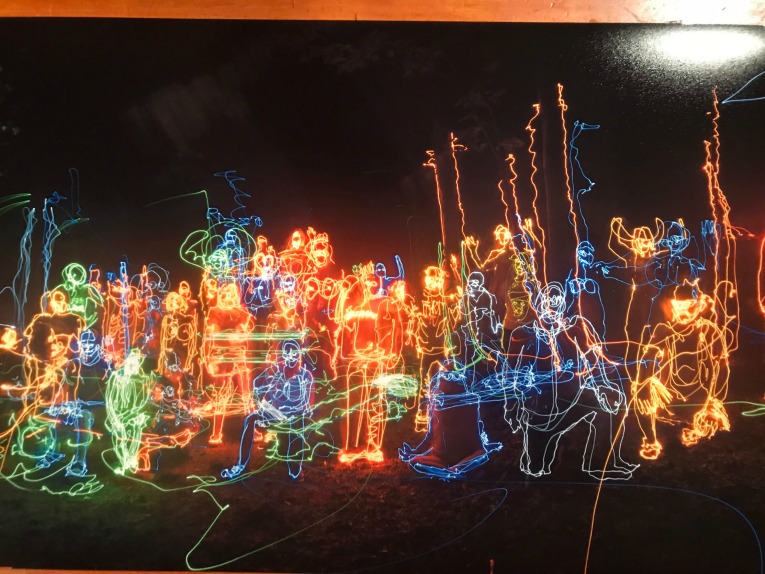 The next morning, we all took our time getting up and heading back to the lodge for a few more pizza games, breakfast, and then an auction for pizza-related items.
The auction was paid for with 'coupons' you collected over the duration of the camp for doing good deeds (like cleaning up the popped balloons from the water balloon fight.)
We came home with a set of 8 pizza plates. 🙂
Overall, it was a really fun event. It was such a random group of strangers, of all different ages and walks of life, but we all had one thing in common: our love of PIZZA!
(Visited 377 time, 1 visit today)