Today's post veers away from Fitness/Running or even Fitness Fashion. Yet sometimes its okay to post a little outside the normal stuff, right? I figure some of you might be working professionals who are interested in fashion for the workplace as well as fitness fashion!
I mean, I wish I could wear fitness fashion every day, but my 'real-life' job doesn't allow for that. I work in an office with a business casual dress code, with occasions/meetings that require business professional. That's where MM LaFleur comes in!
I have tried several of the other 'fashion boxes' like Stitch Fix, Le Tote, etc but MM Lafleur appealed to me because it was just work attire.
Their slogan is "For the woman with #betterthingstodo."
I am on board with that; I don't have time to spend all day at the mall. But I need nice work clothes that fit.
What I love about MM Lafleur is that my stylist picked pieces that fit my body type. The items are really nice and most of all, they are the right fit!
This was actually my third Bento box with MM Lafleur over the past year or so. I really like it. Though I didn't share pics with you guys of previous boxes, I did share pictures with my stylist of me in the clothing. I gave her detailed feedback of what worked and what didn't. She continues to improve on the fit and style for me with each Bento box. But honestly, every box has been pretty darn good!
In previous boxes, I have purchased 2-3 items. Each time, I have been tempted to keep them ALL. They all fit and they all are lovely. Unfortunately, I have to return some because my budget doesn't allow me to buy them all.  I have to warn you, MM Lafleur clothing is much pricier than Stitch Fix. The styling fee is the same- $25. But the items themselves are quite expensive (in my opinion).
However, every piece that I have kept has been exceptionally well-made and high quality. I have zero complaints about paying up for classic pieces that will last forever. I put my office clothes through a lot so I want them age well.
MM Lafleur doesn't offer any referral codes, so I'm not getting anything if you decide to try it. They do not offer a discount if you purchase all the items in your Bento box like Stitch Fix does. A Bento Box is truly just a stylist picking out pieces for you. You can actually purchase any of these items directly from the MM. Lafleur site, which is very different than Stitch Fix.
Here are the items I received in my most recent Bento box:
1. The Alexandra dress in Aubergine
"It's 7am on a Monday, and you need to get ready for work in five minutes flat. Reach for this A-line dress, which checks all the right boxes: useful pockets, slimming sleeves, a collarbone-flattering neckline, and stretch like you wouldn't believe. It's also made from a machine-washable blend, so caring for this beauty is a breeze."

This was a really nice, versatile dress that I could wear with a blazer, with tights, or just the way it is. The deep purple was perfect for autumn and I don't have anything in that color.  Status? I definitely kept this dress.
2. The Masha dress in twig.
"Corporate and cool are not mutually exclusive. Case in point: The Masha, which is equal parts elegant and fashion-forward. Made from a structured Japanese blend, this tailored silhouette combines a loose top with a nipped waist and a modern pencil skirt. Plus: Roomy pockets that hold your essentials without bulging."

I liked this dress and it fit well. The twig color was very appropriate for fall. But alas, I only could reasonably keep one dress and I liked the Alexandra one better. Status? Returned.
3. The Morandi wrap sweater. 
"On any given day at the MM office, at least five people are wearing the Morandi—and those who aren't probably wish they were. The perfect "desk sweater," it's just the thing to have on hand when you need a quick snuggle, no matter what time of year. Made from a super-soft, machine-washable Merino wool, it might just be the most versatile player in your wardrobe."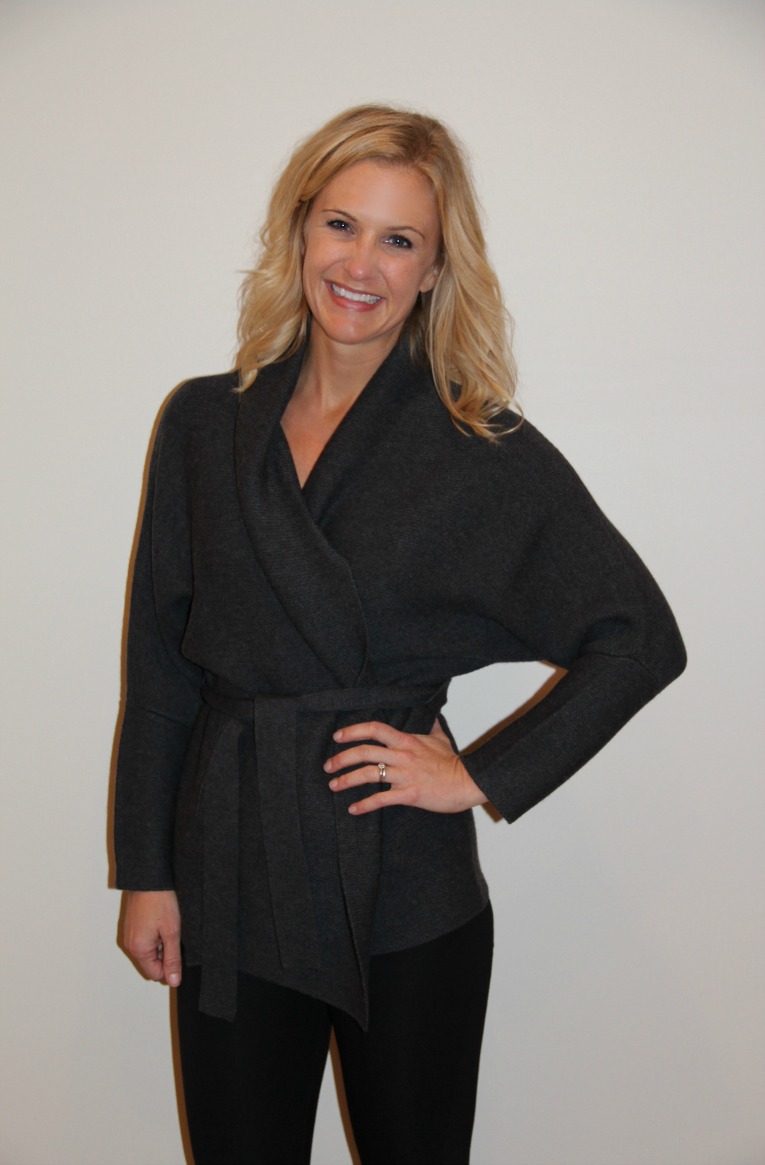 I was really tempted by this sweater. It was really cozy and soft, but it was expensive and I do already have similar items. Maybe next time…Status? Returned.
4. Nakamura Trousers in deep forest
"With these easy trousers, we've eliminated many of the pitfalls of "office pants" (hip-cling, awkward front zippers) without losing the properness. Made of a lightweight machine-washable blend, these might just be the most flattering pants you've ever worn."

These pants surprised me- at first glance, I thought they were a little bit too '80's' for me with a higher waist, pleats, and a looser fit. But then I realized I actually really loved them…Dustin said they were 'on-fleek' (he doesn't actually say that. At first I thought he was joking). I have worn them to work already and they are pretty awesome. I love the deep green and they just feel like quality pants. Status: KEEP!
5. The Fey top in black
"Fans of our Blixen top, rejoice: This long-sleeved version of our ever-flattering style is perfect for those who'd rather keep their arms under wraps. It's expertly designed with all the right tucks and folds to accentuate your waist (but still let you stay comfortable through an extravagant dinner)."

Again, a super versatile top. I can tuck it in or leave it out- it's flattering both ways. It pairs well with all kinds of pencil skirts that I already have or looks fine with a variety of pants. I could also wear it on the weekend or for a date. Just a great, flattering, simple top all around. Status? Keep.
In summary, I kept 3 out of the 5 items that I received.
MM Lafleur is an awesome option for professional women who want stylish, quality work clothing.  I would love to order a Bento Box each season, but realistically it might be a bit less frequent than that.  But I definitely enjoyed this personalized service and recommend it to business women everywhere!
(Visited 5,071 time, 1 visit today)