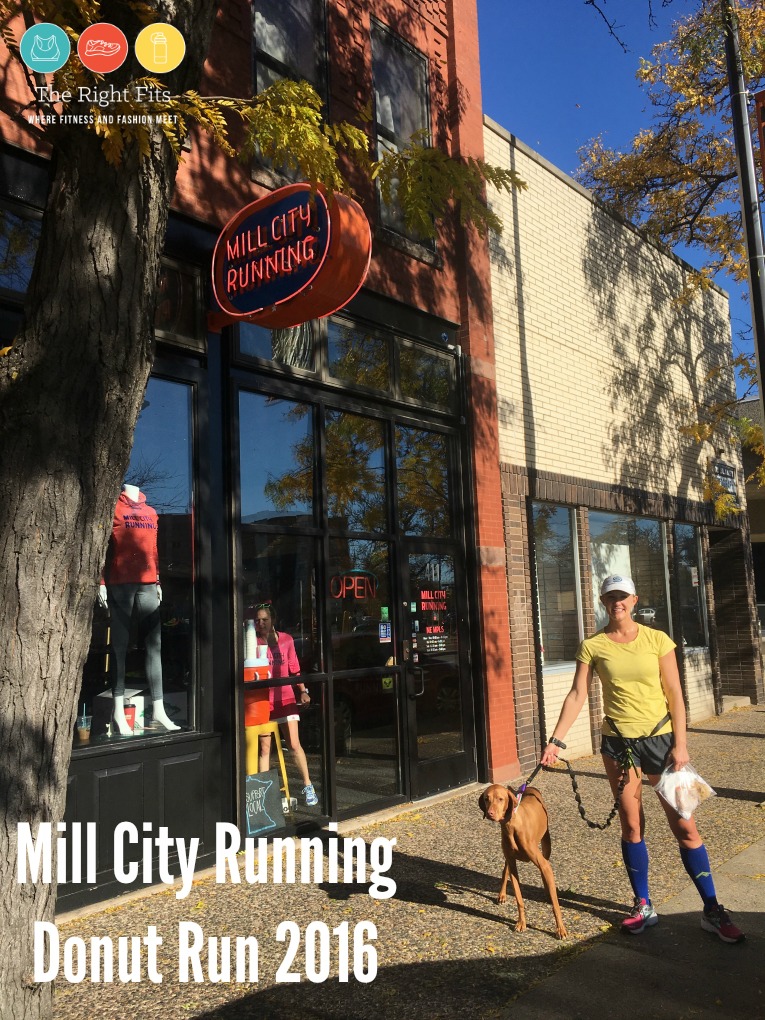 Last Sunday, I ran the "Hustle & Dough" i.e. the donut run with Mill City Running!
I participated in this run in 2015, which was its inaugural year. There were a few changes this year compared to last, but the general idea was the same: a fun combination of running and donuts!
Technically, it was not a "race"- there was no clock. Just a fun event; everyone is a winner!
Registration Fee:
You paid a $10 registration fee which covered your donuts at each stop. Last year, you just paid for what you wanted to eat with cash you brought along on the run. I think $10 is a reasonable price to pay for your participation and for four donuts (some money probably goes towards all the work of the people at  Mill City to put on this event!) Participants could pay a little extra for donut socks, but I opted out. It was easier to have the donuts pre-paid (vs. last year) so you didn't have to carry any cash or wait very much in line.
Multiple Routes:
This year, there were multiple routes available- I think something like 4 miles, 6 miles, and 8 miles. Dustin and I (and Matilda!) chose the 8 mile route. Around 9 am, we were split into 'pace groups'. Each group had a leader who helped to ensure no one got lost, which was awesome, as our route might have otherwise been a little confusing!
We went with the 8-9 min/mile pace group. That group was then broken into the "closer to 9's" or the "closer to 8's" and since I was with Dustin, we went with the "closer to 8's". That's the group that my friend Norris was running with, so I figured I'd do my best to try to keep up.
(Yes, Norris is very tall! We were fitness buddies back at the University of Minnesota. He's become quite the marathoner!)

As I mentioned in my recap, our average was around 8:25, with a few sub-8's in there. At the end, I brought our average down a bit as Dustin and I lagged behind 🙂  Generally though, the group stayed pretty close together. At each of the four stops, a volunteer would initial your map to verify that you ate a donut. I had decided ahead of time that I wasn't going to eat a donut at each spot; I brought a Ziploc baggie and put them all in there to enjoy later at my leisure.
Dustin did eat every donut during the run. If you ate every donut, you became "donut royalty' and received a donut bumper sticker and 25% off in the store that day. We used that 25% off on a new pair of Brooks Launch (for Dustin) and a pair of Brooks Ravennas (for me). What a deal!
(Thanks for eating all those donuts Dustin!)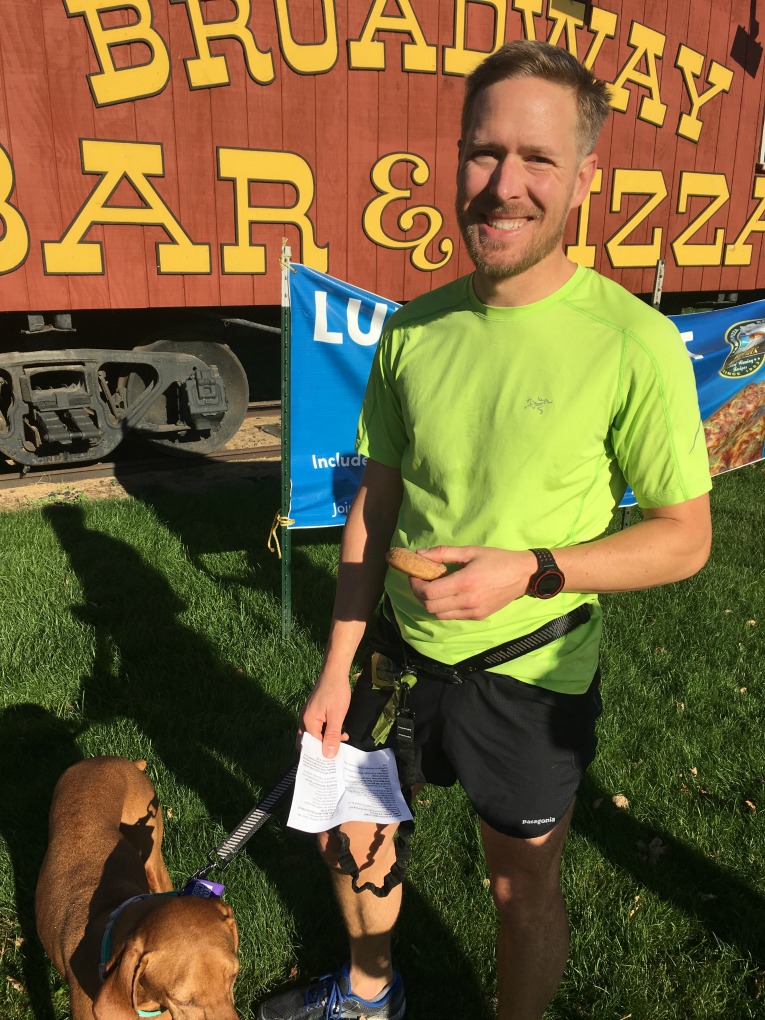 Sunday was an absolutely gorgeous day; we couldn't leave Matilda behind! I emailed the owner of Mill City ahead of time to make sure it was okay if we brought a dog and she said it was just fine, but she pointed out that the donut shops probably wouldn't let her in.
I was happy to see there were other dogs participating in the donut run!
Tilda had no problem at all with the 'close to 8 min/mile' pace. At each stop, we'd give her a cup of water. No donuts though. She really wanted one!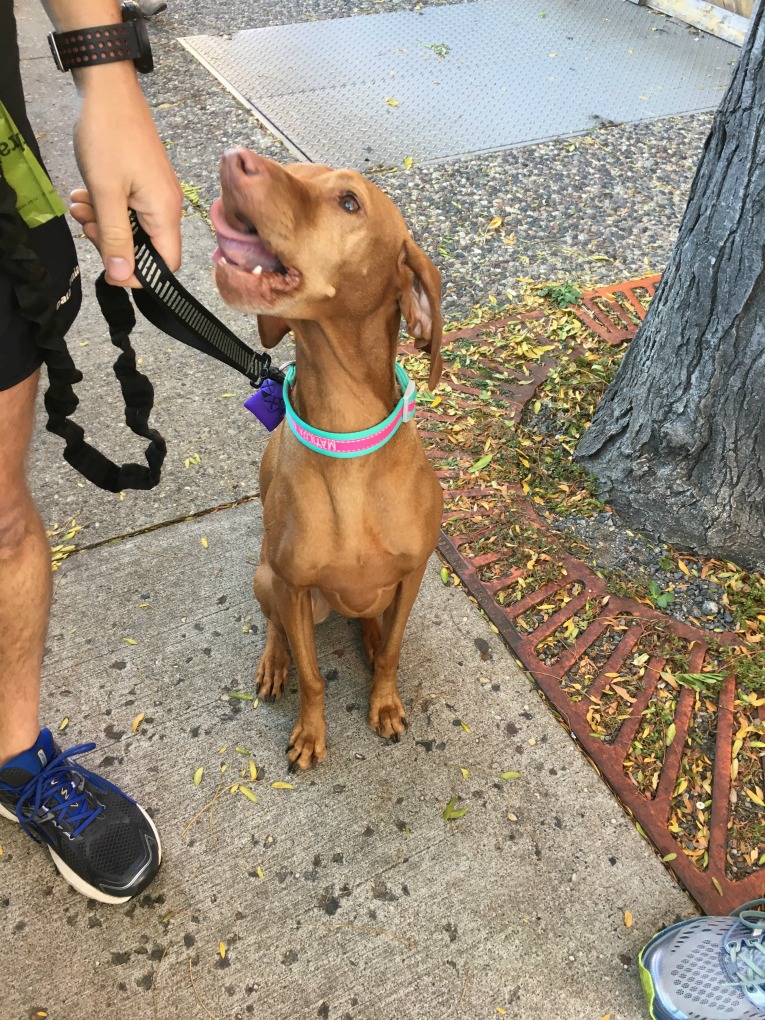 First stop: Rebel mini donuts right at Mill City! These little balls of heaven were delightful. This was the only donut I ate during the run.

Second stop: Sift donuts at the Mill City Running truck which was parked at Broadway Pizza. I believe these donuts were gluten free. They were certainly a bit denser than a regular donut!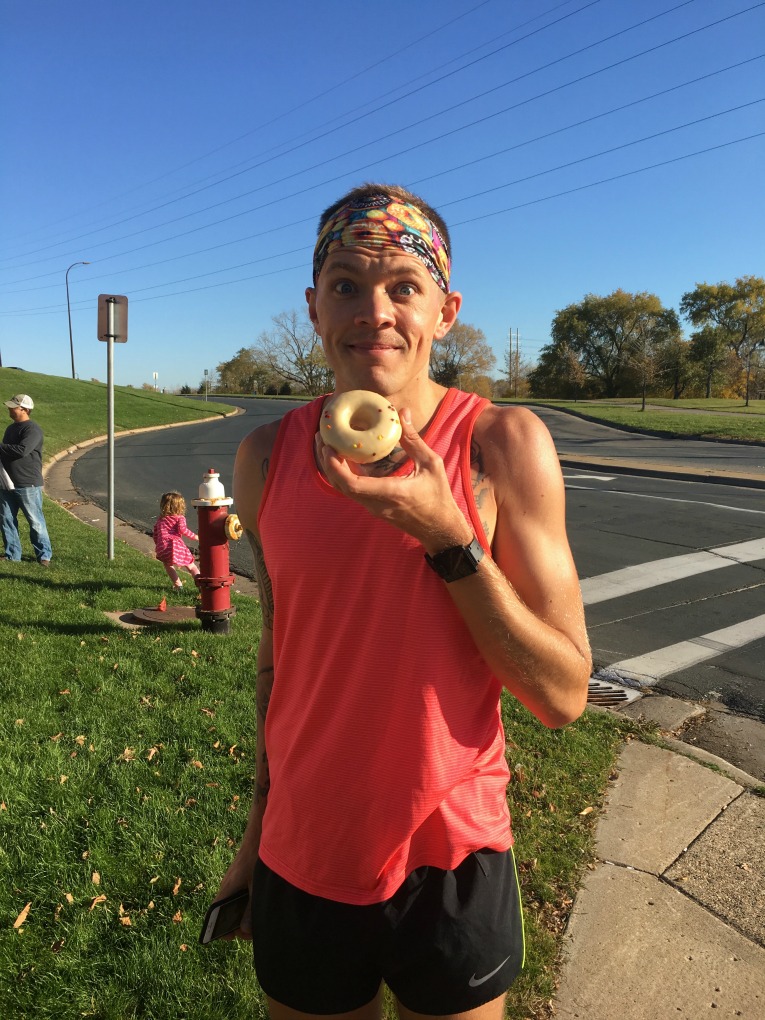 Third stop: Mojo Monkey Donuts at Spyhouse. Mojo is actually in St. Paul, but the donuts were brought to Spyhouse.
Amazing donuts. Cool space. I hadn't been to this Spyhouse coffee location. It was such a beautiful day and the space was so open- I wanted to come there with a book and just hang out!
Fourth stop: SSSude-Nutz in Dinkytown. This funky little donut shop was the only repeat from last year's donut run.
Extremely close donut run selfie!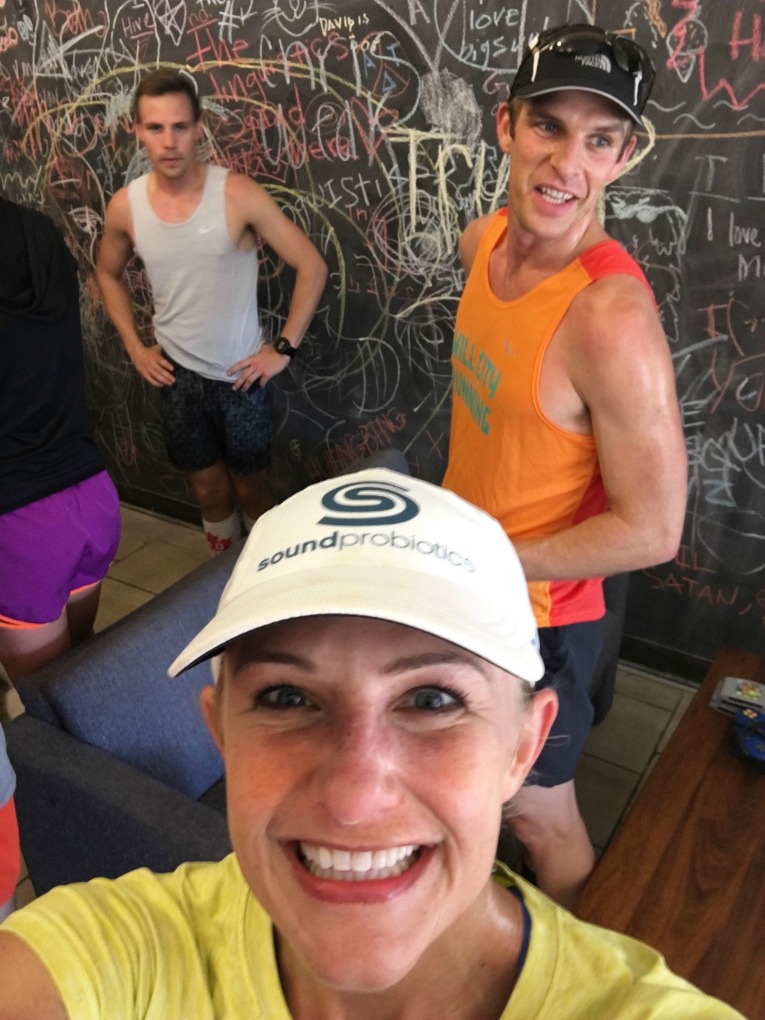 Their donuts are awesome- mine was a fruity pebbles donut. Dustin's was an Oreo donut. They're HUGE…
Last year, the donuts were from Angel Food, Glam Doll, Chef Shack, and SSSude-Nutz, so only one repeat this year. I heard a few comments that participants were hoping for more stops at actual donut shops (like last year) vs. donuts at random locations, but I thought it was just fine. The donuts still tasted just as good and the new stops were interesting! It seemed that they were able to accommodate more people and different distances by doing it this way.
We finished the run around 11 am. It was close to 8 miles but with all the stops, it took a while longer than just a normal 8 mile run.
We had parked next to the "I like you" store in Minneapolis, so we stopped there for some Insta-worthy shots!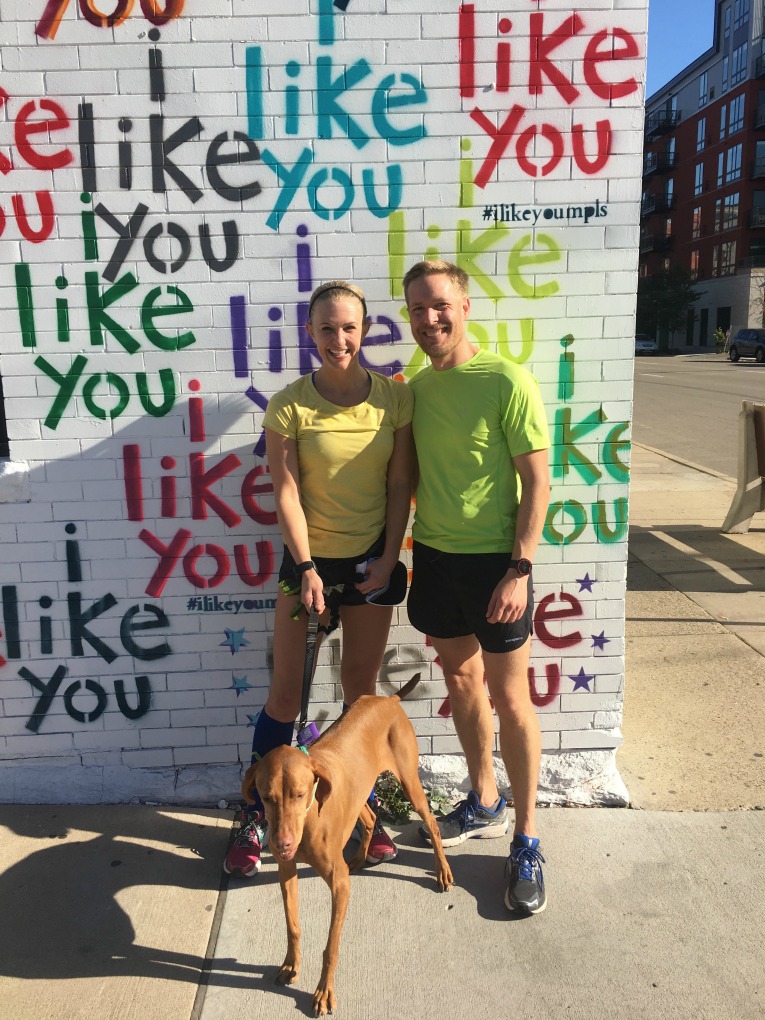 Summary:
Mill City Running is a very welcoming group. By offering various distances, this donut run was accessible to all types of runners. Though I know I didn't participate "fully" by actually eating the donuts that day, I have since eaten them all for breakfast over the course of the week and can tell you that the blueberry donut from Mojo was probably my favorite!
If you are a local or are visiting the Twin Cities, definitely check out the Mill City Running store and their events!
Hot Cider Hustle, Donut Runs, Hot Chocolate runs, beer runs…what else is there? Have you done any other "food" related runs like this? I believe there's a Krispy Kreme run where you get minutes deducted from your race time for every Krispy Kreme that you eat! Runs like the Hot Cider Hustle or the Hot Chocolate run are very popular, but fortunately for our tummies, the food comes at the end of the running. Same with the brewery runs that are hosted in the Twin Cities.
Would an ice cream run be fun? How about a cookie run?  I think Mill City hosts a Christmas Cookie run! .
Let me know if you have  done any food/drink themed runs!
(Visited 543 time, 1 visit today)