I returned to Minneapolis on Saturday after a lovely Thanksgiving celebration with my family in Wisconsin. I am participating in the Runner's World Run Streak (#RWRunStreak) where you run at least one mile every day from Thanksgiving until New Year's Day (you should join me, it's not too late!) I only had time for my one mile on Saturday before we hit the road back to Minneapolis, so I was planning to do a longer run on Sunday. It worked perfectly because it was the day of the inaugural Mill City Running Donut Run!
(Check out this rocking donut outfit!)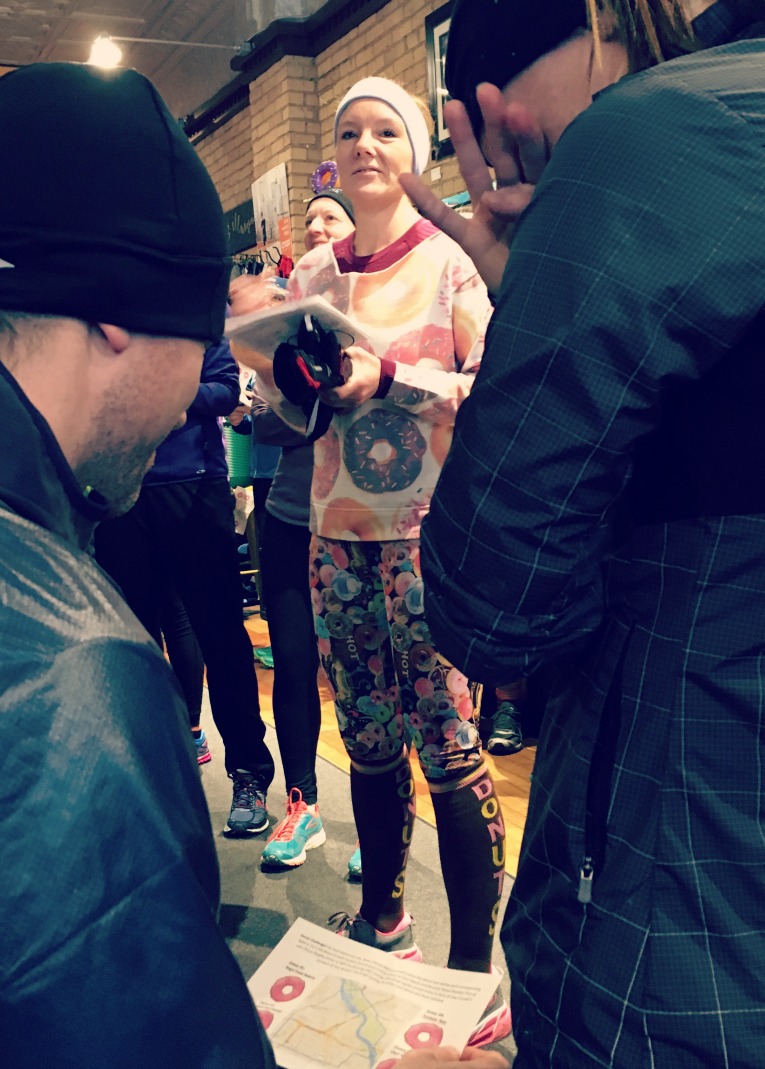 Donut Run? What's a Donut Run?
It's an awesome fun event where you run about 9-10 miles with 4 different donut stops along the way. To become "donut royalty," you have to actually eat a donut at every stop; my friends and I knew we wouldn't be able stomach a donut every few miles for a 9 mile run. Instead, we planned to purchase a donut at each top and save them until after the race.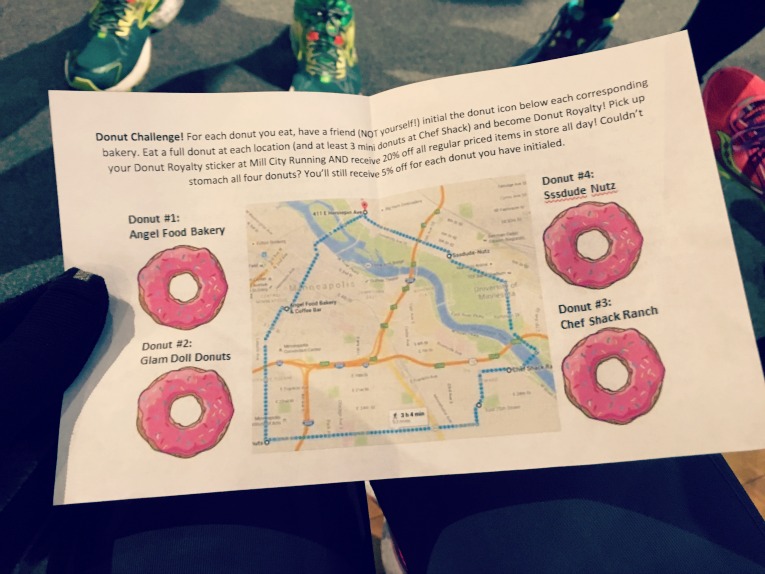 Cost of the Donut Run?
The cost of participating in the donut run was ZERO! FREE! You had to carry cash to pay for your own donuts but actual registration was free.
SWAG:
If you made it to "donut royalty" you would get a t-shirt and a sticker that read, "I DONUT RUN!"
There was Kindly Coffee available pre-run to get you all jazzed up for DONUTS!
Size of the Race:
The Donut Run was free, but Mill City Running did have to cap it at 200 people. I think this was primarily to make it easier on the bakeries. I mean, it was already 200 hungry runners coming through looking for donuts- they had to cap it somewhere!
Pace Groups:
In order to ease the strain on the bakeries, Mill City Running spaced the 200 runners into different pace groups. Oddly, however, they had the slowest runners go first. I think they were hoping that everyone would finish around the same time, but I think they should have had the fastest runners go first so that the lines weren't so long at each bakery.
Stop #1:
The first stop on the donut run was Angel Food Bakery beside Hell's Kitchen downtown. The line for the donuts here was actually much too long, so my two friends and I skipped this stop and headed to stop #2. People told us we missed the BEST donuts though, so I'll definitely have to come back to Angel Food another time!
Stop #2:
The second stop on the donut run was Glam Doll Donuts. I have been to Glam Doll plenty of times as Dustin LOVES donuts and he loves climbing at Vertical Endeavors across the street, so we have grabbed donuts here many a weekend. I think Glam Doll kind of exudes a Voodoo Donut vibe (in Portland).
Great place, great donuts. I purchased a cheesecake donut of some kind, which was amazing (though I ate it much later that day). My friend Christie is a genius and she brought along Ziploc bags for our donuts. Perfect! We were able to run with those along the rest of the donut run.
Stop #3:
The BEST donuts ever- Chef Shack Ranch actually offered indian-spiced mini-donuts. They were hot out of the oven and so, so tasty! These were the only donuts that the three of us couldn't resist even in the middle of a run. $6 got us a baker's dozen so we split them up and each had a few right away…so good!
Stop #4:
The final stop- SSSDude Nutz! This is a new donut place right on the campus of the U of M (my alma mater!) Awesome donuts. Funky place.
Good thing all these awesome donut places didn't exist when I was at the U of M. I might have weighed about 50 more pounds!
By the time we made it back to Mill City Running, it was well after 11 am. We parted ways with our baggies full of donuts. I shared some of my donuts with Dustin, though I ate most of them myself- I worked hard for those donuts!
Overall, the Donut Run was a really unique and fun event. It was a fun way to discover new donuts places and see my lovely city in a new way. I have run most of Minneapolis (and St. Paul) but this route was new and fresh, and I enjoyed spending my Sunday morning in such a fun way with my running friends…plus donuts.
We ended up with 9 miles of running at about an 8:50 min/mile average (excluding stops) with lots of donut joy.
See you next year Donut Run!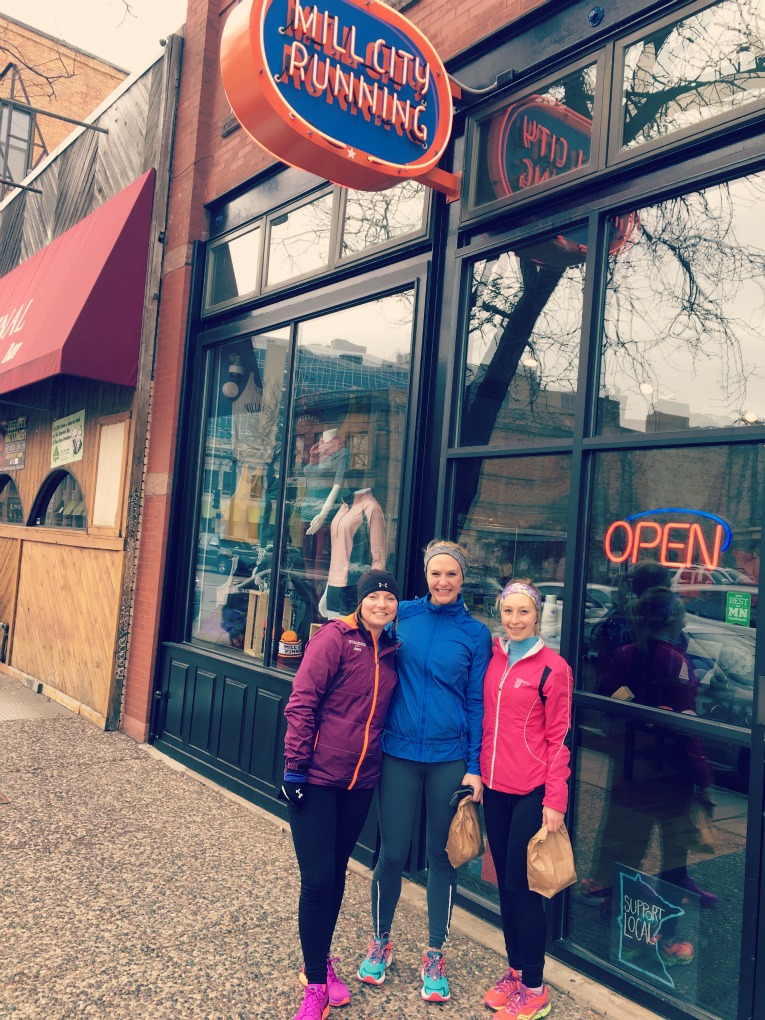 (Visited 548 time, 1 visit today)