Last Wednesday night, I ran the Torchlight 5k. I have participated in this race for many years, though this was only the 4th time since the "birth" of The Right Fits blog (read about 2012, 2013, and 2014; 2011 was cancelled due to extreme heat.)
The Torchlight 5k is such a fun event! I recommend this race for all types of runners. First of all, it's on a Wednesday night! So even if you're training for a longer race, you can still do your long run on the weekend. Running at 7:30 pm is a little challenging in terms of "fueling", but there's very few races like it. Secondly, there are hundreds (thousands?) of spectators that line the race course because of the Aquatennial Festival parade that occurs immediately after the 5k. Even if they are primarily there for the parade, they are still there on the course cheering for the runners! Pretty unique again for a 5k.  And the race itself is quite large! There are over 6,000 runners. It is also chip-timed and part of the USATF team racing circuit. So many great reasons to participate; take your pick.
As part of the USATF 5k championships, it attracts some really fast runners. But it also attracts a lot of recreational runners too!
…Like these guys who raced in their jorts (picture courtesy of the Torchlight Facebook page). I just hope they used body glide to prevent chafing!

From the race website,
"Whether you are a dedicated runner or just someone who jogs from the couch to the fridge, the Torchlight 5K is the fun run for everyone! Grab your family, friends and running shoes because the Torchlight 5K is the one run that starts with a bang and ends with a brew. That's right, our legendary post-race party features musical entertainment and complimentary refreshments. It's the party of the year that just happens to start with a run!"
Registration/Packet Pickup:
I picked up Dustin and my race bibs at Mill City Running when  I was there last week for Flapjack Friday. Several other local running stores offered packet pickup ahead of race day. I definitely recommend doing so, as the start area had really long lines for pickup. Eliminate any extra stress and stop by your local running store a few days prior instead.
You will still have to show your ID at the start line to get a wristband for beers at the finish (though there was also a stand at the finish line for bracelets too if you can't handle the line at the start)
The Course/Weather:
The Torchlight 5k is always HOT, but this past Wednesday wasn't too bad. It was probably the coolest it has ever been for this race, (which was still plenty HOT!)
The 5k starts near the Basilica of Saint Mary and then follows the Aquatennial's Torchlight Parade route, ending at Father Hennepin Park for a post-race party. There were two water stops on the course, which was pretty nice for a short 3.1 mile race.
The rest of the course winds through downtown and into the St. Anthony Main area. It's really a beautiful little course that shows off the city quite well. That part of Minneapolis is very beautiful, especially in the summer.
Finish Line:
Be careful on the last turn onto St. Anthony Main at the finish line, as you will be running on cobblestone. The finish line was hot and crowded, but they did have a wide assortment of goodies- water, yogurt/fruit, popsicles, cold towels, pretzels, Chick-Fillet sandwiches, Target bags full of random stuff (super random stuff…see below picture of said random stuff)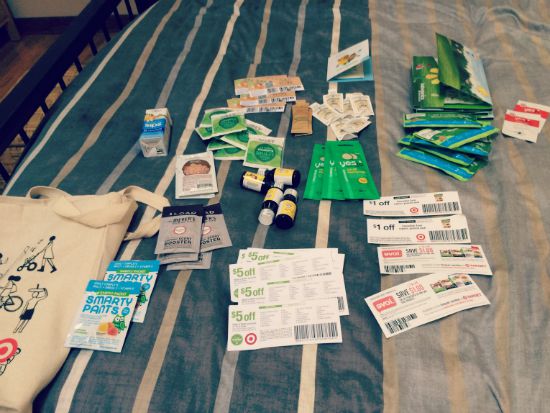 Fitness Fashion:
On to the fitness fashion part of this post! I wore my Calhoun Beach Running Club Mizuno singlet, Saucony bullet tight shorts, my CBRC BIC band, my Garmin 220, and my trusty Brooks Ravennas.
Race Stats!
A friend of our running club was conducting a study on running pre-and post race. She took our blood pressure and heart rate before the race and immediately afterwards. I don't have the results yet, but I would be curious to see what she discovered! I know that personally my blood pressure was higher than it normally is before the race. I have to assume that was nerves and the excitement of the upcoming race!
Post-race Party!
The biggest draw for the Torchlight 5k is definitely the post-race party. Complete with a country/pop cover band, the music gave it even more of a party vibe.
Every participant receives 2 coupons for Michelob Ultra (last year it was Miller Lite)
The Brian Kraft 5k on Memorial Day is definitely a "faster" 5k race in the cities, but the Torchlight is a good 5k option. Its probably more accessible to all types of runners and makes for a very fun evening.
It's a summer tradition that I will continue to do every year!
My Performance:
Coming off of Grandma's, I am not feeling 100% back to normal yet. I had my doubts about breaking 22 minutes at Torchlight (my Brian Kraft time was 22:08). The minute you let those doubts get into your head, it's a lost cause! Of course, the heat was a factor as well, but I think that 22:08 PR will probably hold for awhile longer- maybe until next year's Brian Kraft 5k!
I'm in the below picture about to cross the finish line…try to find me!
Mile 1: 6:54
Mile 2: 7:11
Mile 3: 7:35
Time: 22:52
Wow- some serious positive splits there, right? Just kept on slowing down…I sort of gave up in the last mile. I had hoped to at least beat my time from last year's Torchlight, but looking back, I ran a 22:46 last year, so that didn't even happen…argh.
That's okay though- not every race is going to be a PR. I'll just keep on running- it's what I love…It's the Right Fit for me!
Hope to see you next summer at the Torchlight 5k. We can chat over a Michelob Ultra afterwards!
(Visited 685 time, 1 visit today)