The Lifetime Torchlight 5k was last night!
This is a unique event that I would definitely recommend for all types of runners. It's pretty rare to find a race on a weeknight, particularly downtown. Also, this particular race draws a lot of fans. Yes, it's true that the spectators are probably actually lining the course because of the

Aquatennial Festival parade

that occurs immediately after the 5k, but I'll take it!
The race is hosted by Lifetime Fitness, and discounts are offered for members of this gym.
This year the race was on Wednesday, July 18th at 7:30 pm


Torchlight Run (presented by Michelob Ultra) is back and better than ever! With an all-new look, Torchlight Run is even hotter and, as always, it still ends with the coolest party of the summer. For the first time ever, Torchlight Run will be a timed event – but don't let that stop you if you are just a fun runner! Now everyone from first-timers and families up to the elite 5k sprinters will be able to track their time, find and post event photos to Facebook and receive special event offers. So come out for out twilight run through downtown Minneapolis – and the evening with our legendary post-race party featuring live music from Lost Highway and complementary refreshments. The Torchlight 5K starts near the historic Basilica of St. Mary's running the Aquatennial's CenterPoint Energy Torchlight Parade route. The course offers up close views of the Guthrie, Gold Medal Park, the Mighty Mississippi River, Stone Arch Bridge and St. Anthony Main.


AT THE STARTING LINE AT THE BASILICA!
Course: Start on Hennepin Ave. at 16th St., turn right on S 3rd St., turn left on Portland Ave S., turn right on S. 2nd St., turn left on 11th Ave. S., turn left on W. River Rd., turn right on Stone Arch Bridge, turn left on Main St.
This race has a long history, dating back a decade or so. The first time I ran it, it was actually a 4 mile race ending in Loring Park. It has since changed to a 5k, and now attracts quite a few participants (maybe 5,000?) and this was the first year that the race was chip-timed. It also was the host for the USATF 5k Championships. There are many runners from the Calhoun Beach Running Club who participated in the USATF championships, as well as nearly 20 of us who ran as part of a regular "team" for the open 5k.
TEAM PHOTO!
Awesome headbands, ladies!
It started at 7:30 pm at the Basilica of St. Mary, and then it finished at Father Hennepin Park by St. Anthony Main. Each runner gets 3 complimentary beers (well- if you can call Michelob Ultra LIGHT a beer….)
In the past, if you even just ran under 30 minutes, you'd beat the majority of the crowds, and would manage to be one of the first in line for the beers! The same was actually still true this year, so my recommendation is to run hard, and then run straight for the beer tent!
The race is always HOT. In fact, last year, it was actually rescheduled due to the heat. Yet there's plenty of fluids on the course, and it IS only a 5k, so the risks associated with hot weather running aren't quite as high.
The shirts this year are quite cute, somewhat fitted, and a very soft cotton.
Here's a pic, modeled by my fit friend Abby!
Runners were able to register online, or in person at a few local running shops.
I registered online, and was a little mad at myself for doing so. The D-man registered at TC Running Company, and received his shirt and bib right there, as well as 20% in the store that day!
Also, in past years, the lines before the race to pick up your bib were QUITE long, and I was afraid of the same thing this year. I emailed the race director to ask about early pickup. Oddly, my bib and t-shirts were mailed to me in plenty of time for the race! Apparently this was because I registered early enough. Several of my friends had to pick up their bibs at the race, but they said the line wasn't too bad.
The race directors emailed you your results immediately after the race, and if you checked them, you received another free beer!
Another team photo!
Now that's a handsome group of runners 🙂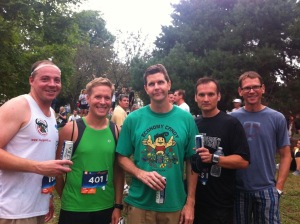 Overall, I would give the race a 9/10. I think it's well organized, and a lot of fun. It's also rare to have a chip-timed 5k in this city, so that was a nice change of pace. The t-shirts, beer, post-race party, and course were all stellar.
One negative aspect was the crowded course for at least the first 1.5 miles. I think as this race grows, they will need to consider a wave start. Perhaps they could implement corrals to allow serious runners an opportunity to really use this race as a chance to PR.
I definitely did NOT PR. I forgot my Garmin, had to stop to tie my shoes, was weaving through crowds for the first 1-2 miles, and just wasn't feeling it. But next year I will plan a little better, and try to start closer to the line to avoid the crowds.
Even with the crowded course, I'll still be doing this race again next year!
RUN HOT. PARTY COOL.
(Visited 302 time, 1 visit today)