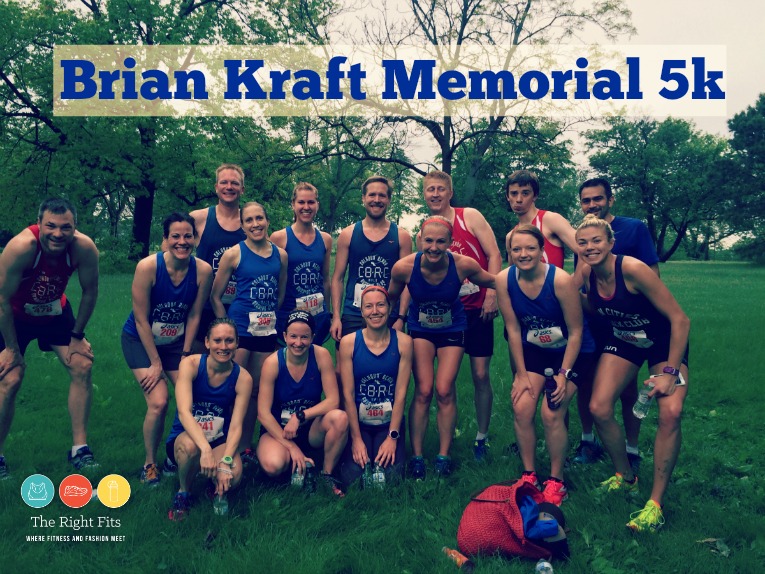 This past Memorial Day, I ran the Brian Kraft Memorial 5k. It is a flat and fast race around Lake Nokomis. When I say FAST, I mean it! The winning time was 14:20! It attracts a very competitive field.
I ran this race last year, but it was right after the Flying Pig Marathon, so I was still in recovery mode. This year, I was ready to race!
I participated in this race as part of my running club's racing team, which is part of the USATF racing circuit. We compete against other running clubs in the cities in a series of races of various distances throughout the summer. Your team's "score" is based on your fastest 5 women and 5 men, so usually my times don't actually count, but I still love being part of the team!
First a little background…Who is Brian Kraft?
"Brian Kraft was an enthusiastic and talented runner from Bemidji, Minnesota. His running career was cut short at the age of 19 with the discovery of Ewing's sarcoma, a rare form of bone cancer, in his back. Brian lived with cancer for 15 years, undergoing chemotherapy, a bone marrow transplant, and countless surgical procedures. Throughout the years, Brian continued to run. He ran the lakes and parkways and raced with the local running crowd. In spite of all that life threw his way, he kept a positive attitude. Brian attributed his strength in his fight against cancer to his love of running and to the work of his long-time friend, Dr. Arny Leonard. Dr. Arnold S. Leonard and his colleagues at the University of Minnesota and the National Cancer Institute have made significant advances in cancer research in the last five years. They are working on a series of projects that reduces cancers of all kinds by boosting the central immune system by genetic engineering. This exciting new field of cancer therapy has great promise. All donations submitted with race entries and a portion of the race proceeds will go to the Arnold S. Leonard Cancer Research Fund."
So, its great to hear that this race is for a good cause! It's also just a cool, laid-back race that I definitely enjoy.
Race Day:
The race starts at 8:30 sharp. We arrived around 7:30 and did a few miles to warmup as well as some strides. The skies were overcast and it was drizzling a bit, but it wasn't too bad for a race. Humid of course, but not too terrible.
The course:
The course is simple- just one fast lap around Lake Nokomis! There was one water stop, though I didn't use it. There was plenty of water at the finish, as well as some other goodies.
And the race tees are the best! They are soft cotton retro style tees. I will definitely be wearing mine around quite a bit!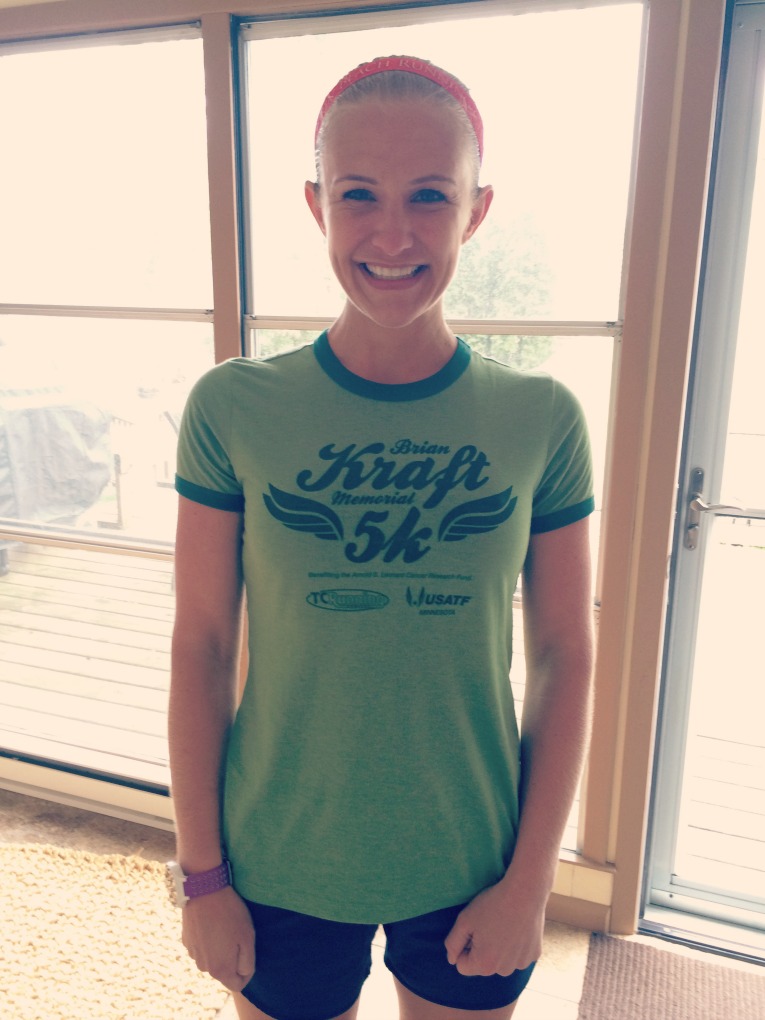 My Performance:
I set a 5k personal record! My previous PR was 22:46, and now its 22:08. I was pretty excited, but now I want to push 8 seconds HARDER so I can break 22 minutes. My friend Lindsey was right ahead of me and she finished right under 22. I want to do the same! That's the thing about running, it keeps you coming back for more 🙂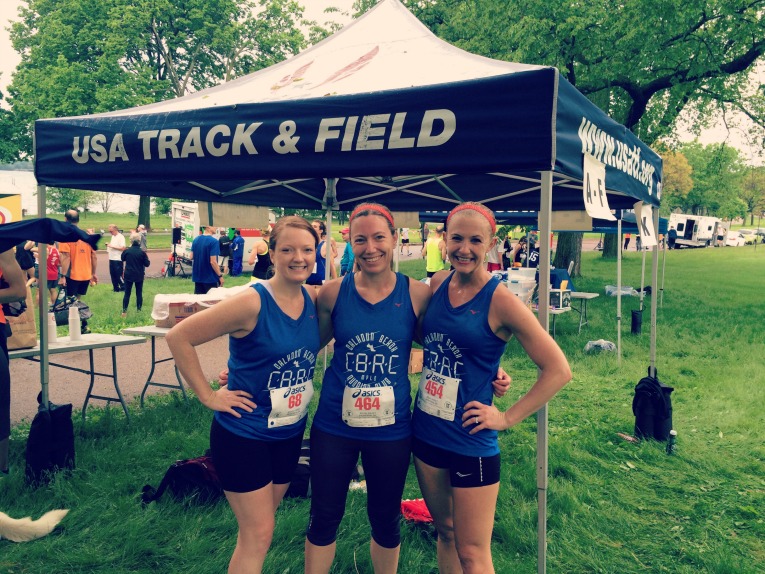 You might notice below that somehow I am registered as a 53-year old! I have no idea how that happened. Even in the 50+ age group, there were still 6 women in front of me. The top woman in the 50+ age group ran a 19:08 or a 6:10 min/mile. Amazing! That's how ridiculously fast this race is!
Dustin set a 5k PR too, running an 18:01 or 5:48 min/miles- yay Dustin!

Of course, now he wants to cut off that one second and get under 18 minutes…which I'm sure he can do. Like I said, racing keeps you coming back for more!
It was a great morning for a race. Afterwards, I did about 3 miles to cool-down and then one of our run club members who lives nearby hosted a brunch. I made a raspberry/chocolate chip/banana bread from Jenna's blog (recipe here) that was very tasty.
The Brian Kraft Memorial 5k race is definitely a "runner's" race- nothing fancy, not a lot of bells and whistles, just a lot of serious runners. I love this 5k and highly recommend it!
And…don't you love our new team singlets? I love the blue much more than red and the fit is great. You'll be seeing this top a lot at all of our USATF races this summer!
(Visited 635 time, 1 visit today)