My friend Phil, who lives in the Cayman Islands, has written the following post, providing you with all you need to know about running in the Cayman Islands.
Please enjoy and reference this on your next vacation to these beautiful islands!
Whilst Grand Cayman is 26 miles long by some 7-8 miles wide, and tourists visit most parts of the island, this guide assumes that you are staying on the west side of the island, on the Seven Mile Beach/West Bay Road corridor.

First the good news (or bad news if you are training for some mountainous trail run): Grand Cayman is flat. The highest point of the island is some 80 feet above sea level, and West Bay Road area, save for one bridge, is pancake flat.
The obvious 1st place to run is up and down West Bay Road. Hotels and condos line both sides of the road, and stepping out onto the road gives you the option to head north or head south, reach some turnaround point, and come back. A pavement extends the whole way along the beach side of the road, making it a fairly safe running environment. Runners, walkers and joggers can be seen going up and down the road most hours of the day or night. The beach road is about 5-6 miles long, and so gives a lot of options on distance.
Running parallel to West Bay Road is the Esterly Tibbetts Highway bypass: whilst somewhat busier than West Bay Road, it does offer pedestrian lanes in both directions, and also cycle lanes in the newer section to the North. It also offers the only bridge hills on the island.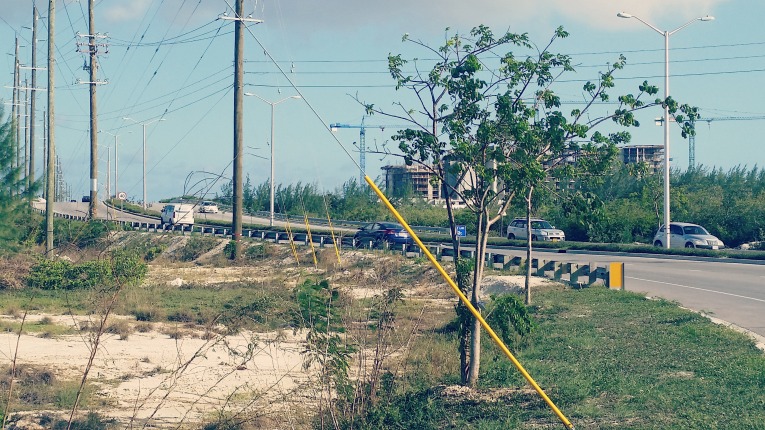 If you are looking for other options, there are various other routes available. There is a road that circles the North Sound golf club. The actual loop is 2.5 miles, but there are other roads in and out of the canal-side lots that can offer additional miles. The course is accessible off the bypass, and whilst it is a private road, again runners and walkers can be seen morning and evening.
Snug Harbour, off the bypass and behind the Beach Suites hotel offers a 1.5 mile loop on very quiet roads.
Obviously the beach itself is available for runners, although the beach is rather uneven and so does not provide the easiest surface. However, it is used for one or more legs of the Off The Beaten Track ultra-relay.
For those in training for a marathon and seeking a longer run, you need to get somewhat creative on Google Maps to map out a longer run, and certainly will require some planning on drink stops.
As a couple of examples, see a 10 mile route going from Snug Harbour into West Bay and the half-marathon route around South Sound.

Weather:
With regards to conditions, Grand Cayman has 2 seasons: hot and dry or hot and wet: it will certainly be a lot warmer than many runners are used to, and running before or at Sunrise, or after Sunset may offer easier temperatures for some. Whilst there are not many water fountains along the roadside, there are various garages and fast-food outlets along West Bay Road that sell drinks. Local runners will often put bottles out on a route before running, or will wear water-belts etc.
Running Groups:
For those looking to run with an organized group, a couple of options are available:
The Hash House Harriers run on a Monday evening, with routes rotating week to week.
http://www.caymanhash.com/Site/Welcome.html
The Wednesday Night Running Club meets, imaginatively, on a Wednesday Night, starting at World Gym on West Bay Road at 6pm: a route is picked on the night, and usually is 4.5-5.5 miles, with some option for a shorter route if desired.
Contact: wednesdaynightrunningclub@gmail.com
Thanks Phil for your local insight.
Hopefully this will be a helpful resource for you if you happen to be lucky enough to travel to the Cayman Islands in the near future!
(Visited 4,540 time, 1 visit today)