By Jess in Minneapolis
I ran the Life Time Fitness Torchlight 5k last Wednesday…Yes, yes, I know, I'm a bit belated on my review. But we were at the cabin again this weekend (more posts on that later), had a bit of scare with Matilda (I thought she was attacked by hornets!) and then we had a late night last night with a hill workout (whew, those get me every time! Read about the Calhoun Beach Running Club hill workouts HERE)
Those are all my excuses, but here I am with a full recap and review.
I have been participating in the Torchlight 5k for many years. I wrote a review last year HERE. The race has really grown over the past few years (5,000 runners!), and its now chip-timed. It takes place at 7:30 pm on a Wednesday night in the heat of the summer, running before the Aquatennial Parade. Therefore, all the families who come out to watch the parade are there to cheer for the runners as well! I love it!
But let's start with the fitness fashion part of this fit. I wore my sparkling star Lululemon shorts (I think they are the run: speed shorts, find them HERE) paired with a Nike Dri-Fit Touch Breeze Top in citrus and an orange/white polka dot BIC band. I thought it was very fitting for a Torchlight 5k!
Stars and torches and whatnot.
Dustin of course showed his Calhoun Beach Running Club pride. The evening was so picturesque- this picture was taken on the Stone Arch Bridge on our walk back to our car around 9 pm (post the post-race party).
From the race website,

"Whether you are a dedicated runner or just someone who jogs from the couch to the fridge, the Torchlight 5K is the fun run for everyone! Grab your family, friends and running shoes because the Torchlight 5K is the one run that starts with a bang and ends with a brew. That's right, our legendary post-race party features musical entertainment and complimentary refreshments. It's the party of the year that just happens to start with a run!
Packet Pickup:
Be sure to pick up your race packet ahead of time, as the line for packet pickup has historically been really long. I registered early enough that I actually received my packet in the mail, with a customized bib (with my name) and tickets for three Michelob Ultras at the after-party, rather than just two. And the earlier you register, the cheaper it is!

Registration Fees:
| Category | Nov 23 – Nov 27 | Nov 28 – Apr 1 | Apr 2 – June 1 | June 2 – July 10 | July 11 – July 16 |
| --- | --- | --- | --- | --- | --- |
| Adult 5K | $25 | $30 | $35 | $39 | $49 |
| Life Time Member | $20 | $25 | $30 | $34 | $49 |
| Youth 5K (17 & under) | $20 | $20 | $20 | $20 | $20 |
Course:
The 5k starts near the Basilica of Saint Mary…(picture below on the stairs of the Basilica)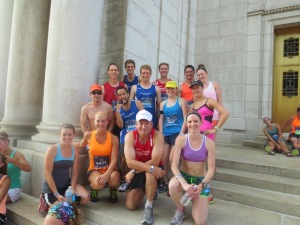 …and then follows the Aquatennial's Torchlight Parade route, ending at Father Hennepin park for a post-race party. It's always fun to run downtown, especially on a random weeknight. There were two water stops, which was pretty nice for a short 3.1 mile race. The start line was a little crazy. Apparently, about 5,000 runners participated in this event, and you could definitely tell at the start line.
The Right Fits insider tip? The lululemon run: speed short back pocket is big enough to fit my little camera! I love being able to take real pictures to share with you all. Like this one!
Before the starting gun went off, there was the star spangled banner, and then some pyrotechnics…!!!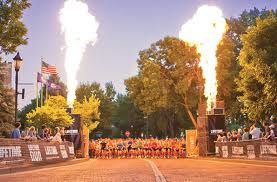 Finish Line:
The finish line was hot and crowded, but they did have a wide assortment of goodies- water, bread, cookies, POPSICLES (awesome!), towels to dry off all the sweat, and more!
Post-race Party!
The biggest draw for the Torchlight 5k is definitely the post-race party. Complete with a pop-hits cover band called "PopRocks", the music made it feel even more like a party. Every participant receives two (or three) coupons for Michelob Ultras, or three if you sign up early!
Last Wednesday was in the mid-90's, so the weather was not PR-worthy. Additionally, the start line is very crowded, so unless you're running with the USATF 5k championship team, you probably won't be able to get into your groove for at least a mile.
I felt pretty good throughout the race, despite the heat, finishing in just over 24 minutes. But then I received my "official" results email, which started that I had run about 11:30 min/miles! Seriously? And I wasn't the only one. Several of my run club friends also received faulty results. Eventually our times were corrected online, but I do have to wonder what happened….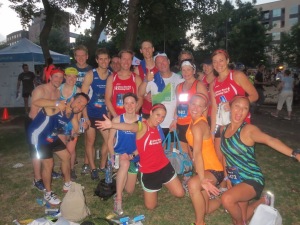 Even though the results were initially wrong, I still would recommend this race. In fact, I'll give it an 8/10.
I will be running it again next year!
Mark your calendars for next year's Torchlight 5k on Wednesday, July 16, 2014!
(Visited 312 time, 1 visit today)