By Jess in Minneapolis
*A little belated, I was out of town & tech-free for the weekend!
Friday's Favorite Fit this week is outdoor yoga in Minneapolis!
I am most familiar with two outdoor yoga classes- Yoga by the Lake, hosted by Meggan of the Yoga Garage, and Savasana at Sunset, hosted by Emily of Luminous Yoga!
Here are the specifics:

Savasana at Sunset is held on Tuesday nights at 6:30 on the south side of Lake Calhoun by the volleyball courts. You won't miss the crowd if you're in the area, and you'll have a beautiful view of the lake and the sun setting over downtown Minneapolis.
Yoga by the Lake is held on Wednesday nights at 7 pm on Lake of the Isles.
Location: W. 27th St & Lake of the Isles Pkwy, Minneapolis, MN.
Find your inner peace at this beautiful (and maybe quieter?) lake on Wednesday evenings.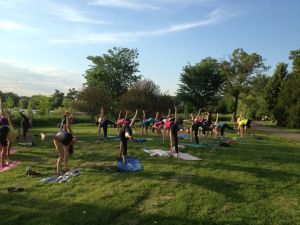 Meggan's class was the first outdoor class I ever went to. I'm not sure how the whole phenomenon started, but no matter, I love that there are multiple outdoor yoga classes to choose from in Minneapolis. There two options are probably just two of many, though I would highly recommend either one. In fact, the two teachers often sub for each other, so you'll probably get a chance to try both, even if only one weeknight works for your schedule.
I am sure there are even more options out there. I swear I see others going on- at the Lake Harriet bandshell in the morning, at Lake Calhoun but different nights….they're everywhere!

Two different classes, two different lakes, two different nights. Both classes are "free" or donation based, so bring some cash, your yoga mat, some water, maybe some bug spray, and join these lovely ladies for some vinyasa in the sunshine! Summer is short in Minneapolis, so there is only a brief window of time when outdoor yoga is possible so take advantage now, before snow is falling again!
What to bring: your own yoga mat, water, bug spray, a few dollars for a donation
Hope to see you there this summer!
Other Options in Minneapolis:
Gorilla Yogis:
They host yoga sessions at unique locations around the Twin Cities- Target Field, the Guthrie, Mill City Farmer's Market, and more!
I haven't yet had a chance to check out their classes, but they seem really fun. Suggested donation: $10
Gorillas Yogis were part of the reason that Minneapolis was featured in Yoga Journal as one of the top yogi-friendly cities!
From that article,
"Yoga is also the impetus behind monthly community fundraising events organized by the Gorilla Yogis, who use social media to draw up to 300 yogis to a designated spot- whether it's a baseball field, an art gallery, a music venue, or the banks of the Mississippi. Local instructors offer classes for a suggested donation of $10, with proceeds benefitting a different local nonprofit each

month."
Lululemon also hosts a series of yoga sessions at Brit's Pub in downtown Minneapolis, called "Bend it At Brit's!" The most recent session was actually last Wednesday, and it sounds like they had over 300 yogis attend! That's
amazing
!
Join lululemon MOA for the second event of their summer series of yoga on the lawn at Brit's Pub. This is an all levels, complimentary, vinyasa class with a DJ providing the tunes.
The next session will be on August 22 and then September 188-9pm (come early, stay late)
Brit's Pub rooftop
1110 Nicollet Mall
Then there's CorePower Yoga, which offers free outdoor yoga every Sunday through August in Father Hennepin Park.
Classes take place form 10 am to 11 am, weather permitting
Athletic stores like Prana and Athleta also offer a variety of free classes, some indoors, some outdoors, Check out the schedules on their websites to see if one of them works for you!

Your Yoga hosts a free outdoor yoga class on the University of Minnesota camopus on Sundays at 10 am: http://www.youryogamn.com/
There are so many affordable and/or free options in Minneapolis. Be sure to try one of these Favorite Fits this summer!
(Visited 284 time, 1 visit today)