By Jess in Minneapolis

Yesterday, I shared a post about Fits on the Road in Hayward, Wisconsin. That post focused on things to do in Hayward, but there were plenty of fits to be found at the cabin itself.
Like previous years, there was some stand-up paddleboarding, though not as much as normal. It was very windy up there this weekend, so it wasn't quite as appealing as normal. However, we still managed to spend an hour or two on the boards, and it was definitely a challenge.

Average calories burned while paddle-boarding:
Recreational paddle boarding burns 225 calories an hour. On a windy day going at a fast pace, maybe you can burn up to 500 calories/hour.
Here's a full post dedicated to Stand Up Paddle Boarding- Click HERE.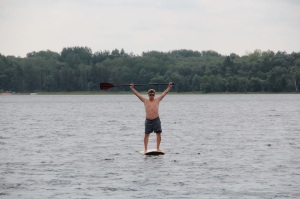 My brother in law on the board
There was sailing for Dustin for some unique cross-training action. I am actually too chicken to learn to sail the Lasers. Dustin said they are a lot of work on a windy day, and he definitely got a workout in there.
Average calories burned while sailing a similar type of boat:
Around 200 calories an hour on an easy day, up to 500 calories an hour on a very windy day.
There was also plenty of swimming and canoeing- both good forms of cross-training!
Average calories burned while canoeing:
Canoeing can burn up to 600 calories at hour, if you're going 4 mph…I have no idea what pace we went, but it was definitely more leisurely than that. Most sources said you burn about 220 calories/hour.
I'm not sure if fishing counts as a "fit" but we definitely spent some time doing that. My nieces were surprisingly patient, even though the catches were few and far between.
And of course, there was running. Like I mentioned in yesterday's post, I did my long run Thursday morning. Friday morning, Cresta and I headed out together for seven hilly miles for her long run.
We didn't quite get our fill of those country roads on Friday, so we went out again on Saturday morning for a few more. Running provided us with a nice "break" from the kids and an opportunity for us to really catch up and chat. I loved it!
What does one do after all those Fits on the Road?
Well, you need to foam roll, right?
Take it from this girl, she knows the importance of foam rolling!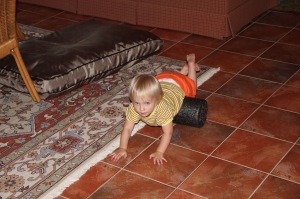 We grilled corn on the cob, made fresh guacamole, and had our fill of locally picked fresh strawberries. Sure, there were a few beers consumed, and maybe an ice cream cone, but overall, it was a wonderful long weekend, full of Fits on the Road at the Cabin!
Last week's weekly recap:
Run: 42 miles, 1 barre class, lots of random "cross-training" at the cabin. No yoga 🙁
(Visited 107 time, 1 visit today)