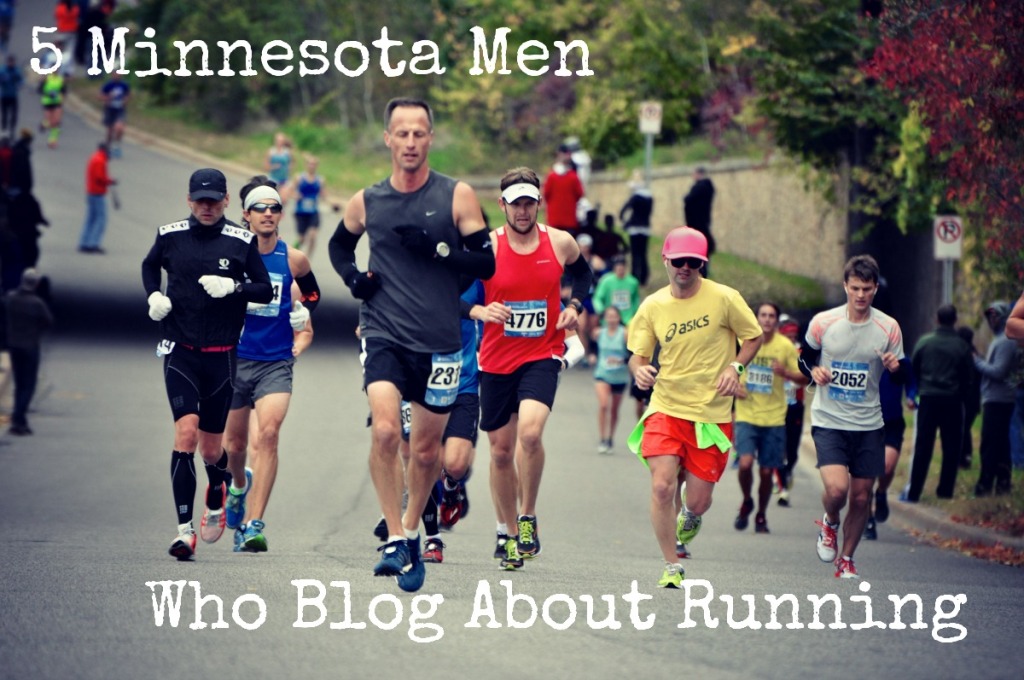 Last August, I was honored to be featured in Minneapolis Running's post about "5 Other Minnesota Running Blogs You Should Check Out."
There were a lot of really great bloggers in that post that you should definitely check out, but I did notice that all 5 blogs featured female writers. I thought it would a fun follow-up to introduce you to "5 Minnesota Men Who Blog About Running." (whew, that was a long title!)
These 5 guys all offer a unique perspective and play important roles in our running community.
1. Ben from 6 Run 2: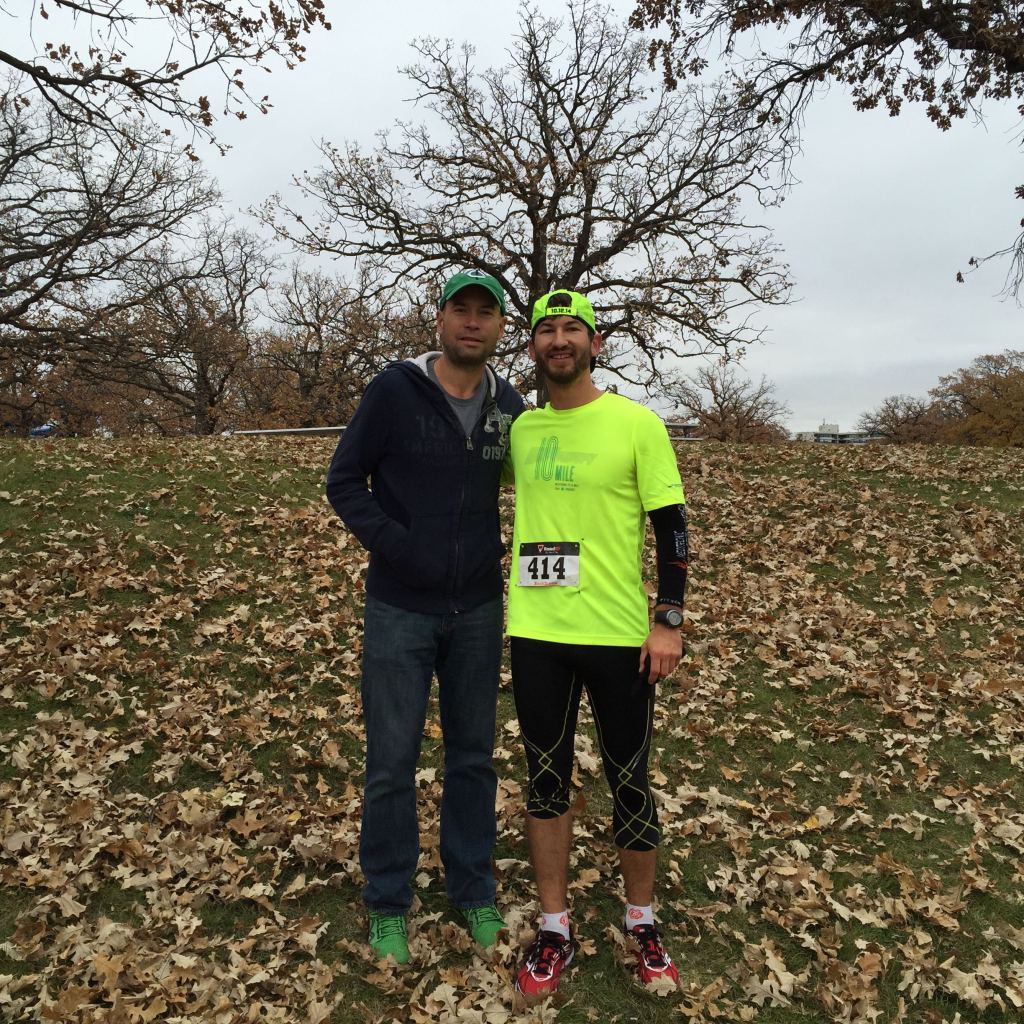 Ben is a local runner that started 6 Run 2 as a way to share stories about running. Although the blog has gone through a few name changes, 6 Run 2 is all about race reviews (1 mile and up) and running strategies. Ben is currently trying to share some tips and techniques to get faster. He is trying to run marathons all over the country, but also lower his times. Ben recently broke the 3 hour barrier at Chicago and wants to help others improve their times by talking about training plans and specific workouts. He designs all his own training plans and focuses on areas of weakness. In addition, you will find Ben pacing many of the half marathons and marathons in the area. He feels it is a great way to give back to the running community and says it is very rewarding.
Ben says, "I started running marathons two and a half years ago. My first was Fargo 2012 and I barely broke 3:30 thinking there was no way I was ever going to run sub 3. I think everyone is capable of doing things they don't think are possible and I want to help out."
2. Jordan from Jordan + 26.2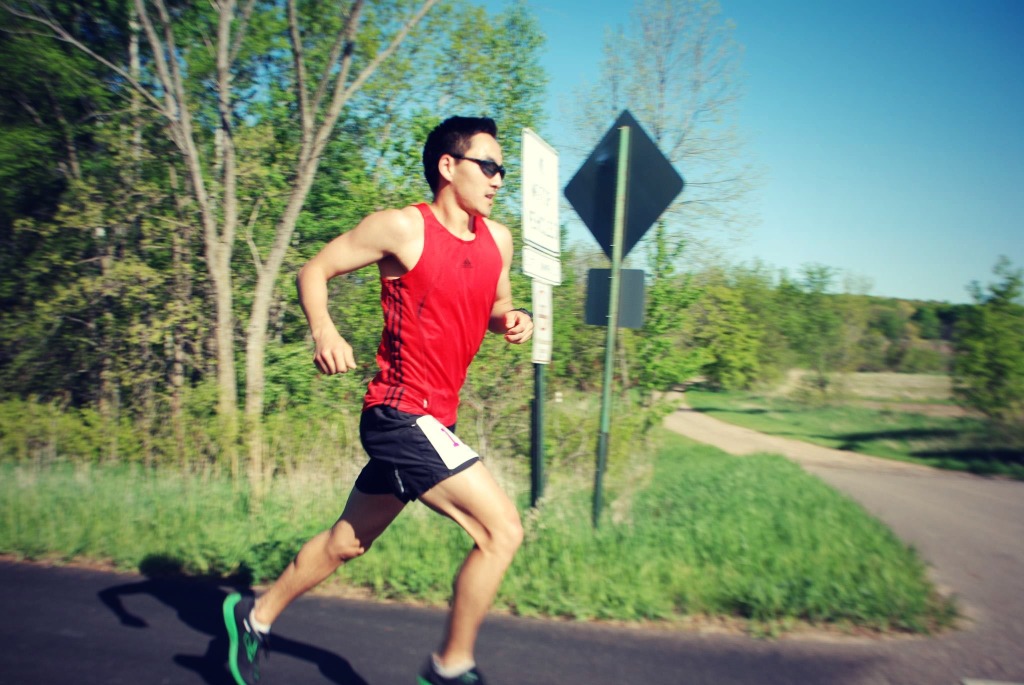 Jordan is a local runner who grew up in northern MN, but has lived in the Twin Cities since college.  Jordan ran track and cross county in high school, didn't run in college, but ran his first marathon his senior year of college.  Since then he has been running more and more each year from multiple marathons to ultra-marathons.  He has just recently completed the Grand Slam of Ultra Running this past summer.
"I started my blog as a way to share some of the experiences that I've had and to share some of the things that I've learned while running.  The process of continual improvement is something that I've always incorporated into anything that I do.  Running is no different and the more I learn and the more experiences I have while running the more I wanted to share and discuss with others.  At a certain point a blog just seemed to make sense.  In 2008 I started a very simply blog, which resembled more of a Word document with a blue background, that allowed me to start sharing some of the race experiences from my first few marathons.It has now evolved into a bit more visually pleasing version but still focused on sharing some of experiences that I've had and the things that I've learned while running."
3. Brad from RunningMN
 Brad is relatively new on the running scene, but isn't short on passion.  He started running to get in better shape after ending up in the hospital with pneumonia in 2013, but he quickly realized it was more than just exercise.  Brad is a regular at local races, and running has grown into a full on obsession.
He started blogging about running after his friends and family kept asking him what his secret was.  He loves writing race reviews and sharing tips and tricks that work for him in the hopes of inspiring at least one other runner to get out there and hit the pavement.  He said,
"If I can share my passion for running with just one other person, then I've done my job.  Running is hard when you're just starting out, but knowing there is a community of Minnesota runners out there to help and support you is a great feeling, and it's why I started writing!"
He also enjoys reading other blogs (like The Right Fits) from Minnesotans and connecting with runners across the state!
By day he's a web developer and digital marketer.  After work you'll find him running in the eastern suburbs, possibly at his favorite running spot Battle Creek Regional Park.  You'll rarely see him running before work, as he is definitely not a morning person!
Brad is set to run his first marathon at Grandma's in 2015, and has already decided he wants to run 50 marathons in 50 states!
4. Nathan from Minneapolis Running
When Nathan and his wife moved to NE Minneapolis, his dream was to open a specialty running store in the neighborhood. As a lifelong runner, it sounded like the perfect job.
"I wasn't drawn to retail, or being a small business owner as much as I was drawn to creating the communal aspect I had found in running."
With no retail or business experience, his wife wisely encouraged him to start a website instead. Minneapolis Running was born.
With a full time job, Nathan recruited a few running friends to contribute articles. From race and gear reviews, healthy recipes, training tips or simply something motivational, Minneapolis Running covers a wide variety of topics.
Minneapolis Running's mission is Motivating Minnesotans to become stronger runners while living happier lives.
"A few months in, myself and another author thought we should focus the site a bit. We came up with "stronger runners, happier lives." We picked stronger because everyone wants that. We're all at such different places on our journey through life, but we all want to be stronger. Running faster, further, or simply without injury. We also believe deeply in the idea that running will make you happier. So much research has been done about the positive effects of exercise, but it's more than that.
Running is very communal. Being around other passionate people makes you feel better about life. There is something about processing the joys and sorrows about life while running (with best friends and people you just met) that makes it feel like it's all going to be OK. When people come together to run, something special happens.
Since we can't always run together in person, MinneapolisRunning.com tries to bottle it up, and give it away to people through an online community."
Something not everyone knows about Nathan is that he currently doesn't live in the Twin Cities. Nathan's wife works for Target, and was recently relocated to Portland OR.
"It feels weird not to be living in Minneapolis right now. I'm still back once a month for work, we own our home there, and all of my family lives there. Portland has a lot of great things about it, but running in MSP is way better."
Most Popular Posts on Minneapolis Running:
8 Tips for Running in the Rain
Best Places to Run in the Twin Cities
5 Tips to Become a Stronger Runner
6 Trails to Run in the Twin Cities
5.  Steve from Steve in a Speedo: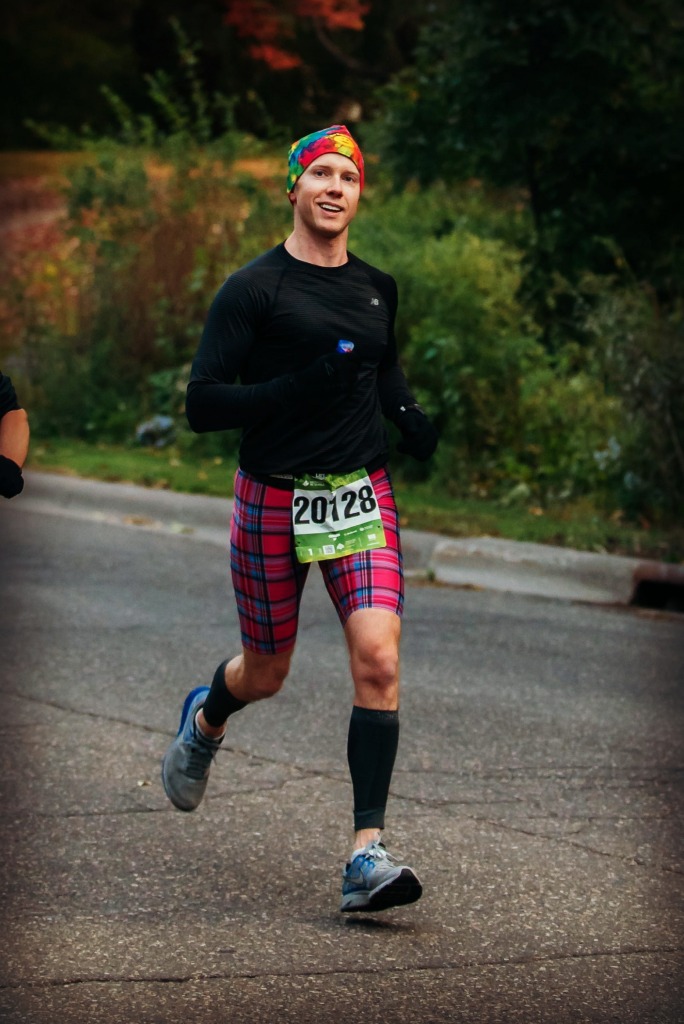 Steve Stenzel (AKA "Steve in a Speedo) is a local runner, triathlete, professor, dad, and blogger.  He ran track and cross country for 2 years in high school until chronic heel injuries left him demoralized, at which point he quit running altogether.  He started running a bit more in college as he watched his fiancée (now wife) run marathon after marathon starting in the year 2000. His wife made her way into triathlons in 2004. And before Steve knew it, he found himself wanting to learn how to swim so he could try a tri as well.
Steve still deals with injuries, blisters, and body hair, and posts about it all on his blog.  "Steve in a Speedo" has earned national recognition 3 years in a row.  His light-hearted race reports show that he tries to keep things fun as he builds speed and experience through the years.  He posts about his workouts and races, does frequent giveaways, writes about other endurance-related topics, and usually posts a few popular "Friday Funnies" at the end of each week.  Steve generally blogs about the lighter-side of endurance sports, but it's fun to see his speed too (he recently finished a certified 5K in under 18 minutes while pushing his 3-year-old in a stroller!).
In 2012, he won the year-long Minnesota Distance Running Association's (MDRA) "Grand Prix" series of races.  Most recently, Steve's local "claim to fame" is winning the 2nd annual Twin Cities in Motion "Loony Challenge" last month as part of the TC Marathon weekend.  He was one of 500 to race the TC 10K and TC 5K on Saturday, Oct 3, only to come back and race the TC 10 Mile less than 24 hours later on Sunday.  Check out his website for all his adventures – you can find all of his race reports linked on the sidebar of his blog
Ladies and gentlemen, go check out each one of these talented men- learn something, laugh a little, and get inspired to get out there for a run!
(Visited 871 time, 1 visit today)