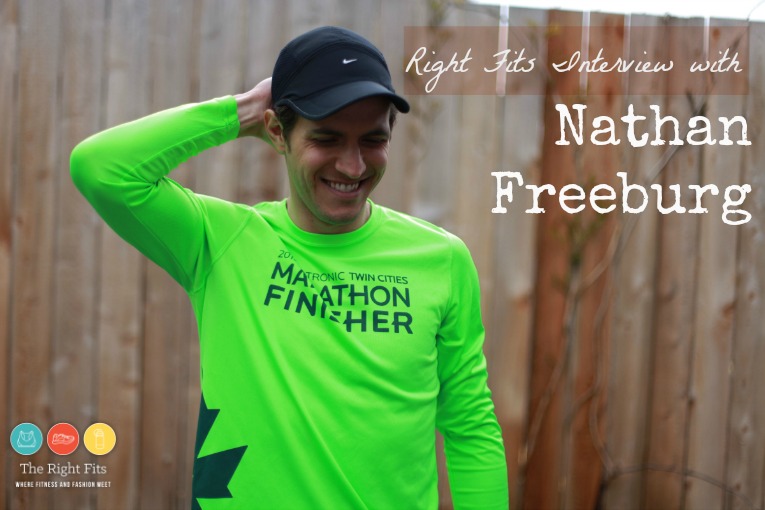 You may recognize Nathan from his blog, Minneapolis Running. I also featured him in this POST about 5 Minnesota Men Who Blog About Running. In the past, I have interviewed Liz Turner and Jenna Boren on TRF, and though technically Nathan is not an "elite" runner, I think he is an inspiring athlete and I thought it would be fun to interview him here!
Enjoy!
Basic Running Stats about Nathan:
Marathon PR: 3:09:37
Half-marathon PR: 1:28:09
Hometown: Hmmm… Minneapolis feels like my hometown, but I live in Portland right now. We moved about a year ago.
Occupation: Dad and Consultant.
Education: M.A. in Leadership, B.A. in Computer Science (Bethel University)
When did you start running and why?
It was the summer before my freshman year of high school (94). I knew I wanted to get involved with sports, but I was too small for football, and my school didn't have soccer. XC seemed like a good alternative. An older girl in my youth group encouraged me to do it, and after my first run, I was both incredibly miserable, and excited. I liked it because I was part of an incredibly encouraging team. You could always improve, and got very immediate feedback since there were usually two meets every week.
What motivated you to register for your first full marathon?
Lance Armstrong. I read an article about him completing the NYC marathon. I had just read his book and was incredibly inspired. Say what you will about him, he was a fierce competitor. I also have to thank the Gouchers (Kara and Adam). I somehow found their videocast thing after I got my iPod nano and had the Nike+ thing. Between tracking all of my runs (this was before Garmin) and watching this running couple, I was hooked. I like the planning. You could map out weeks and months of training all to culminate on a since day. The challenge was not only in that day, but in all the training and preparing you were able to do before it. That was/is really fun to me. You can't just show up and decide you're going to run a marathon.
What are you training for now?
The plan is Grandma's Marathon in June. I'm nursing a sore achilles, and have not been running much the past month.
Do you have a coach? What role does he/she have in your training?
Yes! I started using a coach about 2 years ago. First it was informally via a friend who used to be a pro runner. A year ago I started working with Antonio Vega [Jessie's note- same coach as me!] He plays a huge role. I realized I know plenty about running, but the act of putting that stuff together into a productive training plan is huge. He does that, and also is the "voice of reason." For example, last fall when I was trying to qualify for Boston, he scratched my final 20 mile long run. In short, he said it wouldn't help me, that I was fully prepared, and all it would do is potentially injure me. I was really nervous because of the "mental" side of it, but I felt confident enough with the rest of my training, trusting that and him, to be able to have a totally awesome race.
You have cut a significant amount of time off of your races in the past year or so. What did you do differently in your training? What are the contributing factors in your impressive improvement?
Well, you're not going to like this, but I stopped doing long runs 🙂 Ok, not really, but it was a combination of two things. More miles and more confidence.
Previously, I had been capping my marathon training at about 35 miles a week. Two years ago I spent  months building up to about a 40 mile base, then went all the way to 70 for the peak week. That included a much shorter long run than I was used to (18 vs 22 miles).
I also started doing a lot more marathon specific work. In the past, I would just get the miles in, and perhaps do a few 4×800 at a "faster" pace. Now, I'm doing 1 or 2 workouts a week, but adding a tempo or threshold to my long run. My longest run was 20 miles, with the middle 15 at marathon pace.
What are your running goals?
Hmmm… currently they are simply to get healthy. I did something to my achilles awhile back, and have never let is properly heal. My short term goal (which is really a long term goal) is to get that to the point where I can run without pain.
Beyond that, I would like to run Boston (I qualified, but now I have to make it through the lottery) and break 3 hrs in the marathon, and go under 1:20 in the half. The half goal is going to be much, much harder.
What's your favorite distance race?
Probably the half marathon. For me, it is a significant challenge to get faster, but not nearly the amount of time required to train. I raced a few 5k's last summer, and I really enjoyed those too. Reminds me of high school.
Do you run with a running club or alone?
I run with a variety of people. I run with Portland Running Co in Portland, and Mill City Running Minneapolis. I also run with Team Extreme No Limit… which is the group of guys I started training with in MPLS a few years ago.
Tell me about your first marathon experience.
I have tried to repress it as much as possible… but here goes. I started training on a whim after only racing 5k's. In hindsight, I wish I would have run a half first. My first was Grandma's Marathon in 2007. I spent 16 weeks gearing up, then on race day, I stopped at 7 or 8 porta potties. I won't get into specifics, but lets just say Fettucini Alfredo isn't a good pre-race meal. Since I kept stopping every few miles for 5+ minutes, I never felt like I really got tired. Because of that, it was more like a race to the next porta potty. It was incredibly frustrating. By the end, I remember I was so annoyed at myself that I wanted to quit, but then I saw Duluth. Not having run the course before, I didn't realize just how far away it was.
I learned a lot about running long distances from that. Primarily, how important proper nutrition is. I think your first marathon is a huge learning experience.
What is your favorite thing about running in Minneapolis?
Hands down it has to be the trail system. I haven't been in a major city that has as extensive a set of interconnected trails as MSP does. It's incredible. It's so easy to get around. No matter how far you have to go, you can find a route with virtually no interruptions (from traffic or whatever).
Also, the people are pretty awesome too!
What is your favorite way to recover after a race?
I'm getting better at this, but I usually try to keep moving as much as possible. I tried compression socks this year, and they seemed to help. I also got a post race massage and that felt really good, but I'm not sure if it did anything to speed my recovery. I also like to eat as much food as I can for the first week.
A silly little trick I like to do is put a protein shake in my gear bag. That way as soon as I get through the chute and to it, I know I have a high quality "meal" that I can get down before I am able to make it to brunch. I love brunch… does that count as recovery?
Yes. Brunch always counts.
Speaking of which, let's talk nutrition. How do you fuel yourself for such high mileage? What are your nutrition challenges?
My challenges are simply eating enough quality calories. A few years ago I experimented with an all plant based diet. I was pretty hard core about it for almost a year. Ultimately I decided it wasn't for me. What was amazing about it however was the awareness it brought to what I was eating. I was eating a lot of junk.
From that, I've started eating healthier – primarily more fruits/vegetables, better protein and far less processed foods and almost nothing fried. When you eat healthy, it's more difficult to get enough calories (at least for me). Last year when I was training for TCM I lost 12 pounds – which is insane.
Smoothies are a great way to pack in extra calories. I also try to eat 5 – 6 times per day, but eat very clean, whole foods. That's a lot of buzz words, which basically means I try to avoid processed things.
On an average day, I'll have a pre-run snack, smoothie, then breakfast and graze until lunch. After lunch I may graze more before dinner, and almost always have cereal before bed.
What's your best advice for preventing injury?
Listen to your body. You need to get good at determining what is an injury and what is natural soreness from running a lot. It's better to be slightly under trained than over trained and injured. The biggest thing that I have learned is that your fitness stays with you for awhile. So if you are a few weeks out from a key race and something doesn't feel right, taking 2, 3 or even 4 days of no running won't hurt you at all.
How do you cross-train? What other exercises/strength training do you do to supplement your running?
I start every run with the lunge matrix. I really believe that warming up this way is a great way to get loose before any and every run. I try to bike, but I'm not a big fan. I have also been doing the Strength Training Plan for Runners from Runner's Connect and really like that. It's a whole bunch of different exercises that primarily use body weight (and thera bands, pull up bar and medicine ball), to focus on the key muscles that runners need. It's something I can do at home for about 15 minutes, 5 times a week.
My schedule is such that it's too hard to do much else in the form of cross-training.
I have read that you have a young son. How do you balance working, being a dad, and training for a marathon?
My son is my best training partner! He accompanied me on at least 2 runs/week during my last cycle. He was gets pretty fussy after about 30 minutes, so I had to keep feeding him, or giving him a new toy every mile or so. One simple way I would get in miles is to throw him in the jogger and literally run to the store, pick up a few things and run home.
Since I am the primary one who stays home with him, it is a great way to get those mid-week/easy runs in. On the days I need to do a workout, I run really early in the morning. Once I couldn't, and did 2×2 miles at 5k pace while pushing the baby jogger. It was about 30 seconds slower than my normal pace. Somewhere online I read that pushing a jogger ads 30 – 45 seconds per mile, so I figure I was doing pretty well.
If you weren't a runner, what sport would you do instead?
Hmmm… I have absolutely no idea. I've been a runner for so long, I can't imagine anything else. I love to downhill ski, but that's not something you can just walk out your front door and do. Maybe ping pong?
A fun fact about Nathan Freeburg to leave us with today:
During my freshman year of college, there was a live minnow eating contest in my residence hall. It was part of a big event the RA's were hosting, and they were asking for volunteers from each floor. My friend and I decided to do it. At first they put one in a cup and we drank it. Then two, then three. After about 20, my friend and I were the only ones left. We kept going. After 50, we both felt like we were going to puke, but everyone was cheering us on. Around 75, they filled up a plastic cup and said whoever drank it all would be declared the winner. I'm not sure how many there were in that last cup (maybe 25?) l but I drank it all and won. Needless to say… I did not have many dates that year.

Thanks for the interview Nathan! 
If you have any questions for him, you can find out more here and contact him through Minneapolis Running
(Visited 524 time, 1 visit today)