I am a big fan of kettlebell workouts. In my weekly recaps, you will usually see a strength training class that incorporates kettlebells. I can tell you again and again that I think kettlebells are a great workout, but instead I recruited an expert to explain it to you! My friend (and certified kettlebell instructor and distance runner) Ericka Darst is here to share with you 5 ways that runners benefit from kettlebells. Enjoy!
From Ericka:
I began training with kettlebells a few years before I started running. Four years ago, I signed up for the Garry Bjorkland half marathon in Duluth, MN as a lottery registrant. I decided to switch gears (or perhaps the winter had turned me wacko) and let the lottery decide if I was going to have to start running – something I questioned having the physical or mental capacity to do, at least long distance, but I wanted to try. A few days later, I received notification of entry and then reality set in… I was going to have start running – a lot!
As a beginner, those first weeks of running in the freezing winter months were challenging to say the least. I really had no idea what I was doing and tried to follow a training program, only to feel constant doubt. However, I stuck with it and soon started feeling more confident in my abilities. During that time, I discovered the benefits of my kettlebell training and how it paralleled my half-marathon training. I wasn't aware the two could work together until I started really paying attention to how I was running. The reliance on muscle groups I had already been conditioning through kettlebell exercises and associated breathing techniques helped guide me and before I knew it, I actually ENJOYED running!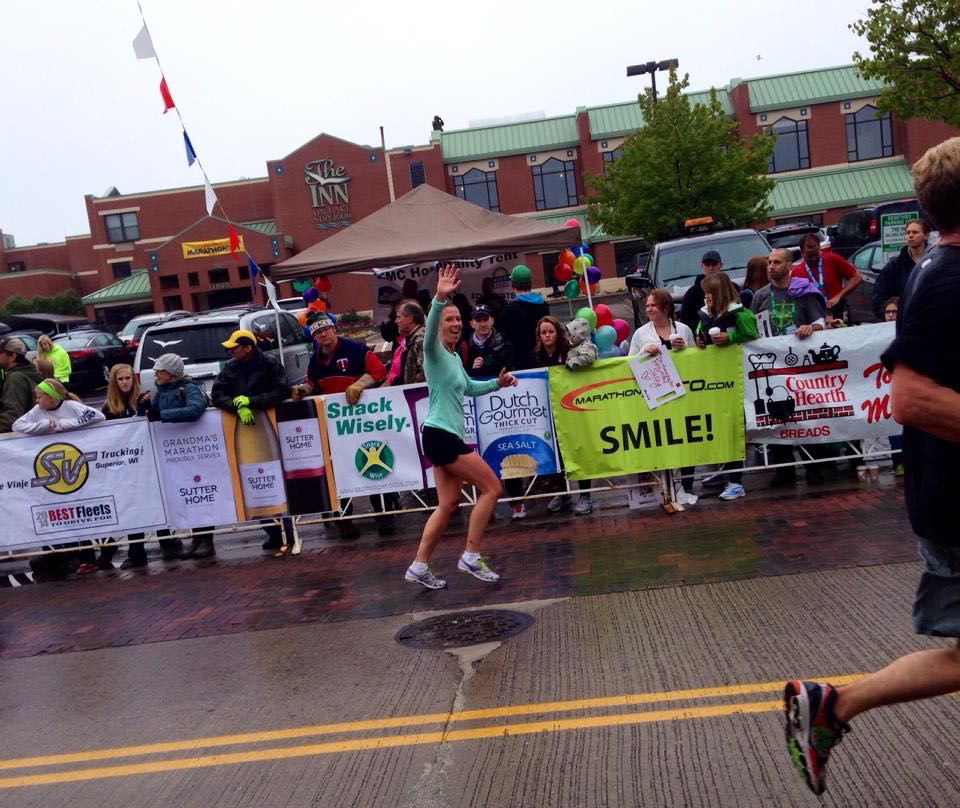 Many miles logged and several races since, here are my Top Five Ways That Runners Can Benefit from Kettlebell Training!
1. A Strong Butt (and hips, hamstrings, quadriceps…)
Proper gear, especially shoes, seems like a no-brainer for running! Strength training is equally important and regularly working with kettlebells will maximize the potential for strong glutes, hips, legs, and even feet, while decreasing muscular imbalances. Common injuries incurred by runners typically strike in the lower body – usually brought on by weakness in the posterior chain (back, butt, hamstrings, and calves).  The glutes are the most powerful muscle group in the body and if you're not using this great asset, your lower back and hamstrings will likely compensate.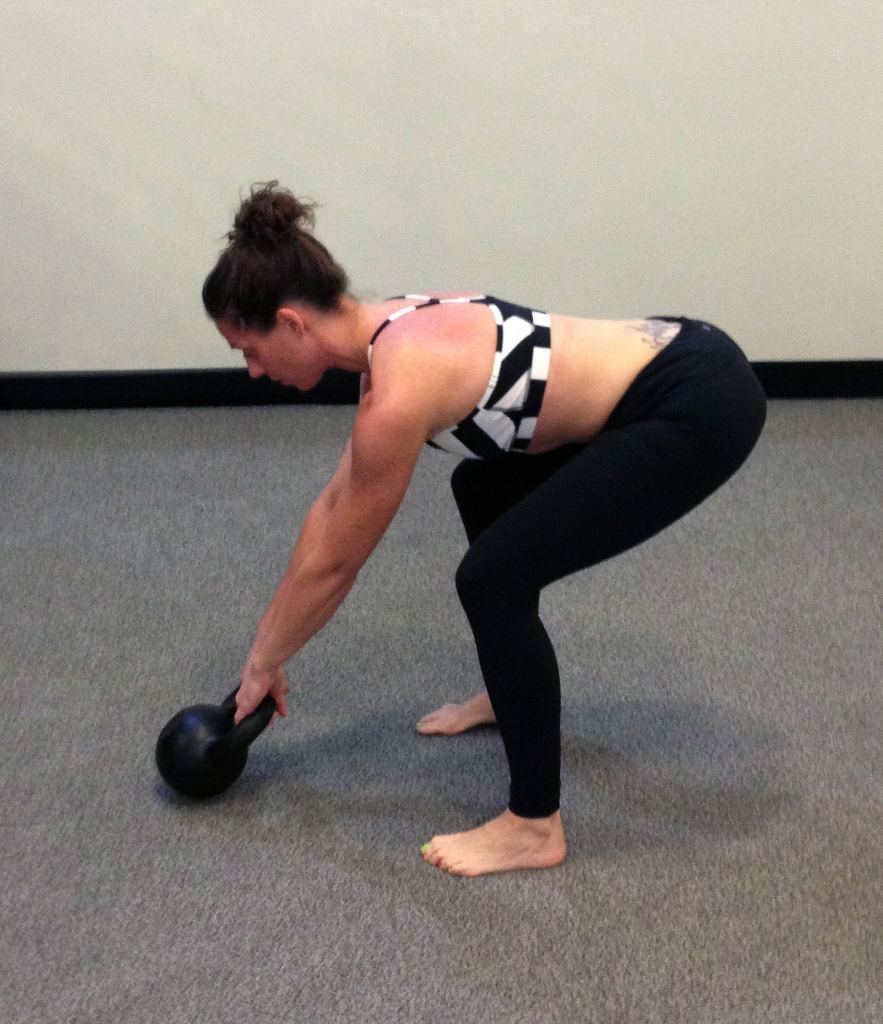 The dynamics of the basic kettlebell swing enables glute activation enhancing strength through the hips and leg musculature. By following the proper technique of hinging from the hips on the backswing and driving the kettlebell forward engaging the glutes and holding tension at the top of the swing, the individual activates the muscles groups that might have previously lacked power.  Which leads to…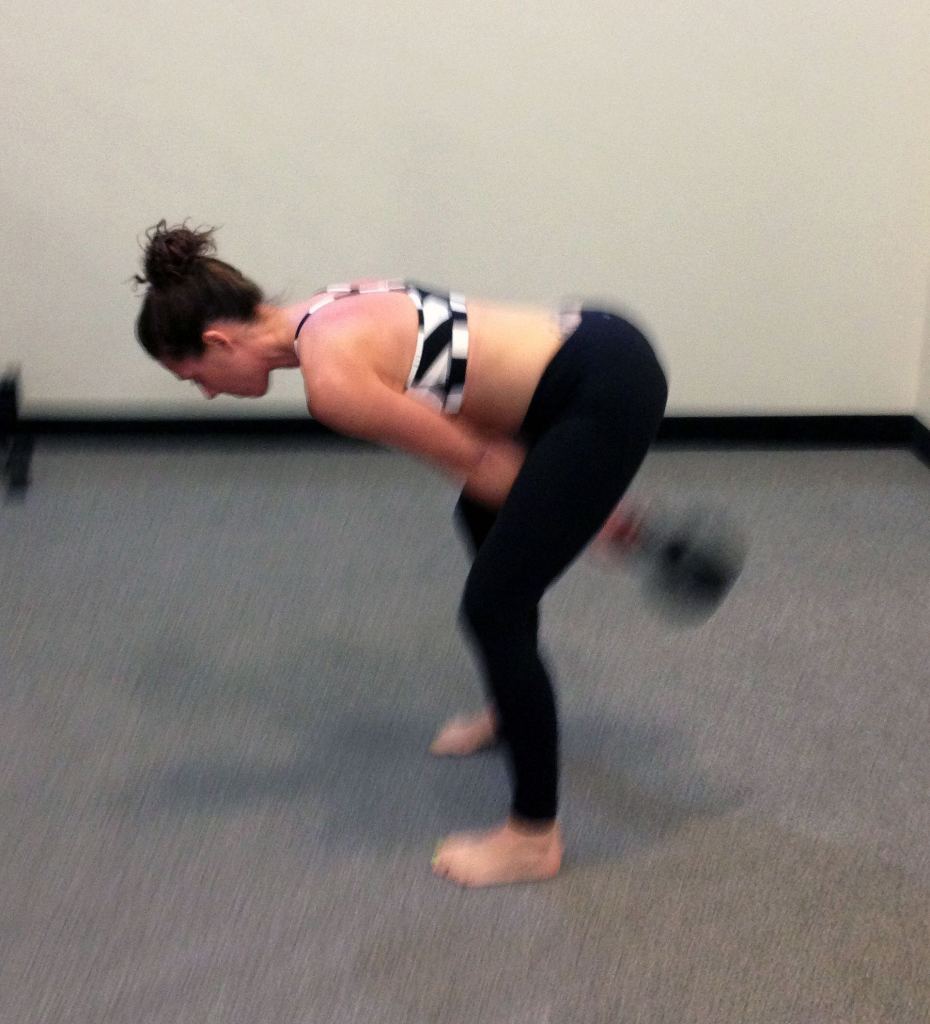 2. Improved Postural Alignments and Stability
One of the comments I hear from those who incorporate kettlebells into their exercise routine is a noticeable improvement in posture. Kettlebell training promotes appropriate structural alignments, while enforcing a neutral spine and pelvic stability. If your hips are out of alignment or lack strength, you can bet that will track down to your feet and affect your running efforts.
Mark White is an avid runner and marathoner, who incorporates kettlebell workouts into his marathon training schedule.
Since merging the two, Mark has achieved four personal records over seven races (full marathons) and attributes kettlebell strength training to running more efficiently. In addition to reducing injury through effective alignment and stabilization techniques, those who train with kettlebells will develop a sturdy foundation while increasing muscular balance. Which leads to…
3.  A Solid Core
Core strength is crucial in executing a productive running program focused on remaining injury-free. Core musculature includes the abdominals, obliques, diaphragm, pelvic floor and the stabilizing muscles of the spine. Kettlebell training assists in transferring the appropriate load of force to the upper and lower body through a variety of repetitive exercises from swings and presses to squats and deadlifts – all of which are centered around suitable core strength. Mark pointed out that having a lean, strong core translates into holding an efficient running form over a longer distance at a faster pace.  Runners that integrate kettlebell workouts into their training programs benefit by improving movement patterns and learn to correctly brace their core. Which leads to…
4. Effective Breathing and Increased Endurance
Applying the breathing techniques I acquired through kettlebell training helped me tremendously while training for my first half-marathon…and it still does! Bracing through the abdominals enables breathing from the diaphragm, which provides for a deeper air intake and a greater reserve on exhale.  During kettlebell exercises the focus on breathing from the diaphragm to promote powerful ballistic movement increases momentum and endurance. Perform several continuous reps of kettlebell swings and you will quickly find out how important breathing from the diaphragm is, which parallels breathing for runners at any distance. Practicing a deep, rhythmic breathing pattern will help to maintain endurance through aggressive kettlebell workouts, but also during those long-distance training runs! When all these pieces come together, confidence in running quality and increased stamina will apply to any runner at any running stage of their training. Which leads to…
5. Challenging and Rewarding Workouts
I'm not just referring to challenging and rewarding kettlebell workouts here, this includes the strenuous achievement of training for any running endeavor whether it's long distance, short distance, or leisure. Adding kettlebells to your running program enhances overall mental and physical strength and promotes assurance in having a better run.
As Mark stated, "It takes a lot of self-confidence to step up to the start of a marathon and know without a doubt 'I am strong enough to run a PR right here, right now!' Nothing builds your confidence like having an injury free training cycle, getting in harder training runs than ever before and most of all looking in the mirror and seeing someone who flat out looks strong enough!"
Mark's comments significantly sum up incorporating kettlebells into a running program. It is not to say that doing so will always provide for an easy run, as we all know (with any workout) we can experience good days and bad. Also, there is no guarantee that strength training will result in an injury-free training cycle, but it will promote appropriate muscular equilibrium and encourage healthier running habits.
This is where finding a certified kettlebell instructor to guide you through exercises and ensure correct form, technique and safety is of utmost importance. I can confidently say I have learned, trained and received my certifications under some of the very best instructors out there and I continue to follow them as mentors, thankful for their leadership and skill!
 Still not sure kettlebell workouts are for you?
If you are a runner and have the determination and motivation to train for 26.2 miles (or any distance!), then you certainly have the same ammunition to try kettlebells! It could change your running game for the better…or at least push you to add strength training to your routine or switch up your current workouts.
Thank you to Mark White for his contribution to this post. Mark participated with a group from the Calhoun Beach Run Club in an eight-week kettlebell training class, which coincided with the marathon training schedules for the Twin Cities and Chicago Marathons. It was a pleasure to work with them all this summer and I continue to do so, witnessing great progress in strength!
BIO:
Ericka is a certified RKC, SFG & FMS instructor, currently studying for the NASM-CPT exam.
Interested in more information or classes?
You can find her at the following locations and class times:
The Calhoun Beach Club (Minneapolis): Tues/Thurs 6am, Weds 6pm
SkyWay Fitness (Downtown St. Paul): Mon/Fri 12pm, Weds 11:15am
Balance Fitness (Uptown): Thurs 6pm
Snap Fitness (Edina): Tues/Thurs 9am, Weds 4pm
She is also available for private and small group training.
Contact: Ericka Darst – erickadarst@gmail.com
Thank you so much Ericka for sharing your expertise with us today!
(Visited 2,552 time, 1 visit today)