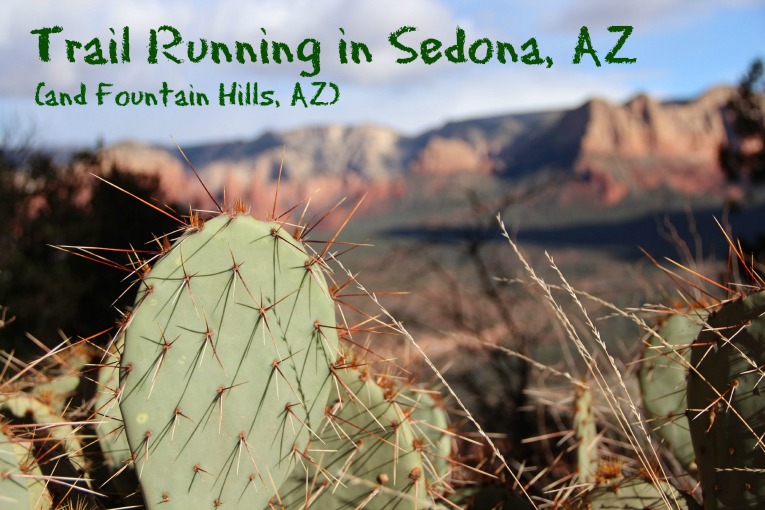 This is a long overdue (and picture heavy) guest post that I've owed Jessie so I'll get right down to it.  While Jessie was in Singapore, I went to visit my family in Fountain Hills, AZ where my Mom and her husband go in the winter for a little pre-Christmas Christmas.  Seeing as I've never spent much time in Arizona, I thought I'd take a little time before my brother and his family got in from Japan to take a drive and check out the Sedona area.  I had heard great things, seen some great pictures, and had some Tokyo Marathon training miles to log, so I booked a night at the Amara Hotel and hit the highway for some Sedona trail running.
The first thing I did when I got to Sedona was bee-line it to the Sedona Running Company to pick up a trail map and get some suggestions on where to run.  The owners, Adam and Lindsay, served as excellent ambassadors to trail running in the area.  They were more than happy to highlight a few options on the map and give me a run down on what to expect.  A huge help since I didn't have a ton of time to explore and would be running on my own, so skipping right to the best the area had to offer and knowing what I was in for was important.
Even though I never, ever run with a water bottle, I did pick one up at the store before heading out.  I knew I'd be out there for a while and would need water, plus I wanted my phone with me in case of an emergency.  Not to mention, the whole point of going somewhere beautiful is to take some pictures (something told me a blog post could be in my future) and the newer iPhones work great in a pinch.  Surprisingly I didn't mind running with it and the photos certainly made it worthwhile.
Cathedral Rock Loop
The first run they recommended was an extremely scenic loop (8 miles) around a very well known rock formation known as Cathedral Rock.  There were some tourists around the main trailhead and I did cross paths with one mountain biker on the trail (I cannot fathom biking it) but otherwise it was a perfect, quiet, warm-by-my-standards December afternoon.  The trail was  a mix of hard-pack dirt and, once you got up a bit higher, slick rock.  Everything was very well marked, trail intersections were signed and on the slick rock there were occasional white dashes painted on the rock to keep you on track.
Without those little dashes and the occasional tiny cairn, it would be very easy to just wander off the wrong direction.  I'll admit to getting distracted a few times and having to backtrack a bit to re-find the trail.  The view from the upper elevations was pretty incredible (you can see the traces of the trail below).
Adam had suggested doing the loop clockwise and I agree completely.  You end up with some steeper ascents early on but a great rolling downhill at the end.  Almost all of the trail was run-able, just one short uphill section through a wash was a bit too steep to really run but I can't complain. I did keep a picture of the section of the map I was running on my phone so I could keep track of distances between intersections, easier than stuffing the giant map into pocket.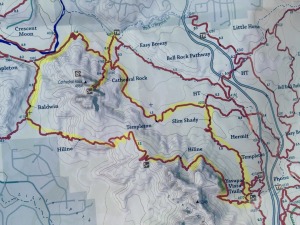 Hangover Loop
The next morning I was up early,  grabbed a little breakfast and headed out for my next run known as the Hangover Loop.  It was described as a bit more challenging (a "long" 8.5 miles) than Cathedral Rock but a very beautiful run.  It was a bit chilly, right around 30F, which didn't bother me but would later prove a problem.  That early in the morning, in the offseason, on a sub freezing day, I had the trailhead parking lot to myself, which was nice but did make me feel better about carrying my phone.
The first 1.7 miles through the canyon were picture perfect and relatively easy, although cold in the shade.
The next section up to the saddle got pretty steep, most of it runable but there were certainly some sections I speed hiked as a misstep on a loose piece of rock would not have ended well.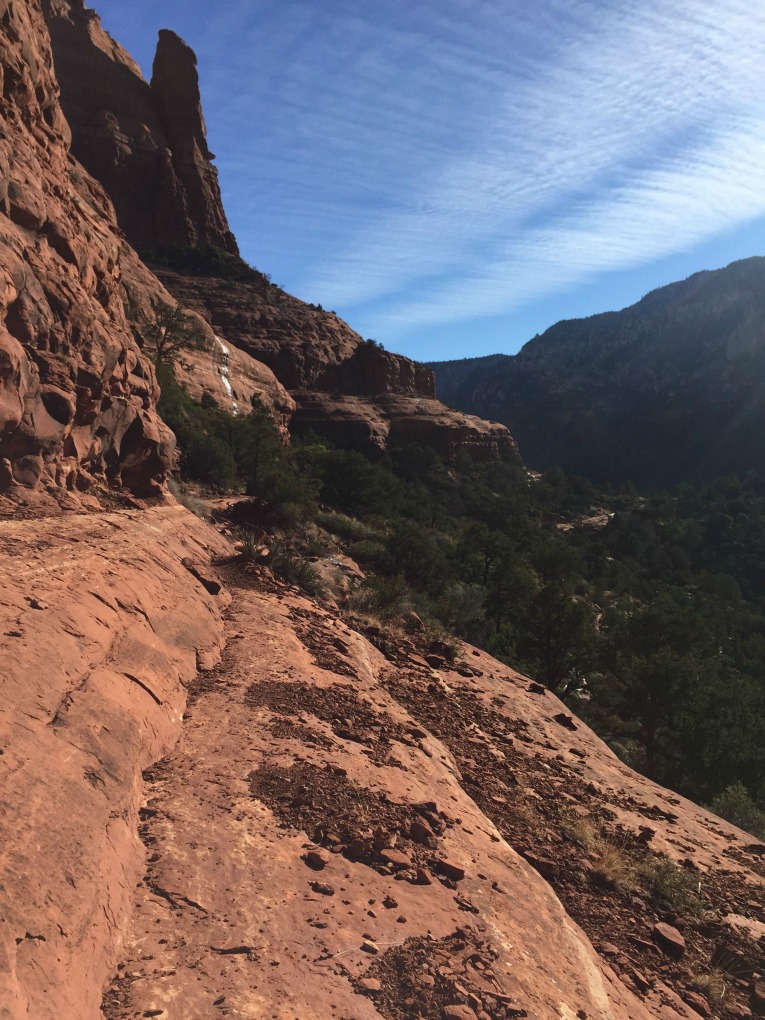 Upon reaching the saddle I was met with amazing views of the area to the north and warm sunshine.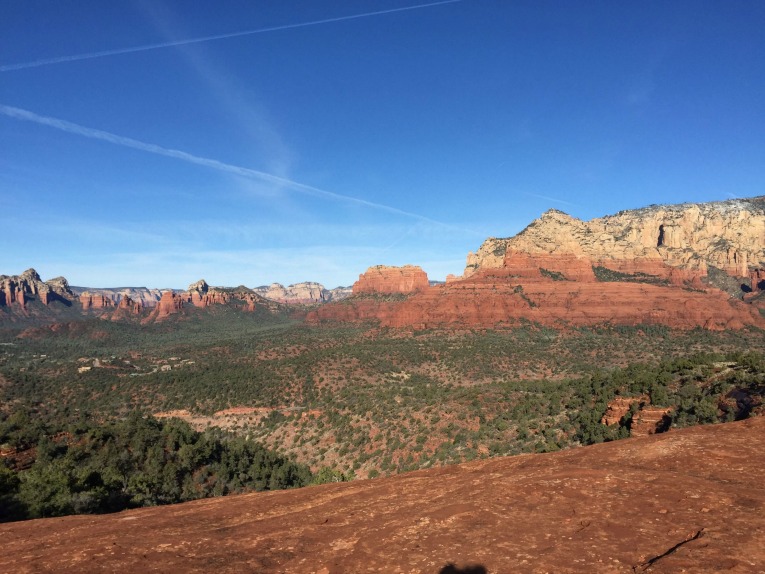 Unfortunately it had rained the morning before I got up there and there was still some runoff coming from the upper elevations, which, when combined with the chilly temps and shade on the next segment, led to large streaks of ice running down the slick rock.  I debated picking my way lower and trying to find places to cross as the best parts of the trail were yet to come but after a few failed attempts, I decided it was best to go back the way I came.  I added on some distance by going further up the canyon but I'll have to revisit this one next time.  If I had waited until later in the day it would have been fine but my schedule just wouldn't allow it.
McDowell Mountain Park
While I was talking to Adam at Sedona Running Company, I mentioned that I was staying in Fountain Hills while visiting my Mom and he suggested I check out McDowell Mountain Park.  It's a huge regional park just outside of Fountain Hills that's just loaded with trails.  It does have a decidedly mountain-bike focus but since it was still during the week and apparently not a popular time of year, with an early start I figured I'd have the trails to myself for a nice easy run.  I picked the suitably named Scenic Trail (SN on the map) loop (with a bit of Pemberton (PB) mixed in).  I rather enjoyed it, running alone through the Sonoran desert, but I can't imagine running here in the summer.  It was December and the sun was killing me, as my hat so clearly illustrates.  It had a much more desert feel than when I was running in Sedona but it was pretty in its own way.  The next time I'm in the Phoenix area and don't feel like driving up to Sedona, I'll be back here.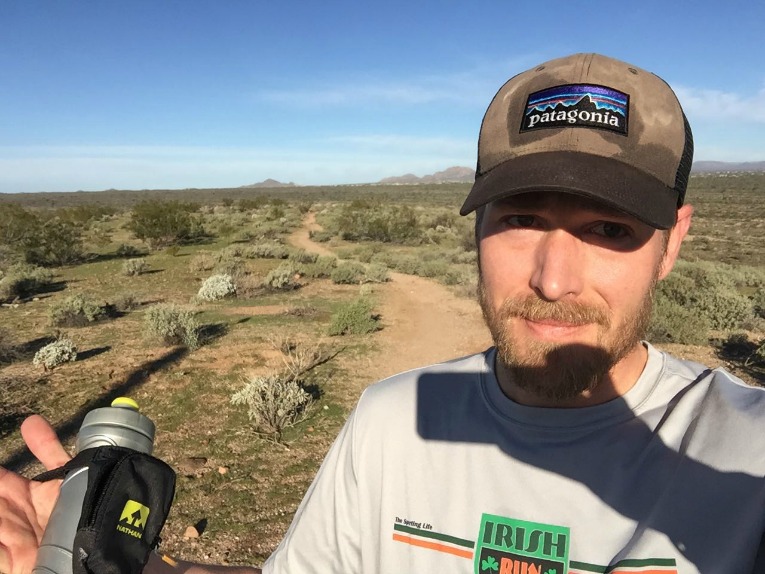 The best part about being back in the Sonoran desert was running by the statesman like saguaro cacti and the avoid-at-all-costs jumping cholla.  No fooling around if you need to pop a squat off the side of one of these trails….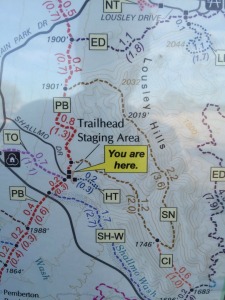 (Visited 1,033 time, 1 visit today)