We have safely arrived in Tokyo! Our flight left Minneapolis around 11:30 am on Wednesday. There were a lot of marathoners on our flight. We could tell by their conversations and also by their shoes.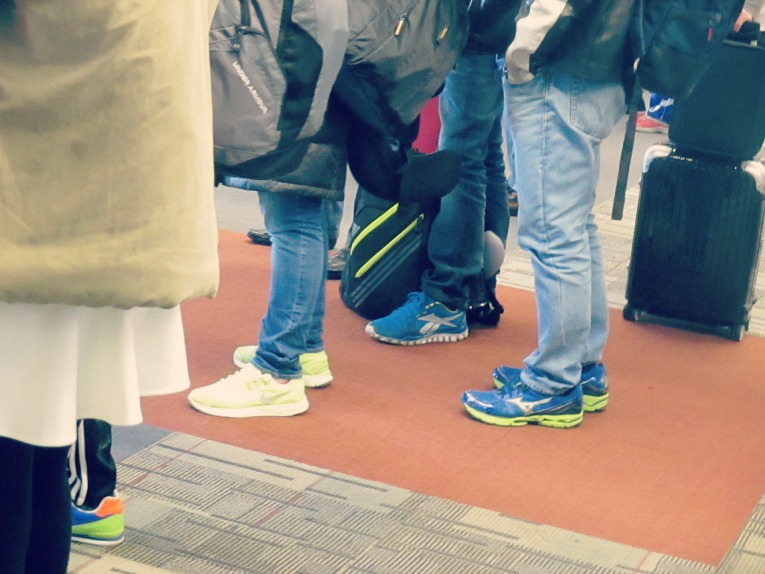 We landed in Tokyo around 3:30 pm on Thursday. It's a 13 hour direct flight, but the 15 hour time difference meant that we basically lost a day but we'll gain it back on the return!
We took the bus to our hotel and had just enough time before it got dark to squeeze in an easy 3 mile run. The temperature was about 50 degrees and it felt great to stretch the legs after sitting on a plane for so long.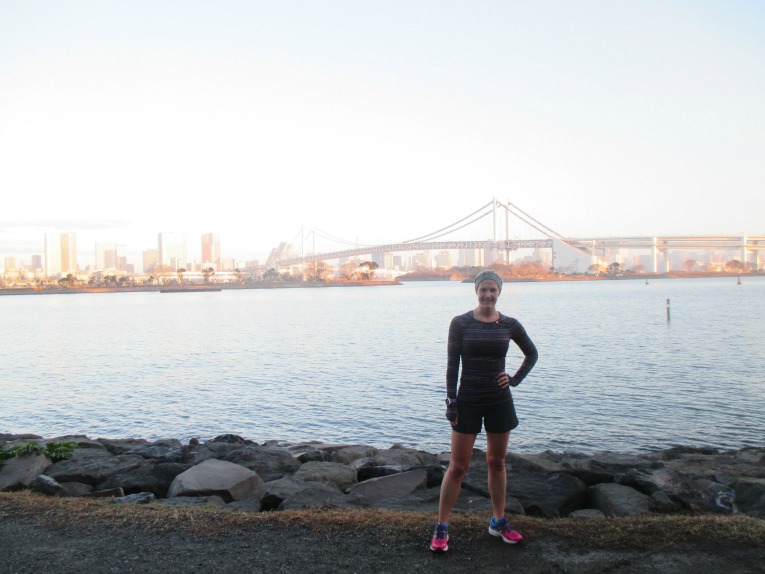 I can't remember if I mentioned this, but we are running the Tokyo Marathon through Marathon Tours. This is our first time going through this company, but so far, I have been pretty impressed. Everything has been really easy with no glitches whatsoever. The Tokyo Marathon is a lottery entry. We didn't decide we were going to run this marathon until almost November. The race was already full by then, but Marathon Tours still had a few spots left.
Since we are going through the tour company, we do have to stay at the hotel they selected, which is Hotel Nikko Tokyo on Odaiba Island. There are over 300 runners here with Marathon Tours but most of them are at other hotels. I think we only have about 60 runners at our hotel.  My friend Phil is here running the marathon too, but I haven't seen him yet since he's at a different hotel. We'll be staying at the Hotel Nikko Tokyo until after the marathon when we will move to stay with Dustin's brother, wife, and kids (but still in Tokyo)
Anyways, after the run and dinner, we tried our best to stay awake until at least 10 pm last night. By the time we finally hit the hay, we were exhausted…but still I was awake at 4 am…darn jet lag. I managed to keep quiet until around 6 am when Dustin finally woke up. The sun was up, so we headed out for another quick run.
I was pleasantly surprised to see that are a TON of public restrooms along the running trail outside our hotel….though they are all squat toilets. There were also a lot of water fountains along the path, which would be great on a warm day!
Breakfast was included with our  Marathon Tours package, after which we loaded onto tour buses for a short city tour that included a stop at the Tokyo Marathon expo. I am going to save the marathon expo for a separate post, otherwise this post will be much too long!
Our first stop on the tour was the Senso-ji temple in Asakusa.
This is a Buddhist temple surrounded by many shops and small restaurants. Nakamise-Dori, the street leading from the Thunder Gate (pictured above) to the temple itself, is lined with small shops selling souvenirs and food.
As tempting as it was, I decided it was too early in the morning for an ice cream burger…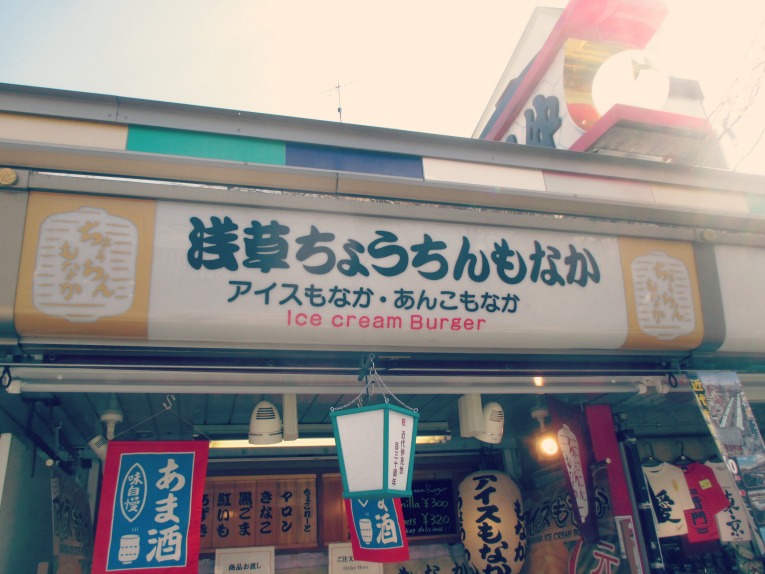 I could have spent a lot more time here just exploring all the shops…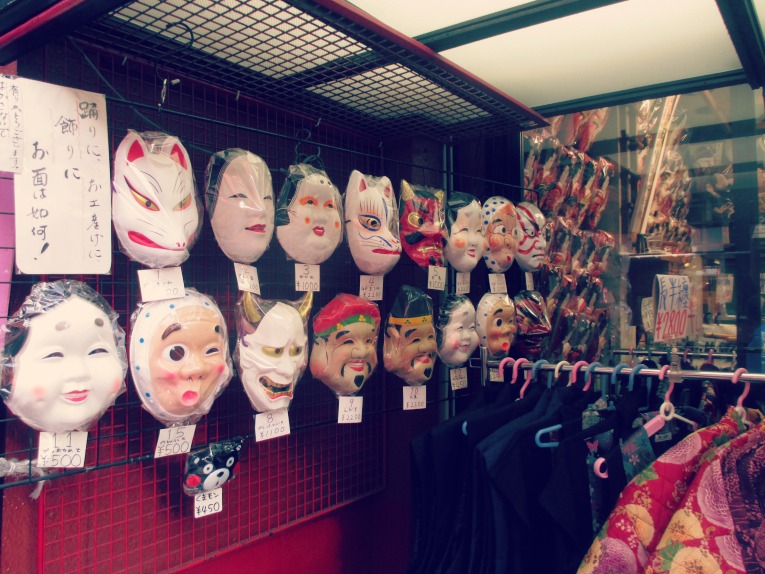 The tour guide kept telling us that the streets would be "so, so crowded" with lots of tourists but I didn't think it was that bad really…can you spot me in the crowd?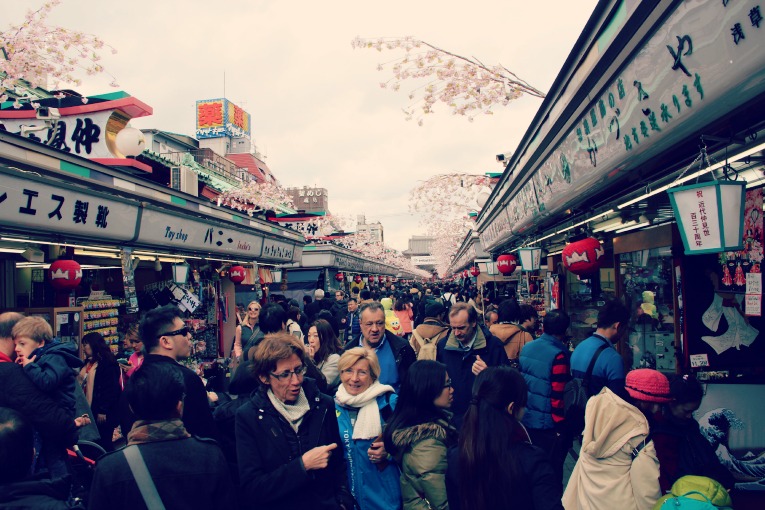 Anyways, the temple itself was really cool. The guide did explain to us the proper protocol for cleansing yourself in the fountain before entering (though she said tourists need not do so). She also explained how the smoke from the fires was considered good luck for your health, so we were to wave it on ourselves. I could use a little good health for the race on Sunday, right?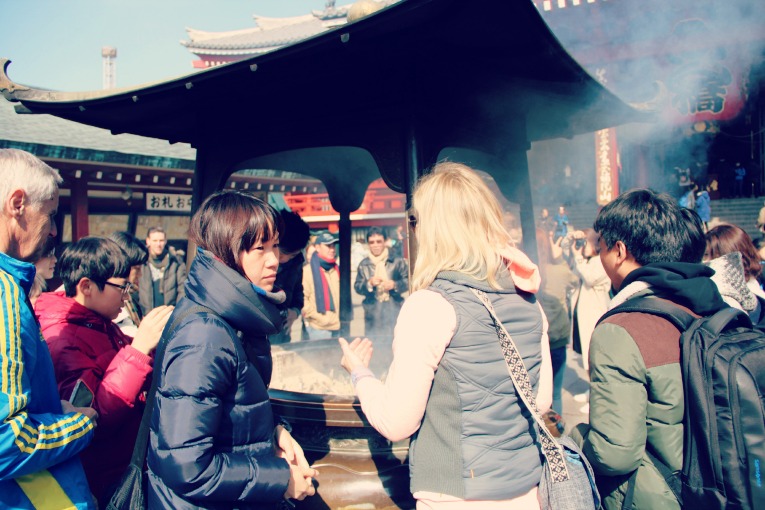 While at the temple, one could also donate 100 yen to receive our fortune (omikuji). You would shake this canister and extract a stick. The stick would have a symbol (a number I think) on it which you would match up to a drawer where your fortune paper would be.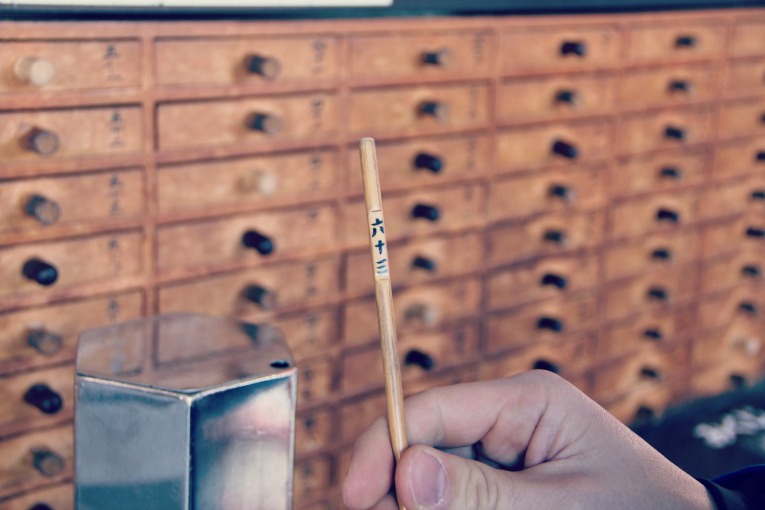 Well…let's just say both Dustin and I received bad fortunes! Here's mine:
Dustin just could not mask his disappointment with this bad luck as well. Let's hope these fortunes don't ring true on marathon day!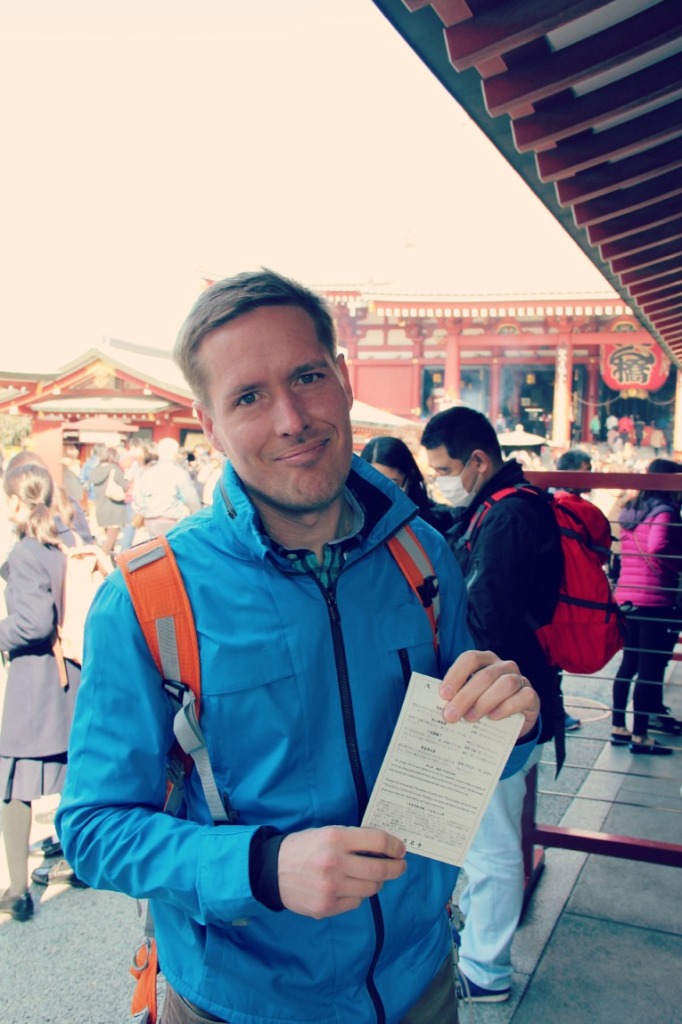 I put my bad fortune on the rack and tried a second time. The second time my fortune was "lowest" fortune ever! Ha! Oh dear….However, after chatting with a few others, it seems like nearly everyone received a bad fortune. Is it because there's rain the forecast for race day?
The Senso-ji temple was really cool; I definitely recommend a stop if you are ever in Tokyo!
Just don't feed the pigeons!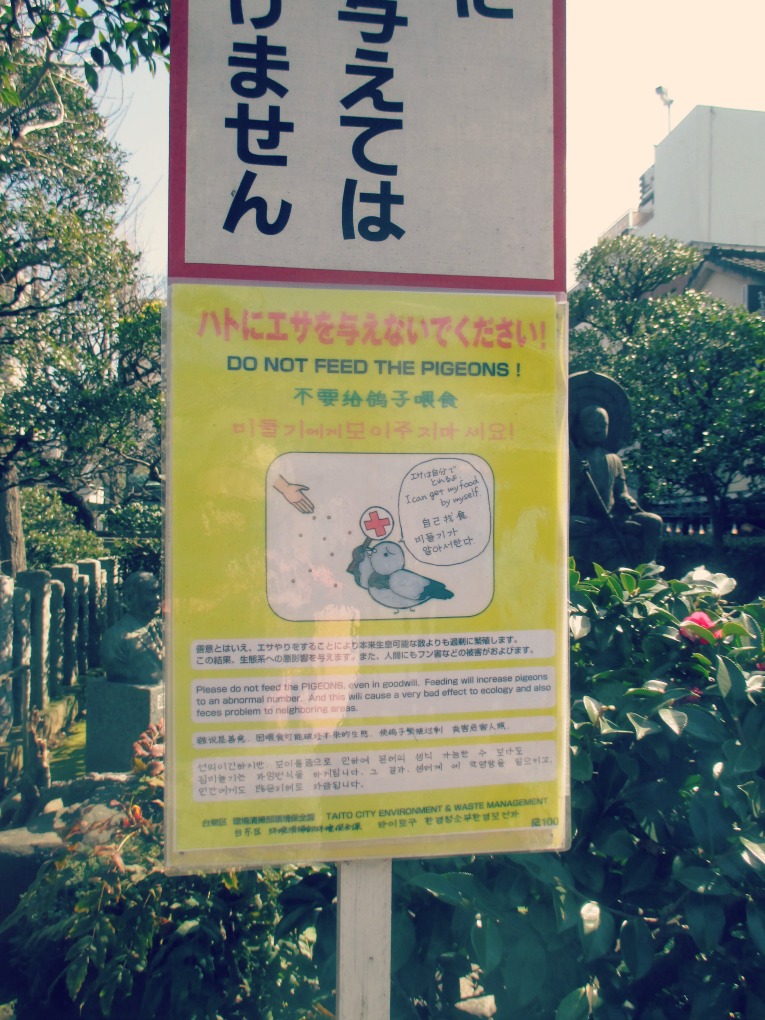 After touring the shrine, we had lunch at a nearby tempura restaurant. Tempura here is much more "lightly" fried (not greasy) than in the US. The set meal included miso soup, rice, tempura, and pickles.
After lunch, the tour took us to "Tokyo Big Sight" for the marathon expo (which will be featured in separate post).
Next stop after about 1.5 hours at the expo (seriously the most organized expo ever- way more organized than Berlin), was the shinto shrine called Meijii Jingu.
"Meiji Jingu is a Shinto shrine. Shinto is called Japan's ancient original religion, and it is deeply rooted in the way of Japanese life. Shinto has no founder, no holy book, and not even the concept of religious conversion, but Shinto values for example harmony with nature and virtues such as "Magokoro (sincere heart)". In Shinto, some divinity is found as Kami (divine spirit), or it may be said that there is an unlimited number of Kami. You can see Kami in mythology, in nature, and in human beings. From ancient times, Japanese people have felt awe and gratitude towards such Kami and dedicated shrines to many of them. This shrine is dedicated to the divine souls of Emperor Meiji and his consort Empress Shoken (their tombs are in Kyoto). Emperor Meiji passed away in 1912 and Empress Shoken in 1914. After their demise, people wished to commemorate their virtues and to venerate them forever. So they donated 100,000 trees from all over Japan and from overseas, and they worked voluntarily to create this forest. Thus, thanks to the sincere heart of the people, this shrine was established on November 1, 1920."
The tour guide with us explained a lot of the proper etiquette which included bowing and clapping to show respect. The shrine felt really serene and all my bad fortunes from the previous temple melted away….I think I preferred the feel of a Shinto shrine to the Buddhist temple, though both were fascinating.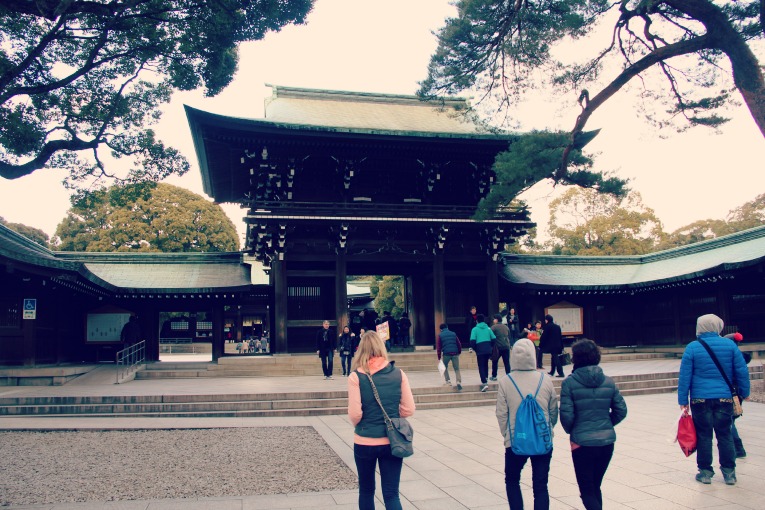 These are casks of sake near the entrance gate.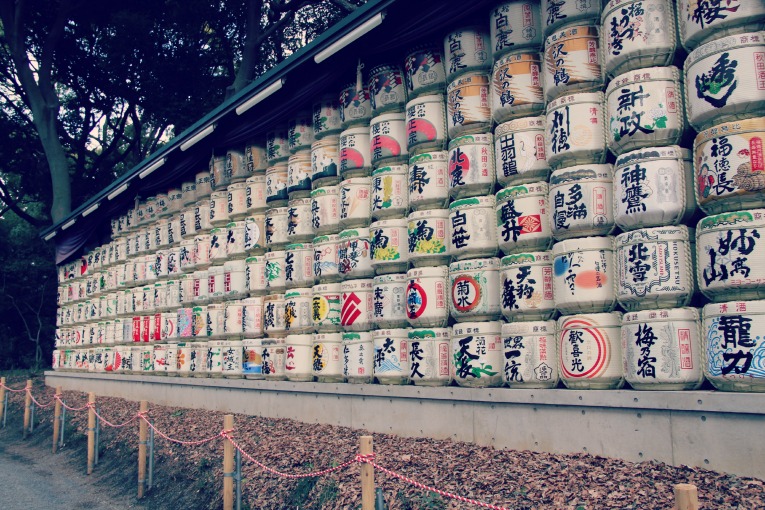 By the time we returned from the tour, it was about 4:30 pm. We relaxed our feet a bit in the hotel before figuring out what to do for dinner. After the tempura for lunch, I wanted to make sure that I was eating somewhat normally leading up to the race, so we found a nearby Italian restaurant that served up a decent margarita pizza that we shared. Now we're back at the hotel, heading to bed early to make sure we are resting up for the marathon on Sunday!
We have a free day tomorrow to explore on our own until the pasta dinner with the tour. Not sure what we'll see tomorrow, but I'll definitely be sharing it all here!
Have you been to any Buddhist temples or Shinto shrines? What was your experience?
Do you read your horoscope or believe in fortunes?
(Visited 572 time, 1 visit today)