The Tokyo Marathon expo was held at the Tokyo Big Sight, a new convention center in Tokyo.
source
We went to the expo as part of the Marathon Tour group on Friday. Read about the rest of our city tour here.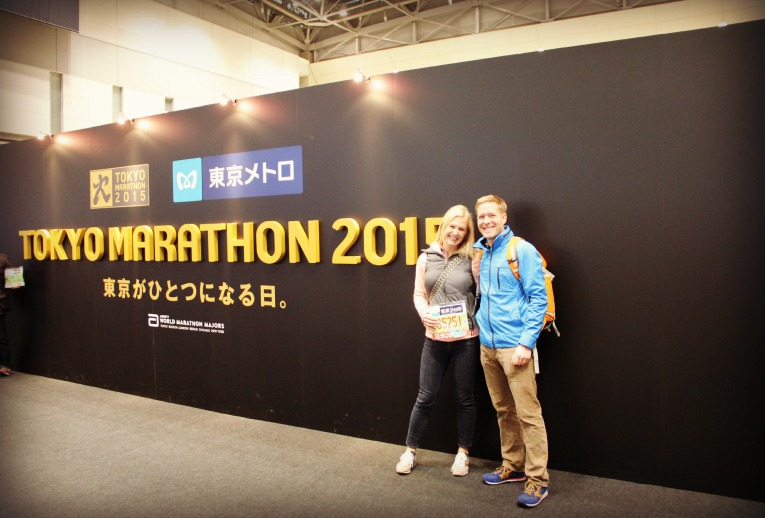 The tour dropped us off and said we had about one hour to spend there. Based on our experience at the Berlin Marathon expo, where we waited in lines many hours, we were both worried that there was no way we'd make it through that quickly. But, we did- we did because the Tokyo Marathon expo was incredibly organized.
There were so, so many volunteers guiding us around; there was no need for any questions. It was so easy to navigate.
First, we got our bibs. Super easy, though obviously I took this task very seriously.
Next was the t-shirt pickup. Super quick.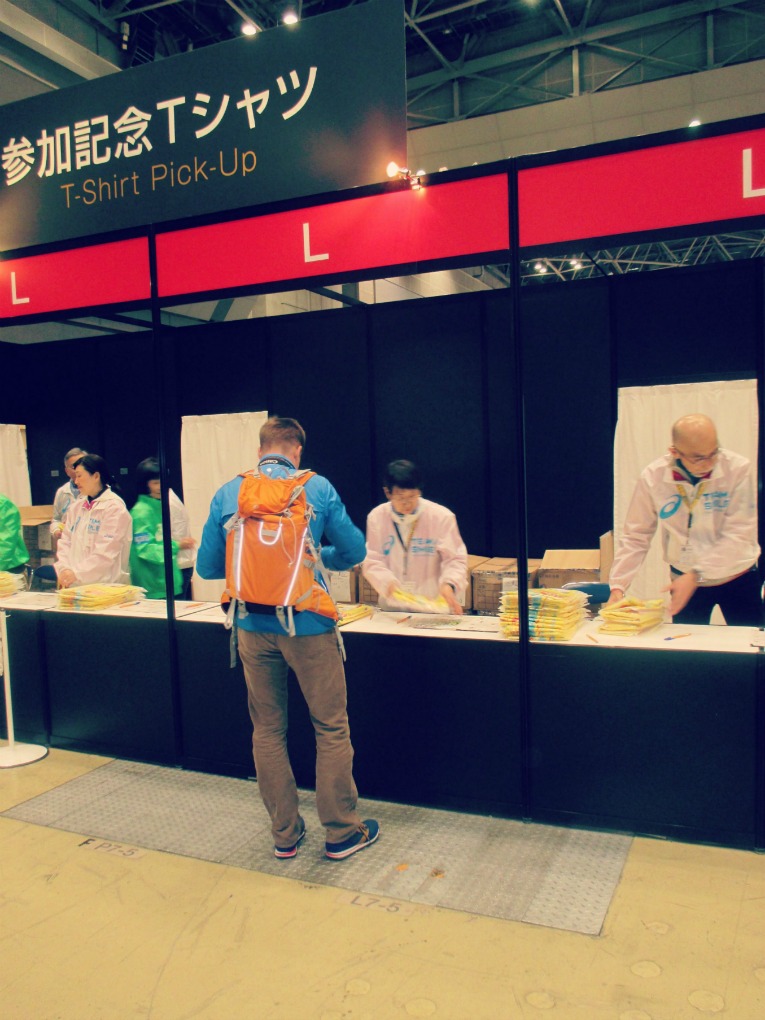 The finisher's shirt? Yeah…they are something else!
The expo was on two floors; the first floor was the bib pickup, the t-shirt pickup, and some Tokyo Marathon specific gear.
For Tokyo specific gear, we bought a few coffee mugs, a poster, and I bought these magnetic bib clips. They work really well! I had bought similar ones at the Berlin marathon, but I lost one of them.
Here is my top for tomorrow. I will be pairing this top with a pair of Oiselle Roga shorts, a Moving Comfort Serena sports bra, a colorful BIC band, some Louva arm sleeves, and my Brooks Ravenna 6's. Rain is in the forecast, so I may be wearing a poncho at the start too!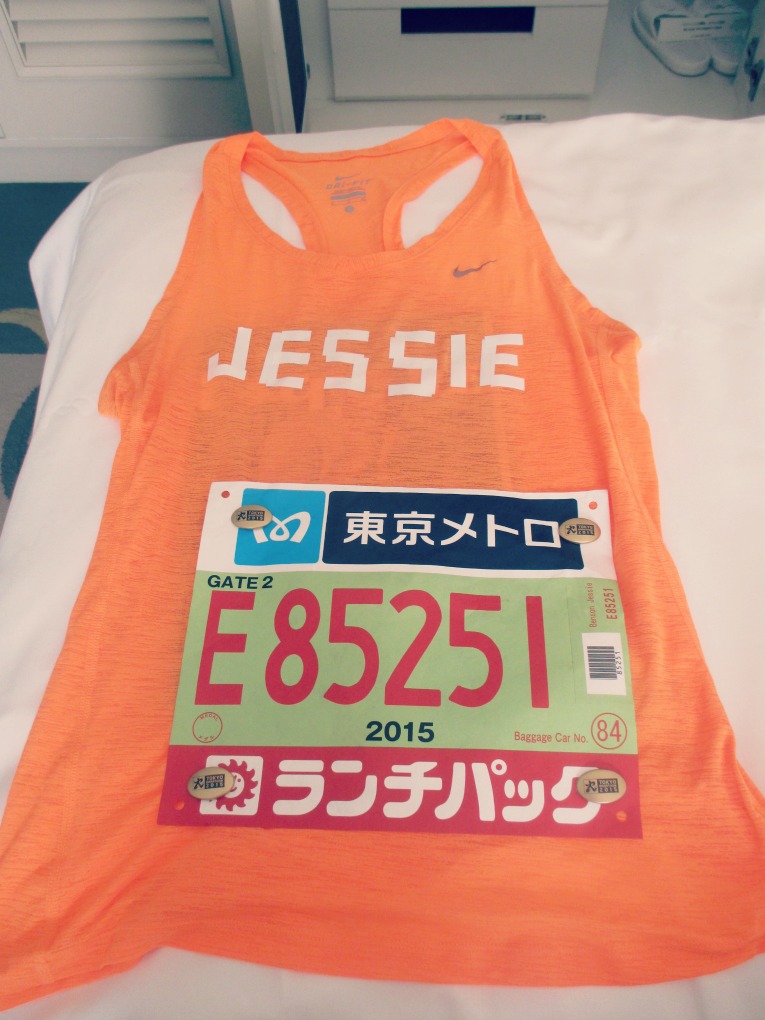 The second floor was all the other goodies. There were plenty of brands that I recognized, like my favorite Brooks.
Then there were a TON of brands I have never heard of.
There was of course, the much-talked about tomato dispenser. As I walked by, they encouraged me to come try it out. Read more about it HERE. It was lighter than it looked with a small button by your hand for distributing the tomato when you needed it.
I know it was designed just as a novelty item, but there will be someone wearing one tomorrow at the race! Also, tomatoes will be served on the course at support stops as well as "pickles and sweets." Fascinating!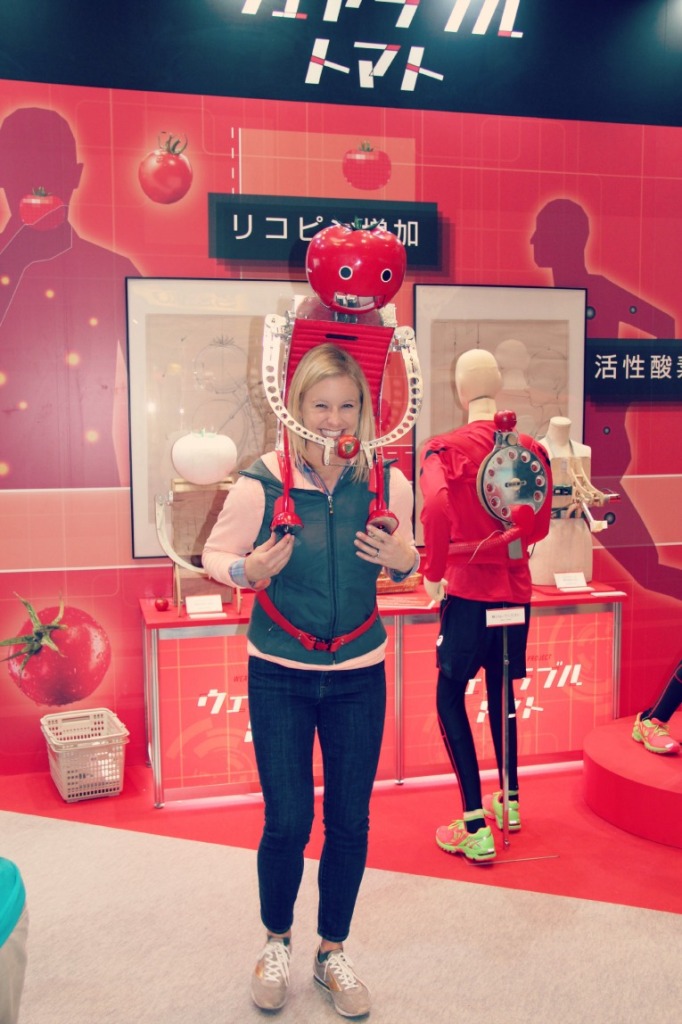 This floor of the expo was a bit of a sensory overload, with so many vendors yelling for you and pushing samples at you as well as singing and loud music throughout.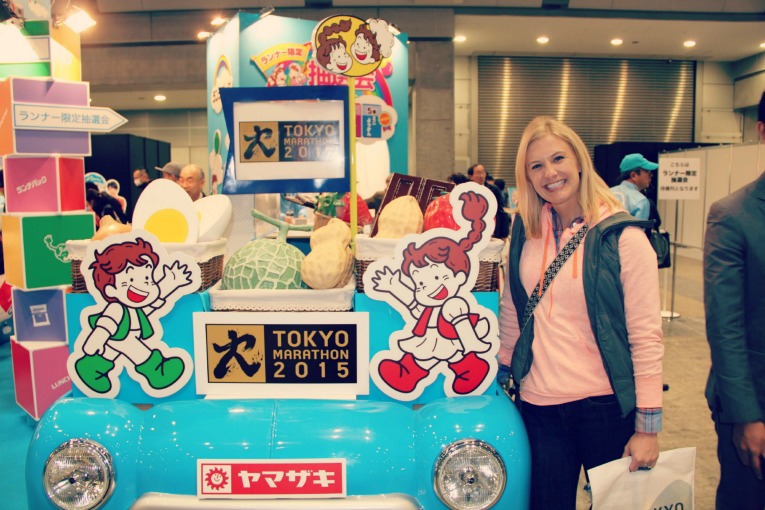 They were sampling Asahi at the expo, but it was zero calorie, zero alcohol beer….basically seltzer water with a tiny bit of a beer taste.
Not very good! I would not recommend it in lieu of a regular beer…
Anyways, even with the sensory overload, it was a great expo- incredibly organized, incredibly easy to navigate, and lots of things to see. One of the best expos I have ever been to!
One downside…there were no official Tokyo Marathon jackets left, and we were there on Friday. There was still all of Saturday for people to come to the expo. Apparently this happens every year at the expo, which is a little annoying. Other people with Marathon Tours had pre-ordered theirs and they looked really nice. I know, first world problem, but we both really wanted a Tokyo Marathon jacket.
Even so, great expo- fingers crossed for a great race tomorrow as well!
(Visited 1,149 time, 2 visit today)