If you're a morning runner like me, you have probably noticed that it's pretty dark out there in the early hours these days. I don't think the sun even rises until 7:30 am! So if you are fitting in your run in before work, you're probably running in the dark.
(Actually, if you're running AFTER work, you might be running in the dark too. Dark, dark, dark, all the time!)
When it comes to dark running gear, there are two types- gear that helps people see YOU and gear that helps you SEE where you're going!
Gear to Help You to See Where You are Going:
Black Diamond Sprinter Head Lamp:
My favorite gear for seeing where I'm going is this Black Diamond Sprinter Head Lamp.
Unlike a lot of head lamps, the battery is on the back of your head- less bouncing around, less headaches.
The battery is rechargeable and lasts on high power up to six hours. And it is BRIGHT.
I used this head lamp for Ragnar Northwoods in September and it worked really well even on trail in the middle of the night. It's a bit more expensive than others, but it's hands down the best one I've tried.
Knuckle Lights
Knuckle lights are a good option, as you can point them at the ground to see where you're running. If someone is running towards you, you can aim them towards to the ground so as not to blind the approaching runner. The downside of the knuckle lights is that they suck battery life really quickly.
Nathan Zephyr Fire
I also like the Nathan Zephyr Fire handheld flashlight. I bought it last year and used it quite a bit for dark winter running. Similar to the knuckle lights, you have more control over where you aim the light. This one is also rechargeable. This is my second favorite after the Black Diamond Sprinter Head Lamp.
Gear for People to See YOU!
Athleta Reflective Running Jacket:
The Athleta Reflective Running Jacket is seriously THE most reflective piece of running gear that I own. I have actually had people stop their car and comment on how bright it is, asking me where I got it because it's so bright!
It's quite warm though, so only good for winter running. Buy it HERE. I've had it for a few years but it looks like they do still carry it at Athleta.  (Read my original review here.)
It looks like there are only limited sizes available; Bandier makes a very similar one called the BoomBoom jacket (find it here) that looks just as good!
NoxGear Vest
I recently purchased a NoxGear 360 Tracer Vest. It is super fun- bright, changes colors, definitely helps people see you.

But my favorite item from NoxGear is their Light Hound vest for dogs!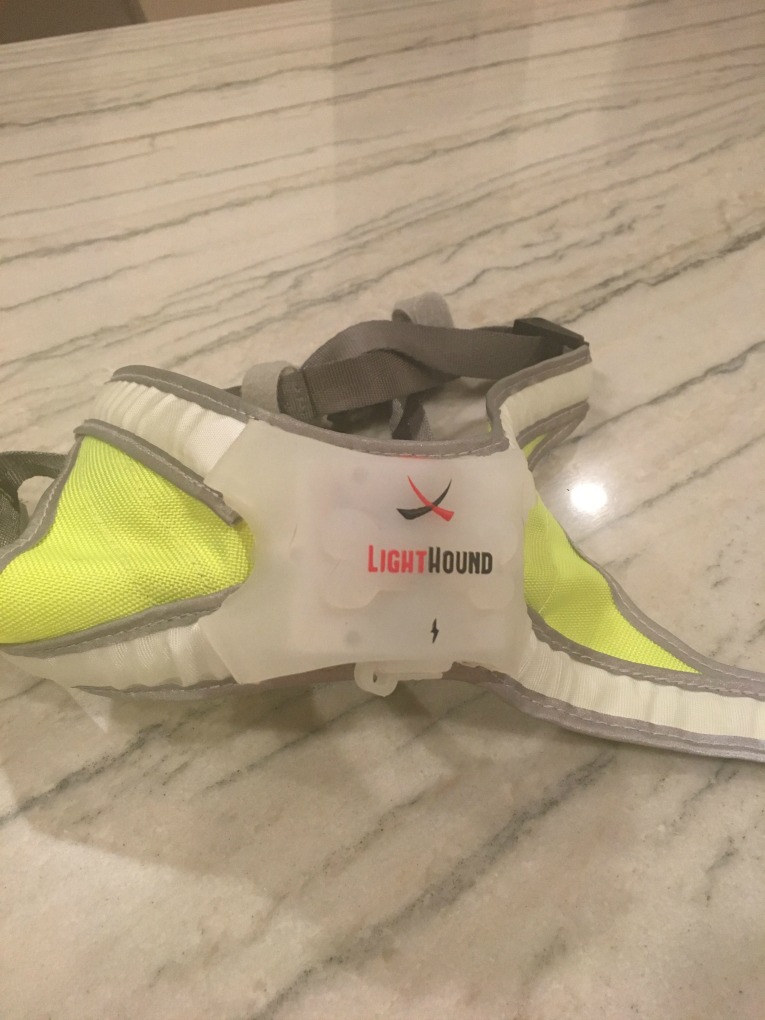 Tilda has this vest and it is really great.
Have you ever been running in the dark and you could see the person running, but not the dog running next to them? This vest really helps other runners see that there is a dog next to me! It doesn't help Matilda see her way, just helps her be seen.
I originally ordered Tilda a large based on the size chart on the website, but I had to exchange it for a medium, which fits much better.
It's currently on sale for $54.95, buy it here.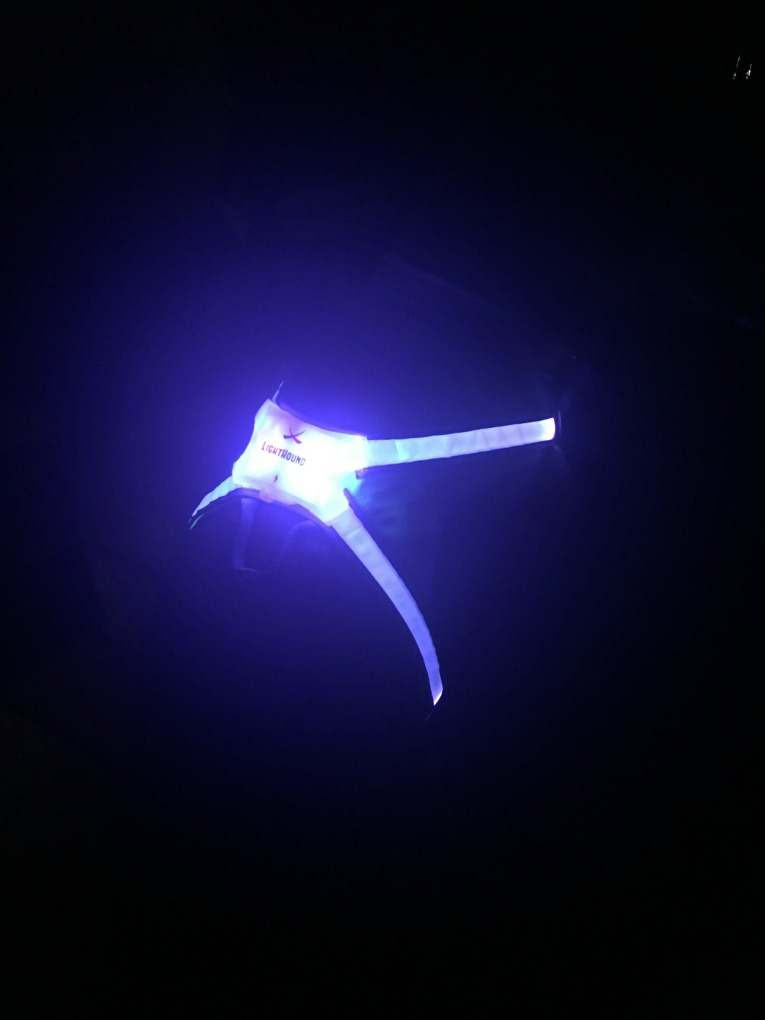 Other Reflective Gear:
Brooks LSD Jacket:

This Brooks LSD jacket is on my wish list. Cute right? And the reviews are all really positive.


Saucony Omni Top:
Saucony has a ton of really awesome gear right now in general, but for reflective gear this Omni Top is pretty awesome and bright:
Under Armor Reflective Headband:
This headband is super bright (and warm!) Only $22.
Pearl Izumi Hat
This Pearl iZuMi Screaming Pink hat is another great option for your head- so bright!
I hope some of these ideas are helpful to you as we move into that time of year when sunny runs are few and far between!
Do you have any favorite gear for running in the dark? Please share in the comments, I'd love to learn more!
(Visited 672 time, 1 visit today)