It's Sunday and weekly recap time!
If you only check in on Sundays, be sure to read this review from earlier this week of the SPIBeam hat. It's a great product!
I am nine weeks out from the Houston Marathon. Here's how training (and life!) went this past week:
Monday: 9 miles on the treadmill in the evening. I had hoped to do this run before work, but without combining it into a run commute, it's a bit too long to fit in time-wise. I couldn't run commute because Dustin had the day off for Veteran's Day, so my whole "store my work stuff in his car" plan wouldn't work. Then it ended up being icy/slippery on the trails, so it was onto the treadmill, 9 miles at a 9:10 min/mile.
Tuesday: 5.5 mile run commute. I think it was 7 degrees when I ran. Cold! But at least it wasn't icy. I wore all the layers. Since it was a shorter run, I actually beat Dustin to work (he drives to work in the same building) but then I could ask him to take a quick pic of all the layers! Craft pants, Athleta Reflective Running Start Jacket (on top of two layers), Black Diamond Sprinter Head lamp, fleece face bandana (similar), Craft mittens, Saucony Ice Peregrine shoes, and an old but warm hat from Snowbird in Utah…
Wednesday: My "quality" run of the week- I combined it into a run commute home since the temperatures were going to be much better after work (well, at least in the 30's!) That did mean that I was carrying a small backpack (this one from Patagonia), though I can't say that weighed me down much. I am just slower than I used to be 🙂 : 2 mile warm-up, 3×1 mile at an 8 min/mile pace with 0.2 mile recovery, then 3 x 0.5 mile at a 7:30 pace with 0.3 mile recovery in between, 1 mile cool down. 9 miles total.  The 3 x 1 miles went okay, but I didn't hit the 7:30's in the second set. 9 miles total at a 9:21 min/mile average.
Thursday: 6 miles at a 9:15 min/mile average with my friend Vicki in the morning before work. Awesome run, great company. It was much warmer this morning (in the 30's), which felt amazing.
After work, I was able to fit in a 50 minute strength/HIIT class at ALTR. So happy to fit in strength!
Friday: I ran after work with Matilda (my vizsla) and it was snowing pretty heavily and starting to get slippery. I, of course, got really nervous and slowed down and cut the run short; just 4 miles at a10:15 min/mile average. I really don't want to break a leg again.
I felt like I was tempting fate already, as I realized I was wearing the same NYC marathon running top that I wore the day I broke my leg! I hadn't worn it SINCE that fateful day…
(Also, can you believe I took a selfie in the waiting room when my friends arrived, when I had broken bones in multiple places? I must have been in shock to be smiling at that point…!)
Saturday: After the snow and slippery run Friday night, I decided just to do the treadmill again for my long run. 16 miles total….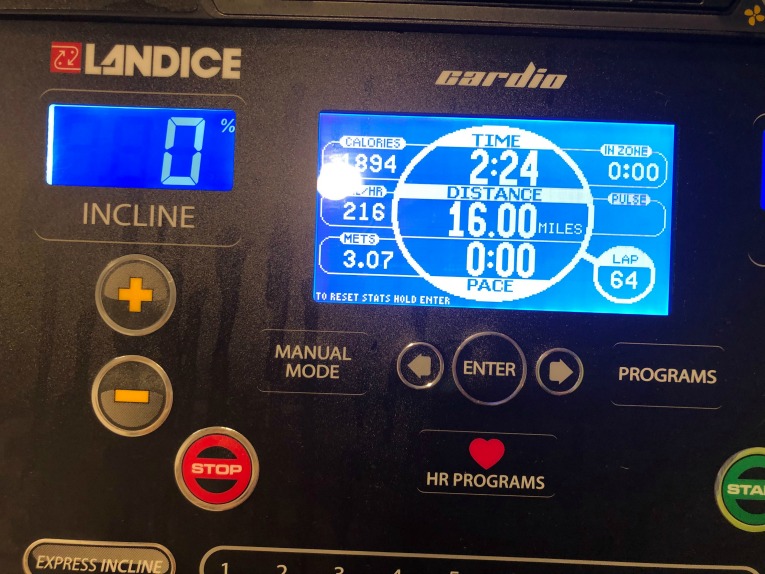 It wasn't terrible- I had 3 miles easy, then alternating miles between 8:20 and 9:20 min/mile, and then 2 easy to cool-down.  I finished the Haunting of Hill House on Netflix. Time to find the next show to treadmill-binge! (We need a word for treadmill-binge watching…It's definitely a thing in Minnesota in the winter, ha!)
Drumstick Dash!
That afternoon, Dustin and I went to Mill City Running to pick up ALL my family's packets for the Drumstick Dash races this Thursday (Thanksgiving). Almost everyone in my family is participating in one of the races, as there is a 10k, a 5k (i.e. the "Pi run"-so cute!), the Cranberry Cruise 1 mile, and the kid's 1/2 mile run.
My family members also made up a big portion of the first 25 people to register, meaning we got a free hoodie!
I had my arms full of t-shirts, bibs, and sweatshirts, but I still find a  little room to make a purchase, ha! We received 20% in the store during packet pickup and the kind people at Mill City Running also still honored a gift certificate I had won back at the 2015 Fast & Furry 8k that had technically expired, (very nice of them to still honor it!) I used it to buy this Patagonia Capilene Air Crew base layer.
"With its innovative, seamless, 3-D knit structure, our Capilene® Air Crew offers amazing warmth and comfort range. An airy blend of 51% merino wool and 49% recycled polyester wicks moisture, resists odor and dries in a flash."
I love it!
Dustin bought the exact same shirt- well, the men's version. And how about those Nike Zoom Vaporfly 4%'s that he's wearing? I was tempted by them, but I think there's a certain expectation of speed with those shoes that I would definitely not live up to, ha!
After Mill City Running, we met Vicki, her husband and their dog Breck at Fair Stair Brewery for a pint. I love that brewery..and it's dog-friendly of course, so we brought Matilda along to kick it with her buddy Breck.
Speaking of Tilda, she's loving her new Ruffwear running jacket!
It's the Quinzee Dog Jacket, insulated and packable. She wore it on a 6 mile run today with Dustin. Kept her nice and cozy!
Beer Mile Relay!
Saturday night, we went to a Beer Mile Relay party.  Have you done a beer mile? I have not; the official beer mile is that you drink a beer, run a 1/4 mile, drink a beer, run a 1/4 mile, drink a beer, run a 1/4 mile, drink a beer, run a 1/4 mile. So 4 beers while racing a mile. The World Record is somewhere in the 4's, which is amazing.
At this event, the setup was slightly different, as it was a 'relay' so each person on a team of two still drank the 4 beers and ran the full mile, but with a little breather in between when the next person went, but not much.
Dustin and his partner in the relay came in first place with a time of 11:30! (i.e. that means that when they were running, they were running at about a 5 min/mile pace…!)
I'm not sure I could do it…but it was fun to be a spectator!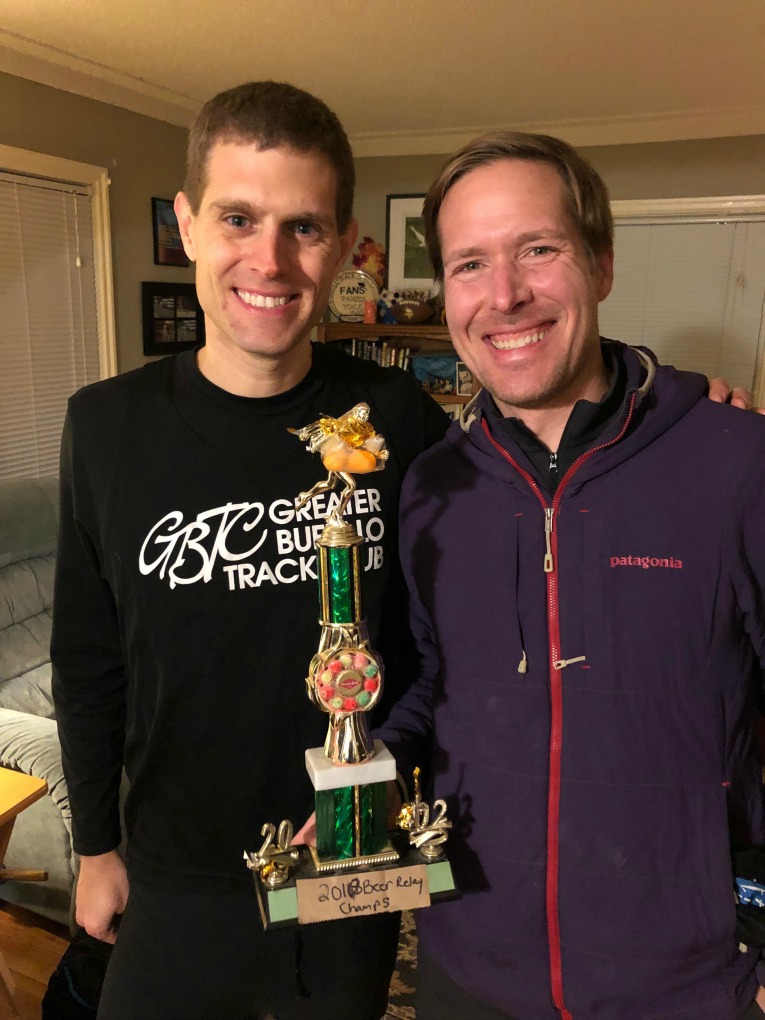 Sunday: I ran 7 easy miles with my friends Vicki and Margaret around Lake Calhoun and Lake of the Isles.
It was about 10 degrees and a bit windy, but at least the trails were clear of ice! I'll take it.
I also squeezed in a vinyasa class at Corepower Yoga, as I really wanted to achieve the goal I set on last week's recap of at least two non-running workouts.
Summary: 57 miles of running, 1 strength class (ALTR) and one yoga class (Corepower)
Wow- this was a long recap! I hope you made it all the way through. Thanks for reading and have an awesome Thanksgiving this week!
Running a Thanksgiving race? As I mentioned, I'll be running the Drumstick Dash 10k around Lake Harriet. Let me know if I'll see you there!
Thanks so much for reading and be sure to check out all the other great weekly recaps that are a part of  HoHo Runs and Taking the Long Way Home 's weekly recap link-up!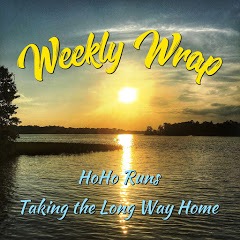 (Visited 351 time, 1 visit today)