Disclaimer: I received an SPIBeams LED Hat to review as part of being a BibRave Pro. Learn more about becoming a BibRave Pro (ambassador), and check out BibRave.com to review find and write race reviews!
I have an awesome product to share with you today- the SPIBeams LED Hat!
This fun and functional running hat has lights on the front to light the way when you run in the dark!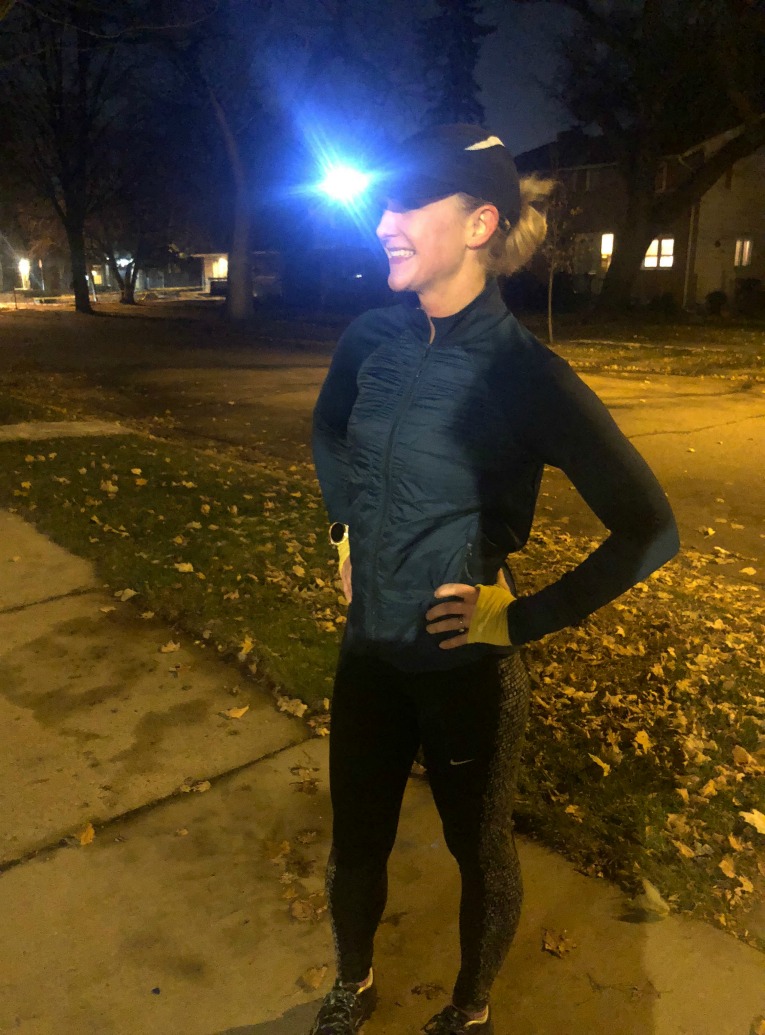 Though I'm a bit more conservative this winter with regards to choosing the treadmill over the outdoors if it's icy (because, you know..the broken tib/fib and all…), as much as I can, I'm still running outside.
And this time of year, if I run before work or after work, it's dark!
So, I need a light to see where I'm going. There's way too many opportunities to trip on something, even on the running trails. To be honest, when I need a really bright light, I love the Black Mountain Sprinter head lamp. It's rechargeable, stays put/doesn't bounce around, and is incredibly bright.
It's usually my go-to for dark runs. But when I was given this hat to test, I loved the idea of not having a separate item to remember. I run in hats a lot already so this is just a bonus feature of a running hat! The lights are perfectly located to naturally brighten the path in front of you without you even thinking about it.
Plus, sometimes when I run in the morning, I'm still out there as the sun rises and I don't want the head lamp any more. And then my trusty Black Mountain Sprinter starts to annoy me, because as it gets brighter outside, I still have the darn lamp on my head, serving no purpose.  This SPIBeams LED Hat is the perfect solution because once the sun comes up, you just click the light off and you're good! You're just wearing a wicking/dri-fit hat that you don't even notice.
The light on the hat is actually pretty decent. I wore it tonight on my run commute home and there were only a few really dark patches where I wished I had something a bit brighter, but generally it was perfect.
I have read other reviews that people struggled to figure out how to get it to work, but I didn't have any trouble with the instructions. The battery for the front lights is inside the hat, but I never noticed it, i.e. it didn't dig into my head at all. It was actually pretty comfortable and has reflective stripes to boot!
There are additional red blinking lights on the back, not for you to see where you're going but just another option for other people to see you.
This hat really would come in handy for any runners who run in the dark or dusk. I recommend it!
And even better, I have a 20% code for you for anything from SPI Belt- just enter the code "BIBRAVE" when you check out!
(Visited 402 time, 1 visit today)