I'm here with one final post about our trip to Norway. Catch up on all the other posts here:
Part 1: Copenhagen and Gothenburg
Part 2: Lofthus and Solstrand
Part 3: Bergen, Norway
Part 4: Flåm and Oslo, Norway
This post is mostly about the 3 nights we spent in Flåm, Norway! Our days in Flåm were rainy and cold, but even in that weather, Flåm was a highlight of the trip; it was beautiful there; it made me want to quit my job and run a goat farm in fjord country!
Saturday, October 20:
Arrival in Flåm. Since this was the longest we'd spend in one place, we planned to do our laundry  here. Unfortunately our hotel did not have laundry onsite, but there was a coin laundry nearby, so we lugged everything to the Flåm Marina apartments where the laundry machines were. There was a cute restaurant at the marina so we also ate dinner there.
Sunday, October 21:
We were up early to take the Flåmsbana train from Flåm to Myrdal.
The train ride itself was beautiful, with a couple of stops for waterfalls. But when we reached the top, it was quite blustery and raining pretty heavily.
We thought about purchasing a return ticket on the train rather than hiking/running back to Flåm, but I knew we'd regret it. And we weren't going to melt in the rain, right? So we headed out slowly on the loose gravel/rock, which was pretty slippery.
There were 22 switchbacks in the first few miles and the trail was quite steep- there wasn't a lot of running in the beginning!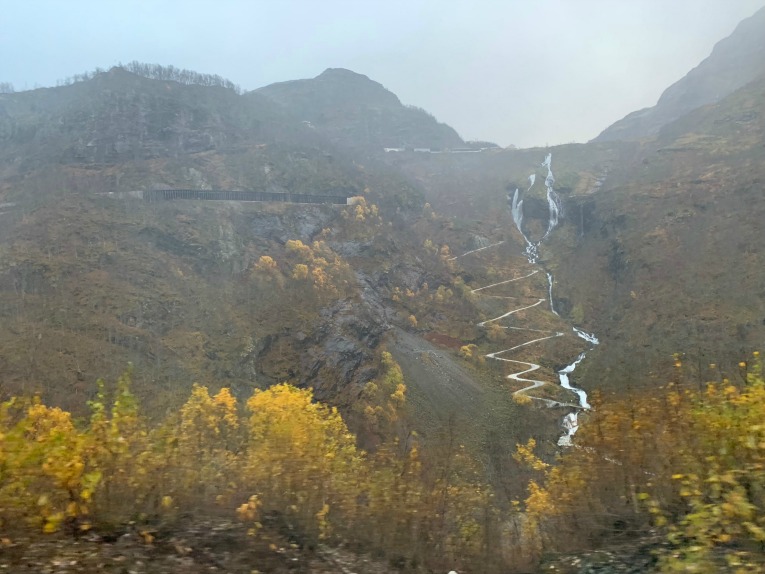 But eventually it leveled out; the trail was even paved in places, so we were able to run a bit.
It took us about 2.5 hours to go 21k or 13 miles (with a stop at a heated rest train stop about halfway to warm-up!)
The views were so breathtaking- waterfalls all around!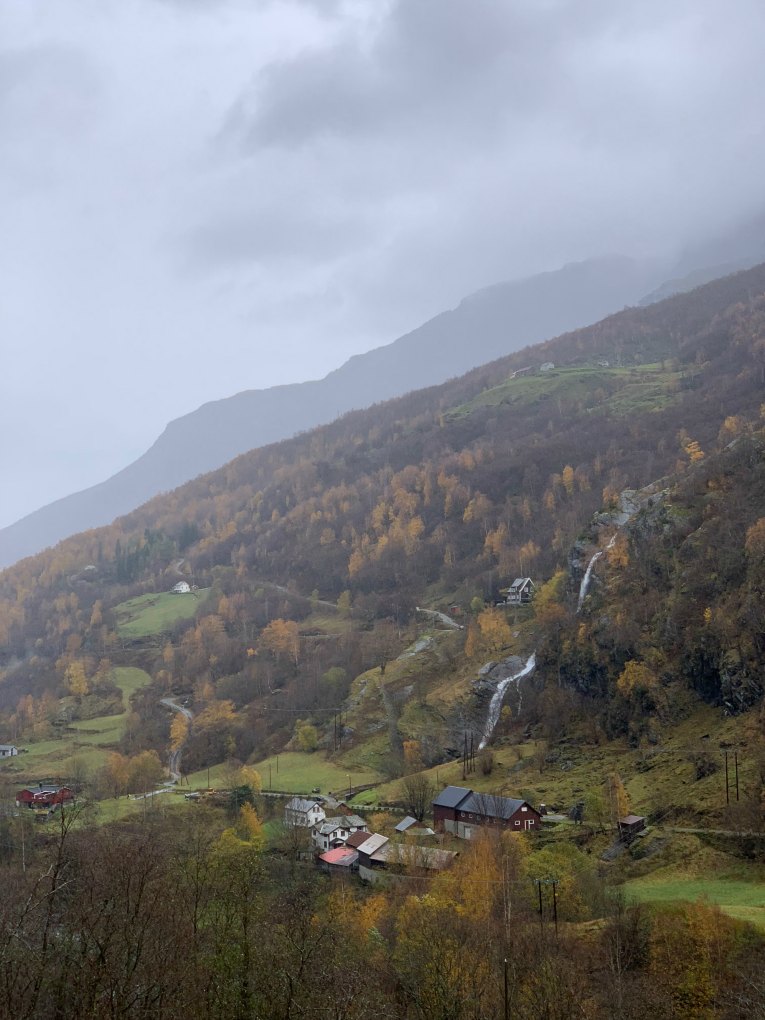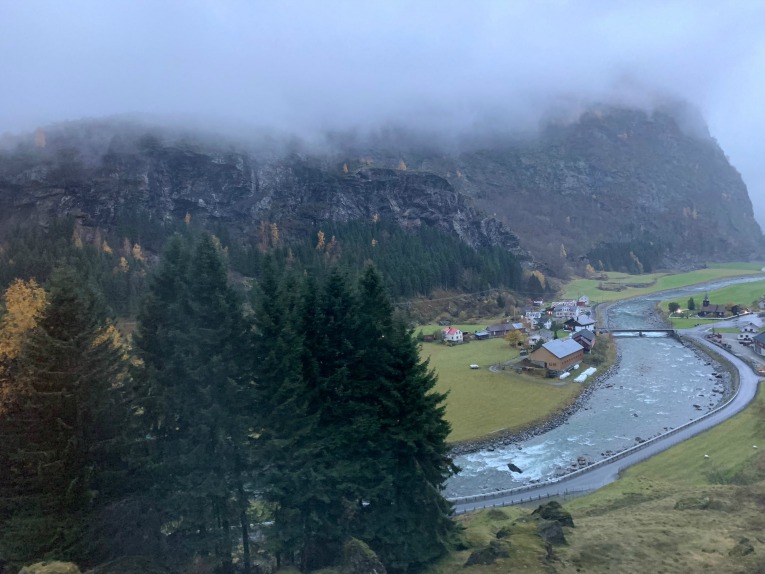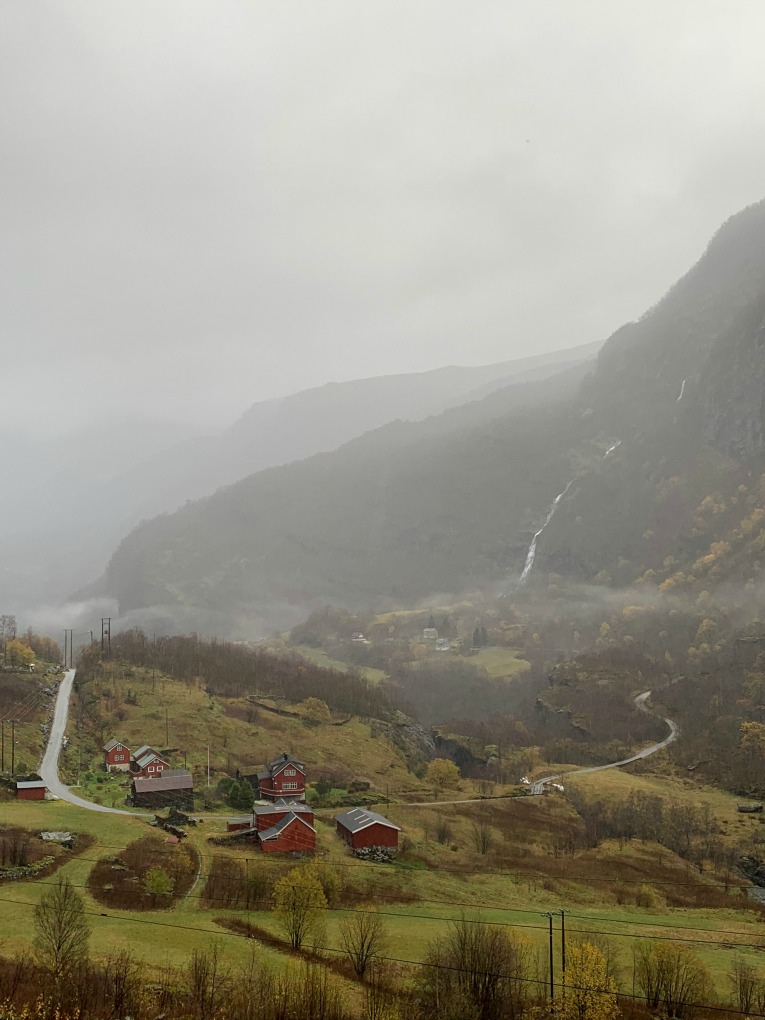 At one point, we ran through a little tunnel, which was surprisingly eerie in the middle!
By the time we made it back to the Flåmsbrygga hotel, we were beat, but in such a great way. This was such a fun adventure!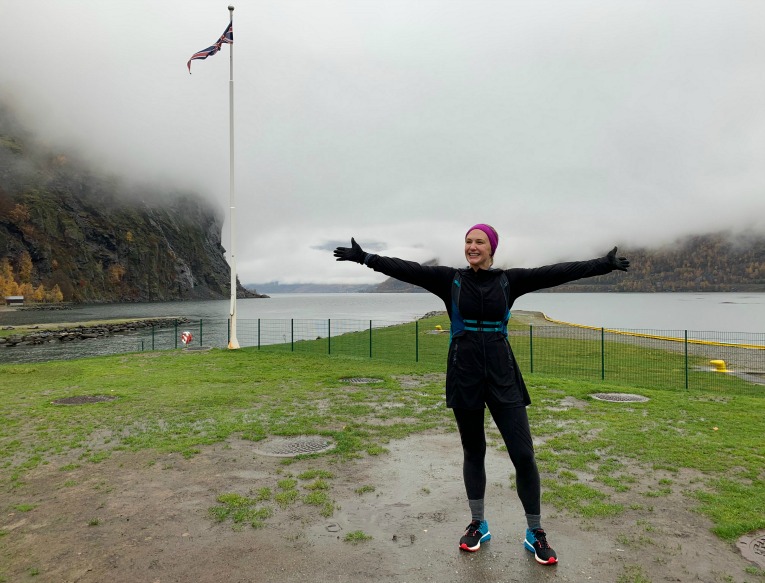 We took hot showers and relaxed until it was time for dinner. There aren't a lot of restaurant options in Flåm, so even though we knew we would be eating a huge Viking dinner at the Flåmsbrygga brewery the following night, we still headed there for dinner, which was delicious. Good beers too.
Monday, October 22:
 Another rainy, cold day in Flåm. I ran 6 miles on my own- Dustin had had his fill of the rain the day before 🙂
After my run, we grabbed a light lunch in Aurland and then drove to the Stegastein Viewpoint. The road to get there was VERY narrow with no railing. Very scary! Glad I wasn't the one driving.
The views were worth the white-knuckle drive though!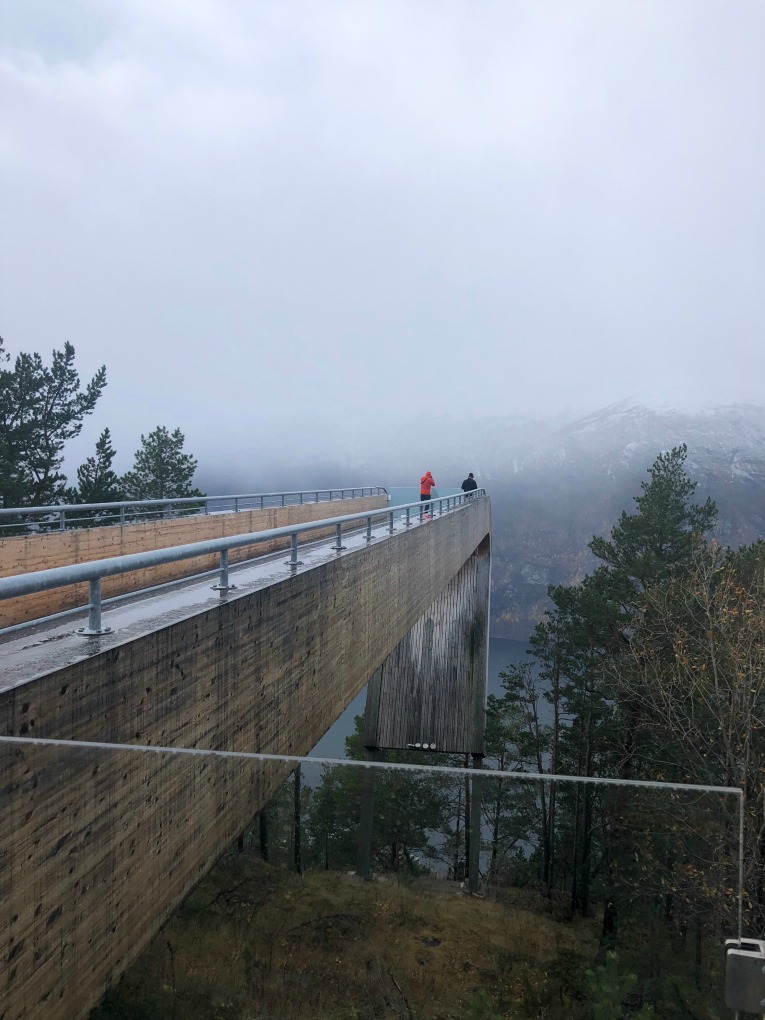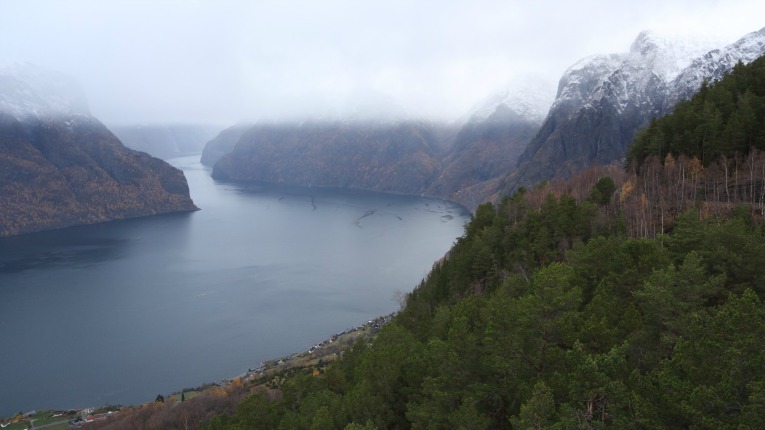 That afternoon, we went on a Fjord Safari; we were outfitted in these full inflatable suits that would save us if we fell overboard, but they had a dual purpose of keeping us quite warm!
The Fjord Safari gave us another view of the fjords, with a great local guide who shared a lot about life in that region.
After the Safari, we had a Viking Dinner at Flåmsbrygga brewery/restaurant with a beer pairing. So good. Another fun day in Flåm!
Tuesday, October 23:
We departed from Flåm and drove to Oslo. The drive itself was pretty cool; we made one stop at the Borgund stave church, which was very interesting, though eerie.
On the drive, we passed through the longest underground tunnel- 13 miles long! It was a little freaky especially since right beforehand I read a few articles about the tunnel that collapsed in Italy….not a smart idea. I wouldn't have thought twice about the tunnel until I read about how dangerous they can be!
At one point on the drive to Oslo, we were driving through a winter wonderland! It was a bit surreal, especially because once we arrived in Oslo to a sunny and 60 degree day!
We only had one afternoon/evening in Oslo, so we tried to squeeze in as much as we could.  We arrived around 1 pm and quickly changed to head out for a 5k running tour around the city, following the walking tour in this Rick Steves book: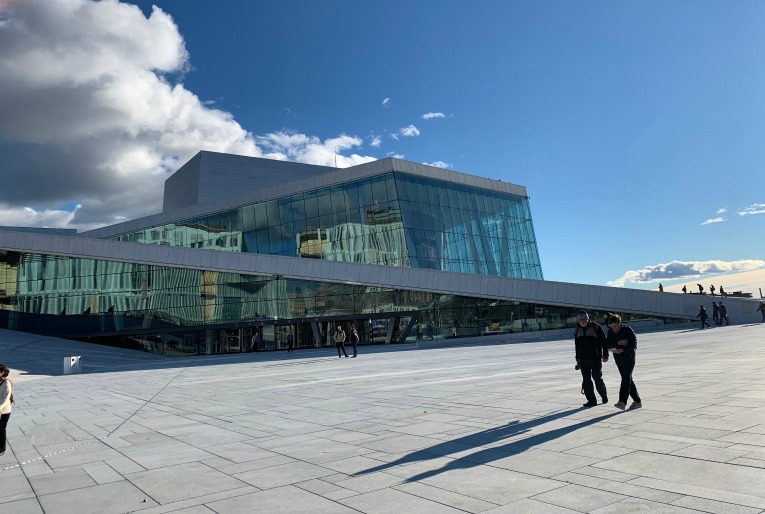 After the run, we took the train to Vigeland Sculpture Park: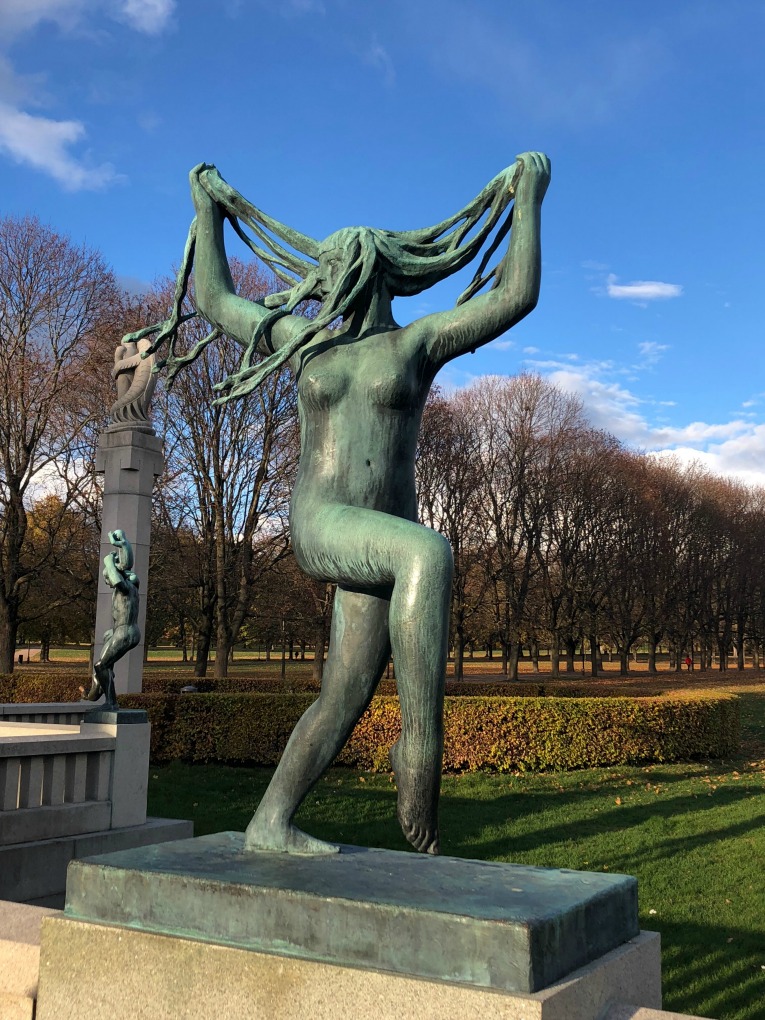 We had dinner at an Italian place near Vigeland (I can't remember the name), then a drink at Himkok, rated as one of the best cocktail bars in the world!
Wednesday, October 24:
Drove from Olso, Norway back to Gothenburg, Sweden. We dropped the car back off at the Volvo Factory and checked into the Hotel Clarion Post for one last night. We had the afternoon free, so we ran another 8 miles through Slottsskogen, the park we ran in when arrived several days earlier!
Another beautiful day in Gothenburg.
After the run, we wandered around a bit and came upon a Swedish running store
Did you know that Maurten fuel is made in Gothenburg, Sweden? Have you tried it? I bought some, but haven't yet tried it, but my friend Christie loves their gels!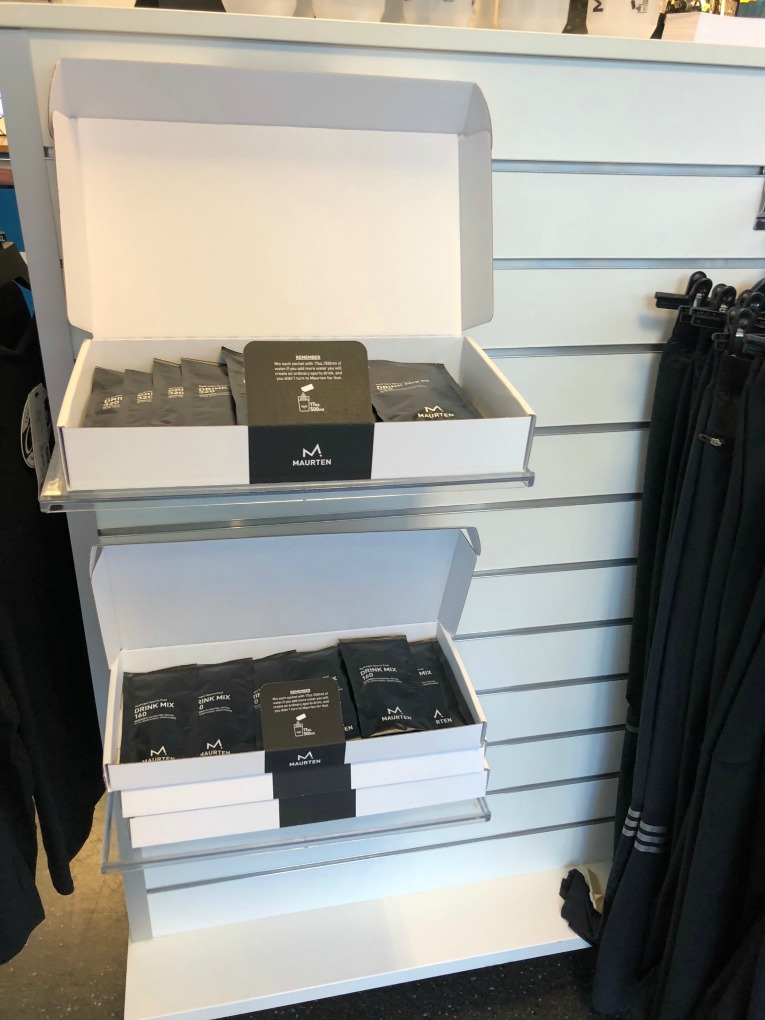 While at the Sweden running store, I had to purchase these Swedish tights!

I also picked up a few of these Smell Well shoe fresheners to try:
That evening, our last evening of the trip, Volvo paid for our dinner at the restaurant in the Clarion Post Hotel, which was lovely.
Thursday, October 25:
Quick 6 mile run in Sottsskogen. Return home to Minneapolis. Long day of travel. Happy to be home and see our Ms. Matilda!
It was an awesome trip. I highly recommend Norway as a vacation destination! I would love to go back and see more of the Arctic Circle, where the Northern Lights are, but there just wasn't enough time on this trip. But I feel like we still saw quite a bit of this beautiful country and I definitely fell in love with it!
If you have any questions about our trip or itinerary, please don't hesitate to reach out to ask! I'd be happy to share more.
(Visited 664 time, 1 visit today)