Hi there! I'm here to share the details of a recent trip Dustin and I took to Scandinavia.
We'll call this Part 1: Copenhagen and Gothenburg! (<– pronounced by locals as "yö-te-boh-ry!" Not what you'd expect!)
Friday, October 12:
We flew from Minneapolis to Chicago to Copenhagen.
I'm sorry, but O'Hare is my least favorite airport for transferring from domestic to international flights. It's a HUGE hassle to get to the international terminal. It didn't help that our flight to Chicago was delayed and we only had 45 minutes to get to the international gate; needless to say, it was VERY stressful.
We lucked out that an airport employee was helping two others on the Copenhagen flight cut the line for security (we even have TSA pre-check but it didn't help). If we hadn't tagged along with that other couple, we would have never made it, and there weren't any other flights to Copenhagen until the next afternoon.
BUT alas, we made it. We flew economy comfort (complements of Volvo) and I was able to sleep somewhat well on the way over.
Saturday, October 13:
We arrived around 1 pm in Copenhagen, took the metro to our hotel (the Hotel Skt. Petri) and then showered and napped for an hour. We woke up feeling much more refreshed and ready to get out and explore the city!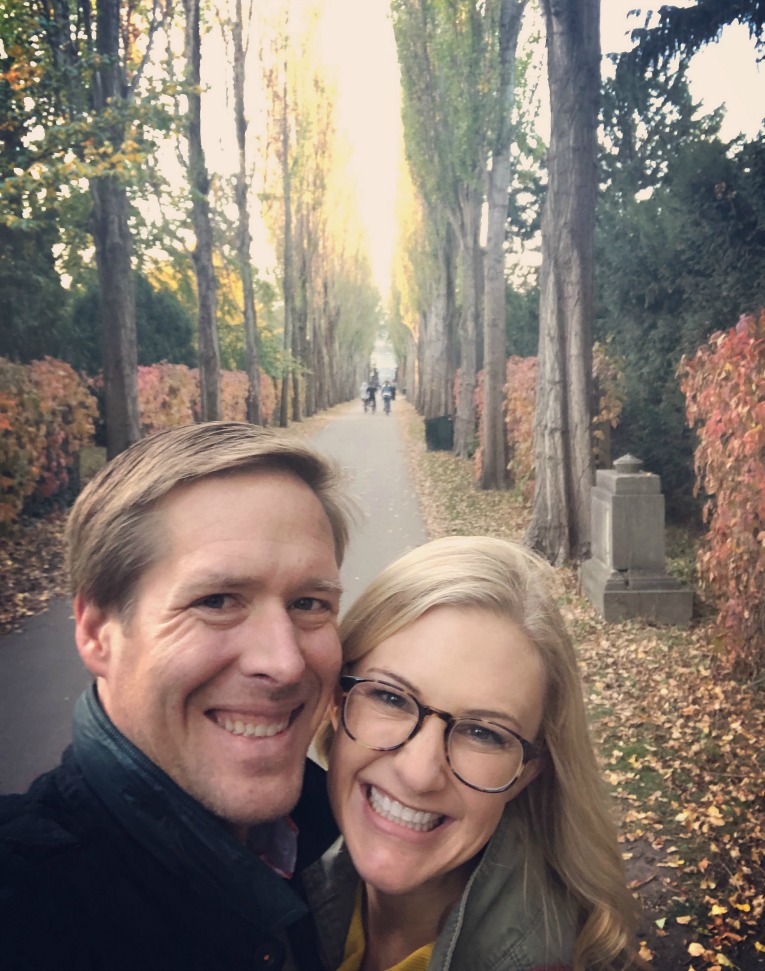 We wandered around for a few hours, stopping at Mikkeller & Friends, a well-known (and adorable) Copenhagen brewery with tons of great IPA's.
The neighborhood had such an awesome vibe; we hung out oustside and watched the locals- this was a highlight of my evening as the weather was perfect and I was feeling so happy!
For dinner, we had reservations at Relae, which is a Michelin-starred restaurant by Chef Christian Puglisi. We opted for the 7-course prix-fixed menu, with a wine pairing, which was well worth it!
By the time we finished, we were grateful for the 45-minute walk back to our hotel to move around a bit after so much food!
Sunday, October 14th:
My birthday! We started the day with a  7 mile run through Copenhagen. It was sunny and in the high 50's; perfect running weather! I love being able to run-explore with Dustin as we end up seeing a TON in a  lot less time than most tourists, and all before most people were even awake!
We followed up the run with the breakfast buffet at our hotel (which was delicious and offered a great variety of Scandinavian breakfast foods!)
After breakfast, we walked to the City Square, where we met up with a Sandeman's Tour Guide for a 3 hour walking tour.
Sandeman's a great way to explore a city, as a lot of their tours are technically "free"; the guides do ask that you pay what you feel the tour was worth.
The guides I have had are all pretty good and I feel like you learn a lot about a city's history with a guide.
The tour ended at the Royal Palace; I definitely enjoyed it!
After the formal tour ended, we took our own 'tour' of Christiania, or Freetown, which is a hippie enclave of squatters, with a "Green Light District" where marijuana is legal; (it's not legal in the rest of the city.) It was interesting to wander through the neighborhood, which is home to 700 adults and 200 children, and is the size of 4 football fields. Pictures aren't really encouraged in the area, so we only took them at the entrance.
That evening, we had my birthday dinner at Baest, a sister restaurant to Relae also from Chef Christian Puglisi, but much more casual with delicious wood-fire pizzas.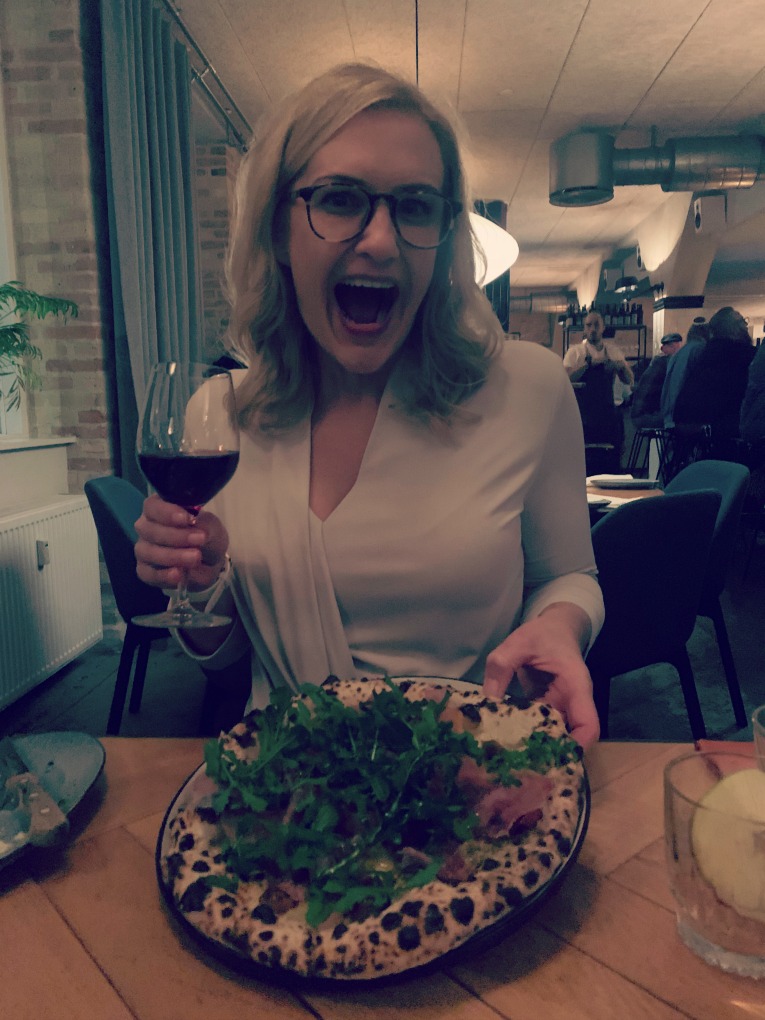 We also stopped across the way at BRUS brewery for a pint afterwards.
Even though we were only in Copenhagen for two nights, I feel like we saw quite a bit, between the 7 mile run and lots and lots of walking and awesome dinners. Copenhagen was lovely- very accessible, easy to get around via the metro or walking, amazing food, friendly people. A good place to celebrate my 37th year!
Monday, October 15:
No morning run, but just breakfast and then the metro to the airport to head onto the next country! We took an easy 45-minute flight from Copenhagen to Gothenburg, Sweden.
Since we were in Gothenburg as part of the Volvo European Delivery Experience, we had a driver pick us up at the airport. We were at our hotel by 1 pm and it was an amazingly gorgeous day in Gothenburg (65 degrees!) so we dropped off our bags, changed into running clothes, and headed out the door to run-explore!
We covered 7 miles total, which included a couple miles in a park called Slottsskogen. Slottsskogen included a free zoo that's been around since 1902. There were lots of stops along the run for pictures!
Pictures of seals….
Pictures of reindeer…
Slottskogen was a very cool place to run and I honestly had such a wonderful time on this run. I just kept saying "This is so fun!" as it was just such a picture perfect day and I was feeling great and happy to be running with Dustin. (So glad that my broken leg is healed enough that I can run-explore again!)
That evening, we wandered through a few lovely parks in Gothenburg:
Eventually we made our way to Tredje Langgatan, a popular street for shops and restaurants.We grabbed a light meal at Olssons Vin and then a pint across the street at "Brewers Beer Bar."
I tried a small Limelight Berliner, which was a sour beer with lime, seabuckthorn, and spirulina. It was much better than I expected!
Tuesday, October 16th:
Another morning run, but only 4 miles this time.
We then enjoyed the delicious (included) breakfast at our hotel, the Clarion Post Hotel, (the hotel Volvo put us up in.)
After breakfast, a Volvo driver picked us up to take us to the factory, where we signed the paperwork and picked up our new XC40!
After learning all about our new car, lunch was provided (Swedish meatballs of course!) and then a factory tour (no pictures allowed).
After the factory tour, we hit the road for the long drive to Lofthus, Norway in our new car.
What is the "Volvo Factory Delivery Experience"?  
Since the 70's, Volvo has offered their factory delivery program for new cars. They will pay for two flights/one night's stay in Gothenburg for you to come to Sweden and pick up your car directly from the factory. You are allowed to drive your car around Europe for up to a month (i.e. Volvo insures you for up to a month.)
If you see a Volvo with the "S" sticker in the window, that means they did the factory delivery. 99.9% of the people who do it are from the US, and a large portion of those people are from the Midwest!
Our flights to Gothenburg were paid for by Volvo; we just added on two nights stay in Copenhagen rather than keep flying though to Sweden in the same day.
A few downsides to the factory delivery is that we have to take the car back to Sweden at the end of the trip and then it won't arrive in the US for a few months, i.e. you have to have some flexibility in terms of timing for your new car. You also can't negotiate at all when it comes to the price. But still an awesome option! We loved it so much, this is actually the second time we've done it; we did it 6 years ago for my XC60 and spent our trip exploring Sweden, so this time we decided Norway would be our focus.
Our local Volvo dealer has a great travel agency that helped plan out our itinerary, which did include one long (8 hours) driving day; we decided to get the long driving day out of the way early in the trip, rather than at the end. It was only a few hours into our drive that we crossed the border from Sweden to Norway, which was very uneventful.
The rest of the drive was easy and somewhat boring…Fortunately the new car has WiFi, so I've been able to work on my blog, which has been great!
I will share all the details about driving through Norway in my next Fits on the Road post. Stay tuned!
(Visited 325 time, 1 visit today)