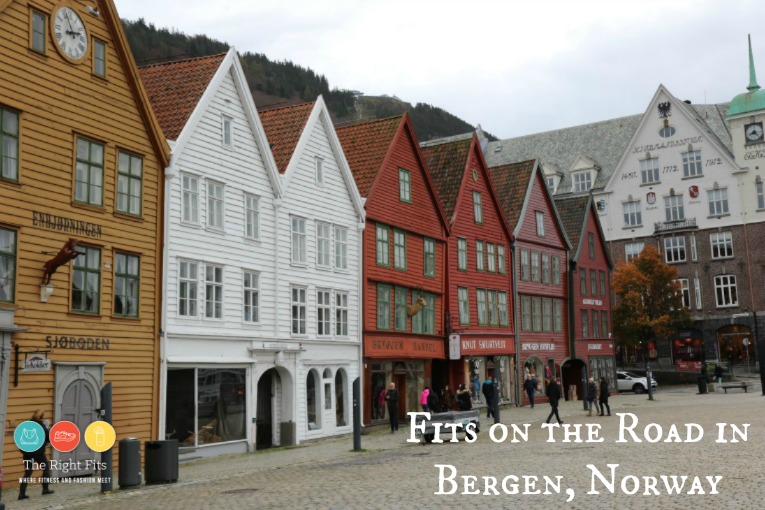 I've been sharing details about Dustin and my recent trip to Scandinavia:
Part 1: Copenhagen and Gothenburg
Part 2: Lofthus and Solstrand
Now onto Part 3: Bergen!
I left off in Part 2 after a morning run in Solstrand, followed by a delicious breakfast at our hotel, the Solstrand Hotel & Bad.
After breakfast, we made the short drive to Bergen and checked into our hotel there, the Bergen Børs (another lovely historic hotel!)
Our standard room wasn't ready yet, so they offered us a superior room that faced the harbor. It was a nice room, but the views of the Bergen harbor were nothing compared to the views we had of the fjords earlier in the trip! Still, the Bergen Børs hotel was in a great central location from which to explore Bergen.
We had a Rick Steves guidebook for Norway, which offered a walking tour of the sites of Bergen, so we headed out the door with that book in hand.
Introduction to Bergen (from Rick Steves):
"Bergen is permanently salted with robust cobbles and a rich sea-trading heritage. Bergen still wears her rich maritime heritage proudly — nowhere more scenically than the colorful wooden warehouses that make up the picture-perfect Bryggen district along the harbor. Enjoy Bergen's salty market, then stroll the easy-on-foot old quarter, with cute lanes of delicate old wooden houses." 

Both Rick Steves and our friends Julie and Mike had recommend that we make a stop at Treknoneraen for a reindeer sausage, served with lingonberries and fried onions. Pretty tasty!
After the reindeer sausage, we started a self-guided walking tour of Bergen, based on our handy Rick Steve's guide book. (Side note- as much as you can find online for travel plans, I still love good old fashioned hard copy books!)
The walking tour started at the fortress, at which we decided to skip the tour of the inside and just wander around the grounds on our own.
Bergen is charming, with a lot of history, but unfortunately they rarely get sun! We heard that last year, they had 119 days of rain in a row. Yikes! It was cold and windy while we were in Bergen, but we still managed to see everything that Rick Steves recommended, such as:
The Fortress,  Håkon's Hall, the Rosenkrantz Tower , Byparken Music Pavilion…basically everything in this article.
We spent a lot of time wandering through historical Bryggen, the historical Hanseatic neighborhood in Bergen, which is actually a UNESCO Heritage Site. <– this was a highlight for sure!
The Fish Market
The Main Square and the Status of Ol'Bull!
We stopped at a few shops in Bryggen, purchasing souvenirs like trolls (of course!) for my nieces and some Christmas ornaments.
After completing the walk in the Rick Steves book, we then walked over to the Floibanen Funicular, where we took the cable car ride to the top of one of the mountain peaks in Bergen. 
It was very windy up there, but great views of the city!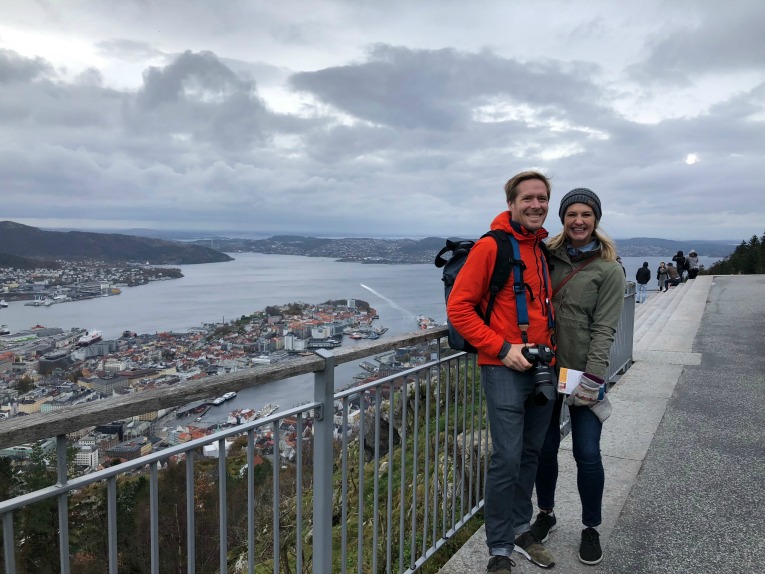 Apparently there are some nice hikes from the top, but we would be back up there the next day for the long run, so we didn't do any hiking at this point.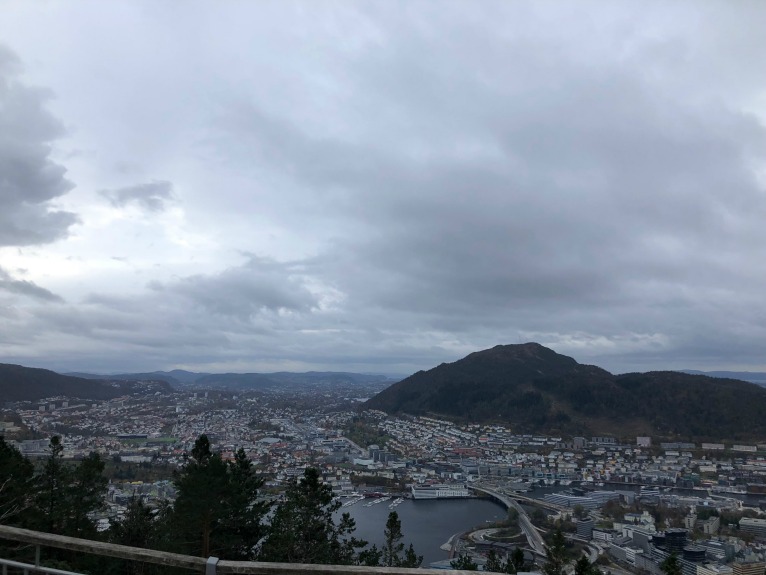 We walked around a bit at the top; there was a cute little troll forrest there.
By the time we made our way back to central Bergen, we were ready for a little warmth! We headed back to the Hotel Bergen Børs to relax a bit before dinner.
For dinner, we went to Pingvinen for some traditional Norwegian fare and brews.
Even though it was delicious, I was a little worried about the hearty casserole that I had, as Saturday morning, I was planning to run my long run in Bergen, but fortunately it was just fine.
After dinner at Pingvenen, we also stopped by Ujevnt for a cocktail to check out the local scene; it was fun to see what the young Bergen people are up to!
One comment about Bergen is that our 'superior' room at the Bergen Børs faced the main thoroughfare and WOW, Bergen people like to party! There were people outside yelling and partying until about 4 am…and as I mentioned, I was planning to do my long run Saturday. So that wasn't ideal 🙂
We still were up and running by 7 am on the route my friend Julie had suggested in Fjellvien near the funicular that we had rode the day before. The route was very pretty, though it included a lot of climbing (most pretty runs do, don't they?)
We did a loop twice to get to 12.7 miles total, which of course included some stops for pictures. The weather was in the upper 40's and then 50's by the time the sun came out. Very nice for a run. I didn't bring any water, but did bring a Spring gel to have at the halfway point.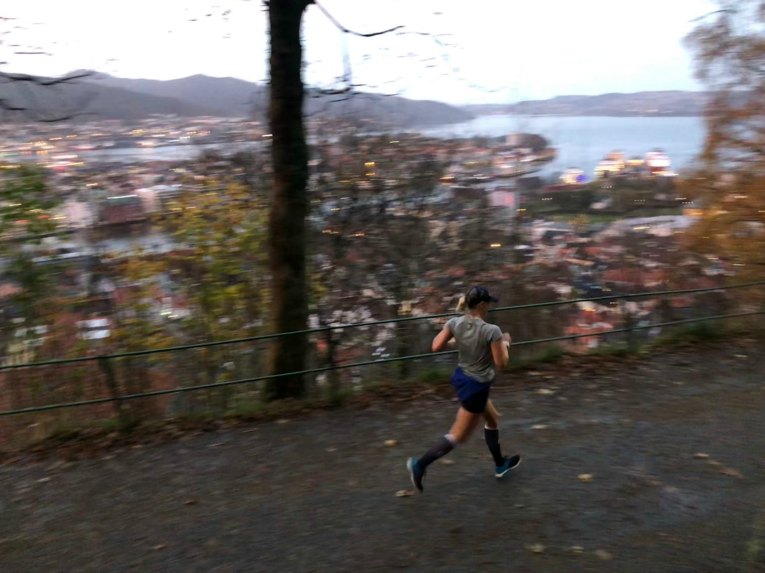 We made it back to our hotel and were showered in time to catch another amazing Norwegian hotel breakfast. We did a bit more shopping in Bryggen before packing up to head to the next location! If we had more time in Bergen, there is apparently some good hiking and some interesting museums, but at least we saw a lot by walking and running for a day and a half!
Our next stop on our trip would be Flåm in the Sognefjord region, which would be about a 3 hour drive from Bergen. Fortunately there were lots of stops along the way…even one surprise stop! We randomly passed through Dale, Norway and spotted a Dale of Norway factory outlet store. When in Norway…buy a Dale of Norway sweater, right?
The prices weren't really all that much cheaper than in the US, but hey, it was authentic right? Straight from Dale!
There was a fun exhibit at the outlet displaying all the Olympic sweaters over the years; all Norwegian winter Olympic athletes wear Dale of Norway apparel!
We passed through Voss on our way to Flåm, where Voss water is bottled. We only stopped in for gas and snacks before making our way to our next hotel, the Flåmsbrygga. Stay tuned for my next post about our 3 nights in Flåm! It was another favorite of the trip, so lots to share there!
Thanks for reading!
(Visited 427 time, 1 visit today)