Happy Sunday friends!
If you only check in for the weekly recap, please check out these two posts from earlier this week:
Guest Post: My First Ironman <– inspiring guest post from my friend Paige, who is a full-time working mom who crushed her first Ironman!
Fits on the Road in Norway: Lofthus & Solstrand <– another travel post about my recent trip to Norway!
Now onto my weekly recap of training for my 30th marathon, the Houston Marathon!
Monday:  Run commute to work, easy 9 miles, 9:30 min/mile. I also fit in a 50-minute strength class at ALTR after work. YAY! So proud of myself for actually doing strength training. I'm always so glad when I do, but it's hard to find time.
Tuesday: Run commute from work, 5.5 miles 9:20 min/mile. I wore my new Oiselle Firecracker pants– so bright and a huge side pocket for my phone. Love 🙂
Wednesday: "Quality Run" of the week- 10x 1k at marathon pace, (current estimate of my marathon pace is 8:40, which is far from my PR pace, but is hopefully a reasonable goal for Houston).
2-mile warm-up, 10x 1k with a 1 minute recovery in between, 2 mile cool-down. 11 miles total before for. That was a long one! The marathon pace felt controlled and doable, which was great.
I wore my new Craft pants that I bought in Sweden on this run- also great, though not quite as bright as those Firecracker pants!
That evening was Halloween! I handed out candy to all the trick-or-treaters; we had about 120 kids come, which was a lot for us. The nice weather must have helped.
Tilda only kept her costume on for about 10 minutes 🙂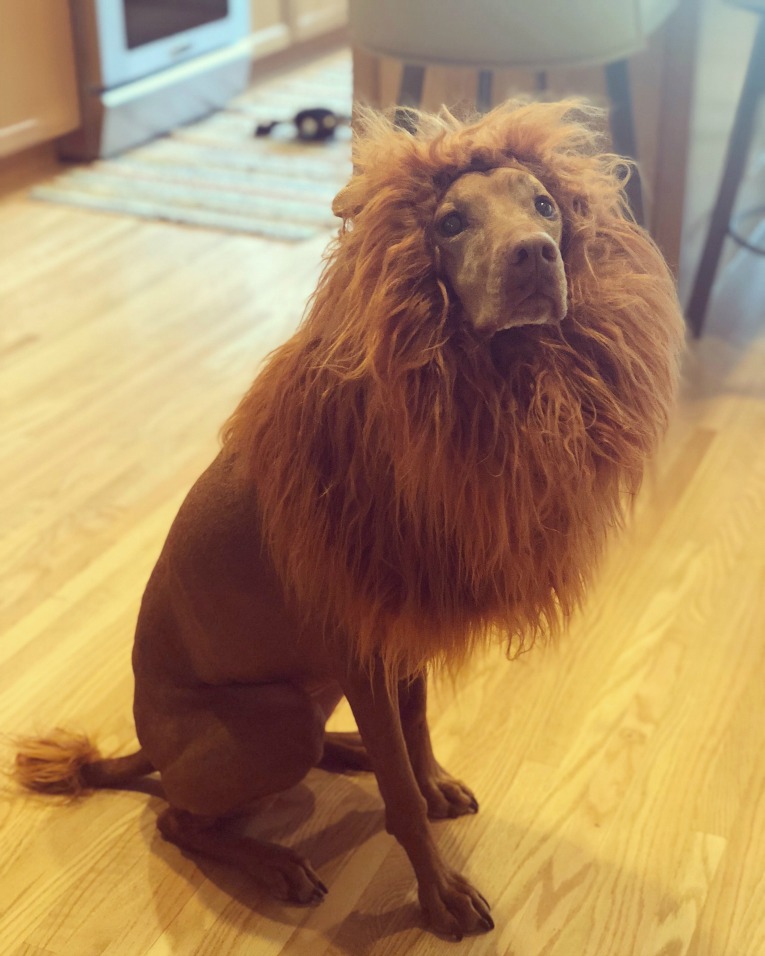 Thursday: 8.3 mile run commute to work, 9:20 min/mile. Tired from the workout the day before, but warmed up and felt pretty good by the end.
Friday: Easy 4 mile run with a coworker, 10 min/miles.
Saturday: 14.6 mile long with 1 minute surges every five minutes, 9 min/mile average.
We had a good group at the Calhoun Beach Running Club for a brisk fall day.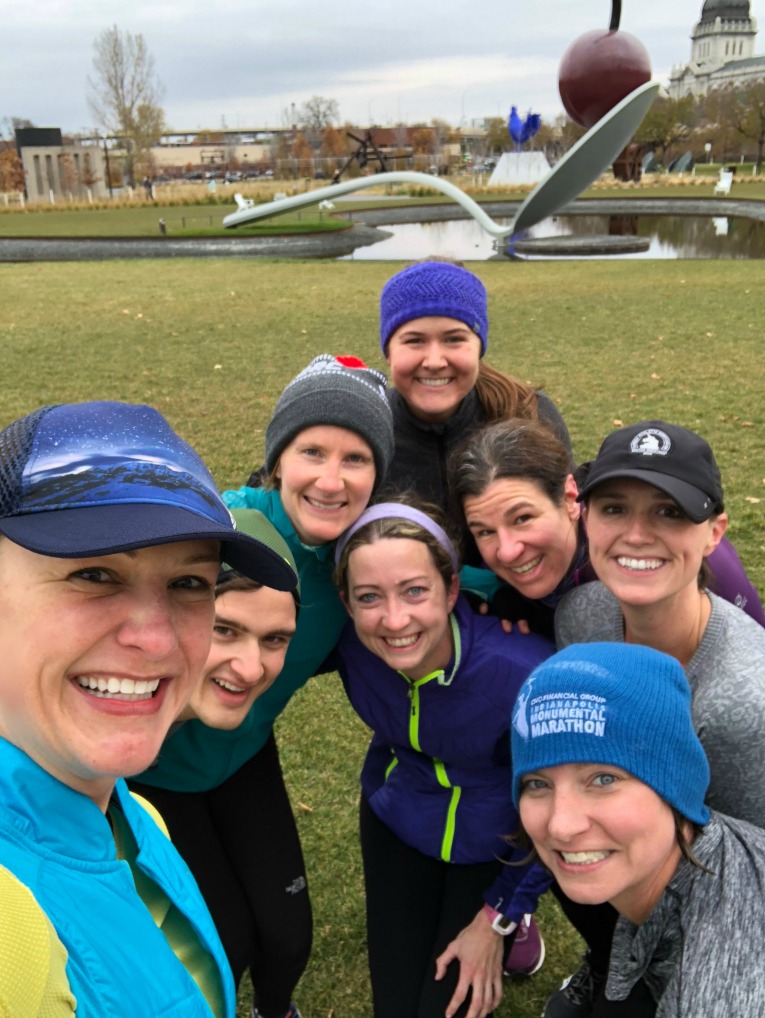 It was a decent run physically, but memorable for a very disturbing reason. I was with my running club group on Cedar Lake, where there is a bridge above the running path. Just as we were turning away from the bridge, a deer fell off of the bridge above us (it must have been spooked by something) and landed on the concrete path where we were running. The poor thing tried to get up but all of its legs were broken so it wobbled into the woods on the side of the path and laid down. This whole thing was really upsetting to me and I was crying and trying to call the DNR on my phone; of course, they are closed on the weekend, so I was about to call the police, but another witness got ahold of animal control, who was waiting with the deer until they arrived.
Ugh… I did not grow up in a hunting family, so this isn't something I am used to seeing. It was just so heart-wrenching to see the doe suffering. I couldn't shake the image for the rest of my run. I hope animal control arrived quickly to put her out of her misery.
Moving on…On a brighter note, that evening, Dustin and I hung out with my sister and her husband sans their kids; dinner at Hasty Tasty followed by some retro arcade games at Up-Down Arcade Bar.
Sunday: Quick 5.5 mile run (8:35 min/mile) with Dustin and Matilda before cozying up to watch the NYC marathon on TV.
Did you know I ran New York last year? It was my 6th World Marathon Major. What a blast it was.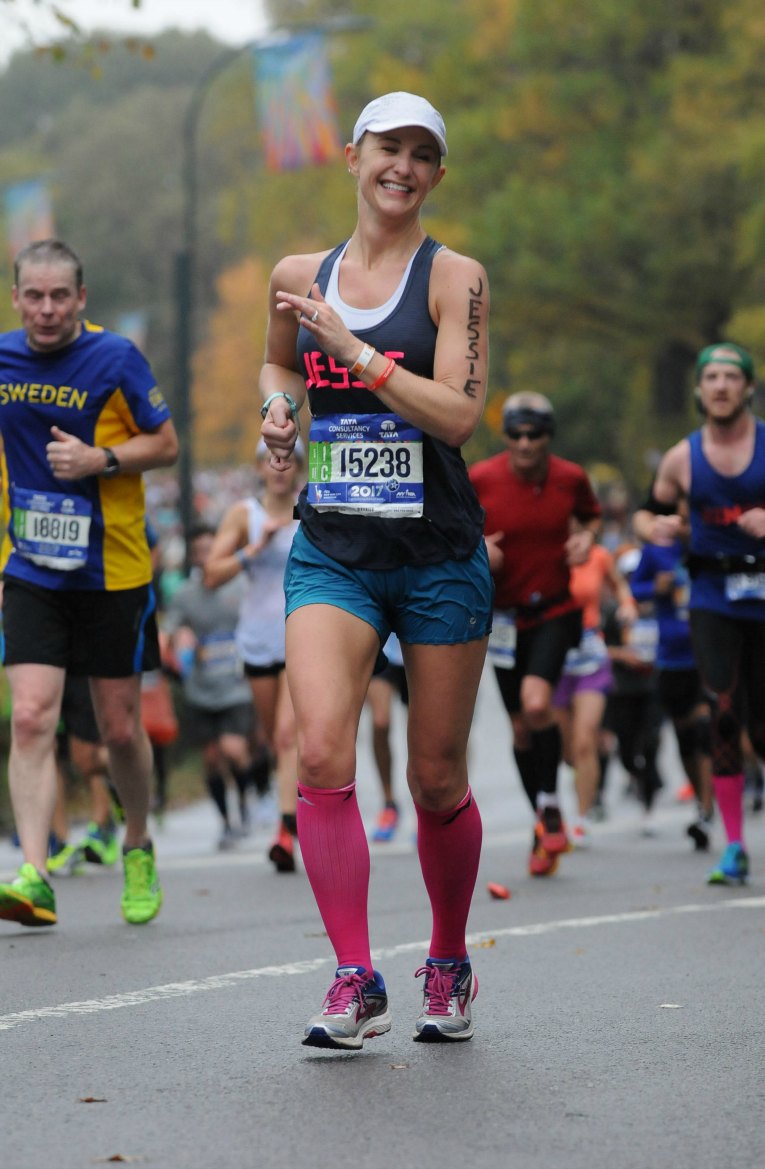 I also had a sports massage midday on Sunday. I hadn't had a massage in a year! Too long…I went to Juliana at Impact in St. Louis Park.
Summary:  58 miles of running, 1 strength class at ALTR. One is better than none! An improvement from last week, but still need to work to make it a priority.
Overall, this week felt pretty good; there were some runs where I started to feel a bit more like my old self, but there were also runs that were a struggle. I'll just keep getting out there and doing the work; just happy to be running! I'm dreading the morning that I wake up to slippery conditions and have to take things to the treadmill, but it will be here soon I'm sure.
Thanks so much for reading and be sure to check out all the other great weekly recaps that are a part of HoHo Runs and Taking the Long Way Home 's weekly recap link-up!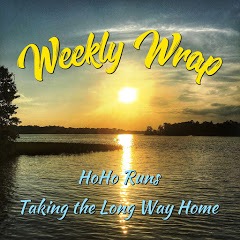 (Visited 348 time, 1 visit today)