I'm back with another Fits on the Road post recapping our recent trip to Scandinavia! I left off on my last Fits on the Road about Copenhagen and Gothenburg as we left Gothenburg to head to Lofthus. (If you missed that one, you can catch up HERE.) Lofthus is in the Hardangerfjord area on the east side of the Norway.
This trip was centered around picking up a new Volvo via the Factory Delivery program in Gothenburg, so our itinerary included a lot of driving in our new car! But other than the first day, most drives were only 2 hours or so and we saw so much while driving through Norway, so I felt like the drives added to the trip. With that said, I was usually not the one driving 🙂 and sometimes some of the roads were very narrow (but still two-way roads!) so it might have been a bit more stressful for Dustin than me!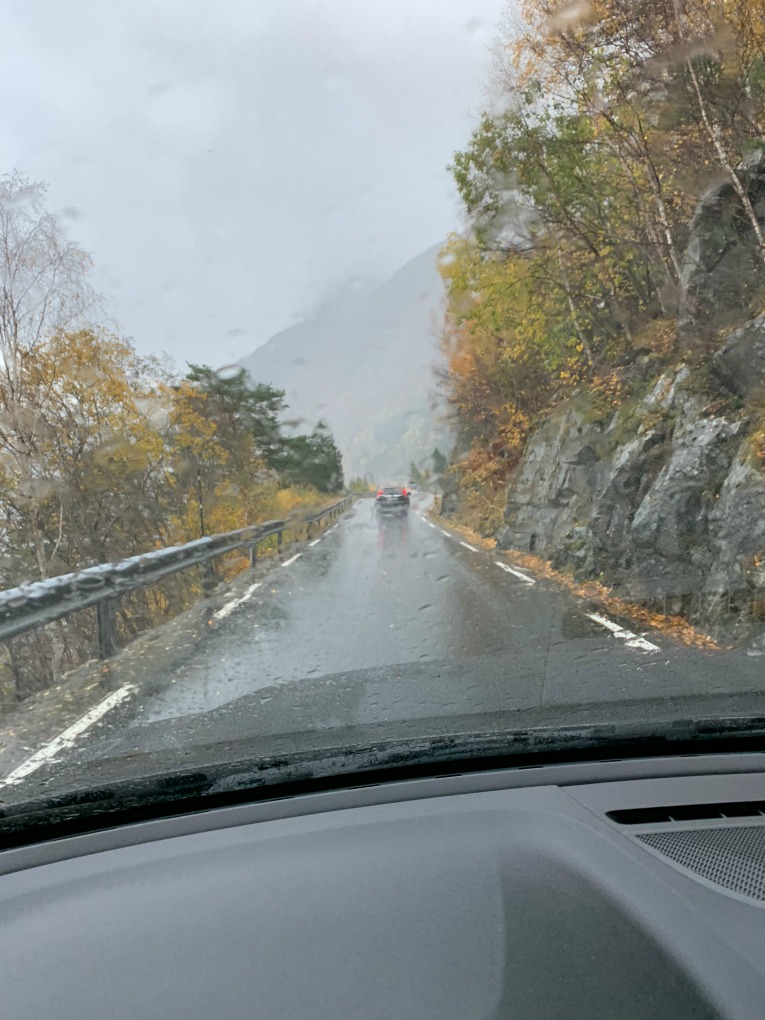 Tuesday, October 16th: We arrived in Lofthus pretty late on Tuesday night, but the hotel had 'cold plates' available for us for dinner (which were delicious).
Our hotel in Lofthus was the Hotel Ullensvang, which is a beautiful historic hotel right on the fjord. Since we arrived in the dark, we didn't see the view out of our room until the next morning. So pretty!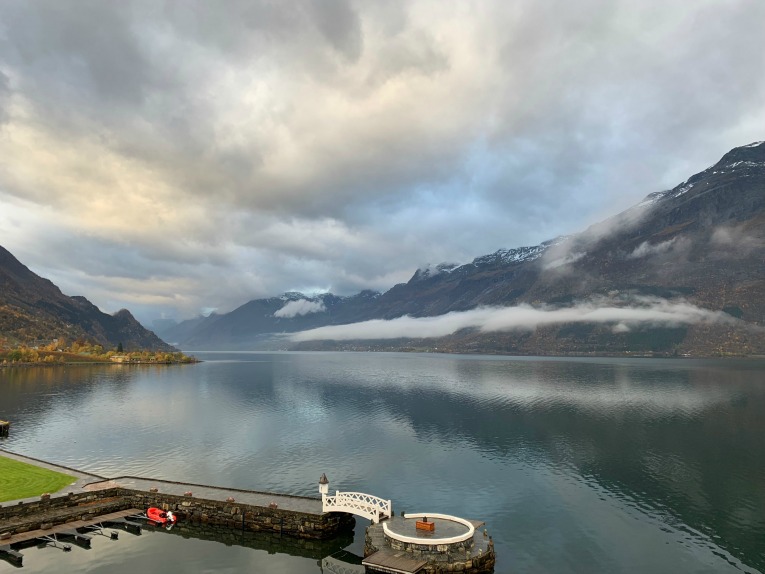 The hotel itself has been around since 1902 and was definitely a bit funky in its decor, but I liked it.
Wednesday, October 17th: On our first morning at the Ullensvang, we loaded up at the (free) hotel breakfast. One recommendation for Norway is to always opt for the hotel breakfast. They are generally pretty reasonable and allow you an opportunity to try a variety of local foods. It's not like a breakfast buffet at a Holiday Inn, hehe. 🙂 Rather, it's quite delicious and often one of the best meals of the day; we generally didn't really eat lunch, just snacks, so it was important to have a decent breakfast.
There is one cheese, Brunost, which I really loved! It's brown and sort of buttery and is often served at breakfast. I ate a lot of it during this trip!
However, as a Wisconsin girl, I was sad to find a cheese I didn't like though- Gammalost! Just not for me…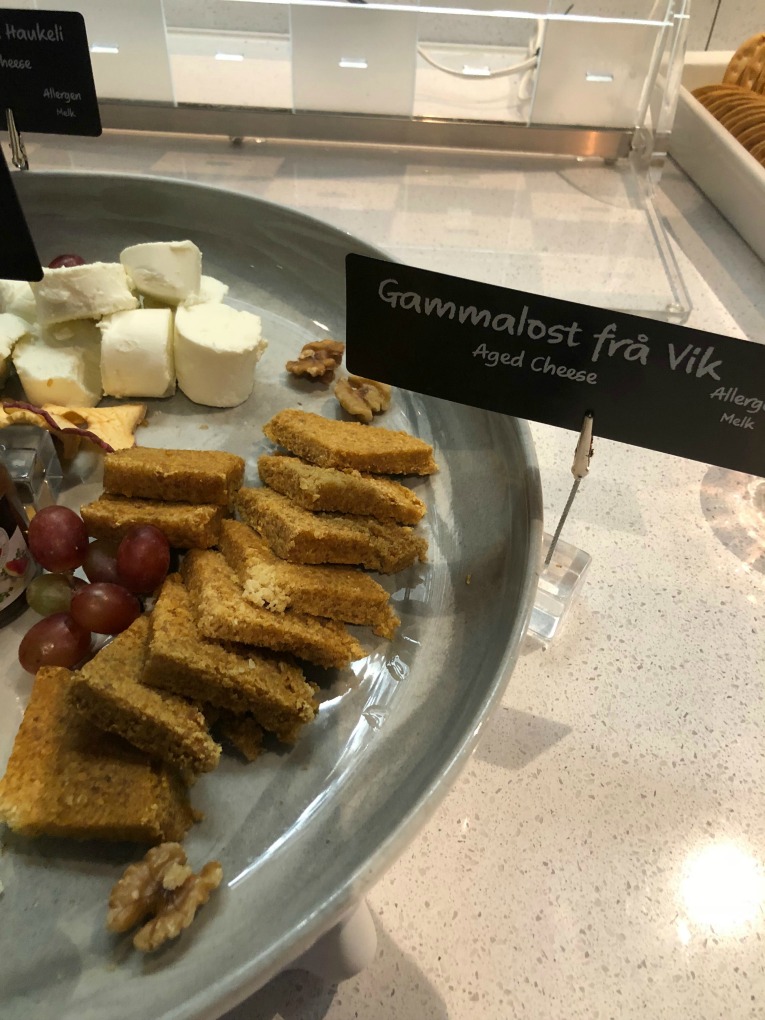 Anyways, after breakfast, we were ready for some hiking!
Our first hike was "HM Queen Sonja's Panoramic Hike." This hike began with a steep climb up a muddy, rocky mountain trail. It took us a little over an hour to reach what should have been an amazing viewpoint over the fjords, but alas, it was raining and very foggy so there was no view whatsoever. Still a nice vigorous hike to give us a taste of Norwegian hiking.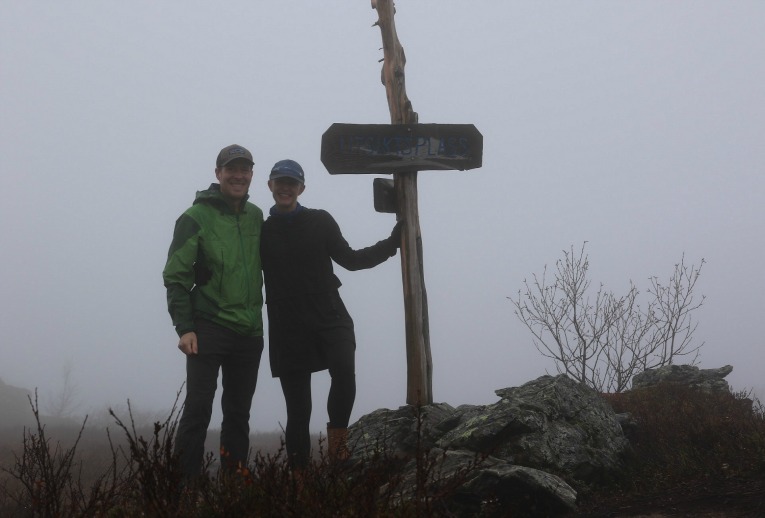 It was quite muddy and slippery on the trail; there was an option to keep going for about an 8 hour hike back to our hotel via what was called the "Monk's Steps" but we made the call that the weather just wasn't cooperating, so we'd try a different hike.
On the way back down, the skies did clear a little bit, which was very pretty. I can only imagine how great the views might have been at the top!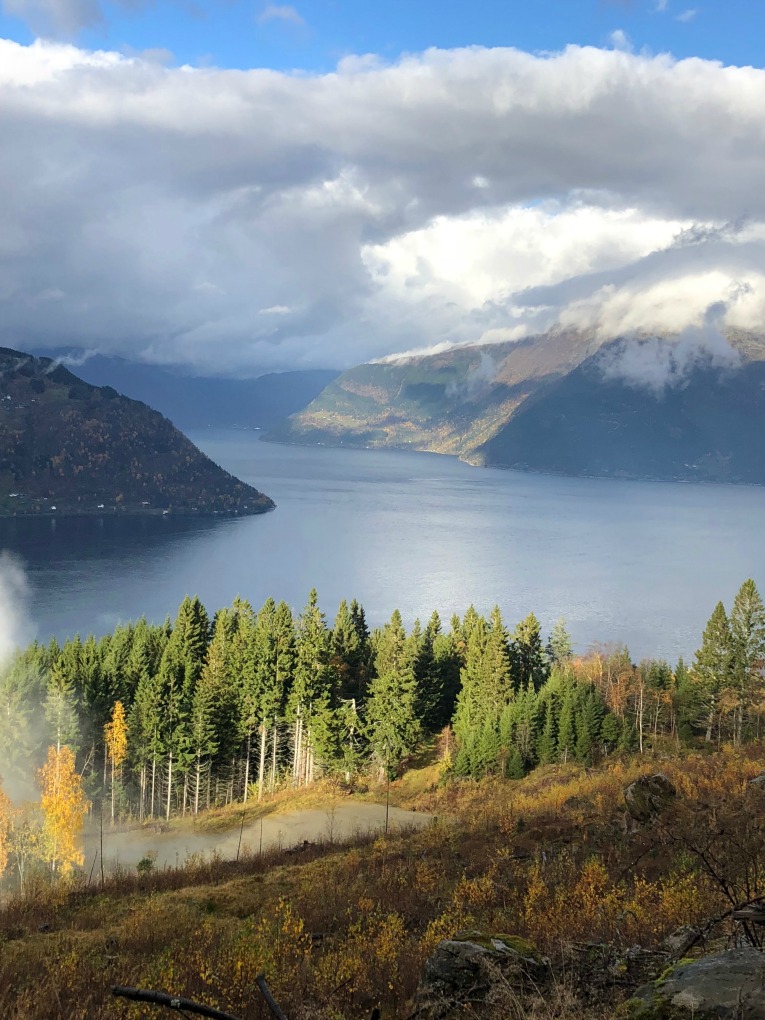 Our next hike was to Vøringsfossen.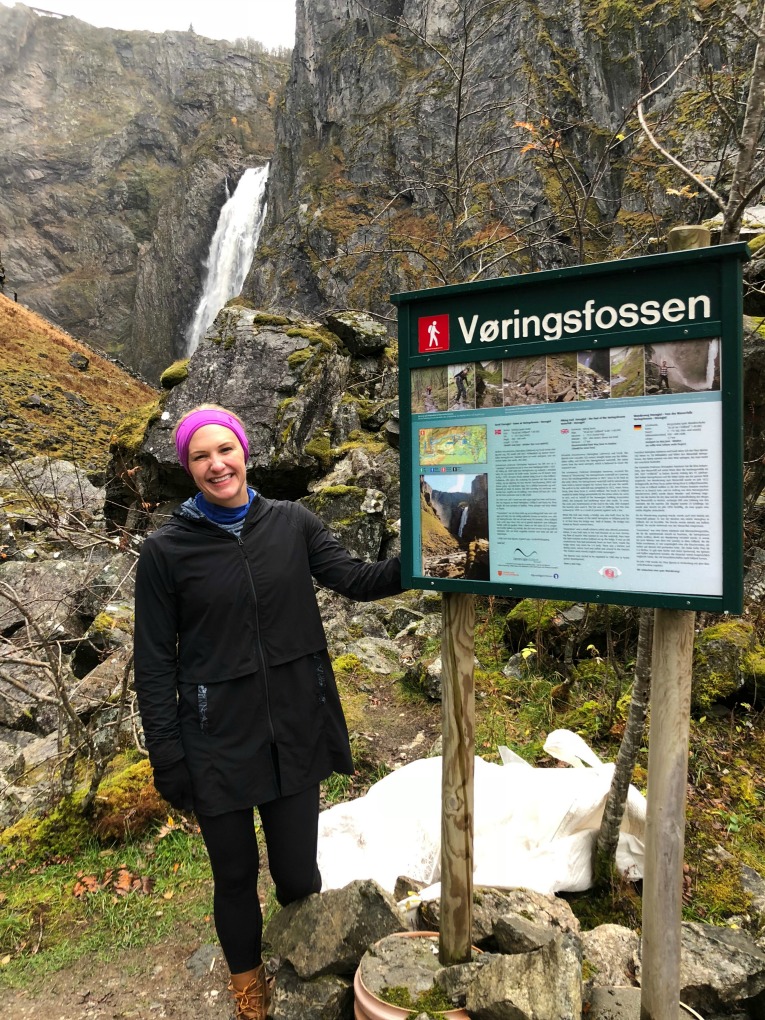 This hike was technically only about 1.5k long, but was pretty tough- all climbing over slippery boulders, no trail at all really.
Eventually we came up on a suspension bridge that took us to another bouldery-path to the waterfall, or "fossen" in Norwegian.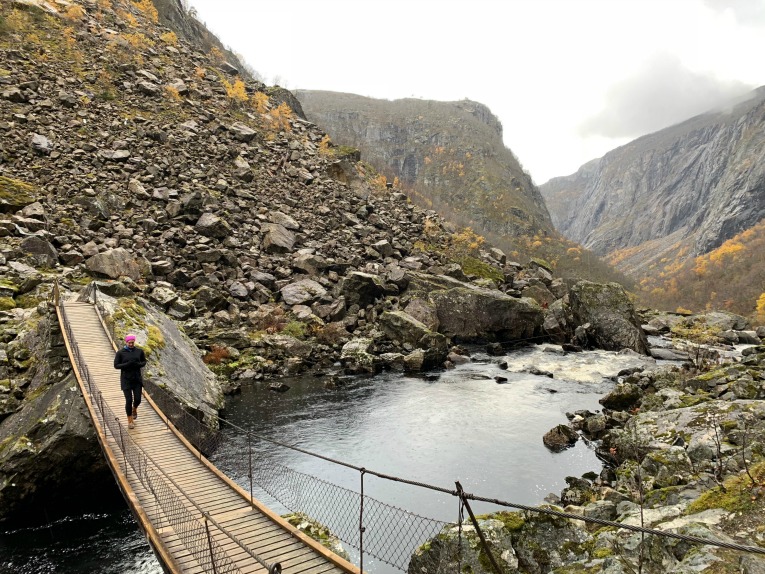 This hike and the surrounding scenery were so beautiful.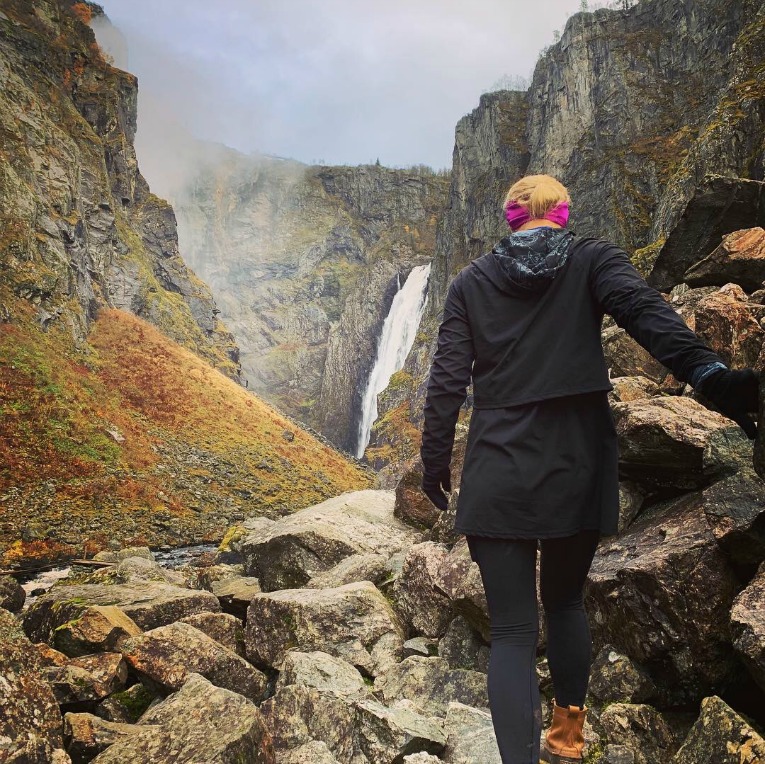 But the route was definitely challenging; I was very cautious due to my still-not-completely-stable ankle.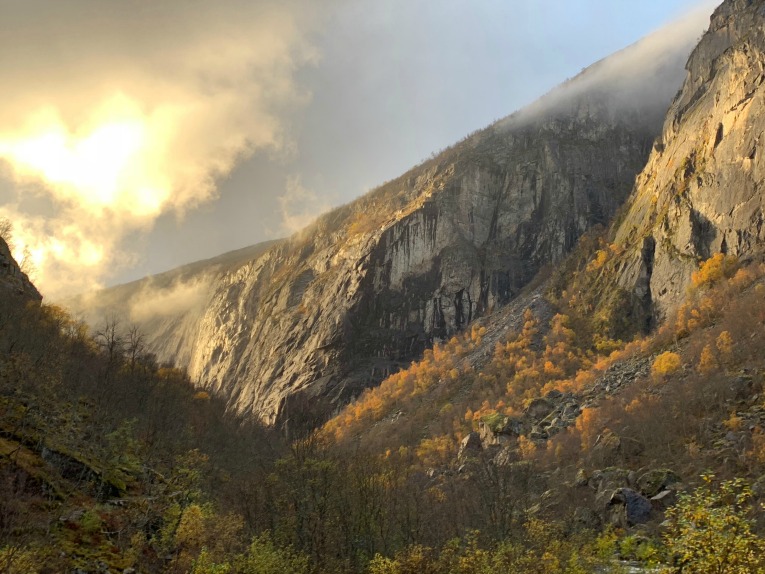 All in all, we hiked over 5 hours on Tuesday and were pretty tired by the time we made it back to our hotel. We just barely made it to the pool/hot tub before it closed at 7 pm. Then we enjoyed a delicious dinner at the hotel restaurant.
Thursday, October 18th: Our 10 year wedding anniversary! We were up early for a short run.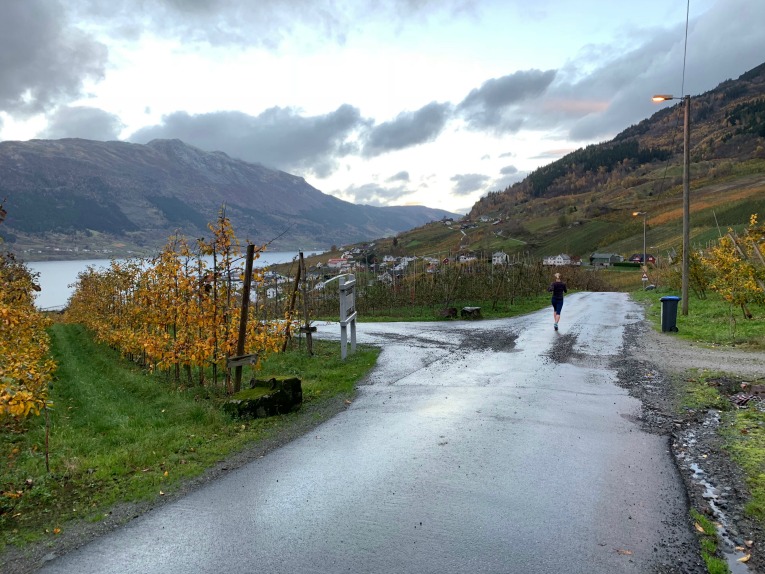 The hotel concierge said that there was an easier trail we could probably "run", so we headed there. We learned early that "easy" in Norway is still challenging! There were portions of trail that really weren't runnable, but we got in about 5 miles of run/walking.
A quick shower, breakfast, and we checked out of the Hotel Ullensvang and headed on to the next place.
Before heading out of Lofthus, we stopped for one more hike in the Huseldalen Valley to find some waterfalls. This was a very easy hike (comparatively) but after an hour of walking, we realized we weren't on the right path to the waterfall, so we decided to turn around. We covered about 4.5 miles total, but never found that waterfall!
We drove a few hours to Solstrand, which is a small village outside of Bergen. On the drive, we visited Steindalfossen, a waterfall that you can walk behind.
In Solstrand, we stayed at another beautiful historic hotel, the Solstrand Hotel & Bad.
This hotel had a gorgeous outdoor hot tub, as well as all kinds of saunas (Norwegians love their saunas). I also tested out the "Icy Pool" which was 9 degrees Celsius. So cold! It probably would be a great option after a long run though.
That evening, we had a delicious anniversary dinner at the Solstrand Hotel. We only spent one night here, but glad we had the opportunity to check out this area.
Friday, October 19th: We slept in a bit but still caught the sunrise on a short 5k morning run (the sun doesn't rise in Norway this time of year until after 8 am!
(By the way- after hanging out in the hot tub the night before, I did jump into this fjord! SO COLD!)
We had yet another delicious Norwegian breakfast at the Solstrand before making the short drive into Bergen. Bergen was definitely more of a "city" experience than what we had experienced so far in Norway, more like Copenhagen and Gothenburg. I'll share that in a separate post.
Here's a few more pictures from Lofthus and Soltrand for your enjoyment:
Checking out another waterfall from above…just a little afraid of heights!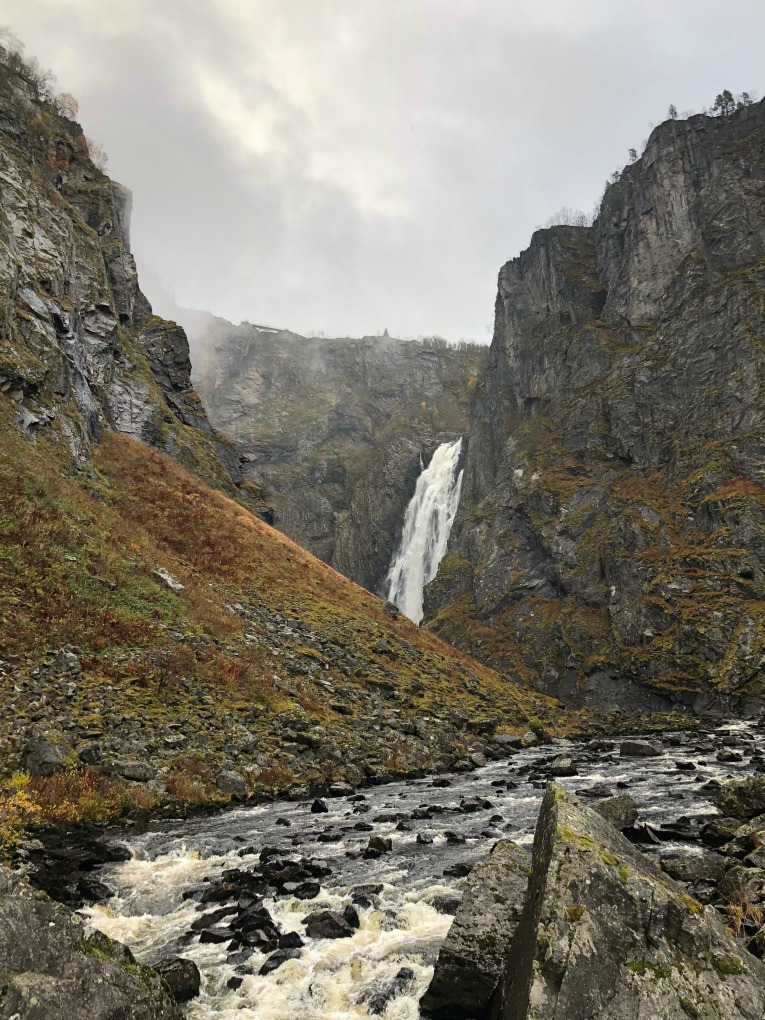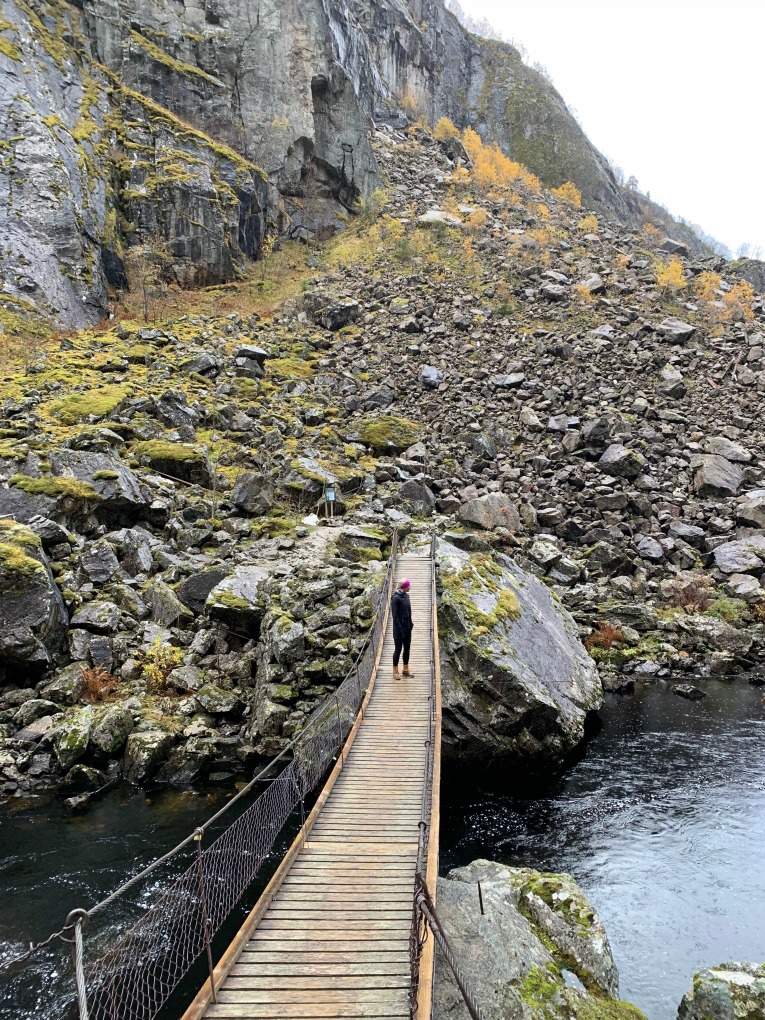 And muddy boots in the new car 🙂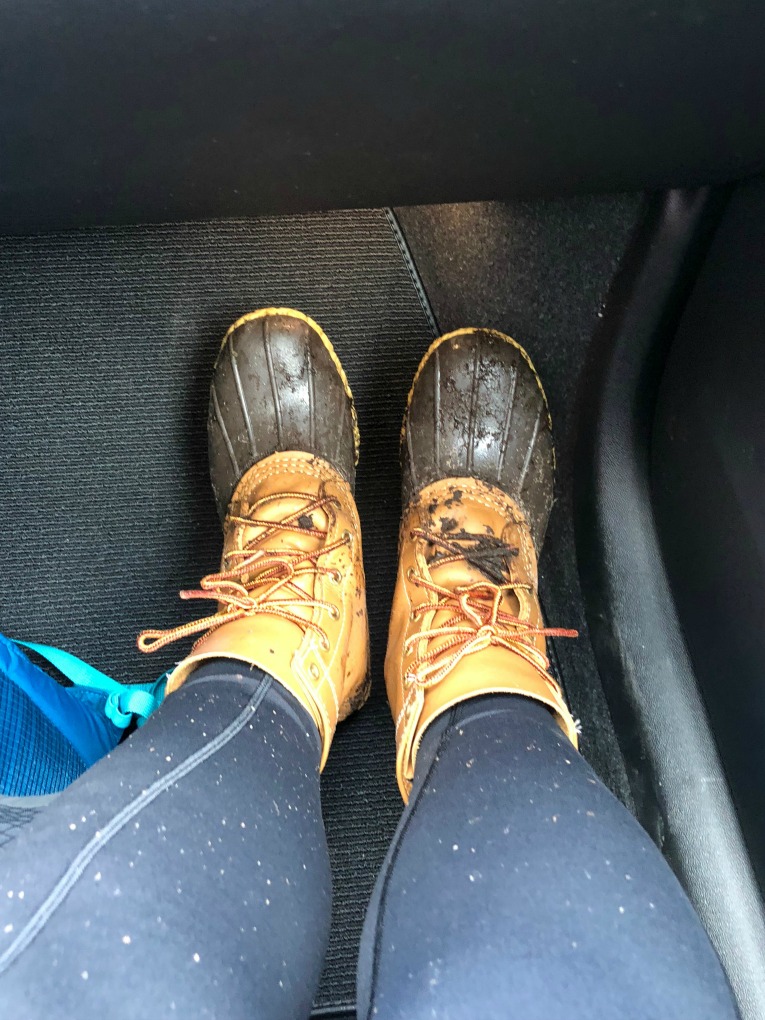 I'll be back with a recap of our time in Bergen, then Flåm (my favorite) and then Oslo! Stay tuned.
(Visited 350 time, 1 visit today)