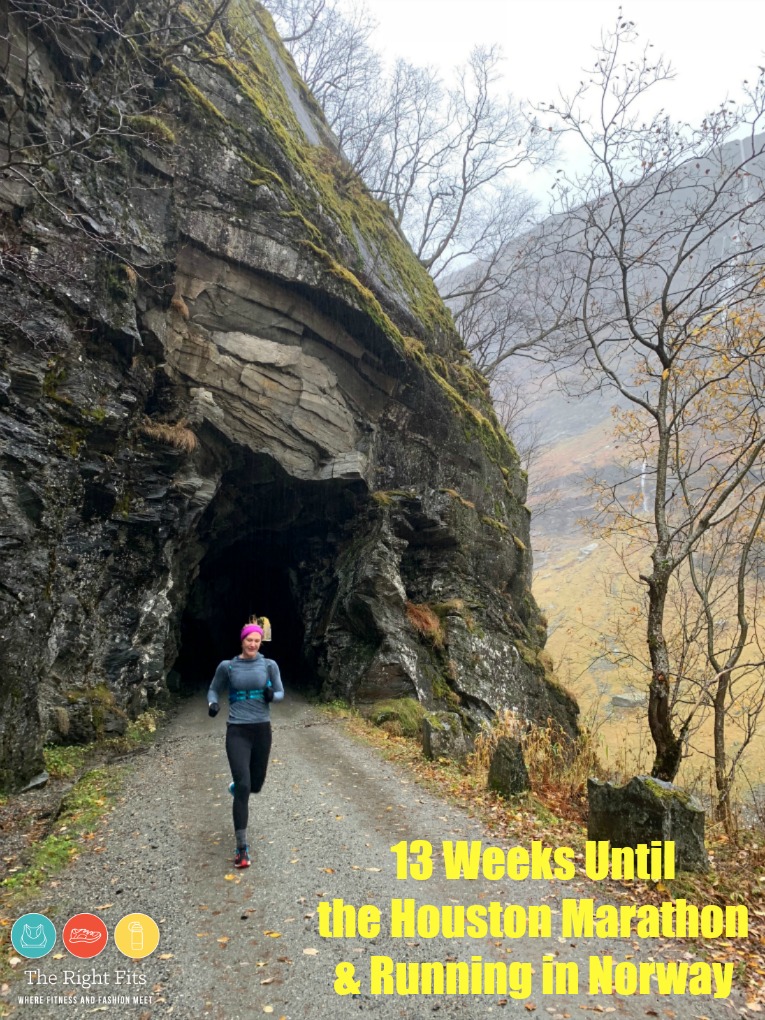 This weekly recap post is a unique one, as it includes a lot of running in Scandinavia!
If you missed it, I shared this Fits on the Road post about the first part of our trip, which included Copenhagen, Denmark and Gothenburg, Sweden. I plan to share similar posts about the rest of our time in Norway; I'll keep this recap post a bit shorter and focused on fitness. But please stop by later this week for more amazing pics of Norway, (it's a gorgeous country.)
I am now 13 weeks out from the Houston Marathon. Time is flying by!
I feel like I did a decent job of getting in as much running as I could on vacation, while ensuring that running added value to the vacation, vs. missing out on any 'vacation' due to running. Fortunately, running is a great way to tour! But in addition to the running I fit in, there was a lot of walking and some serious Norwegian hiking.
Here's how things worked out this past week:
Monday: Ran 7 miles in Gothenburg, Sweden. As I mentioned in this Fits on the Road post about Copenhagen and Gothenburg, we arrived in Gothenburg around 1 pm to an absolutely stunning day, 65 degrees and sunny. We ran through Slottsskogen,  a beautiful park in Gothenburg. It had some serious hills and we were just taking it easy and stopping for pictures. Awesome run.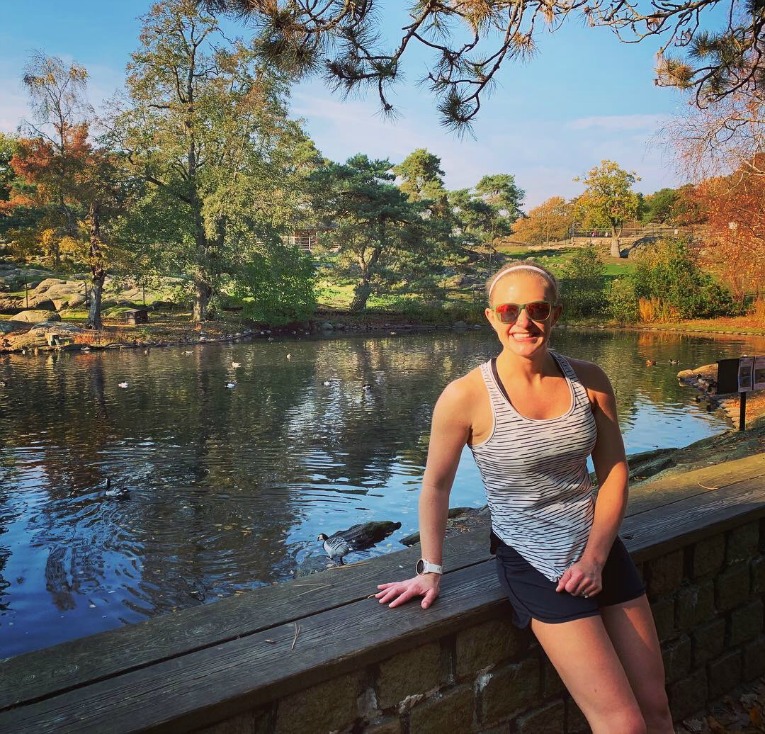 Tuesday: Ran 4 early miles in Gothenburg, Sweden before heading to Volvo to pick up our car; then a long hour drive to Lofthus, Norway.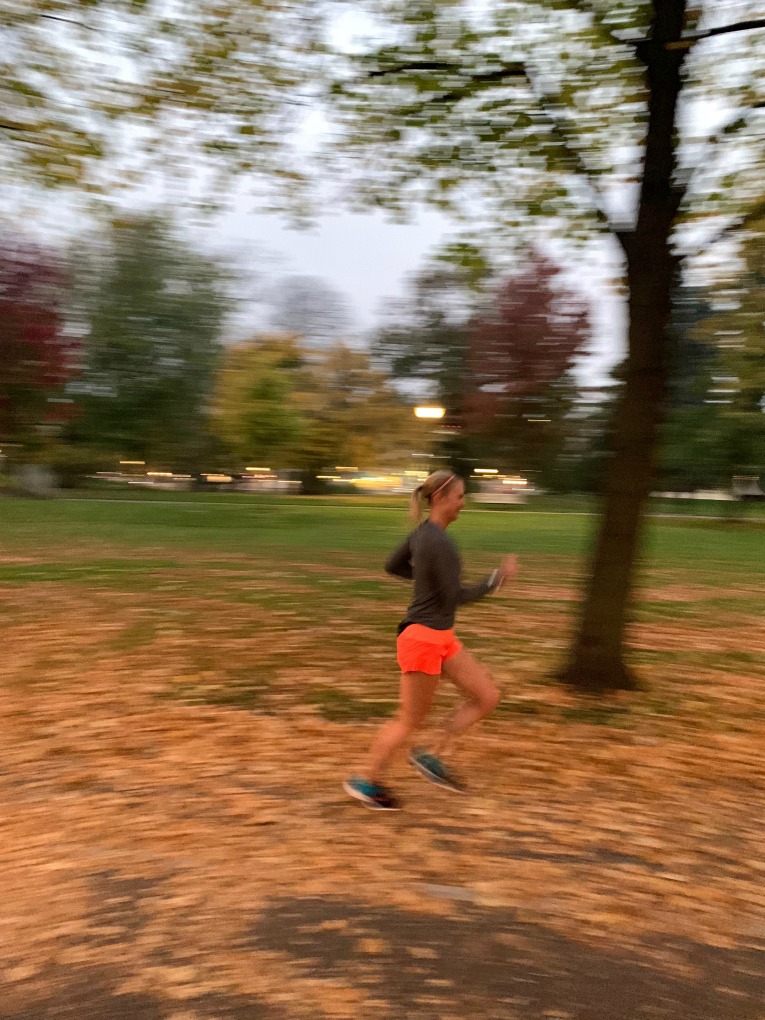 Wednesday: No run today. Yet that doesn't mean we were lazy! Instead, we hiked for over five hours in Lofthus, Norway. The first hike was called Her Majesty Queen Sonja's Panoramic Hike. Unfortunately, the weather was rainy and very cloudy, so not much for panoramic views!
So disappointing, as the pictures we've seen online were amazing. Oh well.
This hike was a little over 4 miles round-trip.
The second hike of the day was the hike to Vøringsfossen. This picture is after we had already hiked about 2 hours to get to the falls. If you're ever in Lofthus, do not expect this to be an easy hike!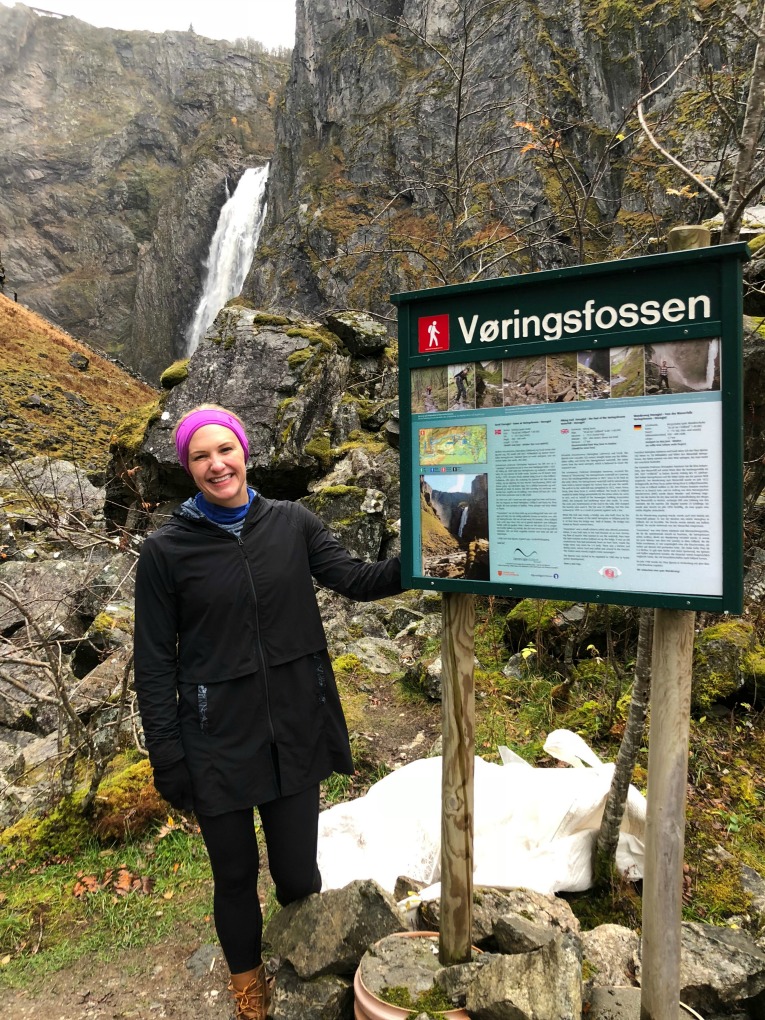 This hike was shorter, but quite challenging, with tons of clambering over slippery boulders. I was nervous as to how well my ankle would do, but I just took things slow and careful. Gorgeous hike.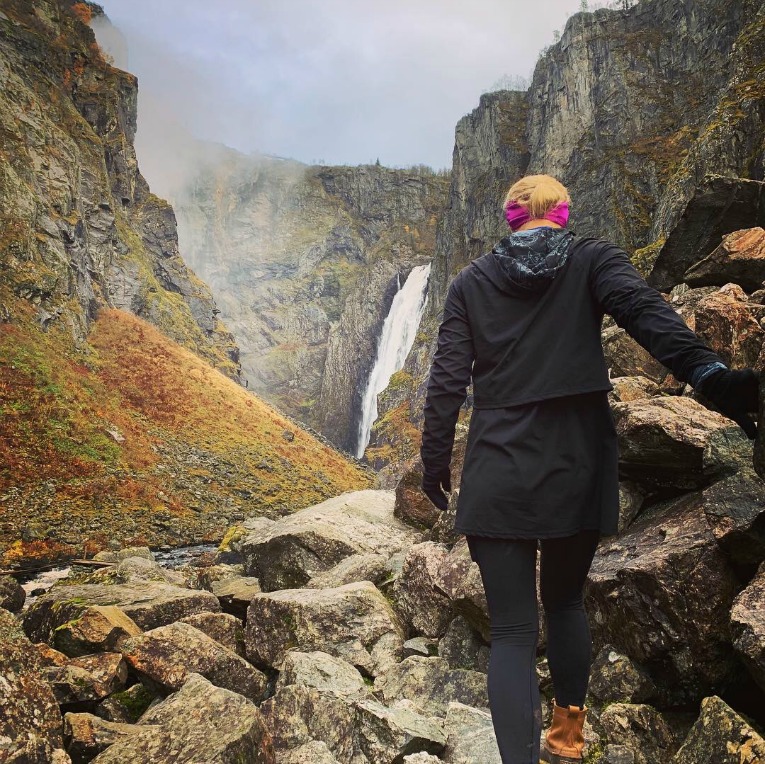 This hike took a lot out of me (or maybe it was the combination of both hikes, but this one was hard); I was so sore the next day, almost as though I had run a marathon! Guess I should have hiked a bit more prior to this intense of a hike.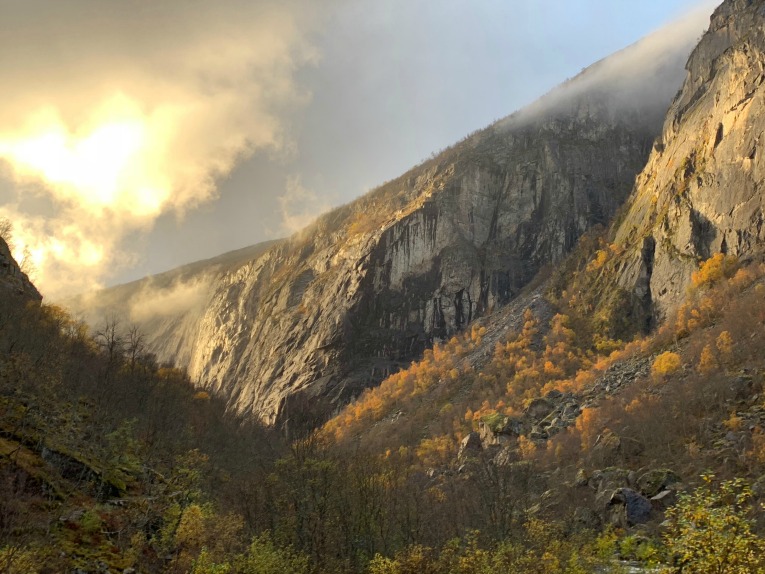 You can see in the below picture before we arrived at the suspension bridge, that there wasn't a true path, just climbing over rocks. Challenging!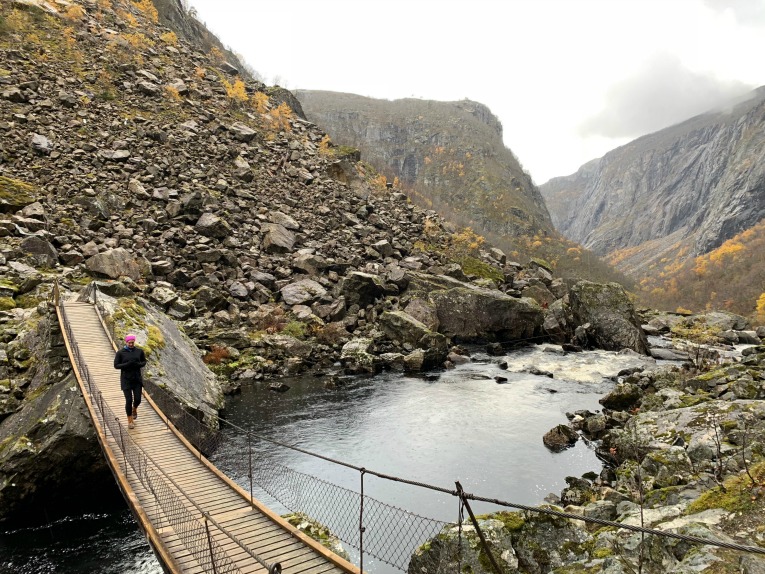 Thursday: 5 mile run in Lofthus; the concierge at our hotel said this was the easiest place to run in town, but it was still pretty challenging. There was a lot of walking uphill on this one!
Later that morning, we also did a 4.5 mile hike to a waterfall we never found. Apparently we took a wrong turn somewhere, but had to turn around eventually to get on with our trip.
Friday: 3.1 mile run in Solstrand, Norway. Just a short little run to watch the sunrise! There was a paved trail along the shoreline in front of our hotel that went into town and back.
(Pictured below, the lovely Solstrand Hotel & Bad!)
Saturday: 12.7 mile long run in Bergen, Norway.
My friend Julie studied abroad in Bergen and I had asked her ahead of time if she had any recommendations of where to run and her response was, "I hope you like hills!"
Bergen is quite hilly! We did follow her advice as far as a location to run, heading straight up a mountain (okay, it just felt that way 🙂 ) to an area called Fjellveien, which was a paved trail near the funicular that takes you to the top of the mountain. It was great for running as it had limited car traffic.
Apparently, the route was part of the Bergen City Marathon!
We ran up and down the route twice to get to just under 13 miles. I was happy to get in double digits on vacation. It was a beautiful day in Bergen!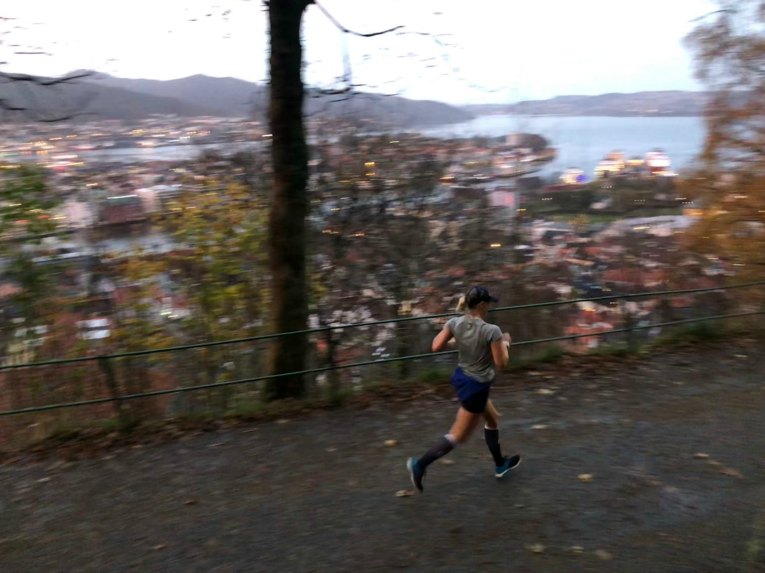 Sunday: Well, I guess I spoke too soon! Another double digit run, though this one was a bit more of a hike/run. We took the Flåmsbana train from Flåm to Myrdal, which is about a 50-minute train ride. We got off on the platform and it was so cold, windy, and rainy!
We considered just buying a return ticket on the train and finding something to do indoors instead. But instead, we gathered up our toughness and decided to go for it and run back down to Flåm on the Rallarvegen path.
The Rallarvegan route includes 21 hairpin turns to get down the mountain. It was quite steep in the beginning, as well as wet and rocky, so that was mostly walking. I do NOT want to break a leg again!
Eventually it did turn into a paved path, but we took lots of breaks for pictures, so it took awhile to get down (about 2.5 hours I think.)
Running through this tunnel was a little weird- it actually was pretty dark in the middle!
We may have been wet, but the scenery made up for the weather!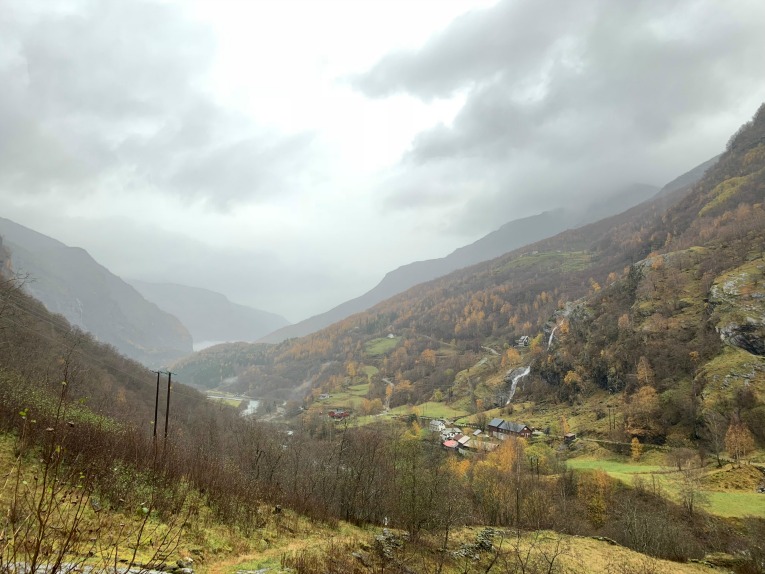 I was very ready for a hot shower and dry clothes by the time we finally finished.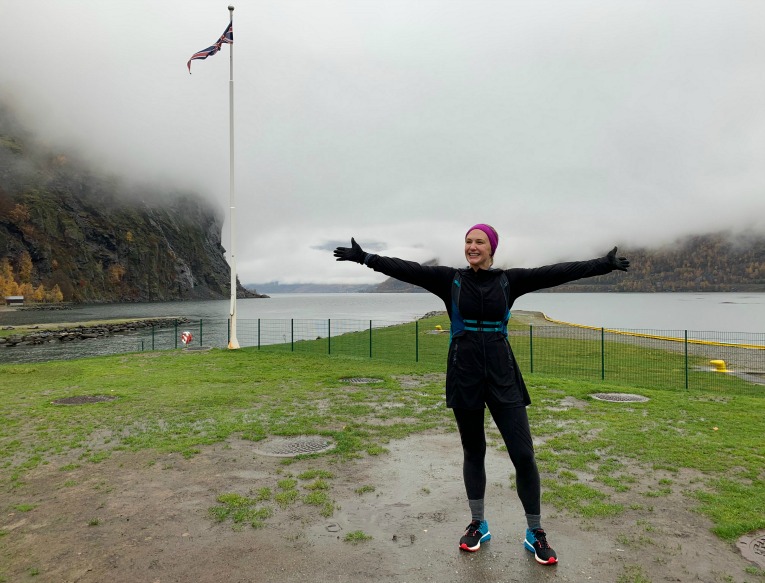 Summary: 45 miles of running, about 10 or so more miles of hiking and lots of walking. This is a decrease in total mileage from the past couple of weeks, but not bad for vacation, right? (Sorry coach, I did what I could!)
Anyone reading been to Norway? I feel like it's not that popular of a place to visit, but it is so unbelievably gorgeous, I definitely want to come back and see more. We did not have time on this trip to go to the Arctic Circle where you are guaranteed to see the Northern Lights. Next time!
Thanks so much for reading and be sure to check out all the other great weekly recaps that are a part of HoHo Runs and Taking the Long Way Home 's weekly recap link-up!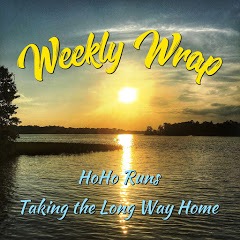 (Visited 352 time, 1 visit today)