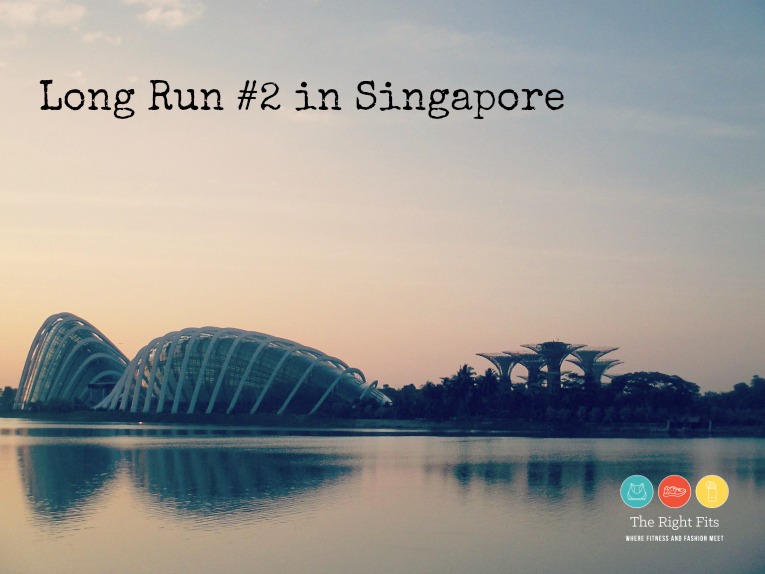 Seventeen miles in the Singapore sun- complete!
It was brutal, but it was my own fault. I couldn't get motivated to get up so I didn't start running until around 6:30 am. I only had a short amount of time before the sun came up and once the sun is up, there's no escaping the heat!
Guess what? Here's another picture of Marina Bay Sands. You're welcome.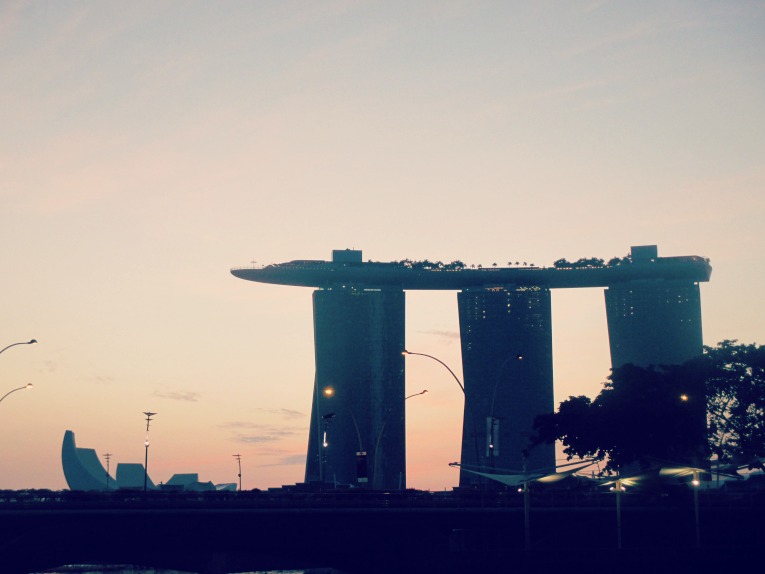 When the sun came out, it was HOT. I am sure you are tired of hearing it, but I really struggle in the heat. Some runners aren't as strongly affected by it, but I definitely am. My only comfort is that the Tokyo marathon will definitely NOT be this hot. I think the average temperature in Tokyo in February is 45 degrees. So all this acclimating to the Singapore heat/humidity isn't really going to do me any good, ha!
Last week, I planned my long run route so that I came back to my apartment to refuel and head back out. This week, I decided to try to only come back when I was done. I planned it a little better and only had to "add on" about 1.5 miles when I got back to the apartment.
This week, I carried my Nathan fuel belt with water in one bottle and Gatorade in the other. I took one GU along the way around mile 8. I could have used a second one. Better planning next week!
The water and gatorade in my bottles were not enough fluids for me on such a hot day. I brought along S$10 (10 Singapore dollars) and I stopped TWICE actually to buy more fluids. The first time I stopped for a cold bottle of water, which disappeared pretty quickly. Notice the "100 PLUS" in the background? That's a very popular energy drink here. They were serving it at the Singapore marathon last weekend.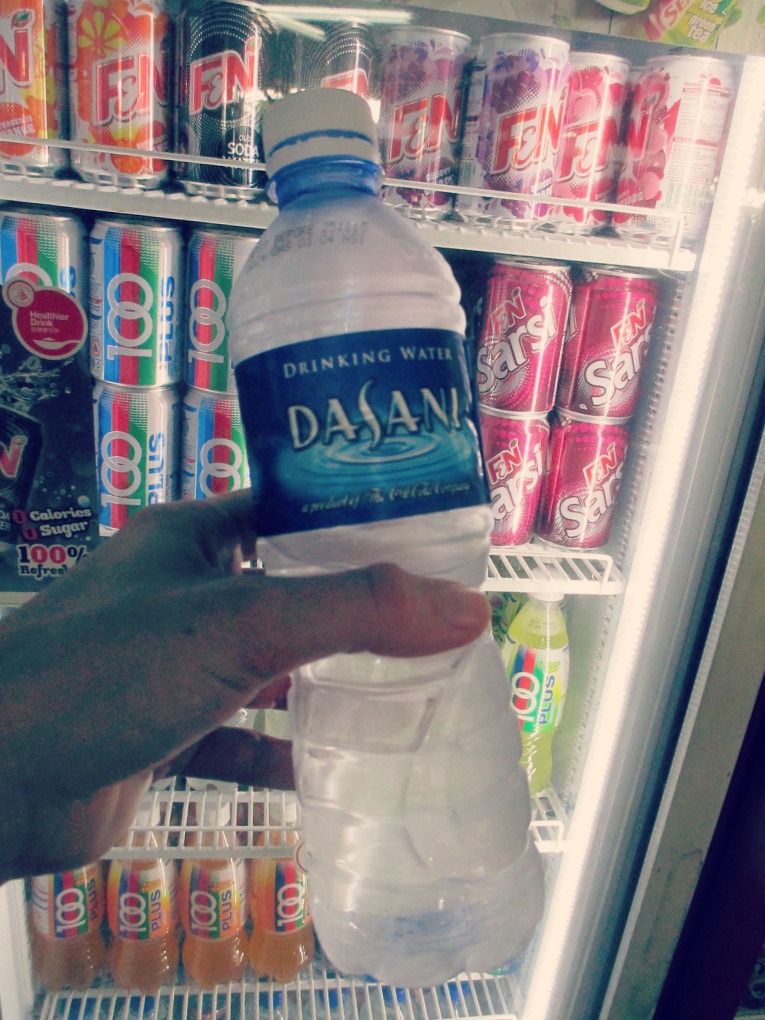 The second time I stopped, I was getting close to the end (about 3.5 miles to go) and I just needed something else to get me to the end. I stopped to buy a "Pocari Sweat" which wasn't too bad. It wasn't as sugary as Gatorade and actually went down pretty easy. Honestly at that point, I would have drank ANYTHING that was cold and wet though, so it probably tasted amazing just because I was so dehydrated.
So that's how I fueled for 17 miles. What did I see?
Of course, the beginning of my route was the same as usual. I ran along the river towards the Esplanade Park and then Marina Bay Sands.
However, this time, I kept running past the Singapore Flyer along the coast and came up to a very nice path along the river. It was somewhat shaded and very green.  There were lots of these guys lounging around on the park benches too. You can't tell in the picture, but this guy is a tail-less cat. Just like the cats at Wild Rumpus in Linden Hills!
I really enjoyed running in this area and there were plenty of other runners and walkers out. I can't figure out exactly what that area was called, but it was definitely a popular place for runners.
I think I could have kept going along this path for a long time, but I decided to turn around at mile 8 and head back towards Marina Bay Sands. There I checked out the Gardens by the Bay. This whole tourist attraction is brand new since the last time I was here. It includes the "super trees" that you see in this picture:
I'm not sure why, but these super trees scream "HUNGER GAMES" to me! What do you think? Apparently at night they are lit up and very pretty. They are surrounded by some very nice gardens that I ran through.
Along the Gardens by the Bay, there were a few signs for otter crossings! I was on the look out for otters and was pleased to find a bunch enjoying breakfast in the river. They were seriously chowing down on fish. It was funny to watch.
I saw one of the many Merlion statues that can be found in Singapore. This one was damaged last time I was here because he was struck by lightning. He's back at it now!
My long runs have been my primary way of exploring Singapore. You can cover a lot of ground in 17 miles! These runs help me get my bearings and they really give me a much better understanding of Singapore and where I am (and where I want to go!). I was able to check out things like Gardens by the Bay to determine if it was something I want to return to at a later point. I really enjoy exploring via a long run!
My pace has been quite slow on the long runs. Next week, my coach actually has me doing 10 miles of goal marathon pace within my long run. I'm worried about doing this in the heat. Based on my long run pace lately, I might have to opt for the treadmill. I am thinking about doing the warm-up outside, then 10 miles on the treadmill, and then the cool-down outside. I want to hit the paces he's giving me, but I seem to only be able to run at a normal pace in the (somewhat) air conditioned gym.
What do you think? Should I tough it out and try the workout/long run outside or do it on the treadmill to ensure I can do it?
Despite a slower pace, I am still proud of myself for toughing out 17 miles on my own in the heat. Apologies for the sports bra pic, but this is evidence that it was really hot.
Great news if you are ever running in Singapore! The Fullerton Hotel is open to the public, meaning you can pop in there to use the bathroom if you are so inclined. And then you can take a picture of the gorgeous lobby while you're there…I mean, just in case.
Stop by tomorrow for a weekly recap of week two in Singapore.
And if you haven't, be sure to check out THIS POST with ideas for holiday gifts from Athleta!
(Visited 370 time, 1 visit today)