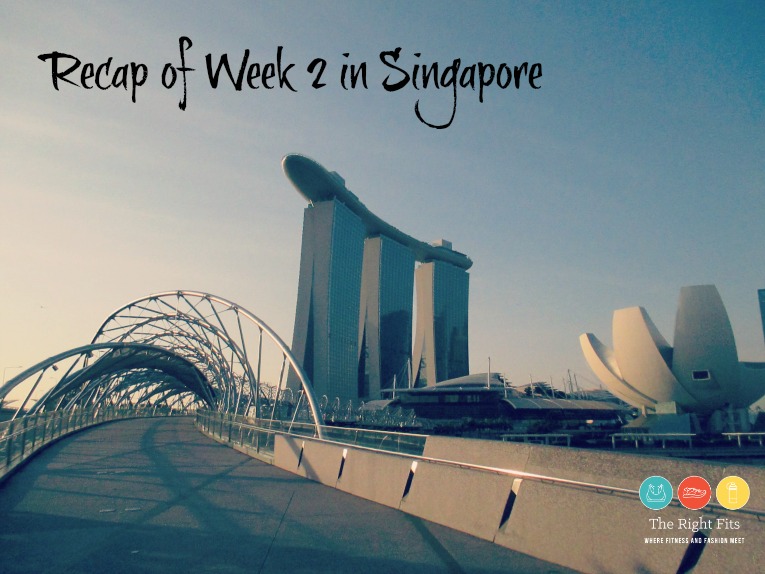 Week two in Singapore is complete. I survived! Apparently, I'm not even missing that cold of a time right now in Minneapolis either. Dustin tells me that it's downright balmy!
Week two in Singapore also marks Week FOUR of training with my new coach for the Tokyo Marathon. Only 10 weeks to go.  Japan will be here FAST!
So, first things first, let me fill you in on how fitness went here in Singapore this week:
Monday: Threshold/tempo workout: 2 mile warm-up, 4 miles at tempo pace, 2 mile cool down on the treadmill. 8 miles total.
Tuesday: 6.2 miles easy. I checked out Fort Canning Park to see how it would work for my hill repeats. It's definitely hilly! I was a little uneasy because there weren't a lot of runners here. My only company at the park were some rats! Eew. My coworkers tell me that it's because of all the construction going on.  Cockroaches are also big here, as well as mosquitoes carrying dengue fever. Yikes!
To be safe, I plan to stay towards the entrance where there is one hill that I can repeat for my workout.
Wednesday: 5.2 miles easy along the river
Thursday: Speed workout on the treadmill. 2 mile warmup, 5 x 1000 m with 3 minutes recovery, and 2 mile cool-down. 8.5 miles total.
Friday: Easy 5 miles along the river. I had my weekly call with my coach Friday morning. We decided to talk at 5:30 pm his time, 7:30 am my time. Its harder than you'd imagine to try to coordinate! We touch base weekly via a phone call though I track all my runs in "Training Peaks" which is linked directly to my Garmin. I can add comments after every run for him. We chatted about how training was going here and any adjustments that he should make to the schedule.
Saturday: 17 mile long run
Sunday: Hot Yoga. I found a studio that was a 15 minute walk from my apartment called "Ziva Yoga Singapore." I will share more about that class in another post!
Total: 50 miles running with 2 speed workouts and 1 yoga class. I have also been consistently planking and doing push-ups after each run. Hopefully that helps!
So that's how Week 2 turned out in fitness. Let me tell you about Week 2 outside of fitness.
There's been a lot of THIS lately…
i.e. Talking to Dustin on Facetime while Tilda sits on his lap trying to figure out where my voice is coming from. Dustin tells me that she's "depressed" and really misses me. Gees, way to pull at a girl's heartstrings Dustin! I miss them both every day, and I even miss the cats, bless their hearts 🙂  But there are plenty of cats here wandering around. Actually, most of them are tail-less cats, kind of like the cats at Wild Rumpus!
I'm missing my family, but I feel like I am getting more comfortable in Singapore. I understand a bit more how to get around and have sort of found my "routine". I don't mind exploring alone. I am definitely a loner in that respect.
What am I eating…
Well, a little bit of everything. I'm trying to be adventurous and just go with the flow.
For breakfast, it's usually pretty tame. I head down to the free breakfast at the apartment and seriously load up a plate of fruit (<-I don't know what it is, but I can't get enough!), and then I try one or two of the other things they are offering that day.
For lunches, its way more fun to just let my team direct me, "I'll have what she's having please!"
For dinner, it would be really easy to go to a Westernized restaurant for dinner, but I feel like I'd be missing out on the whole experience of being in Singapore (plus its a lot more expensive!) I have decided I'll allow myself "American" food before a long run (there are a few decent Italian places near my apartment), but otherwise, I'm trying to get outside that comfort zone by heading to "hawker" centers and "coffee shops." Hawker centers are everywhere and are little pods of restaurant stalls with tables, etc.  If I go to a "hawker" area, I just look for the stall with the longest line and hope for the best! Usually that means it's good. That's how I ended up trying char kway teow at the Zion hawker center. Apparently, I made a good choice! I read up a bit after the fact and found out he is a very popular hawker.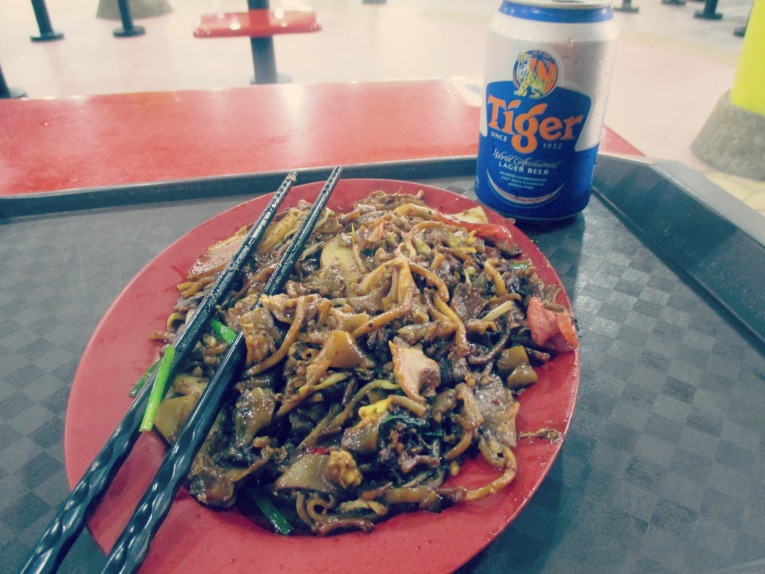 Char kway teow is literally "stir-fried ricecake strips", and its considered a national favorite in Singapore. Char kway teow is made by stir-frying flat rice noodles with light and dark soy sauce, a dash of belachan (shrimp paste), tamarind juice, bean sprouts, Chinese chives, lap cheong (Chinese sausages) and cockles.
Another local highlight was the kaya toast bread -OMG this stuff is addicting!
"Kaya toast is a well-known snack in Singapore prepared with kaya coconut jam (sugar, coconut milk and eggs), pandan, and sometimes margarine or butter.  It is generally served on toast, it is considered a breakfast staple, and remains popular in Singapore. The dish is sometimes dipped into soft-boiled egg."
This is my kind of breakfast!
I also tried bandung which, let's be honest, looks like pepto bismol, right? It's basically condensed milk and rose cordial syrup. It was just okay.
Of course, I have had a milk bubble tea, which was lovely! I enjoyed some hainanese curry rice, chicken rice with char siew, yong tau hu, and chai tow way (fried carrot cake, which is not carrot cake at all, but mostly potatoes!) I had ondeh ondeh which was a little coconut covered cakeball type thing, and kueh lapis, which looked like 7 layer jello to me but tastes like a cake. There was plenty more that I can't remember, or maybe didn't know what they were! The thing about Singapore is that they have every type of cuisine you can think of and its all very authentic.
I also had a Krispy Kreme. Yep.
Not exactly a local cuisine, but my coworkers walked over to a nearby mall over lunch because the second Krispy Kreme in Singapore was opening there and they were handing out free donuts.
I can't believe I came all the way to Singapore for a Krispy Kreme donut! Not just one, but I got a whole box for free, so I gave them to the others in the office.
I spent Saturday exploring Little India on my own, which offered up a whole different type of cuisine for enjoyment.  I took lots of pictures there and I will share those with you in a separate post.
What I'm excited about…
I booked a solo trip to Phuket, Thailand over Christmas. I feel so grown-up and independent! I have never gone on a beach vacation BY MYSELF. I figured that since I will be alone for the holiday, I might as well treat myself to some relaxation.
Phuket is only a 1.5 hour flight from Singapore. Everyone keeps telling me that I need to take advantage of Singapore being such a central hub in Asia for visiting other countries, so I went for it and booked a lovely resort for 3 nights/4 days.  Don't worry, I won't be running outside there. Any running that I do will be on the treadmill, as Thailand is not as safe as Singapore.  I respect the fact that there are risks as a female traveling by myself.  It would be different if I was traveling with Dustin, but unfortunately he can't come.
Other than that trip, it may sound like all I'm doing is running, working, and eating and I guess that might be true! The hours are pretty long at the office so I don't have a lot of time in the evening to do much. But the primary reason I am here is obviously work so its no surprise that I spend a lot of time there.
I'll be back in a day or two with more pictures from my exploration of Little India!
(Visited 235 time, 1 visit today)