Today's post is not about fitness or fashion, but I thought I'd share some pictures from my visit to Little India.
Saturday after my long run, I figured out which bus to take to get me to Little India. I am pretty reliant on two smart phone apps, "Go There" app, where you enter where you want to go from where, and it  helps figure out whether to take the bus or train and an "IRIS" app that gives you a lot more detail on each bus route. I am so thankful for my coworker for giving me his old Android (though I miss my iPhone) as it has been a huge help to have the ability to look up directions on the go!
Anyways, back to Little India.
From this source,
"Rich in culture and deeply rooted in tradition, Singapore's Little India invites you to excite your senses. With a surge of flavours, sights, sounds, fragrances and an ethereal feel, Little India is a melting pot of all things Indian. Proud to be 'loud', Little India boasts of streets that offer experiences unique only to India. As the merchant tries to sell you his wares and the mitthai-vala tries to get you to taste his savouries, you can be sure to be enticed and lost in a rush that is Little India. As you discover something new around every corner you turn, have your fortunes told by parrot fortune tellers, sip a cup of chai (Indian tea), take in the fragrance of fresh flowers and get a henna tattoo (mehendi) by professional artists.
Temples and heritage sites that talk of a culture of the years gone by adorn the streets of Little India depicting an aspect of devotion that that is engrained in every Indian. With a blend of the old and the new, Little India today embraces a lifestyle that is ever so dynamic, colourful and dramatic."
I was advised by my coworkers not to go to Little India alone at night. It sounds like some locals are still a little hesitant to go there after there was a riot last December. I'll be honest that I felt like I stood out a bit. The blond hair doesn't allow me to blend in very well. But I never felt unsafe, even when I got caught in a torrential downpour (more on that below).
I arrived off the bus near Serangoon Road, which is the primary thoroughfare through the neighborhood.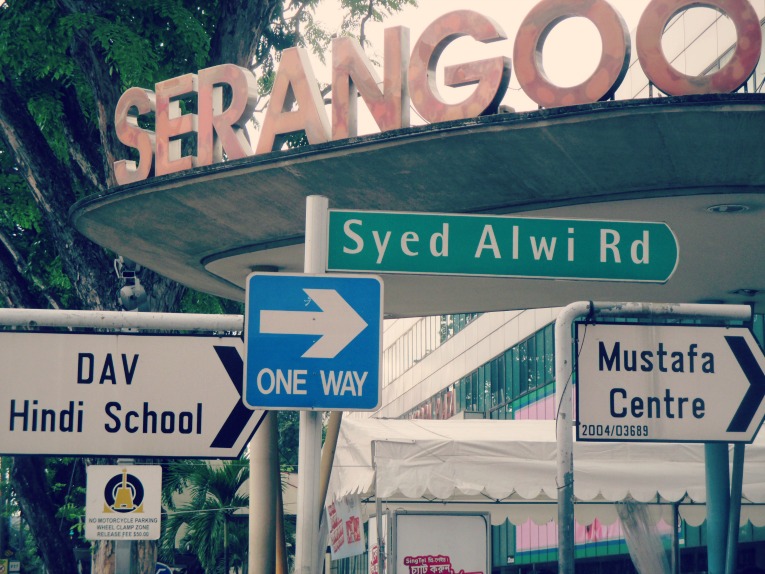 From there, I decided to check out the Mustafa Centre. This is a 24-hour shopping mall, but not just any shopping mall. Its like all of Costco shoved into a tiny shopping center. I was a bit overwhelmed, and I only saw a tiny part of it! I got lost just in the flip-flop section…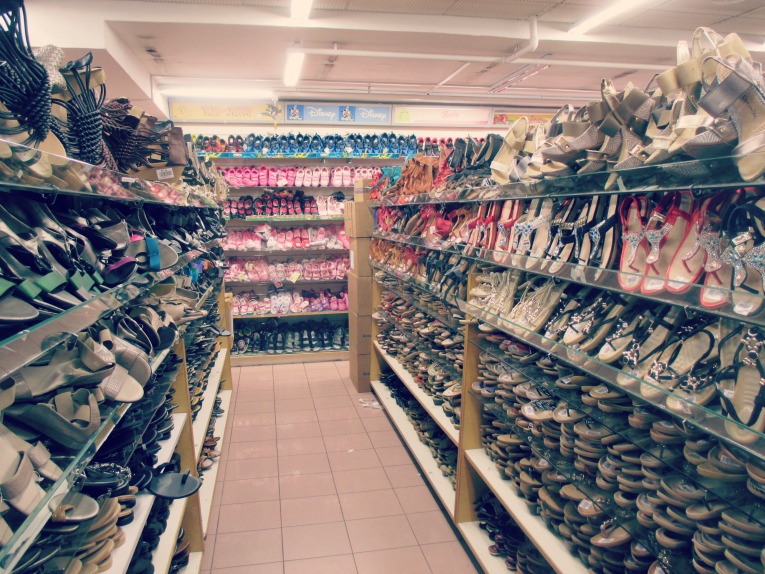 Honestly, I couldn't handle the Mustafa Centre for very long, so I left and wandered more streets, trying to take in the sights and sounds and smells. Eventually, I needed lunch, so I pulled out the old smartphone and checked to see what TripAdvisor recommended. Anjappar had good reviews, so I enjoyed a wonderful lunch there of special anjappar dry chicken marsala with a glass of their house special lime juice. The chicken was spicy! Whew.
After lunch, I wandered some more but then it started to rain. Fortunately, I was close to the Sri Srinivasa Perumal temple, one of the oldest temples in Singapore.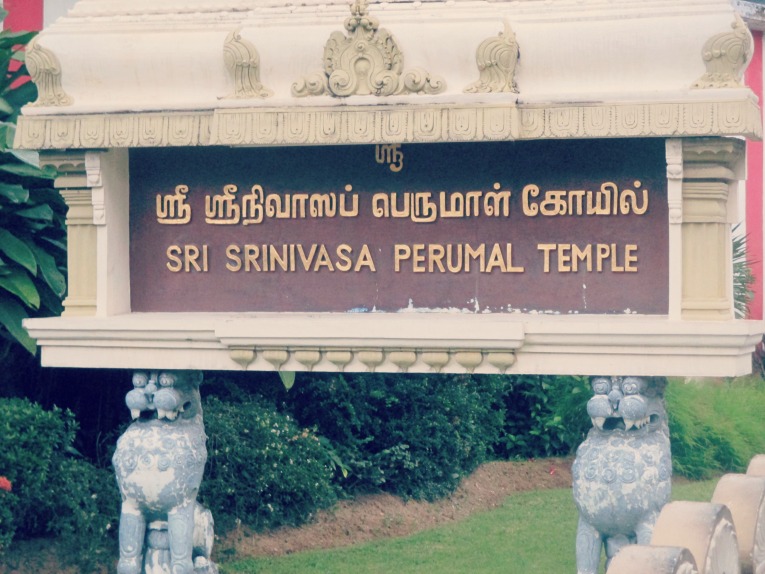 The temple is open to the public. Pictures are allowed with no flash. You must remove your shoes before entering.
Bye bye Sanuks (most comfortable sandals ever, by the way…)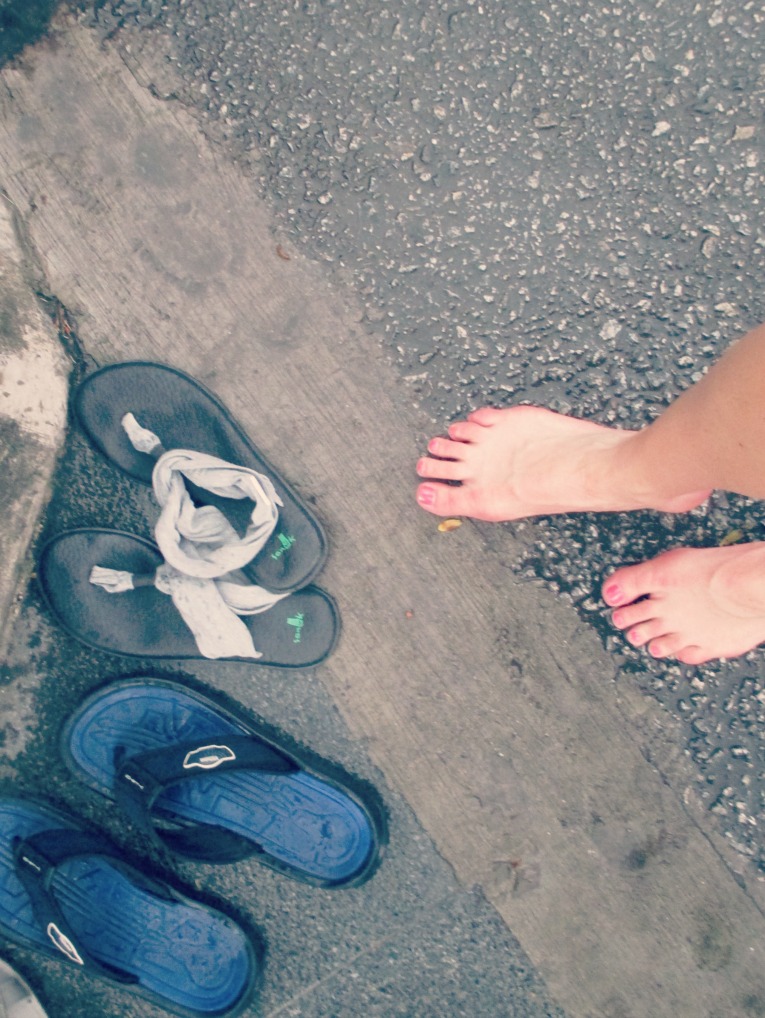 I felt a little out of place inside the temple because there was a ceremony going on, but I had definitely read that tourists are allowed.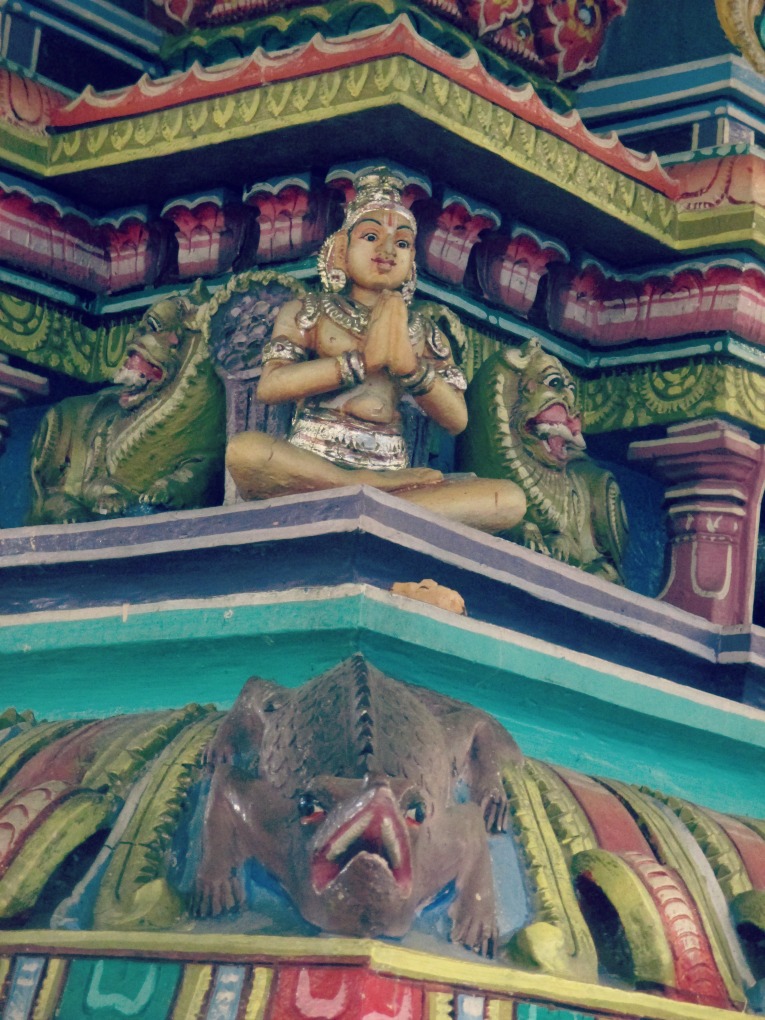 The temple was very colorful and each god had their own little area.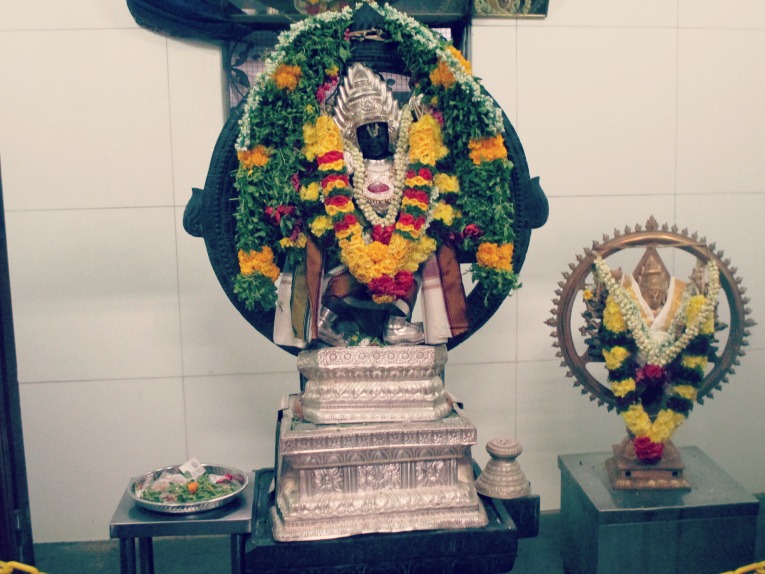 I was interested to see that there was a lot of milk offered to one of the gods. I tried to research it after I got home, and I think its an offering for Shiva for marital bliss and fertility. Anyone know if I'm close to the correct answer?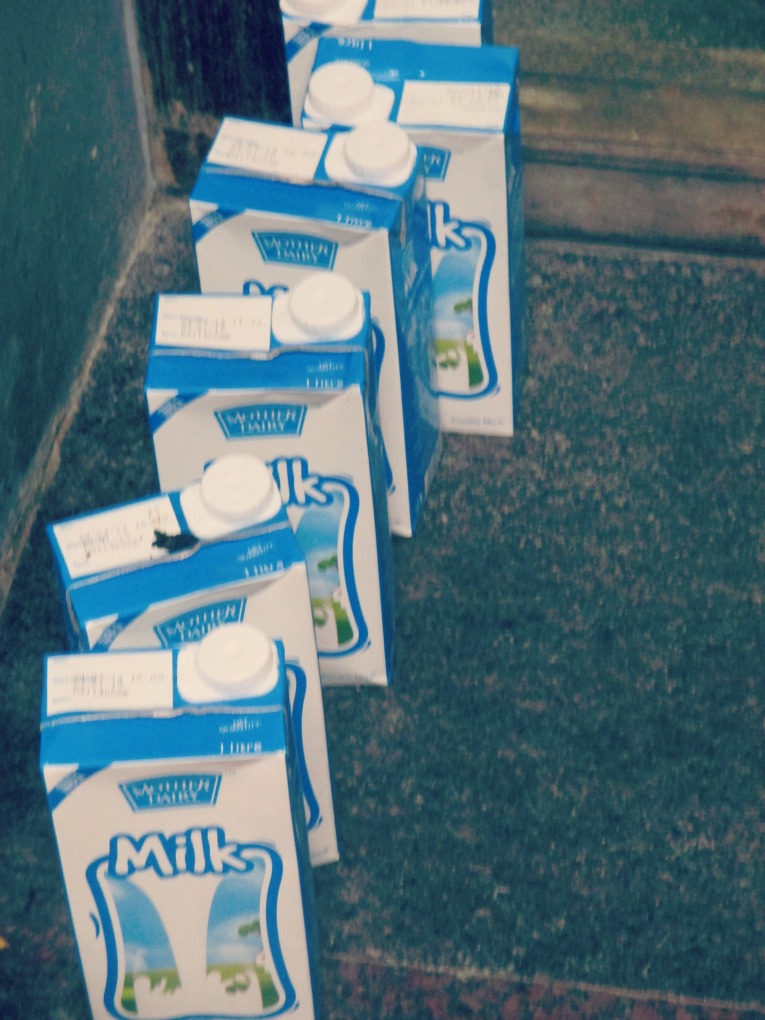 This is the view from the outside of the Sri Srinivasa Perumal temple.
I also stopped by the Sri Veeramkaliamman temple, but it was closed to the public that day.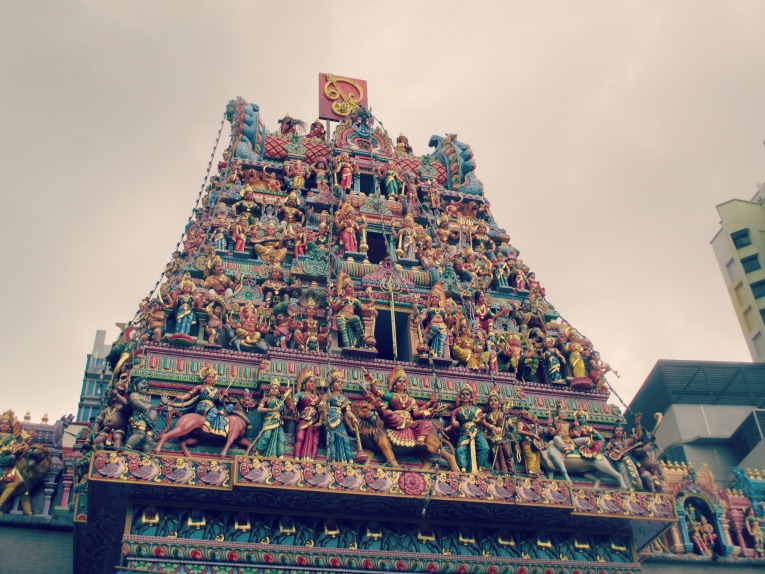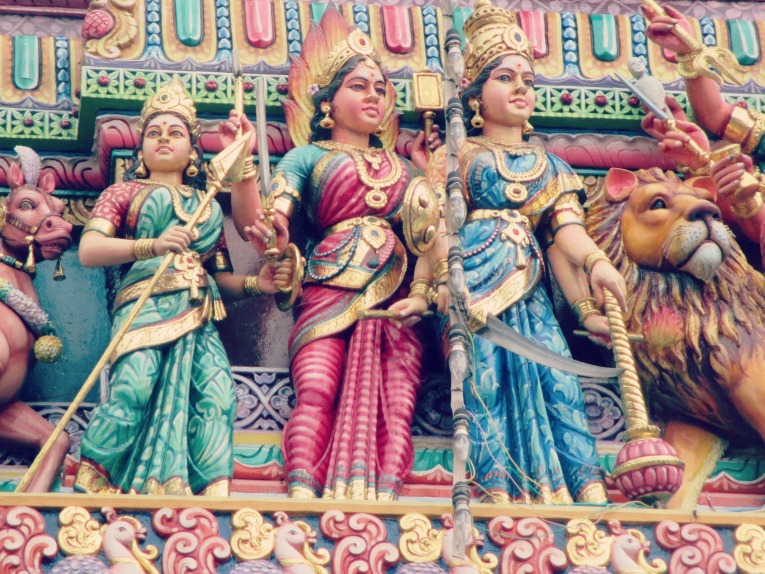 By the time I came out of the temple, it was a torrential downpour. I had been warned that its the monsoon season and I should never leave home without an umbrella, but I didn't listen.
I was a bit of a walk from the correct bus stop to get me back to my apartment, but I sprinted through the rain when I had to and took cover under awnings on the streets when I could. Little India wasn't quite as charming under the pouring rain! By the time I found the right bus stop, I was ready to head back to my apartment and relax.
There is so much more to Little India (so I have read!) but my trip was cut a little short due to the rain. Lesson learned. Always bring an umbrella! I still am glad I made my way over there during this trip as it was still interesting and educational and offered one more insight into Singapore.
(Visited 490 time, 1 visit today)