Isn't this sports bra the most beautiful one you've ever seen? It's the Oiselle Spandos Jane Bra. I just love the pattern. It comes in several other fun colors, but the "Red Waves" pictured above was by far my favorite.
I have worn this new bra for several runs and its quite supportive. The straps are adjustable, which is fantastic.

Unlike some of the other Oiselle bras that come in regular bra sizes (A, B, C, etc), the Spandos Jane Bra comes in extra-small, small, medium, large, and extra-large.
I bought mine in a  'medium.' Per the size chart, this corresponds to a 34.  I usually prefer when sports bra have sizes similar to regular bras (34B, 36C, etc) but the adjustable straps give it a more customized fit. The medium fits will around my rib cage- snug but not compression-like.
What else did I love?
The bra is tag less and has streamlined seams. No chafing!
It's supportive yet flattering.
Removable cups.
The material is 21% spandex- "SPANDOS" in Oiselle terms. It kind of feels like a swimsuit. In fact, it might actually make a really nice swimsuit 🙂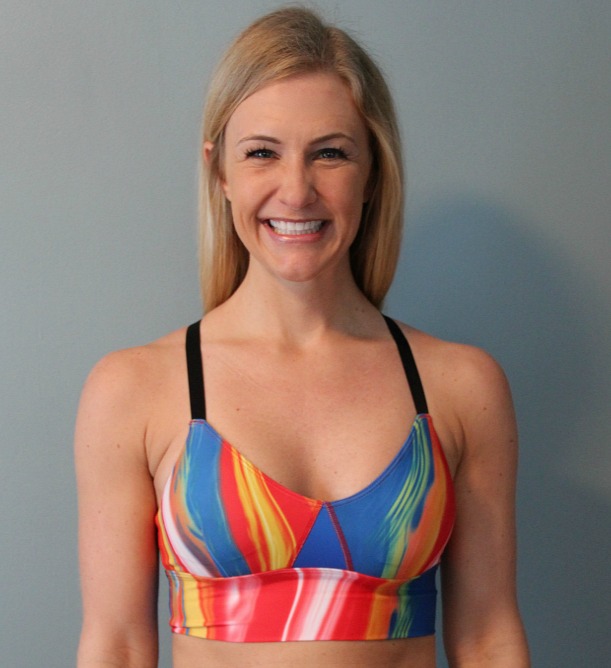 From Oiselle:
"This is a sports bra playing dress up. It's fun for sure, but it's still designed to be fierce. In addition to the premium interlock fabric used throughout the body and chest band, the Jane Bra uses a strong and compressive poly/spandex mesh liner (same as the interior of the original Lesko Bra), which makes it a functional (high impact for A-C) as well as street-style-worthy running bra. Better yet, play it up with shorts, jeans, a skirt… it's the long bra of 2016.
High Personality. High Performance.
Spandos marry the fun of self-expression with the seriousness of technical training apparel.
– Continuous Design – Smooth, streamlined seams and silhouettes. Tag-less design.
– Made In The US – Locally manufactured. Printed and produced by our partners in California.
– Premium Interlock Fabric – A technical fabric with great stretch, recovery, feel, and finish.
– Handpicked Prints – Curated collection from our partner's LA print library
– High Saturation Printing – Special sublimation printing process produces quality, vibrant color without fading or bleeding.
"We combined hand-picked prints that are beautiful and strong, amazing fabric as soft as it is compressive, and silhouettes that flatter and perform to bring you Spandos. Playful prints made for fierce women." Stephanie Peters, Oiselle Product Design
The bra is a little pricey- $64. But I feel that Oiselle gear is worth the price tag. The design makes it unique; the quality makes it functional.
I'm going to keep my eye out on the Oiselle website and on Amazon just in case I can find another one of these awesome bras on sale.
Matilda liked it too!
(Visited 950 time, 1 visit today)