Wow, only 10 weeks until the Boston Marathon! Training is flying by. This week was a huge cutback week as I went on a ski trip to Montana with my sister, her husband, her husband's sister and husband, and Dustin, of course.
It was a blast, but we didn't squeeze in a ton of running. Here's how it all worked out:
Monday: 7 miles easy with my friend Christie before work, 9:05 min/mile average.
Tuesday: "Easy" tempo: 2 mile warmup, 3×1 mile at 7:30 with 3 minute recovery, 2 mile cool down. 9 min/mile average as I had a bathroom stop in mile 2 (it happens) and kept my Garmin on for "honesty" sake. The trails were super slick- it wasn't my best workout. 8.1 miles total.
Wednesday: 8 miles on the treadmill before work, 9 min/mile. Another 5 miles on the treadmill at a 8:45 min/mile before catching a flight to Bozeman, Montana! 13 miles on the day.
Thursday: Dustin and I were up early to run: 7 miles on the treadmill at Lone Peak Physical Therapy/Gym in Big Sky, Montana. They offer a $70/week two person pass for the week. It worked perfectly for our needs. A daily drop in was $15/person, which is what we should have done, but I wasn't sure about the weather, so I just bought the full week option just in case we needed it a lot. It was really cold when we first arrived in Big Sky, so I thought we might have to do all our runs on the treadmill, but it did warm up, so we were able to run outside later in the week.
Cross-training? Snowboarding the rest of the day at Big Sky!
Friday: Rest day from running, another full day on the mountain snowboarding. So much fun!
Saturday: 13 mile long run/hike with Dustin, 9:30 min/mile average. We had some 12 minute miles in there, as it was more of a hike in several spots- altitude, hills, snow- it wasn't easy, but it was a very pretty run! We fell upon a side hike up to Ousel Falls.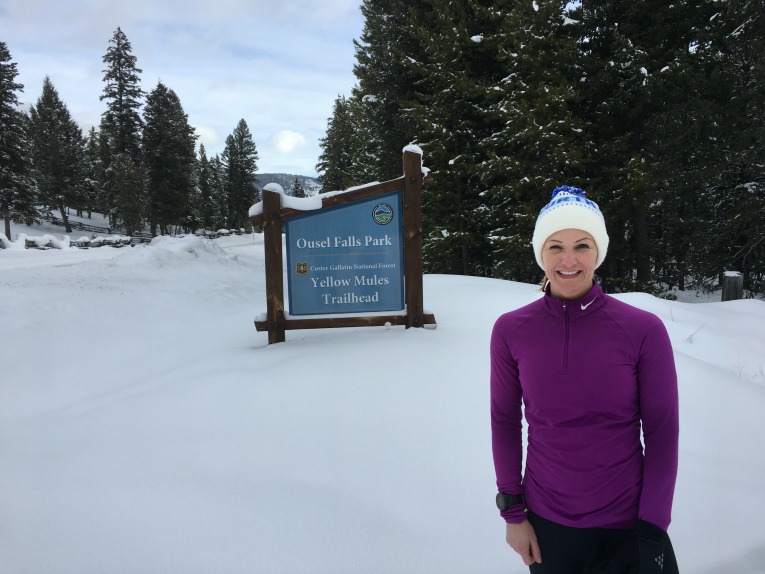 This hike added about 1.6 miles on where we weren't really running, but were just hiking slowly up to the falls.
The falls were frozen and covered in snow- not too much to see really, but the hike/run to the falls was very pretty!
We took the rest of Saturday off from skiing and spent the rest of the day in Bozeman and then at the Norris Hot Springs.
Sunday: Another rest day from running and another full day of snowboarding at Big Sky.
Summary:  48 miles, lots and lots of snowboarding. This was quite a cutback week with two rest days and a much shorter long run (last week was 20 miles!) But my coach knew that I would be on vacation so he made the schedule work for my personal life. Definitely a 'bonus' of having a coach and a customized training plan.
I'm going to write another post, "Fits on the Road- Big Sky/Bozeman" as I didn't want this post to be too long. Stay tuned for more details on our trip!
As always, I'm linking up with Jess at Jess Runs ATL. Join us!

(Visited 410 time, 1 visit today)