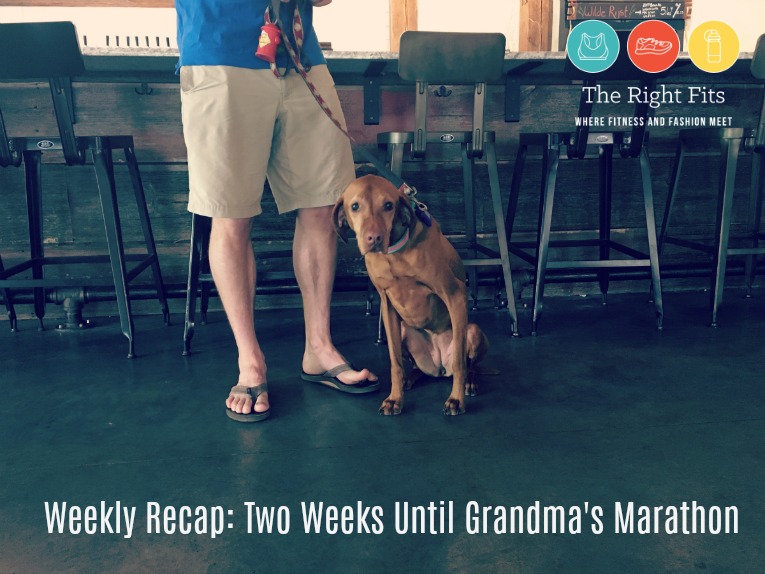 Two weeks until Grandma's Marathon! I'm keeping my fingers crossed that the weather is much cooler in Duluth…I love this summer weather, but not for running!
Here's a recap of how this past week went:
Monday: We were still in California. I took this as a rest day.
Tuesday: Our flight landed around 3 pm, so I did my run around 4 pm. My legs were heavy from traveling, my IT band was really sore, and let's just say it didn't go that well. 9 miles at an 8:43 min/mile pace, but there was some stopping to stretch that the Garmin didn't catch…
Wednesday: 5.5 miles in the morning. Barre after work.
On the morning run, I was really compensating my form because of my sore IT band; I recognized I probably shouldn't be running. I already had an appointment for Thursday at Orthology, but I called and added a second for Friday.
I wrote this post about Orthology's process and since trying them out for the first time two years ago, I have gone back to them over and over for a variety of issues and they are always able to help.
My issues are definitely IT band related; I'm sure its because I have been slacking on glute exercises. I was doing an occasional solidcore class, but to prevent IT band syndrome, at least for me, I need to really focus on targeted glute strength, like the kind you get at a barre class.

Going to barre classes regularly had prevented this injury for me for many years, but I hadn't been going very much leading up to Boston or after. I won't let that happen again!  I am also doing these exercises after each run and time permitting, some of these exercises BEFORE a run. I recommend this routine- my PT and running coach both agree it's a good one!
Thursday: I took this as an extra rest day from running. I went to barre in the morning and then had my Orthology appointment over lunch. The team there believes that the way to treat ITBS is with targeted massage and strength; they don't think you have to STOP running. In fact, my doctor encouraged me to run Friday morning so that my leg would be "sore" for the second appointment with them that week. They did some very intense soft tissue work, but I felt a whole lot better afterwards.
Friday: Easy 4 miles with Matilda in the morning, then an Orthology appointment at 9 am. The Eden Prairie location that I go to is right by my work and the appointments take less than an hour so its not too bad to squeeze them in. And they really help. I seriously think they are the best. Just go there next time you have an injury and let me know what you think. I'm their biggest fan!
Saturday: 14 mile long run. It was a struggle, but not really because of the IT band, but rather just because of the heat. Man, I was not ready for mid-80's and direct sun….Hot!
I was in good company though, as all the girls I ran with were feeling the effects of the heat as well. We were all having a tough day.
But I finished and my IT band wasn't terrible.
Two remarkable items from the run:
First, I saved this huge snapping turtle who was trying to cross a busy road. He wasn't happy about it, but I picked him up and moved him back to safety.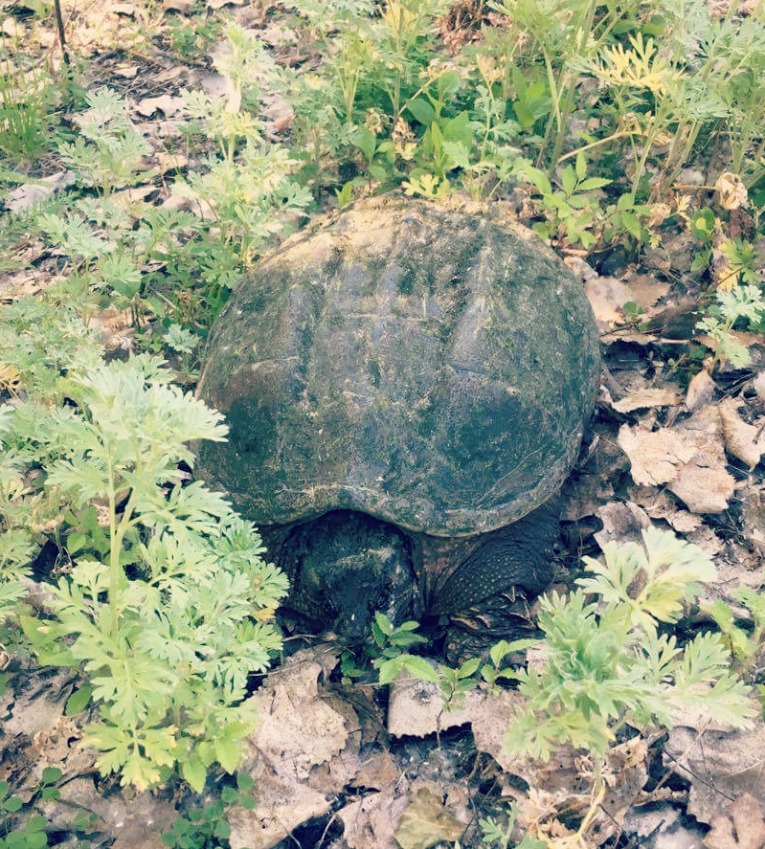 Second, when I went to hop in the shower after the sweaty long run, I thought for a second I had an unbeknownst-to-me tattoo! But alas, it was just a plant…
Hot run= tough run. IT band pain? = just okay. Of course, I spent time icing, heating then doing my IT band exercises (such a process!) post-run.
Eventually, we took Matilda to the airport dog park, after which we decided to use our Sidewalk Dog Pub pass for a few beers since it was such a nice day. If you have a dog and you like beer, you should get this pass! It's $20/person for a beer at 16 different local breweries. We bought one for each of us. All the proceeds go to a great cause!
Matilda loved hanging out at the Lakes & Legends brewery (probably because she saw her human friend Vicki, Breck's mom!) Lakes & Legends is the first brewery in Minneapolis to 'officially' allow dogs inside, not just on sidewalk/patios. Love it!
Second, we stopped by Sisyphus. We saw a few dogs go inside, but we stuck to the picnic tables outside for a beer instead.
Tilda doesn't always love to be on a leash, but she was relatively well-behaved at both breweries. It helped to wear her out at the dog park first. However, she was scared of the motorcycles that came past at Sisyphus and hid under the picnic table. I guess she's about as big of a fan of motorcycles as I am…
Sunday: Another barre class at The Barre. Since the art fair was going on at 50th/France, I actually biked to class (less than 2 miles- not that impressive, ha!); parking would have been tough, so biking was much faster.
After barre, I did a quick 4 mile run. I ran around 10:45 am…it was so hot by then! Yowsa.
After a quick shower, we had a puppy introduction/play date with our friend's new puppy Kirby!
What an adorable little furball.
Tilda was more interested in chasing chipmunks than playing though.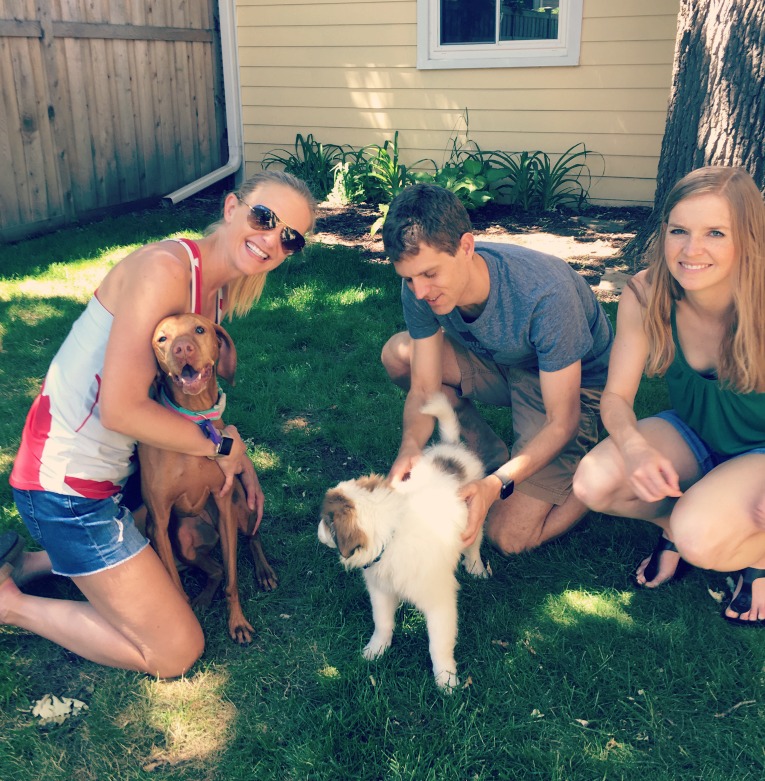 We spent the rest of the afternoon wandering around the Open Streets Minneapolis festival on Lyndale Avenue. It was a HOT one out there, but great people watching.
Summary: About 37 miles of running and three barre classes. There's going to be a whole lot more barre now on these weekly recaps, mark my words!
And that's a wrap! Join Jess and me for our weekly link-up to share your training this past week 🙂

(Visited 378 time, 1 visit today)