Happy Sunday! I hope you are having a wonderful weekend. I'm here with my weekly recap of training for the Boston Marathon- only 5 weeks to go!
I'm linking up with Jess at Jess Runs ATL; details below if you want to join us.
Here's how my training went last week:
Monday:  1 mile warmup, 8 miles at a 7:40 pace, 1 mile cool-down. I did this before work so it was hard to get to that 7:40 pace so early in the morning, but I did my best. 10 miles total at 8:12 min/mile average.
When I got to work, I drank this cashew bliss drink from Juice So Good (a local company). Good, it was!

Tuesday: 8 miles easy before work, 9:15 min/mile pace. 45 mph wind gusts! It felt like I wasn't even moving at some points in the run. Ugh! 5 more miles on the treadmill after work at a 9:20 min/mile pace. I had had enough of the wind; the treadmill was a better choice for me 🙂 13 miles total for the day.
Wednesday: Man, it was SO windy this day again! I was supposed to meet some friends before work, but we all cancelled due to the crazy winds. I took a half day off of work as I was heading to Detroit, so I was able to fit in a run around 1 pm with Matilda in the sunshine. Still windy but not quite as terrible. 8 miles at an 8:30 min/mile pace.

That evening, I hopped on a flight to Detroit, where I met up with my sister Erin for the RRCA Coaching Certification course. The course is offered across the country at different times of the year, though they seem to fill up really quickly. I was never able to get into a Minneapolis one. We picked Detroit because it was drivable for her and a short flight for me. It also happened to be held during the annual RRCA convention, which made it a 3-day course for us (more breaks for events that were part of the convention) vs. a 2 day course as the level 1 certification normally takes. It was fun to be part of the rest of the convention though- I'm glad we did it that way. I'll share a bit more about our time in Detroit and the course in another post.
Thursday: Erin and I were up early for a run along the Detroit Riverwalk. I joined her for her tempo run- 2 miles easy, 2 miles at an 8:30 pace, 2 miles easy. I added on one extra mile on my own to get to the 7 on my schedule. 7 miles at a 9:12 pace.
The rest of the day was spent in a classroom learning about coaching. So much information!
That evening, we decided to drive across the border into Canada for dinner, which was fun. You can take the bridge or the tunnel. Apparently, the Detroit marathon does both; I'm kind of interested in running that one, even though I already ran a marathon in Michigan. But it's the only US marathon that crosses a border!
Friday: The coaching class didn't start this day until 10:30, so I decided to squeeze in my long run before class. Erin joined me for the 3 warm-up miles along the Riverwalk before I split off to head to Belle Isles for a few laps around this little recreational island.
This picture is from the island looking back at Detroit. The sun was shining but it sure was windy!
I was supposed to do 12 out of the 16 at goal marathon pace. Well, I did about 7 at the goal pace and then my shin started to really hurt. The pain in the shin was very similar to what I experienced before the London Marathon. If you were following my journey back then, you'll remember that I had a stress reaction a few weeks before the race (or was it medial tibial syndrome? Orthology seemed to think so since my MRI didn't show anything with regards to a fracture.) I was able to work through the injury then with the help of Orthology; I still ran the London Marathon successfully. The pain I felt on Friday felt somewhat similar to that time, except on the outside of my shin instead of the inside.
(Catch up my previous injury in this post)
Even with the pain, I was able to complete the 16 miles at an 8:40 average pace, but my shin was really sore afterwards. I spent the rest of the day icing my shin and freaking out a little bit. I quickly made an appointment for Monday morning at Orthology. I also sent an email to my coach, who told me to take Saturday as a rest day.
Saturday: Complete rest. This worked out well since it was the last day of the coaching certification, which went from 8-5.
The day ended with a reception with Desiree Linden as the keynote speaker. Erin and I actually ran into her in the bathroom beforehand and got to chat with her a bit. She was so cool!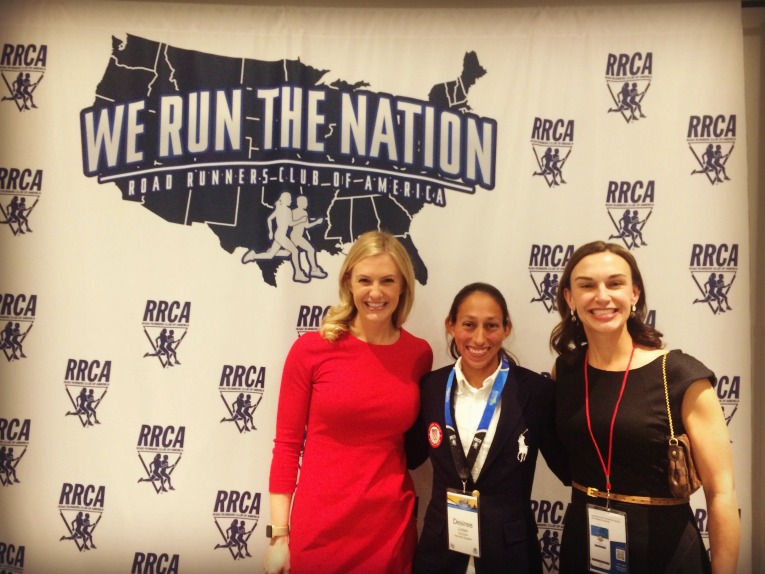 Sunday: Complete rest from running.  I took my coach's advice one step further and didn't run today either. I'm not in pain anymore, but I want to be careful. Boston is only 5 weeks away. I'm hopeful that whatever is going on with my shin will be cured with a little time off and of course, some help from Orthology.
I think this is my body's reminder to me that I am not invincible. I haven't increased my mileage too quickly or changed anything, but I am probably putting a lot of stress on my body with so much running. I'm definitely on the paranoid side with regards to injury and I'm quick to go to the doctor, but I'd rather figure 'niggles' out before they become full blown show stoppers, you know? I'm keeping my fingers crossed that I can stop this issue now before it affects Boston. I feel confident that I know the difference between pain and just discomfort from running/training hard. This was pain and I am listening to my body and easing off a bit.
I did fit in an early evening barre class at the Barre. Again, no shin pain and it felt good to do some strength and stretching. I'm fairly confident that no matter Orthology says is wrong with me tomorrow, there will be some comment about it stemming from weak glutes. More barre will help with that!
Summary: 55 miles of running, 1 barre class, more rest days than usual. I missed two runs- my schedule would have had me around 70+ miles again, but that's just fine if its means I can fend off this injury!
I'll be back later this week to share more about my time in Detroit and the coaching class. For sure the two highlights of the trip were going to Canada and meeting Desiree Linden 🙂

(Visited 434 time, 1 visit today)