Happy Sunday! I'm linking up with Jess from Jess Runs ATL today with my weekly recap. Details below if you want to join us!
Monday: REST day from running.
It had been awhile since I had a rest day. Of course, what's a girl to do with all that free time, right? Ha! So I went to a [solidcore] class since I hadn't been in quite some time and man was I sore afterwards. I just love that class.
Tuesday: The soreness from the class wasn't actually too bad on Tuesday morning- it got worse as the day went on (DOMS- delayed onset muscle soreness) so I don't think the class affected my run (hopefully).  The workout was my coach's notorious 15-10-10-5 workout: 1 mile warmup, 15 minutes at 10k pace, 5 min recovery, 10 min around 5k pace, 5 minute recovery, 10 min at 5k pace, 5 min recovery, and the final 5 minutes as fast you have left. 1 mile cool-down.
10 miles total at 8:22 min/mile average.
This workout went better than it did the previous two times I did it, but by the final five minutes, I was pretty spent and it ended up being the same pace as the first 15 minutes which was not supposed to happen. Doing such a long run before work, without any fuel or hydration, didn't help either. BUT, I was so, so glad that I did it when I did as I was at work quite late. Morning runs are the only real option.
It was nice to to have the sun coming up by the time I finished too! I didn't even need my Zephyr light.
Wednesday: Easy 8 mile recovery run, 8:50 min/mile pace. It was snowy/slippery in the morning and I didn't want to run on the treadmill. I was stuck at work until 7:45 pm, so I ended up running this one quite late. I wasn't done running until about 9 pm. Ugh.
Thursday: 300m hill repeats! I was proud of myself for doing this in the morning, especially after a late run on Wednesday. 2 mile warm-up, 8x300m hills, with recovery the length of the downhill, 2 mile cool-down. 8 miles total at a 9:20 min/mile pace. Hills are hard. 🙂
When I came home, Matilda was all cozy on the couch under a blanket. I was very jealous of her- it would have been so nice to do the same!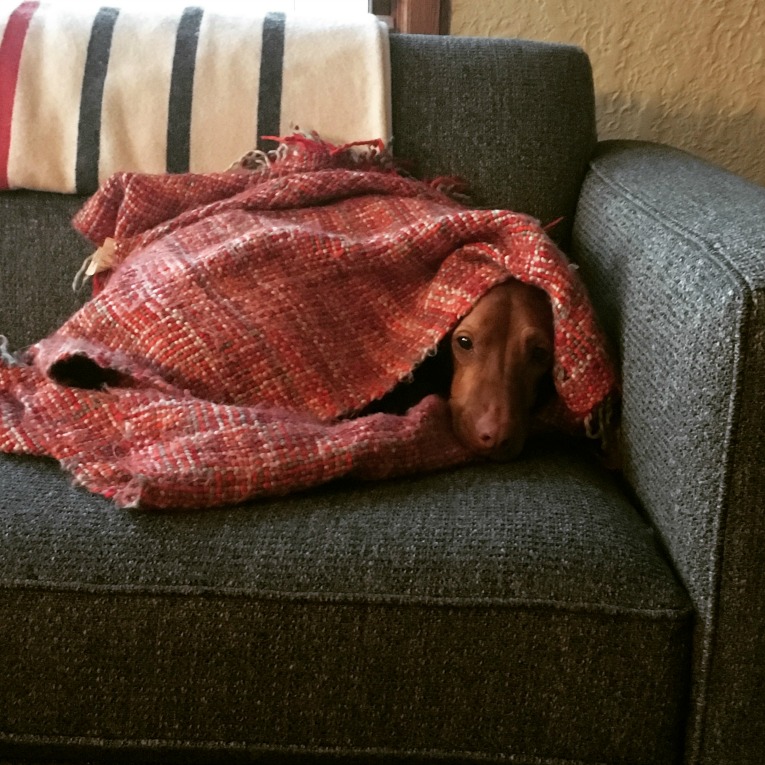 Friday: 8 miles recovery with my friend Christie before work. Another [solidcore] class.
Saturday: 20 mile long run- my 3rd 20 miler of the Boston training season.
We did a hilly route out past Theodore Wirth; we had the ski chalet at Theo for a water stop/GU, but I needed a lot more fuel than that for 20 miles. By the final 3-4, I was really struggling. I started to feel a little lightheaded and my pace slowed significantly. I need to start carrying Gatorade on such a long run. Our club usually hosts support stops but since I have my own running coach, I'm not on the exact same schedule as the people in my running club that are training for Boston. They actually had a cutback week with only 14 miles, so there were no volunteers to host support stops for the club. Lesson learned- carry hydration and GU more frequently!
The lack of fuel led to a tough recovery; we had brunch at Wise Acre Eatery which helped (that is a glass of their house made kombucha!)
…and then I crashed for two hours. Generally the 20 milers don't do that to me, so I really think it was a lack of calories during the run combined with dehydration. Not smart…
On a brighter note, by the evening I was fortunately feeling back to normal. We met our friends Monica and Pete at Can Can Wonderland– have you been? Such a fun place!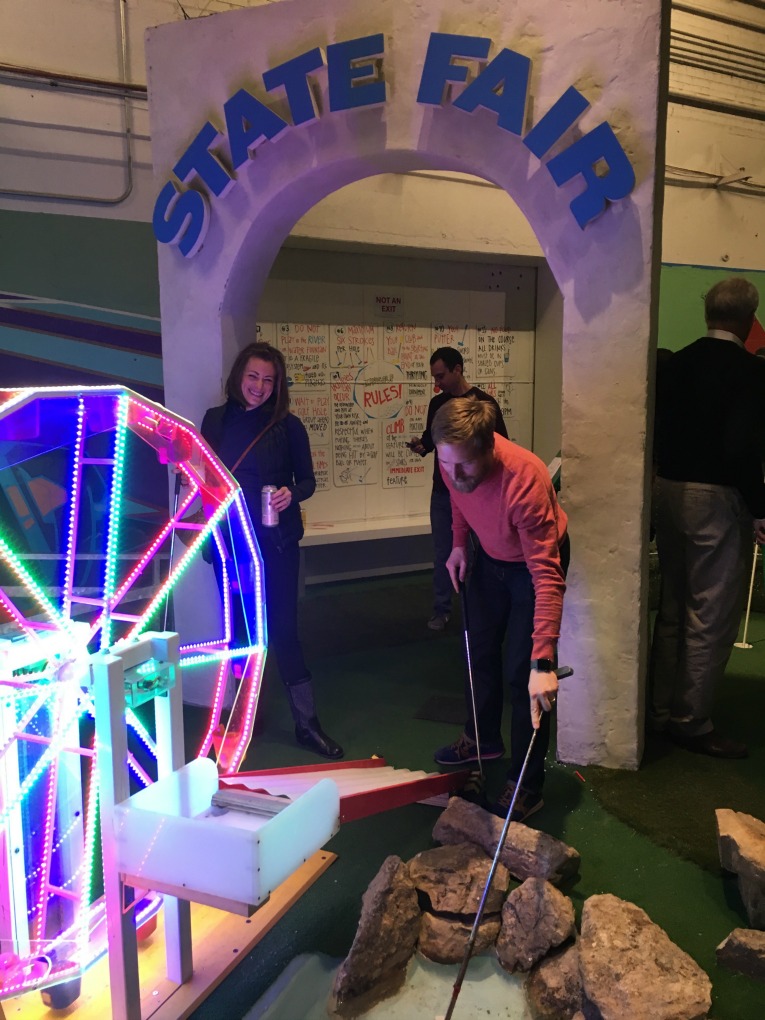 Artist designed mini golf.
If you decide to check it out soon, there will probably be a wait. We put our name on the list for golf and there was a 2.5 hour wait, so we left, ate dinner, and then came back to golf. It's quite popular right now, but definitely for a reason. It was a very fun evening.

Sunday: Early 7 mile run with my friends Tricia and Vicki. 9:05 min/mile average.
Summary: 62 miles of running, 2 [solidcore] classes

Overall, not a bad week. Lower mileage than the past few 70 miler weeks but still some big workouts.
Next week will be a little interesting as I am heading to Detroit to get RRCA running coach certified! I don't know for sure if I'll actual try coaching anyone, but I think the knowledge will help me with this blog; plus, it's obviously something that I am really interested in.
That's about it from me this week. I hope you had a great week in fitness and fitness fashion 🙂 Speaking of fashion, I was browsing a few catalogs this morning, and I came across this picture. Are socks with Birks back? I love my Birks but I'm not sure about socks and birks. Apparently it's a thing.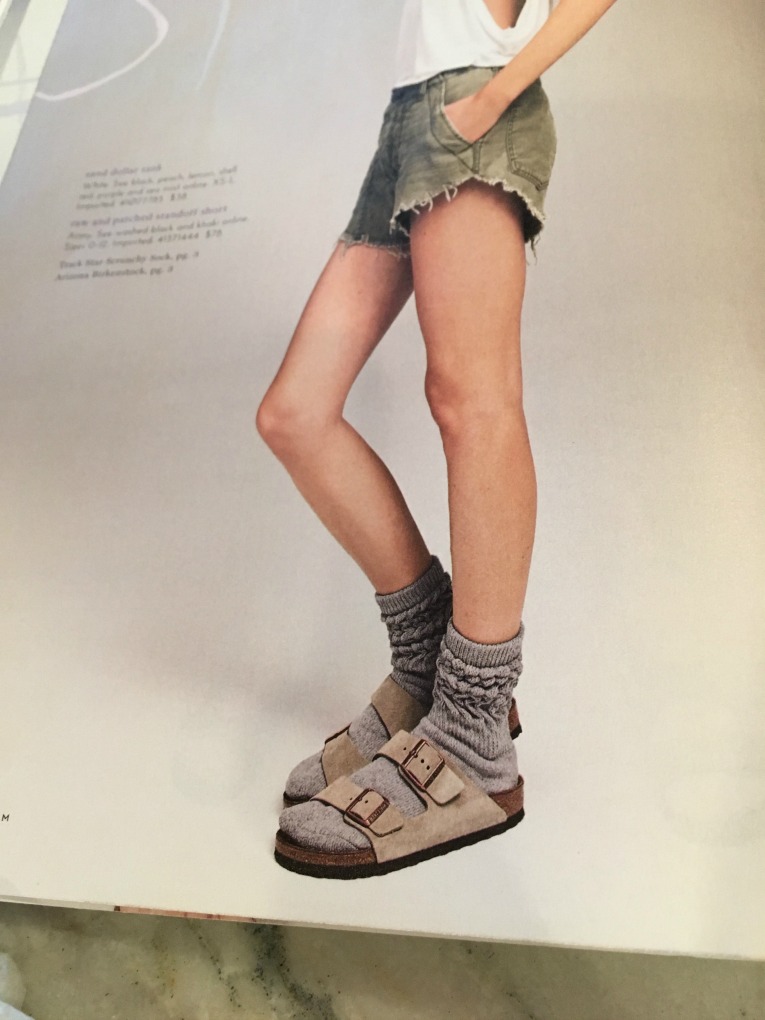 (Visited 406 time, 1 visit today)