Last Wednesday through Sunday, I was in Detroit, Michigan. The primary purpose of my visit was the RRCA Level 1 Coaching Certification Course. It was also just a fun weekend with my sister Erin, who decided to join me in the course. This post is a recap of our weekend and short summary of what I learned.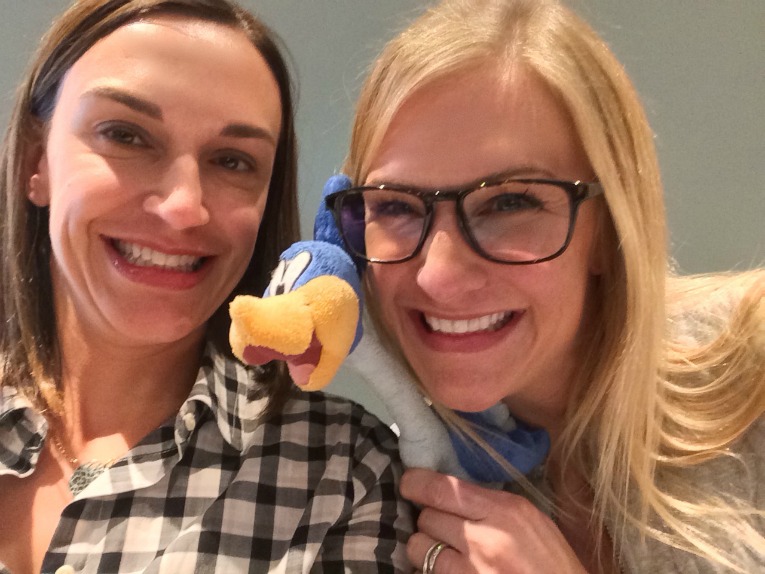 The Course:
The RRCA Level 1 Coaching Certification usually takes two days, but ours was spread out over three days because it was part of the annual convention. There was time built into the class to allow participants to attend luncheons and other events that were part of the conference.
Usually there is just one instructor for the full course, but ours was led by Randy, Cari, Bobby, and Brent- basically all of the RRCA coaching instructors. I found the variety of instructors to be valuable as it gave us a diverse perspective; each instructor had a different background and general 'coaching philosophy' so the variety of viewpoints was wonderful.
The course is $325 but we had to pay a bit more since we were part of the convention. After the in-person section of the course is complete, you have to pass a 100 question exam within 30 days and then complete your First Aid and CPR certifications in order to actually become a certified coach. I'm in the process of taking the test right now (it's open book.)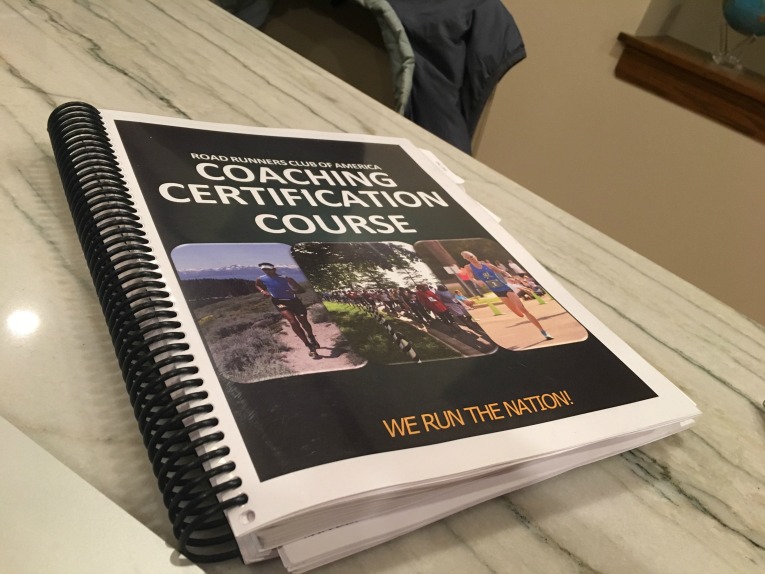 USATF is the only other coaching certification that I know of. I am sure the both are great- maybe I'll take the USATF one next!
Overall, I really enjoyed the RRCA certification; I learned a ton. Sure, I have some marathon experience, but there is a difference between coaching and running. There is a lot to learn. But what can I say, I like learning. I've always been a bit of a "school nerd" though. I love learning, and learning about something that I love as much as RUNNING is even better! But the course wasn't just for fun- I am considering coaching some athletes- maybe novice marathoners (let me know if you're interested!) Additionally, I think it was valuable for me to attend so I will be better able to answer questions here on this blog- questions from you guys!
Main Topics of the Course:
I am not sure how much I am "allowed" to share with regards to the content of the course, but here are the main topics we covered:

The history of coaching
Types of runners and their training needs
Physiology of running
Nutrition for runners
Managing injury
Running in heat, cold, and altitude
Sports psychology
*Periodization/Creating a Training Program
Different types of workouts
Running form and drills
Coaching as a business
Creating your brand as a coach
*Periodization/Creating a Training Program:
This was probably the most important takeaway from the course. It involved actually putting together effective plans to help people reach their goals. We discussed plans as a group, worked on them individually, and broke off into teams to develop them even more. This was definitely a huge focus of the certification.  A training plan will vary considerably for each person, based on their strengths, work and life restrictions, injury status, base mileage, race experience, abilities, etc so there is a lot to consider.  We learned how to incorporate all of that into personalized training plans.
The Other Participants:
The class was made up of quite the mix of new and experienced runners and people who have already been coaching, both at the high school and college level, or Girls on the Run, Couch to 5k, adult coaching, etc.
Running Statistics:
I also found some of these statistics that were introduced in the class interesting:
The "average" runner in the US is 39 years old for females, 44 years old for males.
65% of US runners are married, ~75% are college educated, and ~75% earn a household income of over $75,000.
Female runners have been running about 10 years (14 for men)
49% of female runners and 66% of male runners have completed 1 or more marathons
Average weekly mileage is 20 miles for women, 25 miles for men.
I shared this picture on instagram, which garnered a lot of different opinions. What do you think? Is running no longer a solo endeavor? Let me know!
If you have any specific questions on the certification, please ask.
Where to Stay in Detroit:
We stayed at the Detroit Marriott at the Renaissance Center because that's where the training and convention were held. The conference center was HUGE so it could be a little confusing. But don't worry, I found the Starbucks inside right away. Whew.
My only complaint is that the hotel was overrun by hundreds (thousands?) of high schoolers who were there for a DECA competition. SO. MANY. KIDS. I know I sound like an old lady, but they would do things like push both the up/down button on the elevator for fun, or cram as many of them into the elevator as they could for a laugh (while we were in there.).
Erin and I were on the elevator with Desiree Linden at one point; we didn't see her in the corner at first because there were SO many high schoolers on the elevator but when we did see her, she was rolling her eyes about the high schoolers- so it wasn't just us who were not amused! I have heard that DECA is a great program, but the sheer volume of hotel guests did put a strain on the staff's resources.
Other than that, the rest of our stay was fine. Our room was a good size. They did leave us plenty of extra bottled waters after they saw how many we were drinking (#runnerprobs).
What to do in Detroit:
Our hotel was steps away from the Riverwalk path, which ran a few miles along the river.
I think they are building it out so that it goes on further, but it took me far enough that I was able to follow it and just hop onto the sidewalk on a busier road (Jefferson Avenue) that took me to the bridge out to Belle Isle to run more.
Belle Isle was a pretty little recreational island on the Detroit River. There were a few water slides and a sandy beach for the summer. There was a Nature Zoo, hiking paths, picnic areas, playgrounds, and more. I'm sure its packed in the summer, but since I was there on a Friday morning in March, it was basically deserted. I felt safe enough though since it was light out out. A few reviews online say that the island is "unsafe" but I didn't feel that way. There were occasional walkers there and I did run by the Coast Guard station, which was manned by several people who were outside working and said hello.
There were also bathrooms and water fountains, though the fountains weren't on when I was there.
I'm guessing this is a very popular place to run in the warmer months- a very charming little island for runners.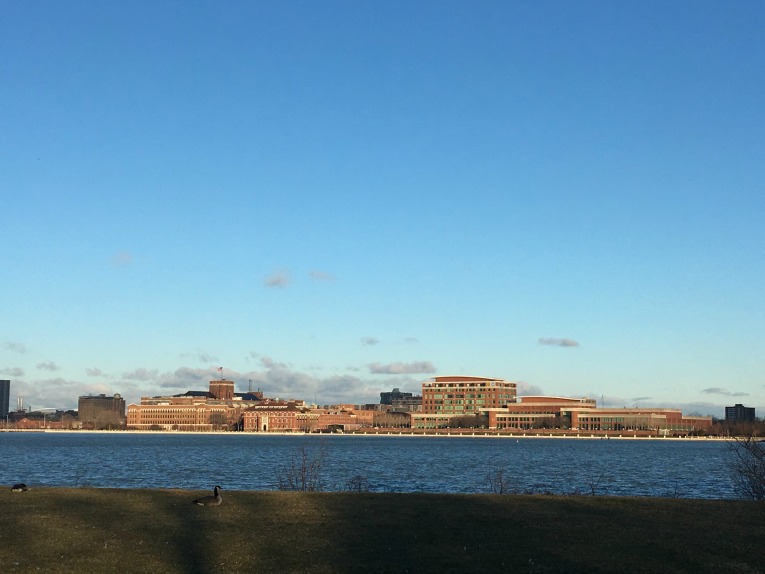 Off to Canada!
I guess my geography isn't great, but I didn't realize just how close Detroit is to Canada! We could look out our hotel window across the river into another country. How fun 🙂
Erin and I  of course then wanted to cross the border to Canada, so we did so on Thursday night, taking the tunnel into Windsor for pizza. Apparently, Windsor is known for their pizza, so we used  Yelp to lead us to Vito's Pizzeria for a delicious margarita pizza.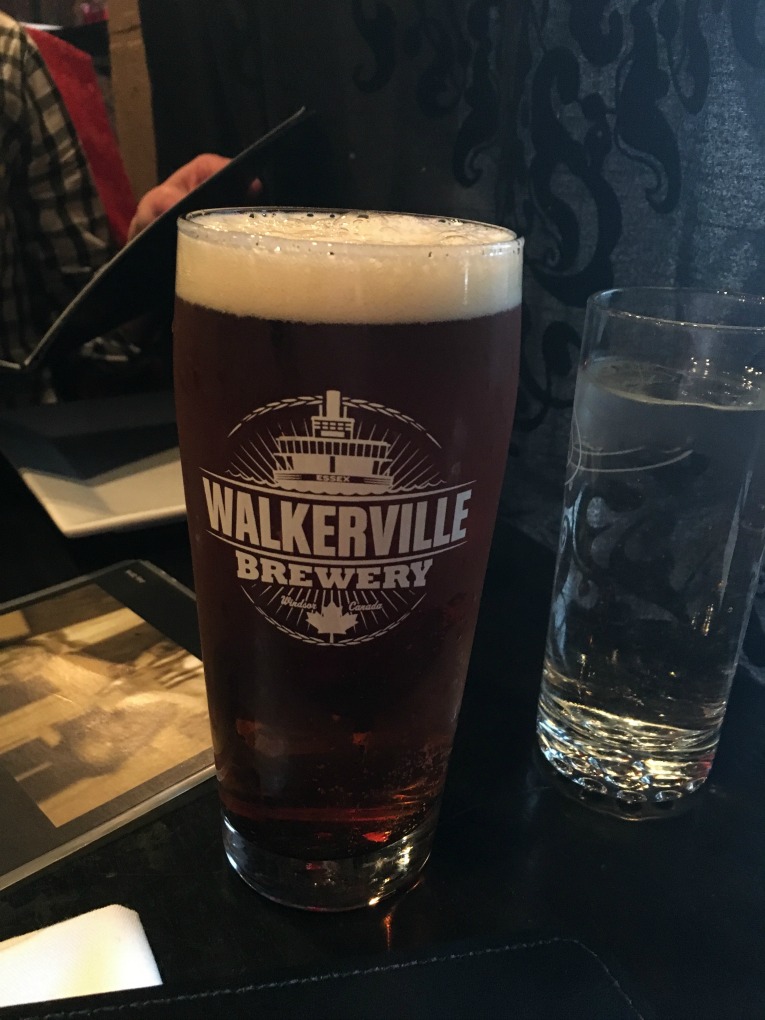 We each had a pint of Walkerville beer with our pizza, which led our waiter to tell us that the brewery was actually just a few blocks away! So after dinner, we headed to Walkerville Brewery for another pint to share.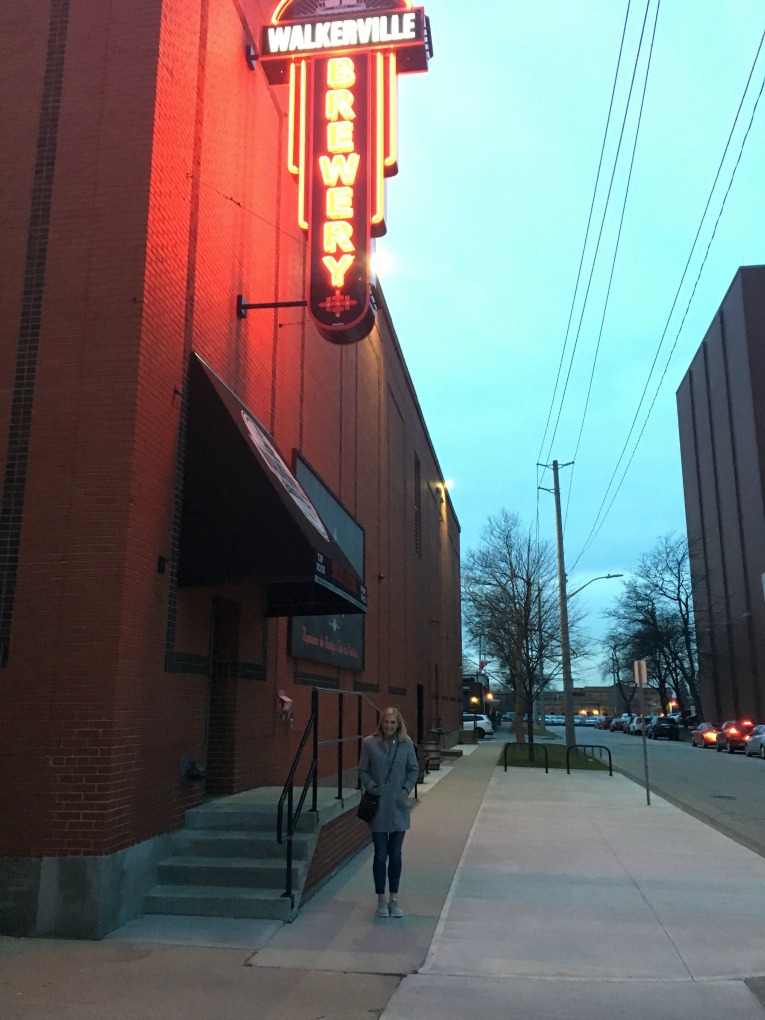 Everyone we encountered in Canada was very friendly and we both noticed that all the bearded men were quite handsome. Single ladies, head to Windsor Canada to find yourself a good looking man, haha!
Detroit Historical Museum:
The third night in Detroit we attended a social event for the RRCA conference at the Detroit Historical Museum. The museum itself was small but charming. I love learning about the history of a city;  I really didn't know that much about Detroit previously. The museum is worth a quick stop if you're in the area.
Apparently there is also a beautiful art museum in Detroit too, but we didn't have time to go there (only drove by in our Uber.) After hanging out at the museum for awhile, we grabbed dinner at the Motor City Brewery, which had fantastic beers.
RRCA Reception:
Our fourth and final evening in Detroit was spent at the closing reception for the RCAA convention, so we didn't get to explore any more on our own. I recognize that we didn't see all  that much of Detroit- there's probably so much more to this city. I am glad that with my 16 mile long run, I got to see a bit more than just the inside of the Marriott!
The closing reception for the RRCA conference also included a speech by BAA race director Dave McGillivray.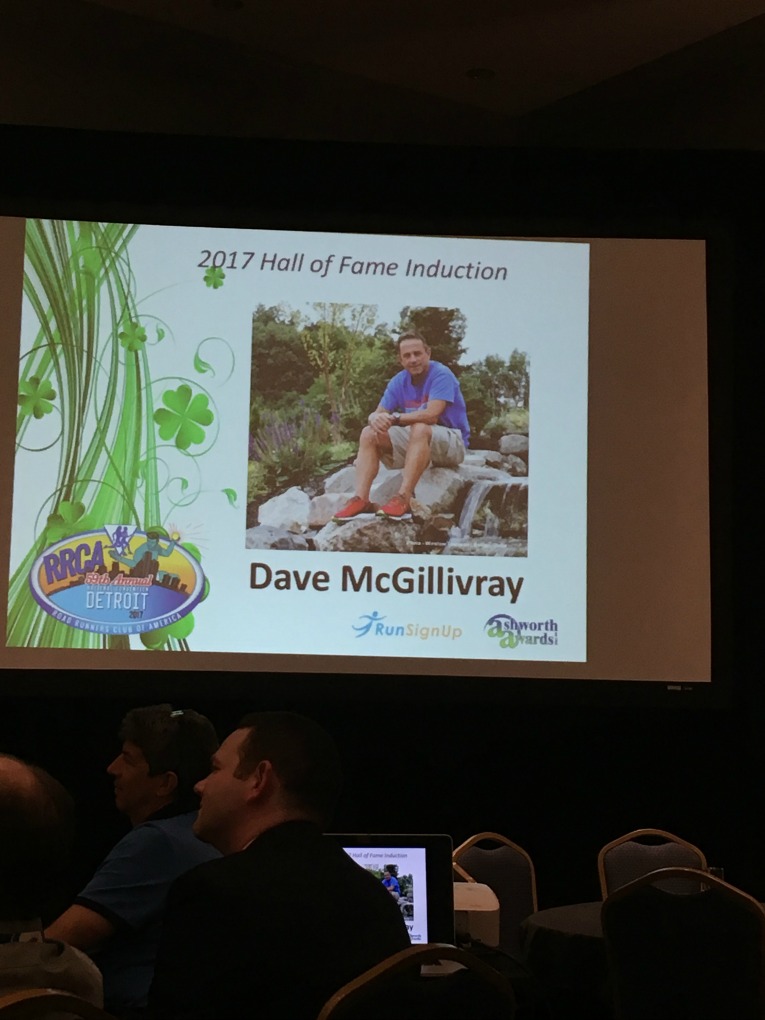 He was very inspiring and funny! I loved his thick Boston accent as well. Charming guy.
And of course, my new idol, Desiree Linden was there and gave a short speech too.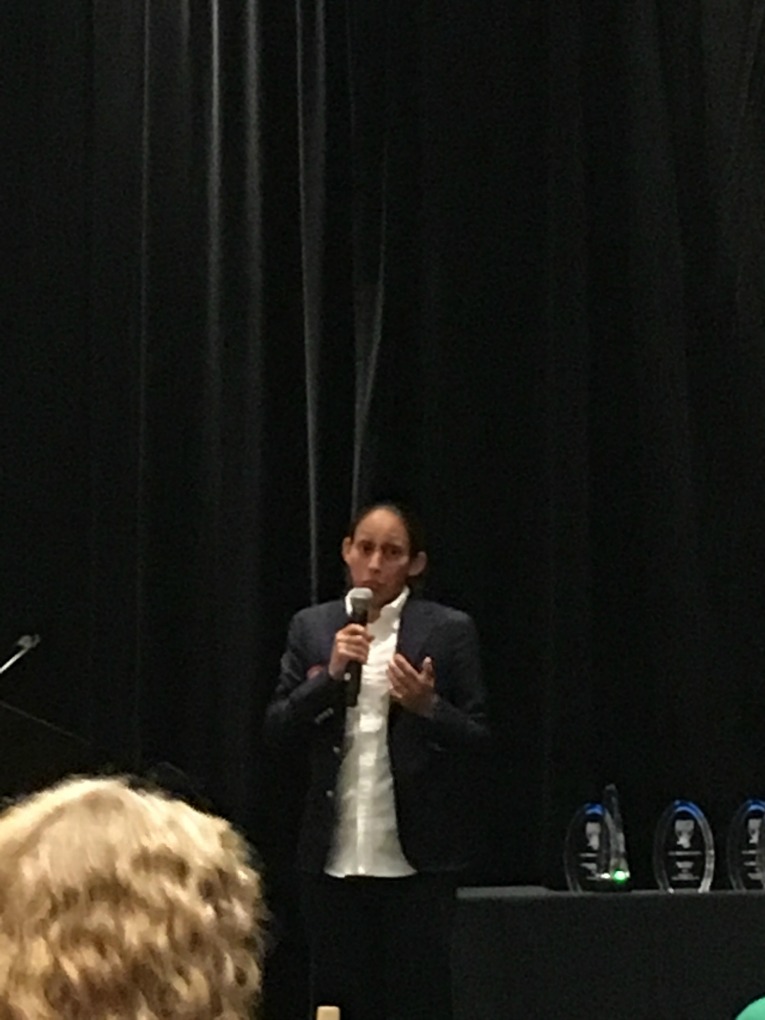 At the reception, there was both a live auction and a silent auction. Erin and I started to go a little crazy at the silent auction (a glass or two of wine will do that to you!) and I almost won a race registration/trip to the Alaska Marathon and/or the Honolulu marathon. The Alaska bidding got out of control, but the Hawaii one actually stayed pretty reasonable, but a nice woman from our coaching class was the highest bidder on that one and she really wanted to go; I felt that it would be bad running karma if I outbid her. I did the right thing and walked away 🙂
So guess what?  Instead of Hawaii or Alaska, I won a free race registration and hotel stay for the Little Rock, Arkansas marathon. 🙂 It was kind of a funny text progression with Dustin as I was like, "Oh we're running Alaska!" "We're running Hawaii!"…"We're running…Little Rock?"
With regards to our 50-state marathon goal, this actually works pretty well. And the more I learned about this marathon, the more excited I get about it. Its called the "3 Bridges Marathon." I talked to several other runners at the convention who had great things to say about it. Maybe this was a good thing as it will be the impetus for us to venture into the south for a marathon. And based on the results from previous years, there is a chance that Dustin could actually WIN this race…this could be a lot of fun!
In summary, Detroit was lovely, the RRCA coaching certification class was definitely worthwile..and I love running. Have I mentioned that?
**Our visit to Canada and meeting Desiree Linden were definitely highlights of the weekend!
(Visited 706 time, 1 visit today)