Great news! The shin pain is all gone and I'm feeling much more confident about the Boston Marathon…which, if you didn't notice in my header photo, is happening in just four short weeks!
(Remember when I found out I got in? Catch up on this post. How about when I qualified? Read this post. And of course, my look back on 2016 in running post summarizes a lot of the journey. Or my 50 marathons, 50 states page tells the story too!)
So here's how training went this past week:
Monday: I had an appointment right away at 8 am at Orthology to check out my shin (From last week's recap, I experienced some pretty serious pain during my long run in Detroit and took two days off completely). At Orthology, I see Dr. Melissa Wong at the Eden Prairie location and she is fantastic. She has worked me through so many different issues.
After two days off from running, I actually wasn't feeling much pain, so she was confident it wasn't a stress fracture. She did her thing and worked out the tendons (ligaments?) on my shins and gave me a few different exercises to do to strengthen the areas that are not engaging.
It seriously feels SO much better- she's a miracle worker! Well, that plus two days rest also helped.
I ran 5 on the treadmill that evening and felt no pain. I texted my coach to let him know that I was good to go- time to move forward towards that Boston finish line! 5 miles at an 8:40 min/mile pace in my zen-den.
Tuesday: Since I told him I was feeling good, my coach put a tempo workout back on this schedule: 1 mile warmup, 2×3 miles at a 7:30 pace with 5 minutes in between, 1 mile cool-down (plus a little extra to get to 9.) 9 miles total at an 8:07 min/mile. I did the run after work and it was fantastic to run in the sunshine! Super windy…but SUN.
Wednesday:  I woke up pretty exhausted from the previous night's workout so I decided to postpone my run until after work again. Unfortunately, I was stuck at work until about 7 pm so it was a late run. 8 miles at a 9:05 min/mile pace.
Thursday: Finally a morning run! I met a few run club friends for a dark morning run (darn you daylight savings time!). My coach had me do short sprints: 2 mile warmup, 10x100m with 1 minute recovery. The recovery was much longer than the sprinting, so this wasn't a tough workout, just an opportunity to get my leg turnover going. 2 mile cool down. 6 miles total at an 8:50 min/mile.
Friday: Another morning run! I met my friend Christie for 4 easy miles followed by a strides, total 5 miles at an 8:50 min/mile.
Saturday: The Hot Dash 10 mile race! I did this as a bit of a tune-up race for Boston. My coach told me to shoot for about 7:40, hoping that the effort would be a long "tempo-ish" effort run-slower than a short tempo, but a good controlled hard-ish effort.
Guess what? My time was 1:16:48, a 7:40 pace, just what the coach wanted! I mean, I wouldn't say my pacing was perfect- there were some significant hills and I slowed on those but sped up at other times. I will share a race recap soon! But the overall effort and pace was there.
Between the warm-up of about 2.5 miles, the 10 mile race, and 3.5 miles to cool-down, I completed 16 miles on the day.
I really enjoyed the 10 mile distance. I think I have only done one 10 miler during the taper for the St. George marathon, so I didn't race it. Though yesterday wasn't an all-out race effort, it is nice to have a new PR to try to beat next time!
We spent the afternoon at the airport dog park, as we are dog-sitting our friends poodle. She's super sweet!
She and Tilda get along really well (after a brief period of jealousy by Tilda). And she's actually just as fast at the dog park chasing the ball. She gave Tilda a run for her money!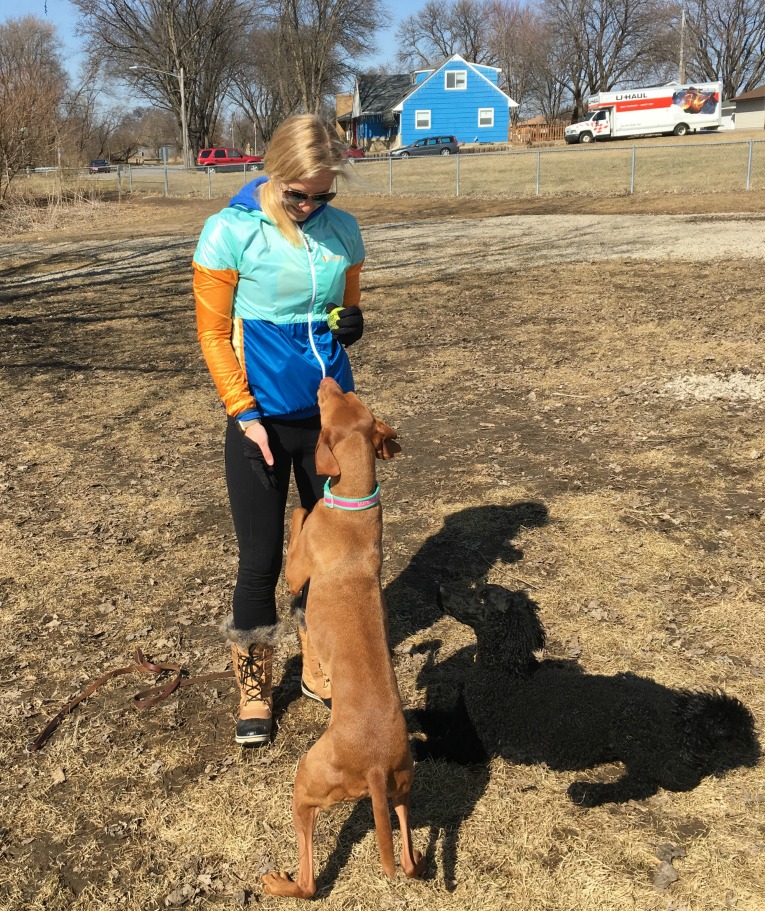 Sunday: 10 mile recovery run. The weather was so much better today! Upper 50's felt amazing. Nice and easy after the race yesterday- 10 miles at a 9:05 average. I squeezed in a [solidcore] class too at 4 pm- felt great to do some strength (finally!)
Summary: 59 miles of running, 1 strength class (solidcore). Next week my mileage will be up again before the taper begins for Boston.
Speaking of Boston, I don't usually get manicures, but I saw this on Pinterest and kind of want to get a Boston themed manicure. Any local readers know where I should go to get nail art like this? The unicorn might be too complicated, but the ribbons and the polka dots would be fun!
I'm linking up with Jess from Jess Runs ATL. Please join us, details below!

(Visited 571 time, 1 visit today)