If you missed my post from yesterday, you might want to catch up here. With this drastic change in plans (an undesired change, mind you), I doubt I'll have much to share in weekly recaps for fitness for awhile. But I still want to continue connecting with you all, so I'll probably share recaps of my recovery. (HoHo Runs and Wendy, I hope that's okay!)
But I did have one regular week left of training before the 'big ankle break', so I'll share that:
Monday: Dustin and I ran 8.5 miles in Steamboat Springs. He found the Yampa River Core Trail, which was about 0.75 miles from the condo we were renting. It was plowed and a great option vs. running on the sidewalks or roads.
Then a full day of snowboarding:
That evening, we took a shuttle bus to Strawberry Park Hot Springs outside of Steamboat Springs. Oh my goodness, it was so awesome! We arrived around 4:30, so it was still light enough to enjoy the gorgeous scenery (with several inches of fresh snow that just kept coming down!) After dark, there are no lights there whatsoever, which was a little weird. (PS, it's clothing optional after dark as well though so dark you can't see anyone anyways!)
It was a very unique place to check out, and I feel like we had the perfect night there.
Tuesday: Tuesday was our departure date, so of course, Steamboat Springs received 9 inches (or maybe more) of fresh snow! Dustin and I tried to run, but we made it about 1/2 mile before we decided it was much too slippery. 
So much snow in Steamboat Springs!
(It's ironic after I was so worried about breaking something while snowboarding and then it was running in Minneapolis that ended up being the issue….but I digress.)
Wednesday: I ran commuted from work. There was a lot of black ice and it made me really nervous (rightfully so…). 8.5 miles total.
Thursday: I opted for the treadmill. 8.2 miles.
Friday: Rest day. That evening, I had a work event at Upstairs Circus. Have you been? It's a crafting bar- i.e. you pay a set fee and then select a 'craft' from their menu. People in my group made a variety of crafts, from a leather dog's collar, a marble cheese tray, passport wallets, and more!
I decided on a distressed wood painting. They provided the wood, the tools to secure the boards together, the paint, the template to trace (i.e. the Minneapolis skyline for mine).
You can bring in outside food; they have a full bar and serve drinks. It was a blast!
Saturday: The horrible no good day. The day I slipped on the ice and broke my ankle. The day my Antarctica Marathon dreams were shattered. Shattered just like my ankle bones 🙁
Sunday: So much pain. No activity whatsoever, even minimal crutching. I'm in a temporary cast and my ankle is not stabilized so I have to be really careful.
I know this is not permanent, I will get better. But it's definitely hard. I'm in a lot of pain- I have pain pills but the minute they wear off, I'm in excruciating pain- and I swear I have a pretty high pain tolerance!
I've never been one to take pain relievers, so I don't like having to rely on them so much, but the doctor told me this is not the time to be a hero, I need to take the pills….
It's been a tough two days. I can't do anything for myself at this point; Dustin has to be my caretaker. Well, TMI, but I can go to the bathroom, but he has to cook for me, help me get dressed, help me wash my hair. I really hope I can get into the surgeon tomorrow to schedule the surgery to move forward with the healing process.
Word to the wise, don't break your ankle on the weekend or you have to just wait, which is no fun.
Guess it's back to relaxing on the couch and watching the Olympics…fingers crossed that tomorrow's appointment with the surgeon goes well!
I'm linking up with HoHo Runs and Taking the Long Way Home for their Weekly Wrap link-up, check it out: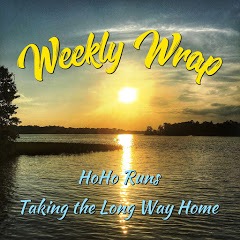 (Visited 710 time, 1 visit today)