Hello and happy Sunday! I hope you had a wonderful weekend and thanks so much for reading my blog.
It's been 7 weeks since I slipped on the ice during a 20 mile long run when training for the Antarctica Marathon and 6 weeks since I had surgery to put it all back together. I'm continuing to document my recovery weekly; I hope that my journey is helpful in some way to anyone who may be going through something similar!
Monday: Physical therapy at Mayo Sports Clinic at the end of the work day and then I headed to the downtown YMCA for 1 hour on the stationary bike and 45 minutes of swimming laps.
Tuesday: At physical therapy on Monday, my PT suggested that I start incorporating some yoga into  the mix. She said that it would help with my balance and mobility. She said it would be up to me to determine what felt okay and what moves to modify in a class.
I was SO excited about the idea of adding yoga in! I headed straight to a vinyasa class at Corepower Yoga Tuesday night.
*I usually go to the one in St. Louis Park, but class packages work at any of their many Twin Cities studios! 
It was definitely humbling; I had to make a lot of modifications and I've lost a lot of flexibility (due to the broken leg and otherwise). But yet, there was so much I COULD do, and overall it felt really good to be back on the mat and practicing yoga.
Yoga seems like it will be a really great way to push my body a bit more to get back to normal without pushing it too hard.
And the heated classes feel great- both mentally to break a sweat and physically to loosen everything up. Yoga is back in my life for awhile now!
Wednesday: 1 hour personal training class with my friend Ericka of EDK training. Dustin dropped me off at her studio in Uptown (I still can't drive).
Awesome workout as always; we even were able to do some moves standing on two feet- without the boot! I figured if the PT said yoga was okay, then a limited amount of exercises without the boot should be okay as well.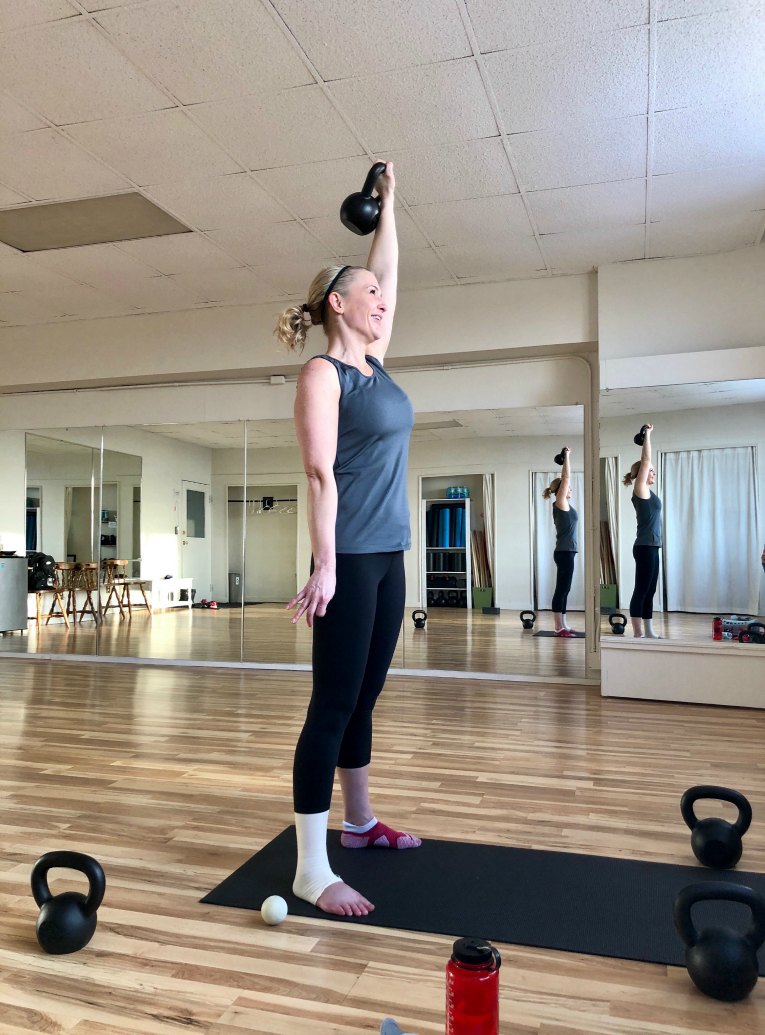 Fantastic workout, thanks Ericka!
Thursday: Swam laps for about an hour. I tested out a new Oiselle suit, THIS ONE in the Trevi Print. Loved it! Supportive- basically just like a sports bra.

Friday: Another hour of swimming before work.
After work, I met a few friends at Utepils, a local brewery. We ended up playing a board game called "Scruples" which was from 1984…It was remarkable how dated the questions were, in terms of moral dilemmas that would be a question of "scruples" in the 80's.
Let's just say we've come a long way since 1984 in terms of certain social issues. Thank goodness.
Saturday: 75-minute vinyasa class at Corepower Yoga. Again, I had to make a lot of modifications, but it was still a great practice.
After yoga, I quickly showered and changed into my swimsuit and headed to the YWCA (not to be confused with the YMCA, where I am a member.) The YWCA has a great total immersion swim program (for adults!) which is open to non-members. I purchased a 4-pack of private lessons and had my first one Saturday with a coach named Jordan.
She was AMAZING. In just 30 minutes,  her tips and advice led to significant improvements on my speed and efficiency as a swimmer. I can't wait to see how much more I can improve after 3 more lessons!
A friend once told me that there's two sports that really rely on technical skills for an athlete to be very good: cross country skiing and swimming. I think he was right! I'm not an awful swimmer by any means; I'm competent. I was a lifeguard all through high school and feel totally comfortable swimming for an hour or so, but if I'm going to be swimming a lot in the next few months as my primary cardio, I might as well be the best swimmer that I can be! Having a swim coach who really knows what to look for and how to explain how to improve things seems like it will be very valuable.
In non-fitness matters, Saturday night, we celebrated our friend Laura's birthday by going to Monster Jam at the US Bank Stadium. Definitely not an event I would normally attend, but it was actually entertaining! It helped that we were with such a fun crew.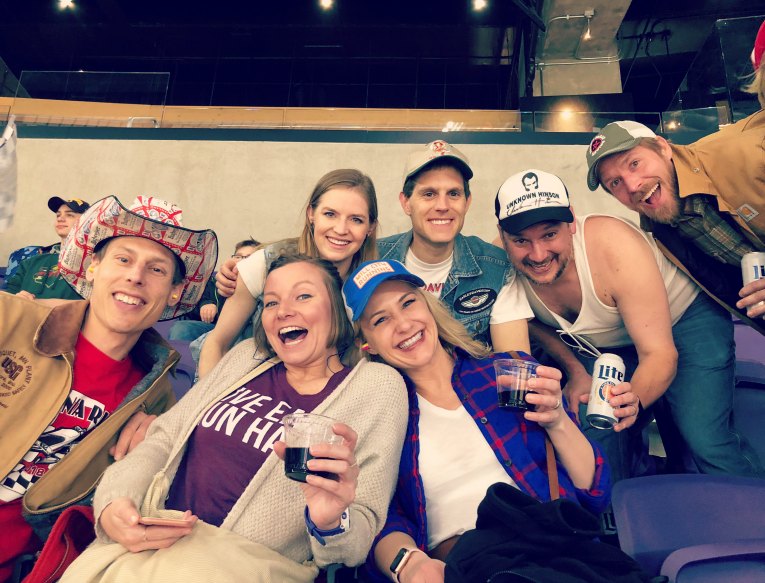 Sunday: 1-hour Hot Power Fusion yoga class at Corepower Yoga. I even convinced Dustin to join me! He probably hasn't been to yoga in YEARS. So this broken leg recovery is good for both of us, ha!
Summary: A good mix! 3 yoga classes,  3 swimming 'sessions' + 1 swimming lesson, 1 hour on the bike, and 1 strength training session with Ericka.
I'm heading to New York City tomorrow for the week for work; I had really hoped that I would be out of the boot before this trip, but unfortunately the boot is coming with me.
I can try to take it off a little bit when inside, but my PT said its still too soon to transition completely out of it. I tested out wearing both shoes at the office on Friday and the right foot got pretty swollen (and sore) after just a few hours…So definitely not there yet.
I guess the boot will be a part of my New York City attire…better than crutches or the scooter!
Even though the boot is here to stay for a bit longer, there has been progress. This week's highlight was definitely the addition of yoga! And a workout with Ericka without the boot! And a little bit of time at the office outside of the boot. Progress.
As I continue to work my leg/ankle in PT and other activities, it will swell; icing it after activity is important. I decided to rent a "Game Ready" machine, which is an ice and compression machine. They're not cheap- buying one is like $3,000. Rental is the way to go.
It feels so awesome, during and after. You just have to have a lot of ice to fill it up!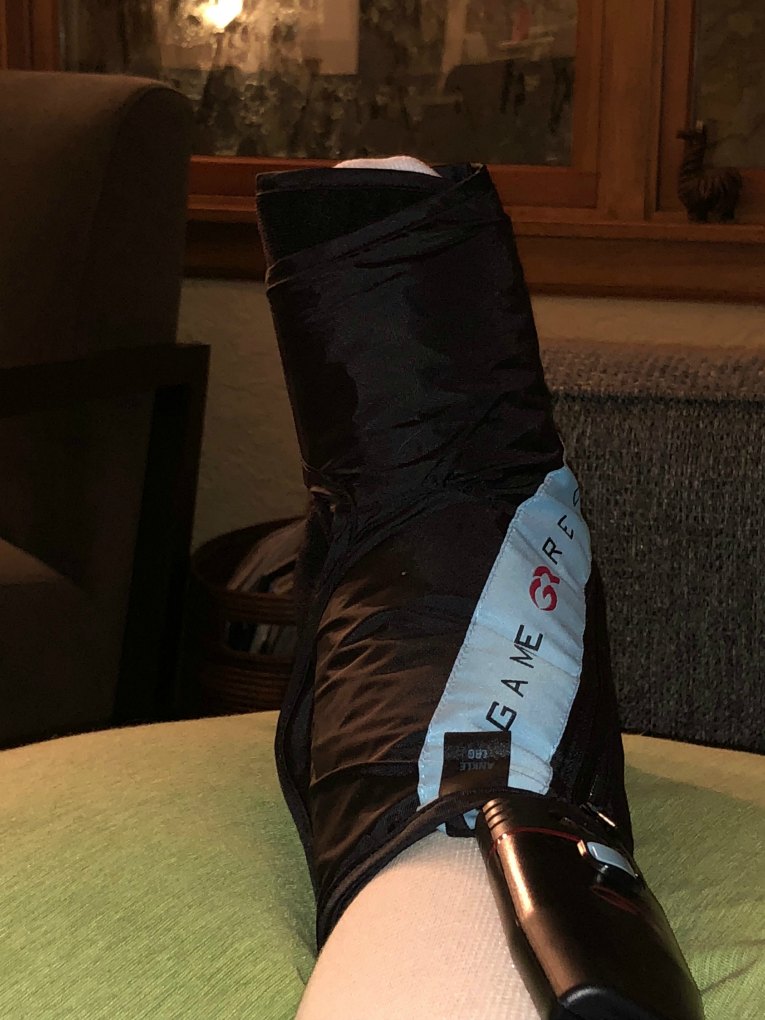 Dustin and I also went to Halo Cryotherapy again on Saturday. I figure that it's similar to "icing" and should help with inflammation.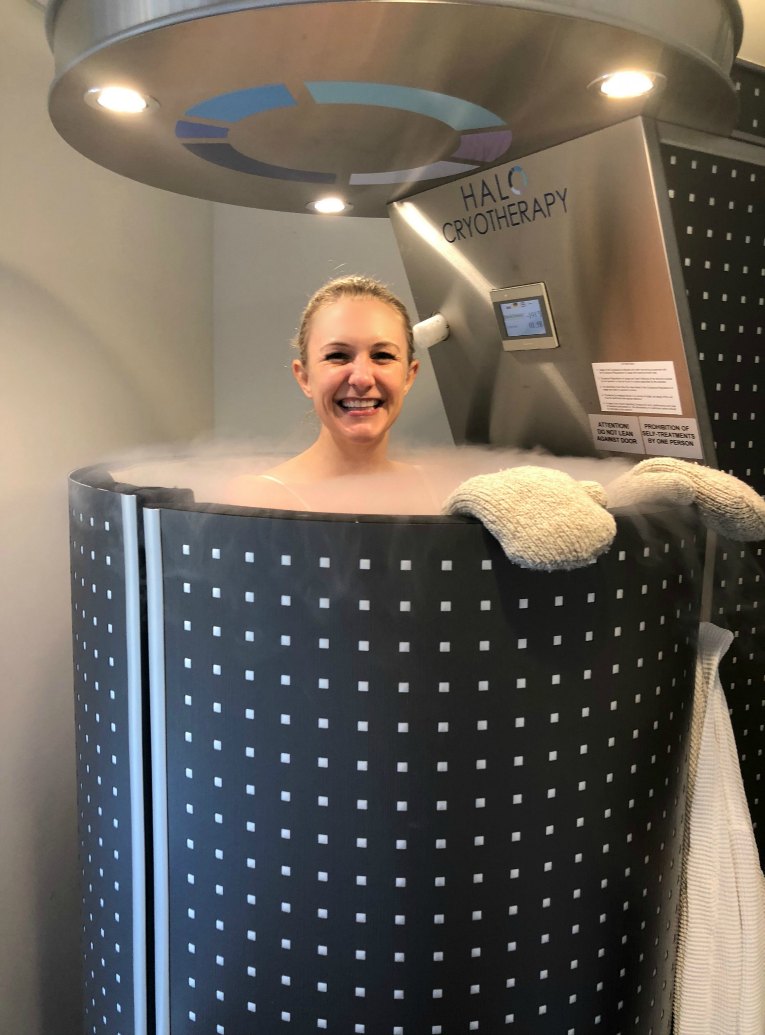 Everyone keeps asking, "When do you think you'll be able to run again?" and I really don't know. I hope it's June; two more months of PT (April and May) and then maybe, maybe I'll be back to running in June. I can't wait.
Even though running is awhile away, I did treat myself to a Fenix 5S. I'm excited to test it out in the pool soon..and then maybe in June I'll actually test it on a run!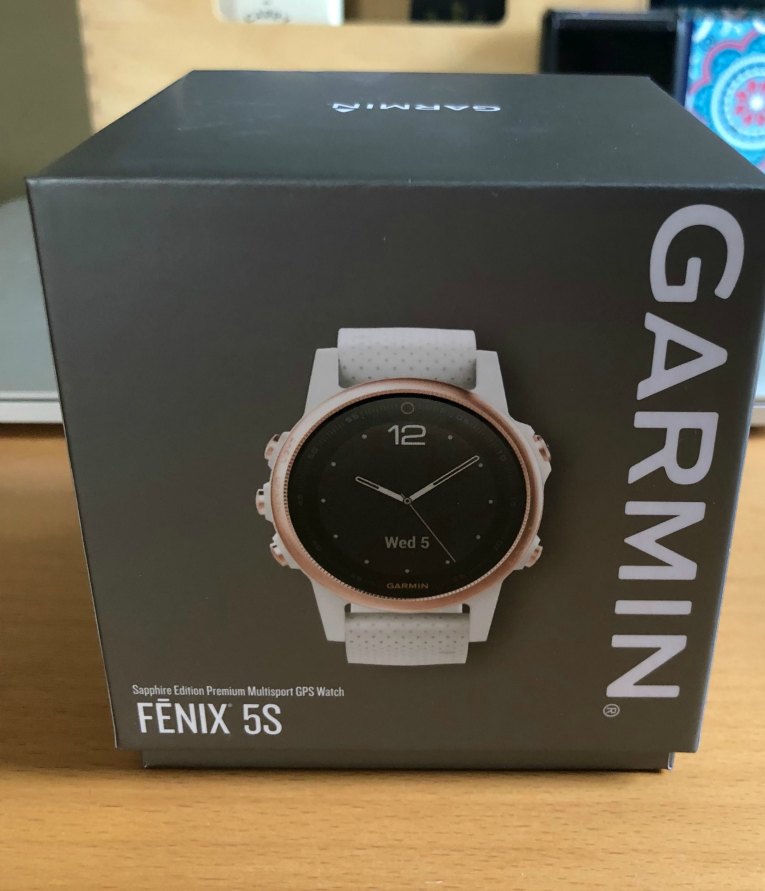 Just one more thing I wanted to share for local readers! A new food delivery service is launching in Minneapolis called "Cluster Truck!" You can sign up to be a beta testers (which means…FREE FOOD!)
Here is a bit more information:
"Minneapolis residents can finally rejoice because delivery-only restaurant ClusterTruck will open downtown in the beginning of May, effectively changing the way people think about ordering high-quality food on demand.
Hungry customers can choose from more than 100 mouthwatering menu items from a collection of virtual food trucks for breakfast, lunch, or dinner, and there's ALWAYS FREE DELIVERY. ClusterTruck's revolutionary, tech-savvy food delivery system times each step perfectly, taking an average of just 21 minutes from order to curbside pickup. The food never sits under a heat lamp and always spends less than six minutes on the road for delivery.  Those interested in enjoying their very first (but not last) ClusterTruck meal can check out the delivery zone and order alone or with a group. Customers can pick up the meals at the curbside of their home, work, and even at local breweries and parks. Menu items typically cost $10 with full meals ranging from $15-$20 per person."
I signed up to be a beta tester. I figured food delivery is still a great idea for me with my limited mobility!  You should sign up to be a tester as well if you can!
I'm linking up with HoHo Runs and Taking the Long Way Home for their weekly wrap. Check it out!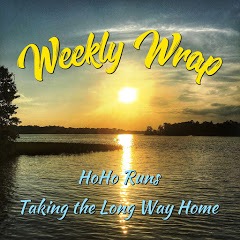 (Visited 1,279 time, 1 visit today)