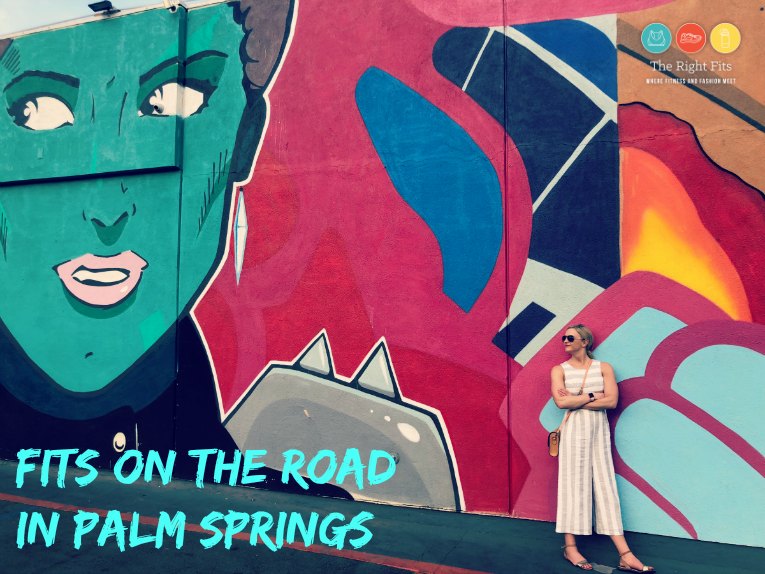 It's been awhile since I shared a Fits on the Road post, but I love documenting a trip on here. I think these posts are super helpful if someone ever asks me for advice on a particular location; it's great to have these posts on which to refer back. I also just like to have the details for my own personal "journal!"
(If you want to read any previous Fits on the Road posts, I have a full page HERE !)
(If you're reading this without the context of the rest of my blog, we took this trip when I was still recovering from a broken tibia/fibula so I couldn't do any running. I did a lot of swimming at the Palm Springs Swim Center and took one yoga class. If I had been able to run, there were a lot of nice paved paths; Dustin only ran trails while we were there as he was training for a 100 mile ultra race.)
So here's a post to share the details of a recent trip we took to Palm Springs, California.
Wednesday, April 25:
We flew into the Palm Springs airport directly from Minneapolis.
*If you fly through Minneapolis, be sure to look for the adorable therapy dogs there to greet you!
Landing in the open air airport (which was awesome!), we were blasted with the 90+ degree heat. It felt so foreign to experience such heat after such a long winter in Minneapolis!
We rented a car through National and headed to the VRBO we had rented.
Yes, we rented a whole house for just the two of us, but it was actually a great price and then we had a private pool and private hot tub!
The only thing I felt like we missed out on with a house rental was the people watching that you would get at a resort pool, but we got plenty of good people watching elsewhere on the trip to make up for it! I would still definitely rent a house again if I ever went back.
After dropping off our luggage at the house, we headed to Ralph's grocery store to stock up on food for the duration of our trip.
On our first afternoon, we hung out at the pool for little while before heading to dinner at Lulu's Bistro. Then a drink at Trio, after which we checked out Bootlegger's Tiki bar, which was a favorite of our visit- fantastic drinks, cute little space.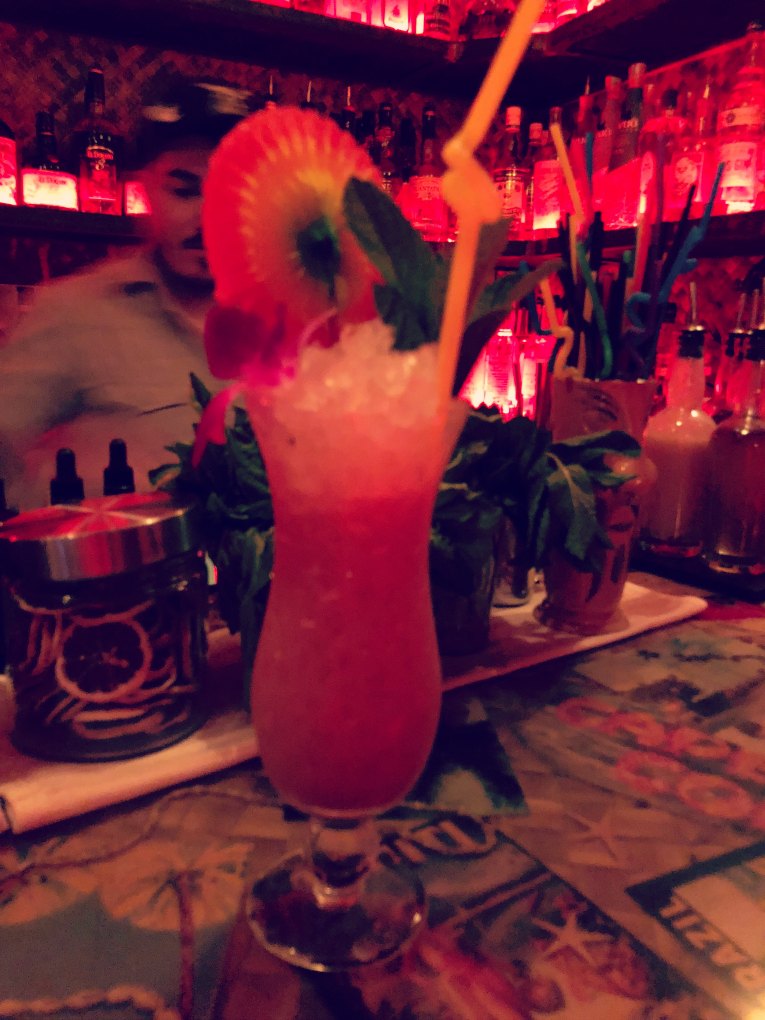 Thursday, April 26th:
Thursday morning was my first time checking out the Palm Springs outdoor lap pool.
Dustin of course did a trail run and then we relaxed afterwards with an iced coffee at "Koffi."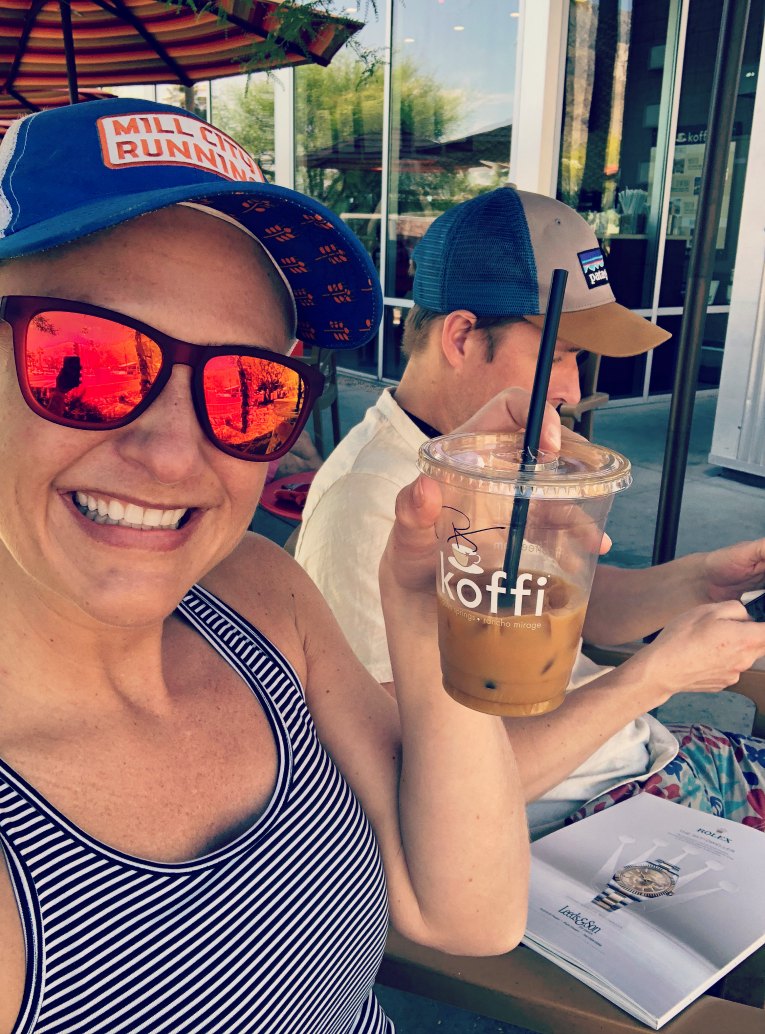 Later that day, we had lunch at Palm Greens Cafe which was delicious- lots of vegan, organic, gluten free options, if that's what you're looking for.
After lunch, we did a little shopping; we checked out the local running store "Running Wild' as well as a few purchases from Trina Turk (they carry such fun, bright dresses!)
We spent the rest of that afternoon lounging at the pool some more.
Thursday evening, we checked out the Palm Springs street festival that occurs every week. It was a big art fair, with food trucks and other vendors. Most of the stores along Canyon Drive stayed open later than normal for fair patrons.
After the fair,  we made our way to Birba for dinner, which was hopping- great people watching!
Friday, April 27th:
Friday morning started with a vinyasa yoga class Power Yoga Palm Springs for me (and of course, a run for Dustin). Then we loaded up the car to make the drive to Salvation Mountain and Slab City.
Along the way, we stopped at the Salton Sea. The Salton Sea was an "accidental" desert lake that occurred due to flooding in the early 1900's. People tried to take advantage of what seemed like a windfall with the appearance of this lake, and thus built up tons of resorts around the lake.
But somewhat quickly over the lake's history, the water turned foul- there was no outlet so the water became incredibly salty. The fish in the lake died and then the smell of the lake, combined with the stench of the decaying fish, contributed to the decline of the tourist industry around the Salton Sea.
Many people now visit the Salton Sea and the surrounding settlements to explore the abandoned structures. (Read more HERE).
It's such a strange place- the "sand" on the beaches is actually made up fish bones. And man, it was STINKY. Such a weird phenomenon.
If the Salton Sea was weird, Salvation Mountain was even weirder! It's a painted huge rock created by Leonard Knight.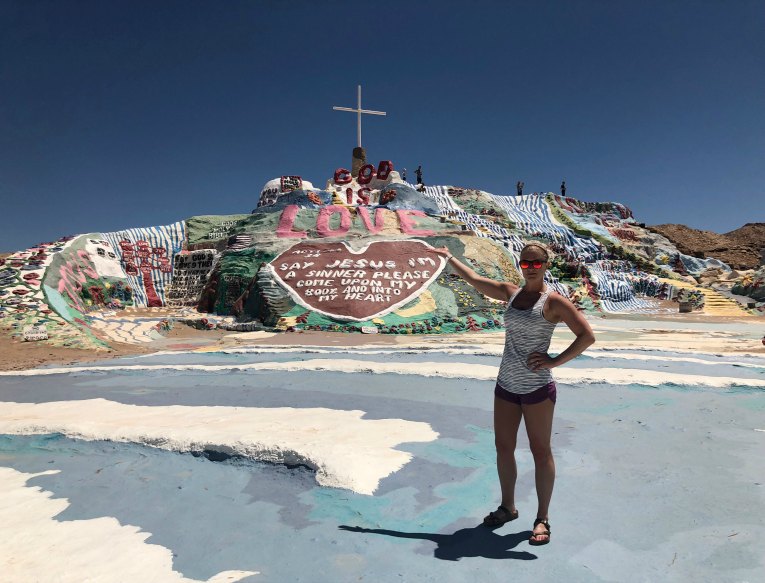 It encompasses numerous murals and areas painted with Christian sayings and Bible verses, though its philosophy was built around the Sinner's Prayer.
The Folk Art Society of America declared it "a folk art site worthy of preservation and protection" in the year 2000.
California Senator Barbara Boxer described it as "a unique and visionary sculpture… a national treasure… profoundly strange and beautifully accessible, and worthy of the international acclaim it receives."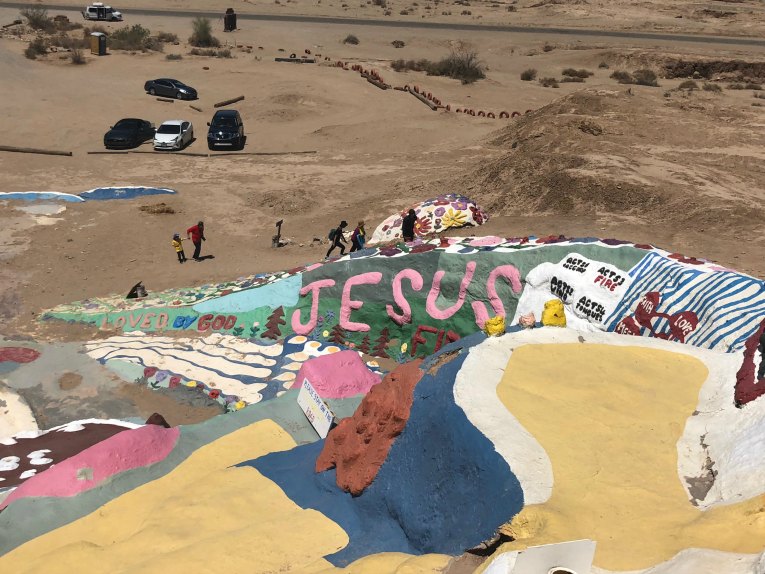 We spent quite a bit of time wandering around Salvation Mountain and taking pictures. It was fascinating and beautiful in its own way.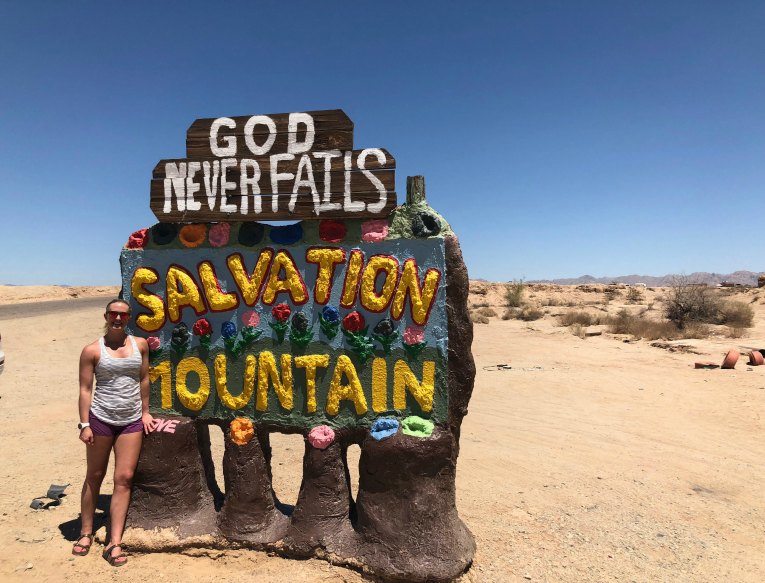 After we'd had our fill, we got back in the car for a quick drive through part of Slab City. Also called The Slabs, it's a community of RV owners and squatters from across North America. It took its name from concrete slabs that remained from the abandoned World War II Marine Corps barracks of Camp Dunlap.
Several thousand campers use the site during the winter months. In the summer temperatures get up to 120 degrees, but even so, 150 people remain as permanent residents.
Some of these "Slabbers" have been driven to "The Slabs" by poverty, while others have moved to there just to live 'off the grid.' Definitely a memorable place to visit.
Next up on our drive was Joshua Tree National Park. We actually arrived from the south side, which is not the normal route for most visitors.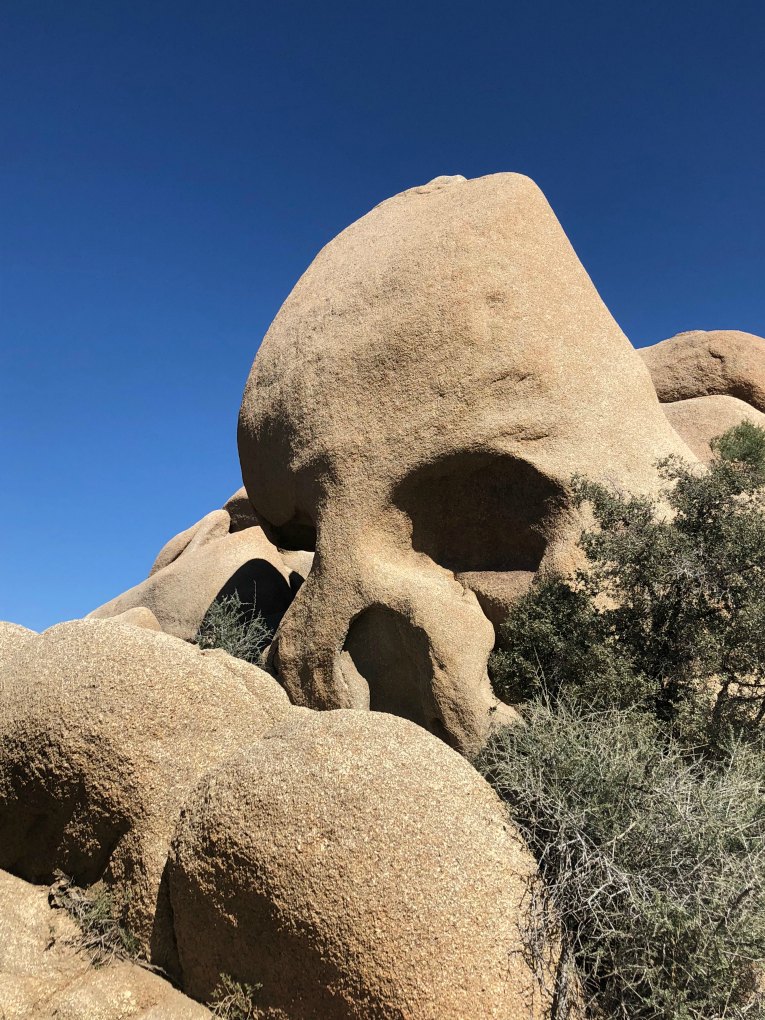 It's more interesting to drive in from the north side. It turned out fine; we just ended up doing a lot more driving coming in the way we did. Eventually we made it to the more interesting part of the park, where all the beautiful rock formations are found and all the actual Joshua trees are located.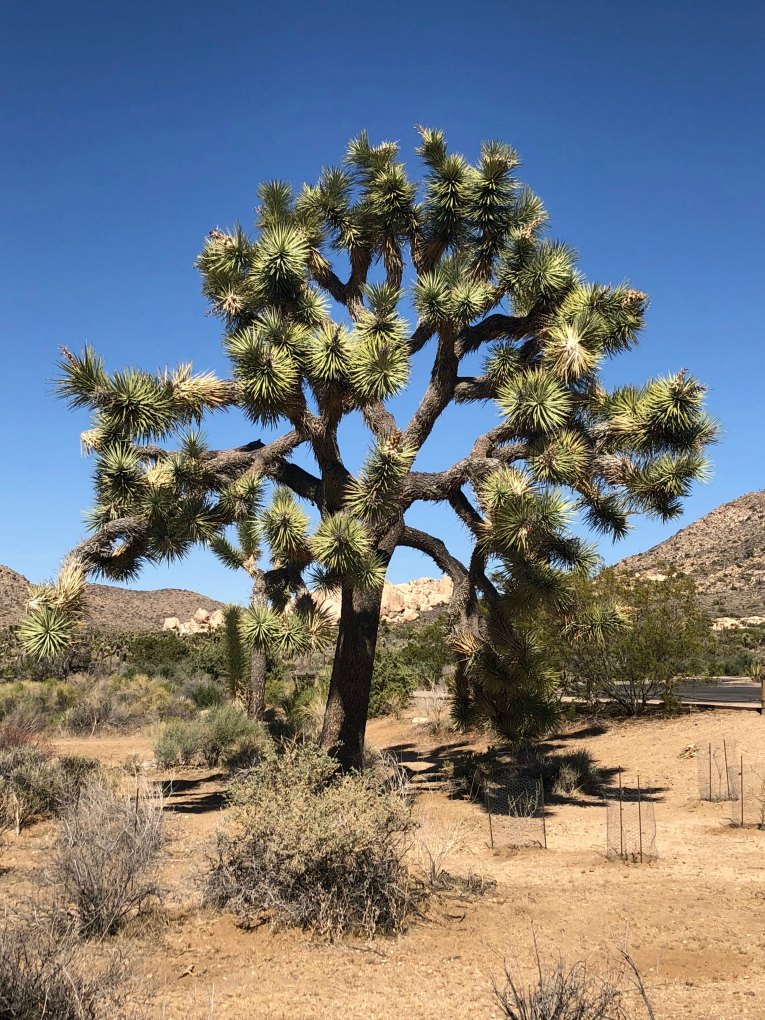 We made it back to Palm Springs around 5 pm, in time to get cleaned up for dinner at Eight4Nine, which was fantastic people watching. The food was decent (though I don't think people go to Palm Springs for the food, to be honest).
We also found "that pink door," which is super popular on instagram, particularly for fashion bloggers. I mean, who can resist a huge pink door?
(And who can resist a jumper? Not me.)

After dinner, we checked out a few other tiki bars, such as The Reef and The Tonga Hut.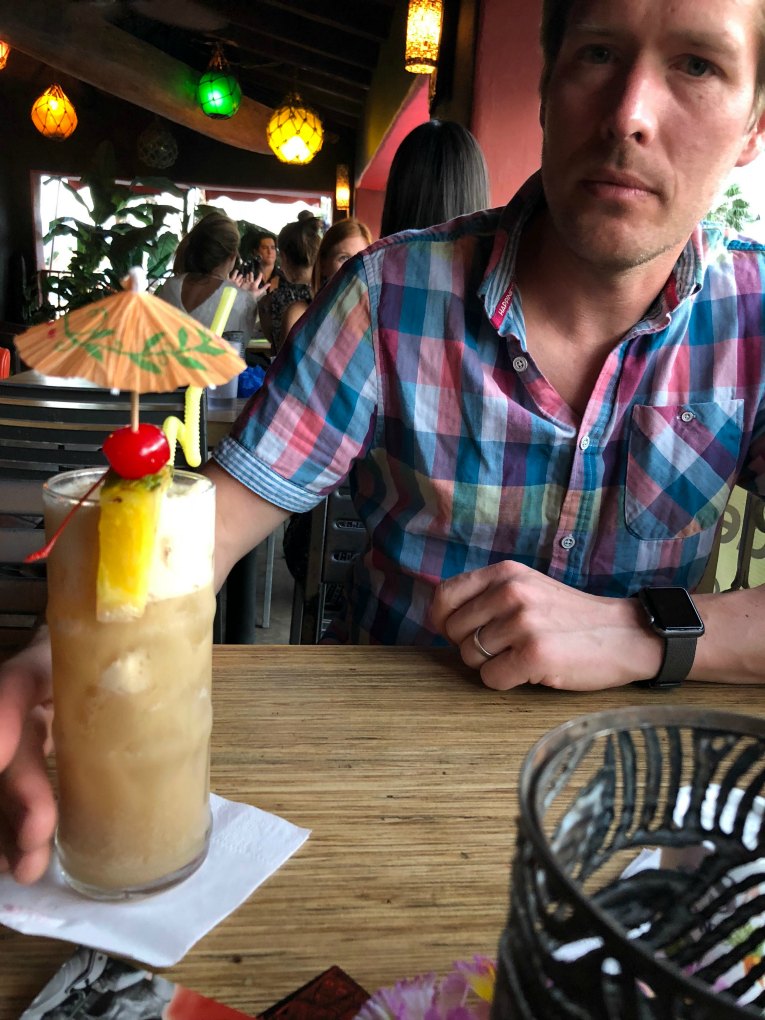 Two things Palm Springs seems to love: Tiki Bars and DATES! Yes, they must grow a lot of dates in the area. All the restaurants had ads for the "best date shake in town" and dates were always on the menus. I'm not complaining, I love dates!
Saturday, April 29th:
Saturday was another morning swim:
After a morning swim, we chilled by the pool some more and then made a quick stop for lunch at the Ace Hotel to check out the pool scene. After lunch, we decided to take a break from the sun and take the Palm Springs Aerial Tramway to Mt. San Jacinto State Park.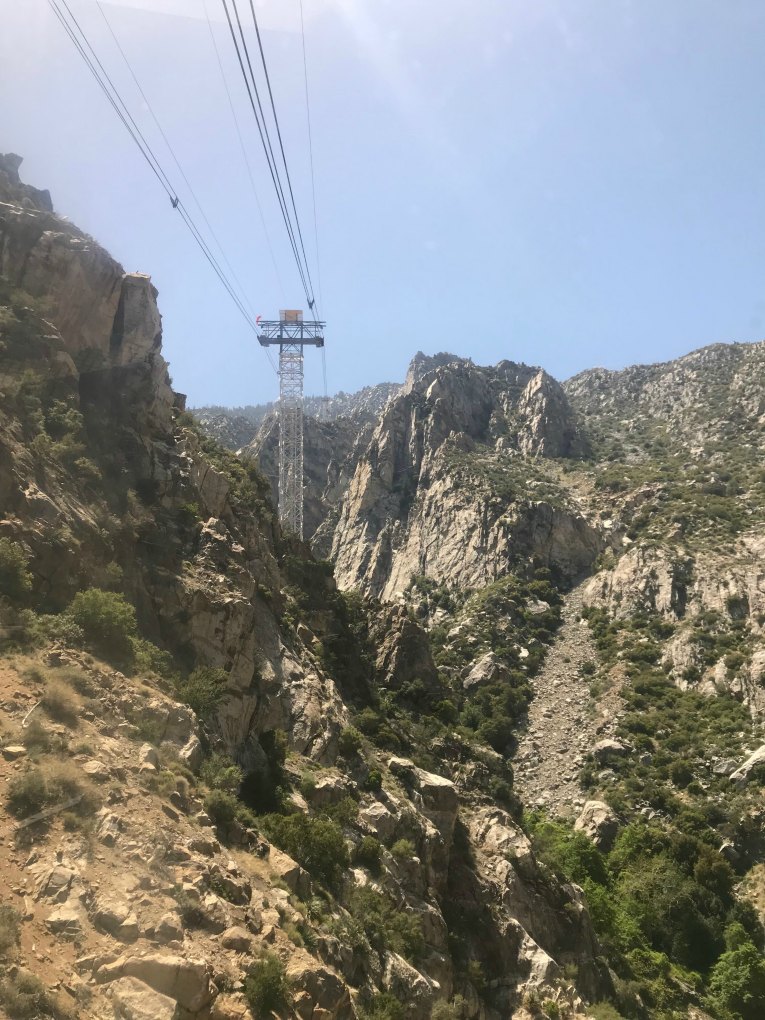 "The Palm Springs Aerial Tramway—the world's largest rotating tram car—travels over two-and-one-half miles along the breathtaking cliffs of Chino Canyon, transporting riders to the pristine wilderness of the Mt. San Jacinto State Park. During your approximately ten-minute journey, tram cars rotate slowly, offering picturesque and spectacular vistas of the valley floor below. Once you reach the Mountain Station—elevation 8,516 feet—enjoy two restaurants, observation decks, natural history museum, two documentary theaters, gift shop and over 50 miles of hiking trails."
Once we arrived at the top, we hiked around for about an hour. My hiking is limited but I was able to do some easy hikes. There were plenty of more challenging hikes up there but I had to pass this time around.
I didn't have very high expectations for the tramway, but it was actually pretty fun and was worth the $25 ticket price. Gorgeous views. A unique experience.
Saturday night we had dinner at Pomme Frite; I had a big bowl of delicious mussels- so good!
Sunday, April 29th:
One last morning swim at the Palm Springs Swim Center before packing up our things and heading to the airport for a flight back to Minneapolis.
Overall, I was pleasantly surprised by Palm Springs. It's an easy warm-weather destination from Minneapolis, with guaranteed good weather. Renting a house via VRBO worked out really well for us and I would do that again. There's definitely more we didn't see in Palm Springs- more hiking, more shopping, more architectural and historical tours. Yet overall I thought we got a good view into this fun California destination. A lovely trip.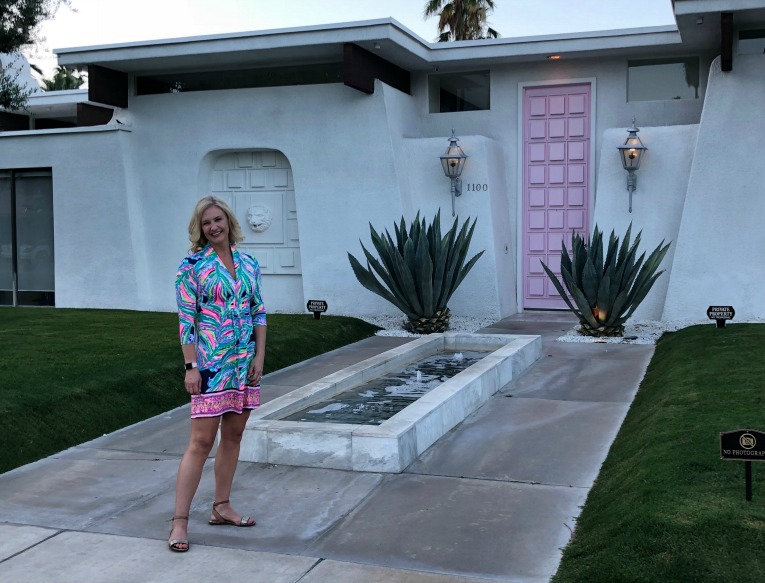 (Visited 466 time, 1 visit today)