Hello there and welcome to my blog!
If you're new to The Right Fits, let me catch you up on my current situation. This post, this post, and this post are a great place to start. Basically, I was an avid marathoner, running 3-4 marathons a year, and was well into training for the Antarctica Marathon when I broke my tibia and fibula on a wintry Minneapolis run. My trip was cancelled, I had surgery on my leg/ankle, and now have a plate and 10 screws in my leg. I've been documenting my recovery here in my weekly recaps on the road to (hopefully) get back to running marathons again.
(Also- if you just stop in for the link-up, be sure to check out this recap of our recent trip to Palm Springs!)
Here's how this past week went in fitness:
Monday: Complete rest other than a PT appointment at Mayo.
Tuesday: Morning swim.
Evening personal training with my friend Ericka of EDK Training.  
Wednesday: Morning solidcore class, PT appointment at Mayo
Thursday: 45 minutes on the elliptical, 45 minutes of PT exercises before work. At this point, my PT exercises include a ton of lunges, BOSU ball squats, balancing on one foot, and more; it's like a little mini-workout in itself to do it all!
Thursday evening, I walked over to cheer for the TC 1 mile. One of the girl's I coach was racing it, as well as several of my coworkers who ran in the corporate wave. Additionally, a bunch of people from my run club raced it (including Dustin!)
It was sad not to be racing it; I have run the TC 1 mile many times. But it was still great to cheer and be a part of the event.
There are several waves, ending with the elite waves for women and then men. Those waves are SO fast! Incredible.
A lot of people run the TC 1 mile to increase their chances of getting into the TC 10 mile in the fall; I believe finishers go into a first round of the lottery for guaranteed entry.
Friday: I had to be to work early, so I went to the gym after work. Pretty quiet there after work on a Friday! I did 45 minutes on the elliptical and 45 minutes of PT again.
Saturday:  The JB double- i.e. solidcore class (50 minutes of a strength/pilates type class) followed by Surge Cycle (45 minute spin class)
I may not be running with Tilda yet, but at least I'm walking well enough to take her to the dog park! We spent about an hour there on Saturday:
Sunday: The JB double again! solidcore class (50 minutes of strength/pilates type class) followed by Surge Cycle (45 minute spin class). The spin class was Cardi B music only; it's usually a hip-hop class (with a warning about explicit lyrics) but all Cardi B was a fun change.
Summary: 1 swim, 3 solidcore classes, 2 spin classes, 2 workouts on the elliptical
Even if I forget to mention it here, I'm doing at least most of my PT exercises every day and going to PT appointments at Mayo twice a week.
Still no running…but hopefully soon. For now, I'll just make sure I'm the most diligent PT patient ever!
I did click "register" for the first time since breaking my leg, though it is for the Drumstick Dash 10k in November- a long ways away! My sister Cresta in Eden Prairie and I are co-hosting our family for Thanksgiving and the Drumstick Dash has something for everyone- 1/2 mile, 1 mile, 5k, and 10k, and it's very close to my house with a route around Lake Harriet (and my niece's name is Harriet- it's her race, haha!)
I am contemplating the Torchlight 5k in July as I haven't missed that one for ages and a group of my coworkers are doing a corporate team; I should hopefully be able to run 3.1 miles by mid-July. But my PT reminds me to be patient, so I haven't registered yet, just in case. She also gently reminds me that I have to reset my expectations with regards to speed; it will take a long time to get back to where I was before breaking my leg…
Well, that's it for this week.
As always, I'm linking up with HoHo Runs and Taking the Long Way Home for their weekly wrap. Check it out!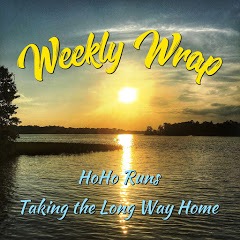 (Visited 437 time, 1 visit today)