Hello there and welcome to my blog!
If you're new to The Right Fits, let me catch you up on my current situation. This post, this post, and this post are a great place to start. Basically, I was an avid marathoner, running 3-4 marathons a year, and was well into training for the Antarctica Marathon when I broke my tibia and fibula on a wintry Minneapolis run. My trip was cancelled, I had surgery on my leg/ankle, and now have a plate and 10 screws in my leg. I've been documenting my recovery here in my weekly recaps on the road to (hopefully) get back to running marathons again.
Here's how this past week went in fitness:
Monday: I swam a TON last week in Palm Springs, so I opted to take a little break from swimming this week.  I had been cleared to do the elliptical, so I went to the YMCA and did 45 minutes on that and then did my PT exercises. I have a long list of exercises I have to do now to rebuild strength and mobility in that leg. Before I can even think about running again, I have to be within 90% of the other leg in a few different "tests" that my PT does (tests of mobility and strength.) I'm definitely not there yet.
Tuesday: Solidcore class (50 minutes of pilates-type strength.)
Wednesday: 45 minutes on the elliptical and about 45 minutes of PT exercises!
Thursday: 45 minute spin class at Surge Cycling PT appointment in the afternoon.
My sister pointed out it looks like there's blood on the spin bike in this picture..I guess it was totally badass, right? (pretty sure it was NOT blood, but rust.)

Friday: 45 minutes of the elliptical, 10 minutes on the stair stepper (just got cleared to do that one!) and then about 30 minutes of PT exercises. After work, I had my 3rd swim lesson with Jordan at the YWCA- fantastic as always! I'm so glad I decided to start taking swim lessons during this time of recovery as I think they have really helped me become a stronger swimmer.
Saturday: My sister Cresta joined me for what I'm referring to as the "JB Double", i.e. 45 minute spin class at Surge Cycling  following by a 50 minute solidcore class.
Cresta has a spin bike at her house and spins a lot, but she had never taken Solidcore before. The machines can be a little confusing the first time you go; the instructor kindly explained the basics of how it works:
However, I failed to warn her that the class is REALLY hard and is designed to work your muscles basically to failure..She did great though and I think she had a good time!
After the class, we wandered around a bit at the West End shops, like lululemon, Primp, Kitsona, and more.  It was so fun to have her join me!
(I did purchase a pair of speed shorts from lululemon and had to size up from my "running shape" size… 🙁 As I mentioned in this post, it's definitely a hard truth about not running for 11 weeks.)
After a quick shower, Dustin and I joined some run club friends at Lagos Tacos for a Cinco de Mayo brunch. It was an 80+ degree day- so wonderful!
Later that evening, we took Matilda with us to a 1 year anniversary party of 56 Brewing.
It was a fun celebration, until an intense little storm rolled through and we all had to stuff inside the brewery until it passed. It was a lot of dogs!  A little stressful for Tilda, so we didn't stick around too long after the storm passed.
Sunday: Another JB double! This time, Solidcore first and then spin at Surge Cycling  afterwards. My friend Christie joined me for the spin and then we grabbed a coffee afterward to catch up. I was happy to have a running friend join me as a "spin friend' for the day!
Summary: 3 spin classes, 3 Solidcore classes, 3 elliptical workouts, 2 PT appointments, 1 swimming lesson 🙂 A strange variety.
Gosh, I wish there was some running to report back on, but not yet…until then, I'll keep doing all my PT exercises and fill that running void with as much other activity as I can.
When I look back at the posts from when I was right in the thick of the injury, I know I've come a VERY long way. At this point, I can do everything but run (well, nothing with impact.) I trust that my PT is planning to bring me back to running safely, but its hard not to feel anxious to get back to it when I'm feeling pretty good.
It's not like I'm totally back to normal…My ankle is still swollen; you can see the difference in this picture:
In fact, a woman at lululemon on Saturday actually recognized me from this blog and said she first noticed me because of my ankle/scar, and knew my story from here. Eeks! But even though you can tell it's 'injured' I do feel really good. I think I'm walking pretty normal, just a little bit of a limp some days.
Running will hopefully come soon…
Stop by in a few days, I've written my recap post of our short trip to Palm Springs. I plan to publish it early this week!
As always, I'm linking up with HoHo Runs and Taking the Long Way Home for their weekly wrap. Check it out!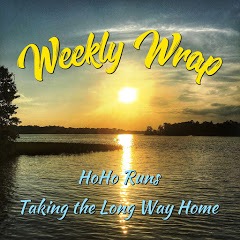 (Visited 425 time, 1 visit today)