Hello there! I'm posting my weekly recap a little late (err, my sole weekly post…man, I need to find time to blog more often!)
I have an excuse, we were out of town on a little vacation. But I'm here to share how fitness went in my world now that I am 10 weeks post-dramatic tibia/fibula break. Let's recap!
Monday: [solidcore] in the morning, PT at Mayo AND a 10 week appointment with my surgeon at TRIA.
PT was great and I'm officially out of the boot! The appointment with the surgeon also went well- they took new x-rays, and though you can still see a few of the fractures, the joint is healing really well.
The surgeon said the fractures will still show up on X-rays for another 6 weeks or so. He recommended two more weeks before I could start using the Alter-G/Zero Gravity treadmill. Then another 4 more weeks of PT before I might be able to run on the treadmill a little bit; i.e. 1 minute on, 1 minute off kind of thing- a very slow build.
But, progress nonetheless.
Tuesday: Total rest. Early start at the office, late end.
Wednesday: [solidcore] in the morning, and then a flight to Palm Springs! Not quite the same as Antarctica, but a vacation is still a vacation. It's been a rough winter so it was a lovely getaway to somewhere with temperatures in the 90's and sun, sun, sun! I plan to share a separate post about our trip, so I'll keep this post focused on fitness while there.
Thursday: I found an outdoor lap pool that had $5 day passes. Awesome.
I swam 2,125 yards on my first day. It was so wonderful to be outside in the sun while getting a workout!
Of course, I would have preferred to be running in that awesome dry desert heat, but an outdoor swim was a decent alternative.
Friday: 60 minute vinyasa class at Power Yoga Palm Springs. It was $20 for a drop-in. It was a heated class, even though Palm Springs is already hot! Tons of chaturanga's. My triceps were sore afterwards.
(Dustin did a lot of trail running in Palm Springs, mostly on the Lykken trail. He's training for his first 100 miler in June!)
Friday, after we both got back from our workouts, we drove to Salvation Mountain and Slab City. I'll share more in a travel post, but definitely a weird yet interesting place to visit. I had read about it in this "Marvels of the World" travel book. Worth the drive.
Saturday: Another swim at the outdoor lap pool. When I arrived, it was set up for the "long course" with 50m lanes.
Wow- I loved it! Due to my recovering broken leg, I don't do any flip turns but rather just turn around. This gives me a bit of a short extra breathe/break between laps and usually I'm swimming in a 25 yard pool, so it's a lot more breaks. But doing a 50m lane forces me to swim longer without any sort of break, which was actually awesome! I swam a lot stronger this way and ended up with 2,600 yards (or about 1.5 miles of swimming, which was a lot for me!)
I did have to change the settings on my Garmin Fenix 5s from a 25 yard pool to a 50m pool, and then about halfway through my swim, they changed it back to a 25 yard pool, so I had to change the settings again. Then I had to do all kinds of math to figure out how far I actually swam 🙂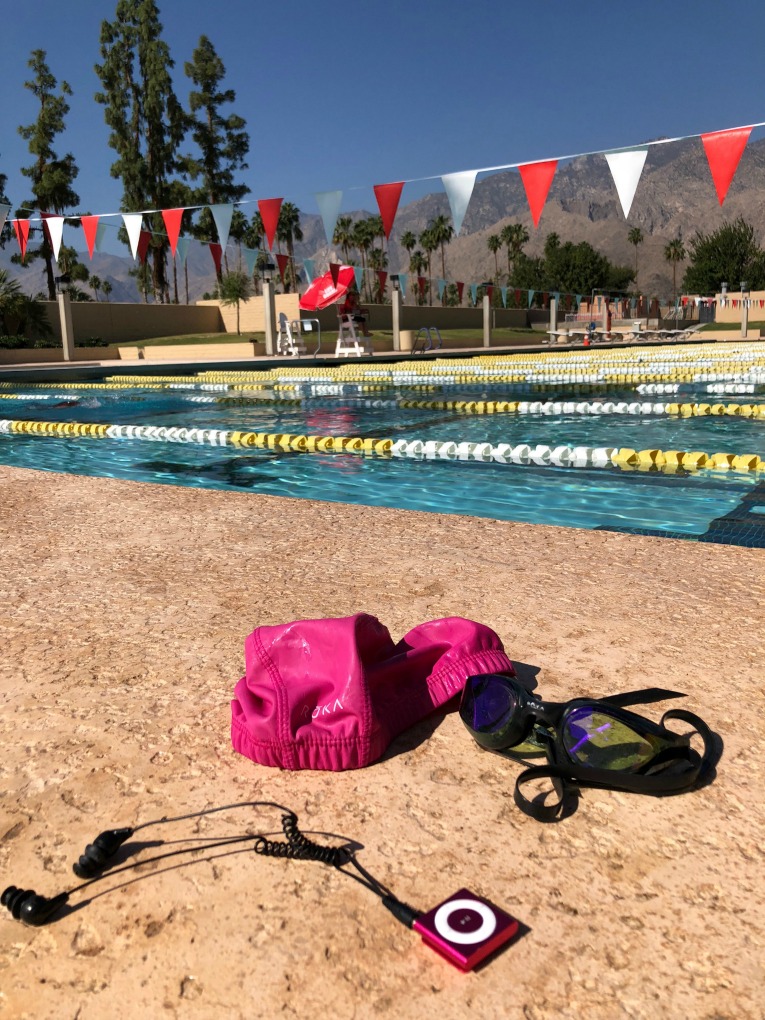 Sunday: One final swim at the Palm Springs Swim Center, just 2,000 yards this time. Afternoon flight back to Minneapolis.
Summary: 2 [solidcore] classes, 1 yoga class, and 3 swim sessions.
Not a bad week overall and we had a great vacation.
But…I try to be completely honest here and the truth is, it was a bit tough to put on my warm weather clothes that I hadn't worn since last summer.
Why? Well…they didn't fit. It was hard both mentally and physically.
Of course, that meant I had to buy some new clothes to wear, like this dress (<–I LOVE BODEN DRESSES!) this jumper from Alice & Wonder out of Chicago, and this jumper from JCrew!
And my first one piece since I was like, probably 12. (It's from Lively.) I love that one- pieces are back in a big way.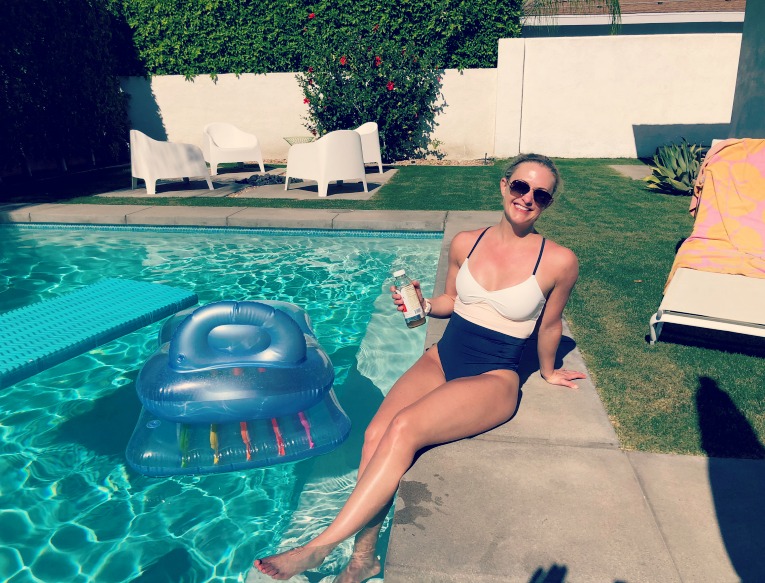 Shopping is fun; but the reason behind the shopping spree wasn't that fun. Ten weeks without running has led to real physical changes, ones that don't feel that great. I've never been one to focus too much on that sort of thing; running has always kept my weight in a healthy place and I feel like I eat well 80% of the time. I generally feel pretty confident and proud of my strength. But this injury has taken some of that away. (You wouldn't know it from all these selfies on this post, would ya, ha!)
I know that I'll run again and hopefully get back to where I was. But it is hard to deny the weight that I've gained. It's not fun to be here.
There's nothing like running in a lot of ways and one of those ways is definitely the efficient calorie burn. I will continue to try to be kind to myself, as I feel like I'm doing a lot to stay healthy and active, but man…
I miss running. I miss running and all its wonderful benefits, including the ability to fit into my old clothes.
As always, I'm linking up with HoHo Runs and Taking the Long Way Home for their weekly wrap. Check it out!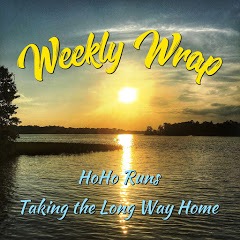 I'm also linking up with Courtney from Eat Pray Run DC for her Training Recap linkup. Be sure to check out how Courtney and the other awesome bloggers joining the linkup are doing on their training!
(Visited 554 time, 1 visit today)